Want to enjoy the northern lights—guaranteed? Even in the endless daylight of Alaska's summer, you can check out the aurora borealis in "AurorA—Alaska's Great Northern Lights." Created by Dave Parkhurst, one of the first photographers to capture the northern lights on film, this 40-minute movie features thousands of his photos streamed together and choreographed to an original music score. Viewed on a 28- by 16-foot screen in the comfort of the Sydney Laurence Theatre at the Alaska Center for the Performing Arts, it's almost like gazing up into Alaska's winter nights…minus the cold. Centrally located in downtown, affordably priced and running every hour from 9 a.m. through 9 p.m., it's the easiest way to see the northern lights in Alaska.
A few other northern lights presentations have been attempted in Alaska, but because of the high resolution quality of Dave's photos—as well as his dedication and artistic direction—none compare to this one. You'll learn some basic science behind the aurora, but AurorA isn't science heavy with only about 6 minutes of the film narrated. Instead, Dave focuses on the ethereal beauty and power of Alaska's finest light shows, so you can absorb the true feeling of this spectacular phenomenon.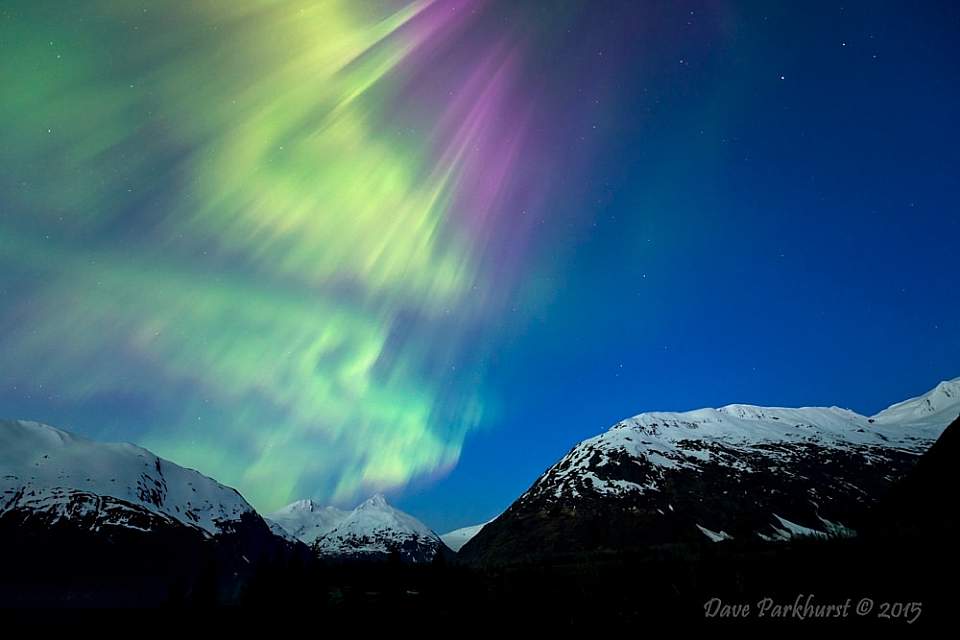 Dave has endured the sub-zero nights utilizing Alaska's grand scenery as a backdrop for many years. And his film includes the best auroral displays Alaska has to offer. Thousands of rare images are interlaced together so it's like watching high definition video of a shifting kaleidoscope of colors and grand shapes of aurora.
Raised on the tropical islands of Sumatra and Java, Indonesia and Singapore, Dave first heard of the northern lights from an Icelandic family who was also living in Southeast Asia. A lifelong nature lover and photographer, Dave arrived in Alaska in 1979. After hearing more about the amazing aurora, asking to be shown a picture of them and then being told that "you can't photograph them," he set about trying to capture one of those mysterious displays on film. Two winters and about a hundred rolls of empty mostly black film later, he finally captured a very rare red and pink aurora over the Heney Range in Cordova on February 5th, 1981 – a single image that has brought him into the career he enjoys to this day.
The secret? "Go out there, have copious amounts of patience and keep shooting," he says. As cameras and film quality improved over the years, there are more and more who attempt to photograph the northern lights. But very few photographers have spent as much time out under the stars or personify such passion for photographing auroral displays as Dave. It's been his mission for over 30 years, and he spends between 60 and 100 nights each winter out in the field photographing the lights. Dave has shot all over Alaska: flying into remote camps, skiing or snowmobiling into cabins, boating out to distant islands or glacier shores, and driving down rugged winter roads when possible. At times denied by clouds, hindered by relentless snowstorms, or enduring sub-zero temperatures, he has persevered and amassed the largest collection of aurora photography in the world…the Aurora Collection™.
And now choice blends from this collection are projected in high resolution on a big screen in high-definition Blue Ray set to original music. You can purchase a DVD anytime, but the best way to enjoy 'AurorA' is at the Sydney Laurence Theatre in Alaska's $70-millon state-of-the-art Performing Arts complex. It's the next best thing to being out in the field with Dave.
Stop in for a stress-free hour in the warmth and comfort of a first class theater and enjoy the greatest light shows on Earth!