Tongass National Forest Sea Kayaking Tours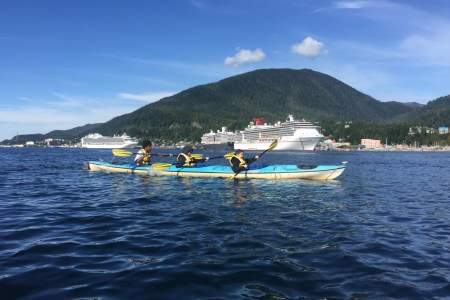 Season: Apr 01 to Sep 30 $159+ per person 3+ hrs
Expe­ri­ence kayak­ing in Alas­ka the way it should be — away from the crowds — with these unique Ketchikan pad­dling tours that make you feel like a true explor­er. Your small group (usu­al­ly just 4 peo­ple) will board the company's com­fort­able boat and set off from the Ketchikan cruise-ship dock, leav­ing the big ships and the crowds behind. Choose from a 3‑hour tour, or 5‑hour kayak and hike tour.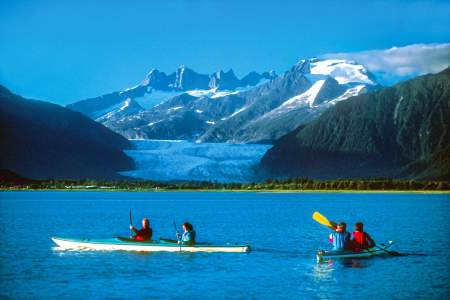 Season: May 01 to Sep 30 $112 3.5 hours
Glac­i­erview Sea Kayak­ing with Alas­ka Trav­el Adven­tures offers the oppor­tu­ni­ty to kayak through Auke Bay while enjoy­ing views of Menden­hall Glac­i­er. You'll also have the oppor­tu­ni­ty to see wildlife like whales, sea lions, seals, and bald eagles. Kayak­ing offers a much more inti­mate and qui­et expe­ri­ence than oth­er boat tours; at the same time, it is per­fect for trav­el­ers who want an adven­ture. And even if you've nev­er pad­dled a kayak before, a ...more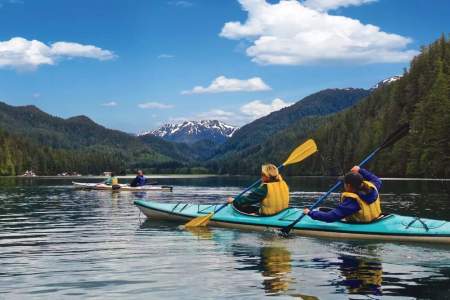 Season: Late April-early October $154 per person 3 hrs
Begin in down­town Sit­ka, where you'll take a motor­ized, rigid-hull inflat­able on a 15- to 20-minute ride across beau­ti­ful Sit­ka Sound, with the mas­sive vol­cano Mt. Edge­cumbe pro­vid­ing a dra­mat­ic back­drop. Look for marine wildlife on your way to a unique float house in a small, pro­tect­ed bay where you'll kayak across shim­mer­ing water.