Soldotna Salmon Fishing Charters
Kenai / Soldotna Salmon Fishing Charters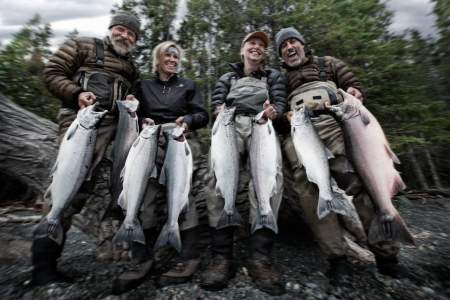 Season: Mid-May through mid-to-late September $225+ Half-Day to Multi-Day
Feel the thrill of world-class salmon and trout fish­ing on Alaska's Kenai Penin­su­la with expe­ri­enced, pas­sion­ate guides. You'll get out on the Kenai and Kasilof Rivers, just hours from Anchor­age, with a team that knows where the fish will be run­ning each day. Spend a day, or make it a mul­ti-day trip with a cus­tom pack­age that includes lodg­ing on the river.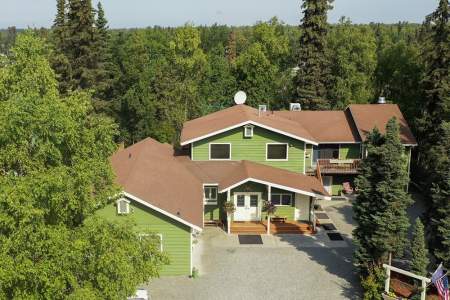 Season: Fishing May - Oct // Lodging Year Round $157+ Lodging, $1447+ All-Inclusive Fishing Packages
The logo for the Sol­dot­na B&B Lodge says it all: a guest who's loung­ing in bed — while also fish­ing. This fam­i­ly-run fish­ing lodge direct­ly on the Kenai Riv­er offers a relax­ing place to soak up the sights and sounds of nature, while also deliv­er­ing a front-row oppor­tu­ni­ty to do some of Alaska's most famous, excit­ing fish­ing. All stays car­ry a two-night min­i­mum, but most guests stay longer (an aver­age of 5 – 7 days), which is easy to do giv­en the ...more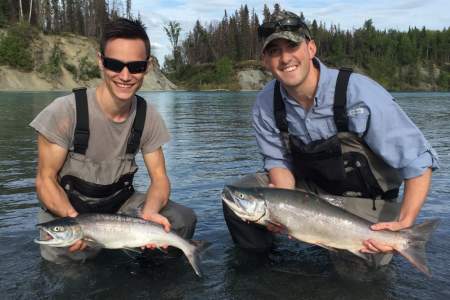 Season: Jun 01 to Oct 20 $200+ 3-8 hours
Where can you find the biggest salmon, on aver­age, in the entire world? In the Kenai Riv­er. And The Riv­er Crew, based in Sol­dot­na, can take you to some secret spots on the famous riv­er to fish for salmon and trout — whether you're an expe­ri­enced angler or not.