Photo Credit: St. Elias Alpine Guides
McCarthy-Kennicott offers great opportunities to experience glaciers up close. Choose half to full-day adventures that immerse you in Alaska's icy beauty.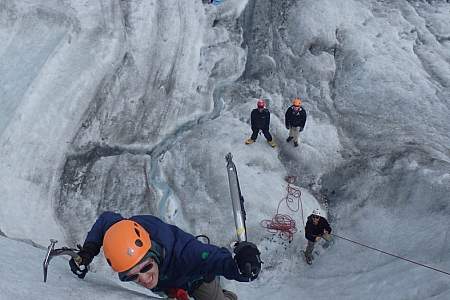 Season: May 15 - Sept 15 $110+ 4 - 9 hrs
If you've nev­er walked on a glac­i­er, this is your chance. Going with expe­ri­enced guides, you'll leave from Ken­ni­cott, hike two miles, and spend the next sev­er­al hours on the Root Glac­i­er, safe­ly explor­ing the blue ice, blue pool, canyons, and moulins of this extra­or­di­nary nat­ur­al phe­nom­e­non. Choose a half- or full-day tour and learn all about nat­ur­al and human his­to­ry from your expert guides along the way. Or ramp up the excite­ment by going ice ...more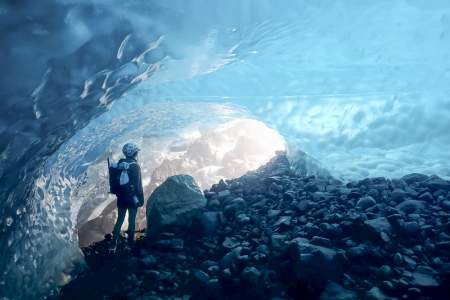 Season: May 26 – September 10 $110+ per person 3 hrs - Full-day
A third of Wrangell — St. Elias Nation­al Park is cov­ered in glacial ice, mak­ing it one of the eas­i­est places to access a glac­i­er in Alas­ka. Strap on the pro­vid­ed cram­pons and explore the stun­ning fea­tures of the glac­i­er with expert guid­ance — rivers and water­falls, crevass­es and blue pools wait to be dis­cov­ered. Or, take on the chal­lenge of scal­ing the dra­mat­ic icy walls of a glac­i­er on an ice climb­ing trip.