A third of Wrangell - St. Elias is covered in glacial ice, making it one of the easiest places to access a glacier in Alaska. The Root and Kennicott Glaciers practically spill right into town, serving up a fascinating wonderland of natural ice features with lots of ways to go exploring. Led by passionate pros who know the ever-changing glacier like the backs of their hands, you'll enjoy a unique trip you'll never forget.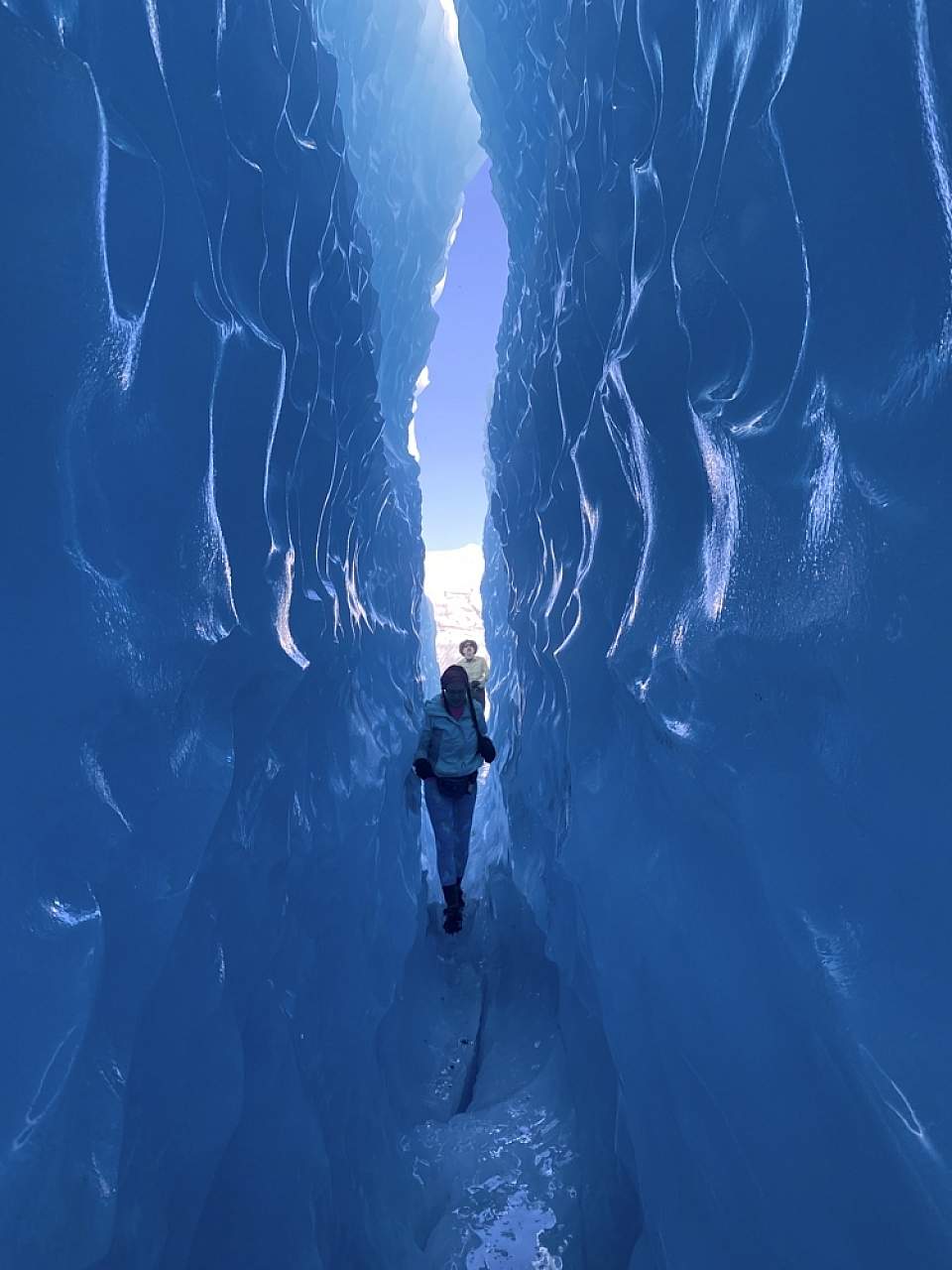 Glacier Hiking Tours
From their office in Kennicott, you'll reach the Root Glacier via a 2-mile trail. Once on the ice, it's time to strap on the provided crampons and explore the stunning features of the glacier with expert guidance - rivers and waterfalls, crevasses and blue pools wait to be discovered. Learn about glaciology, local history, flora and fauna and enjoy views of the towering 7,000-foot-high Stairway Icefall and 16,390-foot Mt. Blackburn! Choose from a private tour (good for families) or a group tour, and a half (5-6 miles) or full-day (7 - 9 miles) option.
Ice Climbing
No experience is necessary to take on the challenge of scaling the dramatic icy walls of a glacier in one of the world's most spectacular environments! Expert guides will walk you through every step. You'll start off with a 2-mile hike to the Root Glacier, get fitted with the gear you need, learn some pro tips, and try your hand at this challenging but satisfying activity. After mastering your technique on an icy wall, you'll move to a more challenging location that will put your skills to the test. Your guide will lower you into a seemingly bottomless moulin, a smooth, glossy, blue hole in the ice and you'll get the unique experience of climbing inside the glacier!
Ice Cave Exploration
Glowing blue walls of ice, walking deep in an otherworldly setting, touching the various textures of ice: This truly unique opportunity is your chance to see what's happening inside a glacier. It's a strenuous half-day trip that will be one of the most memorable experiences of your Alaskan getaway! Given the dynamic nature of the ice, the conditions of the glacier's caves are ever-changing, making this trip a true exploration of the glacier's potential treasures. There is always a chance that the conditions will not permit safe entry and if they know this ahead of time, they'll contact you to come up with an alternate solution. These trips are only offered in a private format and there is only one tour available a day, so if this experience is high on your Alaska wish list, here's how to ensure the best chances for success. First, visit after July 1 - early season flooding often prohibits safe entry into the caves. Second, because this tour is so challenging, your guide will need to assess your abilities before heading to the caves, so make sure you're in great shape for this adventure. The conditions of the caves can change during the season, so be prepared that they may become inaccessible at any time.
About St. Elias Alpine Guides
Founded in 1978, St. Elias Alpine Guides has a long history of empowering adventurers to achieve their trip of a lifetime. Their home base is the teeny bush town of McCarthy, Alaska, located in the heart of Wrangell-St. Elias National Park (the largest national park in America). Largely untouched by human impact, this extraordinary wilderness is the perfect staging ground for glacier hiking, backpacking, rafting, skiing, or even climbing some of the tallest peaks in the country. Take advantage of SEAG's expertise and dedicated service to customize your dream trip - perfect for families or groups with a range of interests and abilities. No matter what you choose, you'll be sure to get a slice of the "real Alaska" and make memories to last a lifetime.