Fly in and out of remote locations in the gorgeous Wrangell-St. Elias National Park and experience the true wilderness of the Alaskan backcountry. Keeping it minimal and unplugging completely, you'll sleep in a tent and wake up refreshed and exhilarated by the sights and sounds of these raw wilds. Different locations in the Park offer different landscapes like lush, green, rolling tundra or rocky lunar-scapes of dramatic, glaciated peaks and each offer unique terrain challenges in this undeveloped wilderness. Start with a moderate mini-Backpacking excursion if you're new to backpacking. Experienced backpackers, pick a point-to-point hike that matches your interests and abilities and you'll see just how engaging, fulfilling and inspiring backpacking in the Wrangells can be! Experienced and passionate guides provide support, education, entertainment and empower you to have your trip of a lifetime.
Here are just a few of incredible backcountry itineraries:
Skolai Pass mini-Backpack
This 4-day, fly-in/fly-out trip visits the dramatic alpine tundra of Skolai Pass. On this mini-Backpacking trip, you'll backpack a few miles down the remote valley to set up a camp with dramatic views and the perfect staging ground for day hikes. Over the next few days, you'll enjoy day hikes to Chitistone Pass and around the valley for incredible vistas. Keep an eye out for bears, sheep, and caribou as you take in the surrounding scenery of glaciers, towering mountains, gorgeous wildflowers, and much more.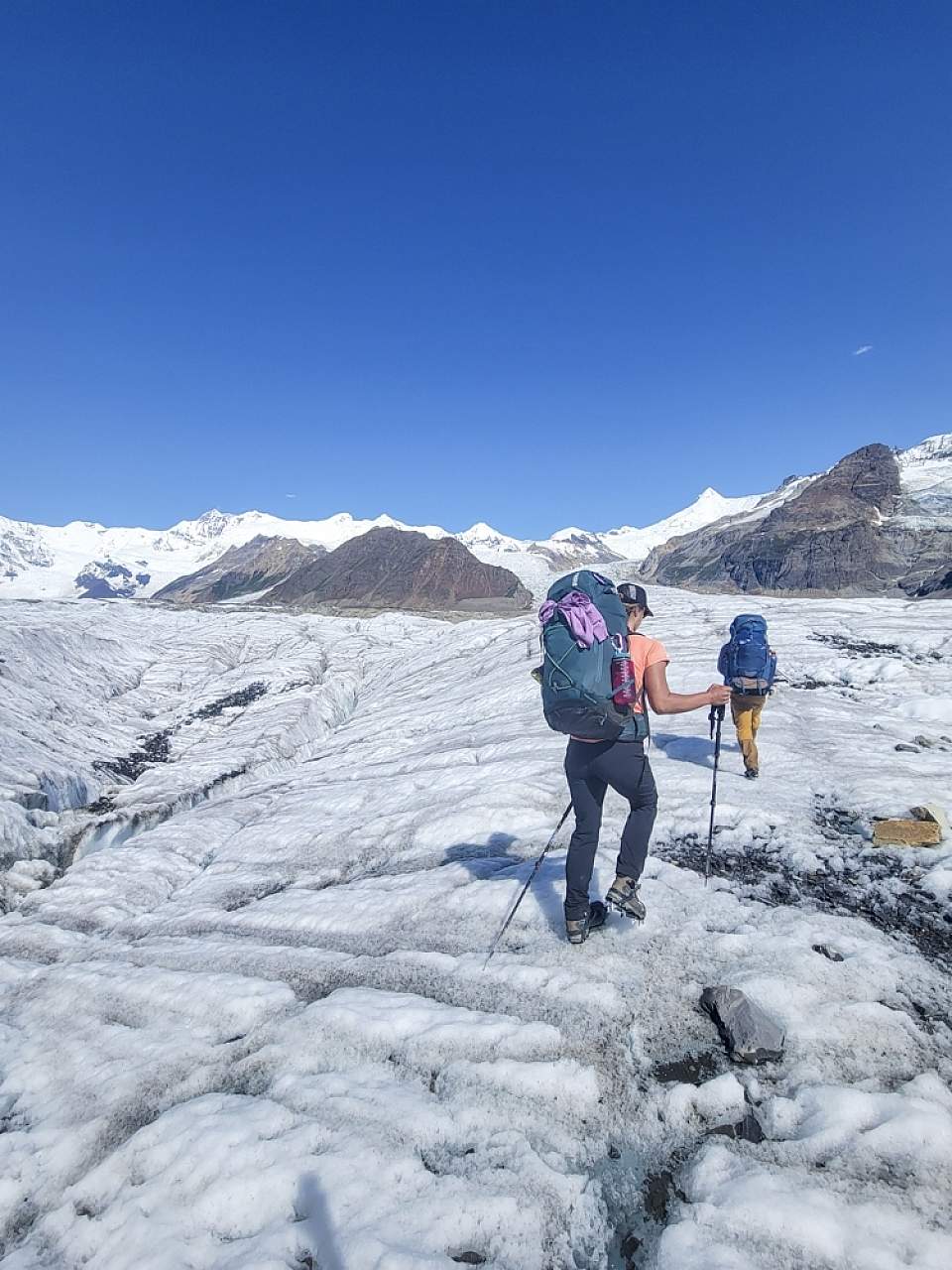 Chugach Mountain Circuit
Fly deep into the Chugach Mountains for a 5-day loop trek through a dramatic scenery of rock and ice. Traverse several massive valley glaciers, camping at the edges of these rivers of ice and listening to the rumbles and roars of the glaciers calving and moving. Moving over the morraine you round the corner as another breath-taking view comes into sight - bright pink and yellow flowers, bursting with color dot the complex lichens and mosses that make up the tundra plants covering the valley floor. Experience some of most beautiful and unique glacier trekking in Alaska!
Journey to Oz
The stunning, high-alpine bowl of emerald green the locals call "Oz" is tucked away and hard to get to and the rest of the journey is far from a yellow brick road! Hiking right out of the historic town of Kennecott, experienced backpackers challenge themselves with a variety of Alaska-specific terrain on this 8-day expedition. The route crosses two huge glaciers, threads around a glacial river, pushes up and over rocky passes and brings trekkers high into the alpine. Look for goats on the high cliffs around you campsite and watch the landscape change as you move through the backcountry, making your way to a remote airstrip where a bush plane will pick you up and take you back to McCarthy.
About St. Elias Alpine Guides
Founded in 1978, St. Elias Alpine Guides has a long history of empowering adventurers to achieve their trip of a lifetime. Their home base is the teeny bush town of McCarthy, Alaska, located in the heart of Wrangell-St. Elias National Park (the largest national park in America). Largely untouched by human impact, this extraordinary wilderness is the perfect staging ground for glacier hiking, backpacking, rafting, skiing, or even climbing some of the tallest peaks in the country. Take advantage of SEAG's expertise and dedicated service to customize your dream trip - perfect for families or groups with a range of interests and abilities. No matter what you choose, you'll be sure to get a slice of the "real Alaska" and make memories to last a lifetime.