Get an up close and personal view of the fascinating world of a glacier. These rivers of ice make for exciting adventures, and Kennicott Wilderness Guides will make your excursion to the Root Glacier interesting and safe. Here are your options:
Half-Day Glacier Tour
Walking on a glacier is an experience you won't soon forget: the landscape is constantly changing and always breathtaking. Not only will the Root Glacier itself amaze you, but you'll also see blue ice, blue pools, canyons, and moulins. Plus, the glacier is nestled into one of the most spectacular natural surroundings you could imagine. On the half-day glacier hike you can explore the Root Glacier's amazing formations and enjoy an informative interpretative tour of the natural and human history along the way. After a 2-mile hike from downtown Kennicott, you'll enter onto the glacier for 2 or more hours of fun and safe exploration. Bring your camera!
Full-Day Glacier Tour
On the full-day glacier hike you get more of an opportunity to explore the wonders of the Root Glacier. 5+ hours on the glacier opens up possibilities for more breathtaking scenes and gives your guide more of a chance to share knowledge and enthusiasm.
Ice Climbing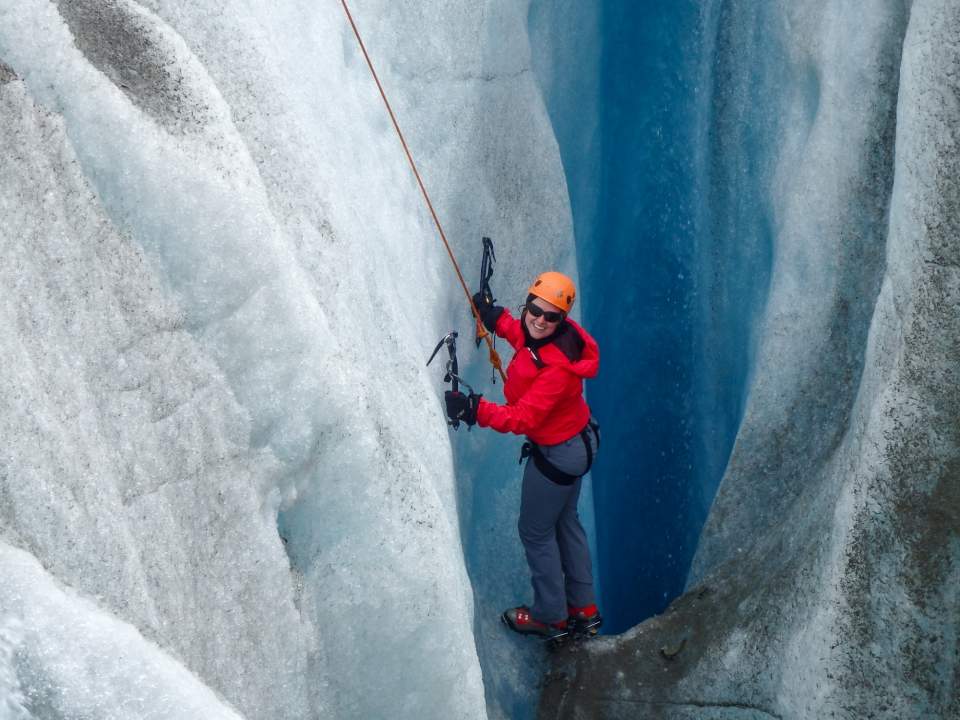 A full day of ice climbing with one of our guides on the Root Glacier is an unforgettable experience. Ice climbing is a great way for beginners and experts alike to explore the glacier from a different perspective. They'll outfit you in the necessary gear and instruct you on proper techniques so you can really enjoy trying an exhilarating and rewarding new sport. Ice Climbing on the Root Glacier is safe way to be introduced to the sport of ice climbing and a sure way to go home with a picture of yourself that your friends will never believe! And yes, everyone can do it!
About Kennicott Wilderness Guides
Headquartered in Alaska's most mountainous region, Kennicott Wilderness Guides leads trips in their backyard, which is filled with glaciers, alpine tundra, and mountain peaks. Learn how to ice climb and travel across a glacier. Fly into remote alpine areas for unforgettable hikes, or go on an adventurous backpacking traverse of an isolated mountain wilderness. They have the gear, the guides, and the knowledge to do it all. Even the locals turn to Kennicott Wilderness Guides for advice before big trips.
Veteran Guides with Passion
Kennicott Wilderness Guides is a small guiding company with just 12 guides (three of whom own the company). There's very little turnover here, and your guide is likely to be someone who lives for skiing, climbing, backpacking, or glacier trekking. In fact, your guide may have just returned from a month of guiding on Mt. McKinley. It's this love of the mountains that sets the company apart, and they're going to share that love with you—whether it's the thrill of a successful climb or the enthusiasm of hiking in alpine wildflower fields.
Explore Remote Wonders
The guides and owners love what they do and where they go, so you know your trips—whether a half-day or a week—will be to Alaska's most amazing spots. Take a bush plane into remote areas for hiking or backpacking trips, set off on a mountaineering expedition to unclimbed peaks, or just go for a day hike and learn about glacier movement and the mining history of McCarthy and Kennicott.
The company's trips are vast and varied, and they'll work closely with you to create a trip suited to your interests.