Lodges in Katmai National Park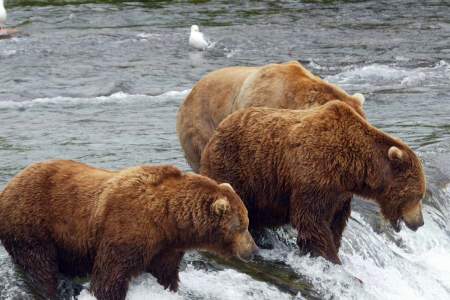 Season: June 1 - Sept 18 $1350 Day Trips from Anchorage Day trip & multi-day excursions
Brooks Lodge offers their own bear view­ing tours which are less expen­sive than most, and give you more time at Kat­mai Nation­al Park to watch bears feast­ing on sock­eye salmon from sev­er­al view­ing plat­forms. A com­mer­cial flight from Anchor­age takes you to King Salmon where you'll switch to a small float plane for a quick 20-minute flight to Brooks Camp. After a brief safe­ty ori­en­ta­tion, you can watch bears from sev­er­al view­ing plat­forms, join the ...more
Boat Based Multi-Day Experiences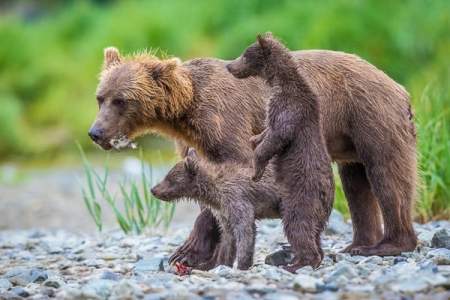 Season: June -  September $6,252+ 6 nights
Immerse your­self in a mul­ti-day Alaskan adven­ture that promis­es incred­i­ble views and jaw-drop­ping bear view­ing in Kat­mai Nation­al Park, along with a warm cama­raderie that only a small group expe­di­tion can cre­ate. Explore from your home base on the Island C, a research ves­sel that gets you close to the action while pro­vid­ing com­fort­able lodg­ing and deli­cious meals.
Season: May - Sept 15 $7500 - $9500 per person 5+ Days
Fly from Anchor­age by sea­plane to the North­west Odyssey, anchored off the coast of Kat­mai Nation­al Park. This lux­u­ri­ous yacht will be your home base for spec­tac­u­lar bear view­ing and fish­ing in uncrowd­ed waters.
Bear Viewing Lodges with Day Trips to Katmai
Neighboring lodges that visit Katmai National Park for bear viewing day trips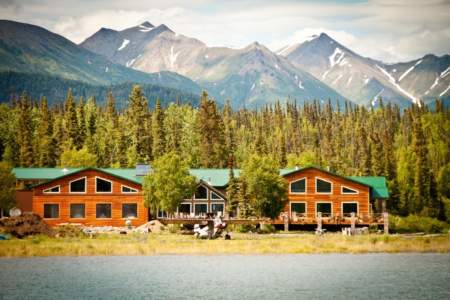 Season: May - Sept $7,500+ per person 6+ nights
Stonewood Lodge is a high-end, year-round, all-inclu­sive get­away to wild Alas­ka locat­ed on the shores of 50-mile long Lake Clark with­in the Bris­tol Bay Water­shed. Sum­mer activ­i­ties include prime bear view­ing and tro­phy fish­ing as well as snow­mo­bil­ing, ski­ing and ice fish­ing in the winter.