Photo Credit: Alaska Ultimate Safaris Helicopter Flightseeing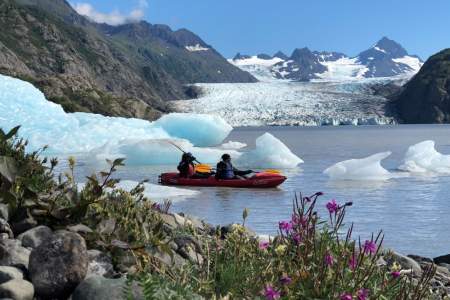 $229+ per person Half to Full-Day
Enjoy remote Alas­ka at its best. Go with this small, fam­i­ly-owned com­pa­ny in Homer for a mag­i­cal kayak­ing expe­ri­ence and a gor­geous hike to an ice­berg-stud­ded glac­i­er lake!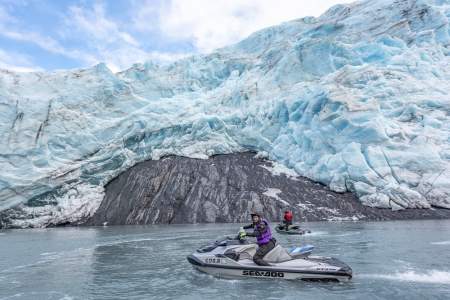 Season: June 15 - Aug 25 Custom, call for rates. Up to 10 guests 9 hrs
Jet ski­ing in the shad­ow of a glac­i­er?! Absolute­ly! This expe­di­tion, set up only for pri­vate groups, begins with a 25-minute float­plane flight from Homer to McCar­ty Fjords in the stun­ning Kenai Fjords Nation­al Park. Then, with an expert lead­ing the way, you'll set off for the McCar­ty Glac­i­er. While cruis­ing the shore­line at the glac­i­er, you'll have the sup­port of a 44-foot ves­sel with a ful­ly enclosed back deck. There you'll enjoy a deli­cious BBQ ...more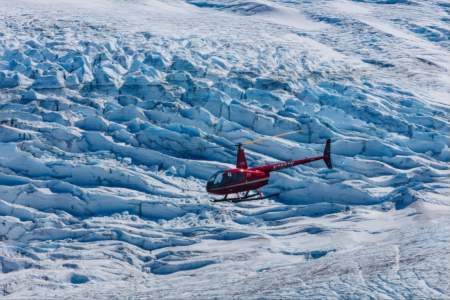 $1899 per person 8 hrs
Tour­ing Alas­ka by heli­copter gets you to unimag­in­ably wild and remote places. Some of the most amaz­ing have been scout­ed by Alas­ka Ulti­mate Safaris. Explore a glac­i­er sur­round­ed by snow-capped moun­tains, or climb to the steam­ing sum­mit of an island vol­cano. In either case, the views are unpar­al­leled and the expe­ri­ence is surreal.