Enjoy remote Alaska at its best. Go with this small, family-owned company in Homer for a magical kayaking experience, with the option to add on a gorgeous hike to an iceberg studded glacier lake!
Explore Scenic Kachemak Bay & Halibut Cove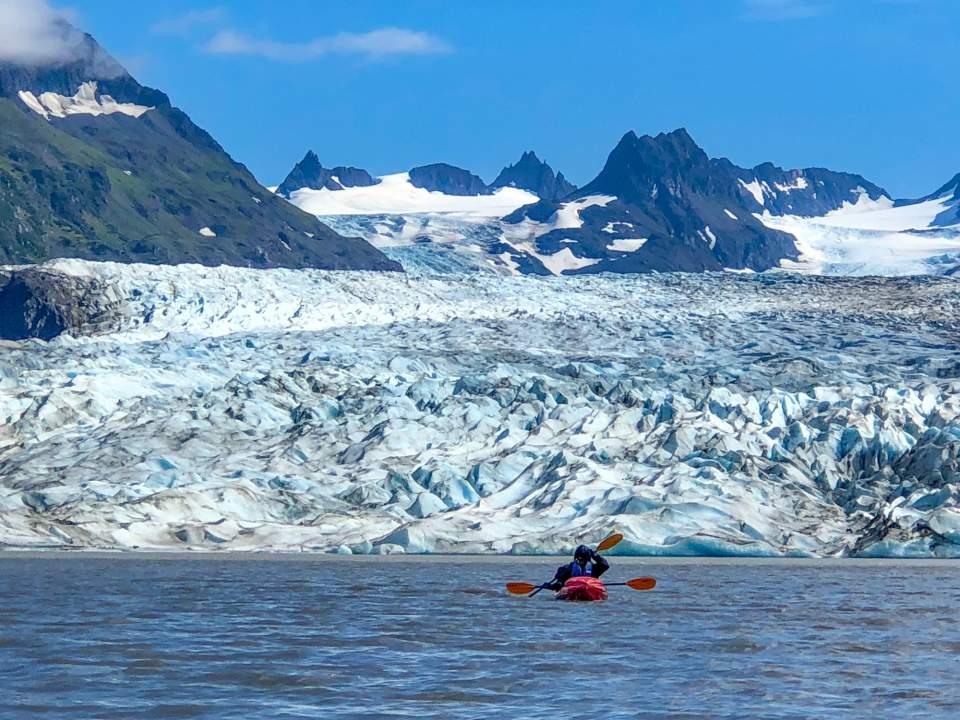 You'll depart from Homer In a small group of just 4-8 people. All trips begin with a boat ride of about 30 minutes across the bay, during which you'll keep an eye out for otters, nesting eagles, and the occasional whale or bear. You'll then have the option of going kayaking or combining paddling with hiking. Never kayaked before? No problem! Everyone gets pro tips before setting off in the kayak, and all technical gear is provided.
Choose from one of the tours below and get ready for an unforgettable experience that's informative and engaging…as well as a lot of fun!
Tour Options
Half-Day Sea Kayaking in Halibut Cove
After your scenic, 30-minute boat cruise to Halibut Cove, you'll get kayaking instructions and then enjoy 2–3 hours of great paddling in Halibut Cove—a historic part of Alaska that was once a fishing village and is now a state park. Paddle past oyster farms and houses perched on stilts over the water, while looking for oyster farmers cleaning their nets. You'll also learn the history of this beautiful, remote place—from the Native Alaskans to those that live there now—before cruising back to Homer.
¾-Day Sea Kayaking and Hike to Glacier Lake
This is a great option for families. Like the half-day tour, you'll take a 30-minute boat cruise to Halibut Cove and put in the water for 2–3 amazing hours of paddling. Then you'll take an easy 1.5-mile walk to a gorgeous glacier lake in Kachemak Bay State Park. The destination is worth the effort—it's a magnificent lake that often has icebergs floating in it, with the terminus of Grewingk Glacier at the other end.
Full-Day Glacier Lake Hike and Kayak
The most popular tour! You'll start in the morning with a scenic boat ride to a trailhead in Kachemak Bay State Park that's accessible only by water. You'll then walk an easy 2.5 miles up to a gorgeous glacier lake, where Three Moose has an exclusive kayak outpost. Then it's time to paddle! You'll kayak around the icebergs and up to a viewing spot overlooking Grewingk Glacier, where you'll enjoy the lunch you've packed—you might even have the opportunity to touch an iceberg! After lunch, you'll hike out and return to Homer by boat.
Lodging
Want to extend the magical experience? Spend the night at Hideaway Cove Lodge—a beautiful Alaska seacoast lodge that's accessible only by boat and is the base for Three Moose Kayak Adventures. You'll stay in comfortable private cabins overlooking Halibut Cove.
About Three Moose Kayak Adventures
Owner Jordan Hess took a vacation to Alaska 25 years ago, fell in love with it, and wanted to show others the same gorgeous backcountry on a unique adventure tour. When he hiked up to the glacier lake, he knew he had found his destination. Not only was it a beautiful area, but 20 years ago, this was the only place in Alaska to kayak on a glacier lake. Adding in some hiking allows for even more exploration. Jordan's sons also couldn't resist the allure of this area—they're now guiding trips, too!