Photo Credit: Denali Rafting Tours
Rafting is one of the most popular activities in the Denali area, for several reasons. First, it's one of the easiest ways to feel like you're immersed in the wilderness, even though on some portions of the river, you're just below the highway.
There are also tours ranging from 2 hrs to full-day, so you can always find a trip to fit your schedule. If you're spending just two nights in Denali (the most common length of stay) you can easily fit in an evening raft trip on the day you arrive, or a morning trip before you depart. If you're staying multiple days, opt for a half or full day trip.
Most tours take place on the Nenana River, a very typically Alaskan glacially fed river that's brownish in color due to the heavy concentration of glacial silt. You can opt for a mild-trip that that traverses the calmer parts of the river, or a whitewater trip where you'll encounter heart-pounding rapids with names like Coffee Grinder and Ice Worm. We recommend Denali Raft Adventures and Explore Denali Rafting, and Traverse Alaska.

In addition to large raft like the trips mentioned above, Traverse Alaska also offers pack rafting trips for beginners, to class III and IV adventures, and hike and paddle adventures.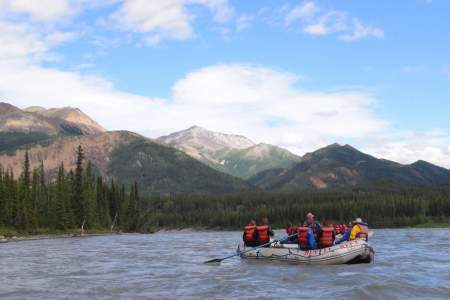 Season: May 20 to Aug 13 $120+ 3 - 9.5 hrs
Just out­side Denali Nation­al Park, the Nenana Riv­er offers a unique raft­ing expe­ri­ence: The riv­er is big and icy cold, with glacial­ly fed waters. But this raft­ing out­fit­ter based near the Park Entrance offers a soul-warm­ing expe­ri­ence on the riv­er, which makes an excel­lent coun­ter­part to a bus tour through the nation­al park. Choose a quick 3 hour trip on mild water or splash through some rapids. Or opt for a longer excur­sion rang­ing from 5.5 - ...more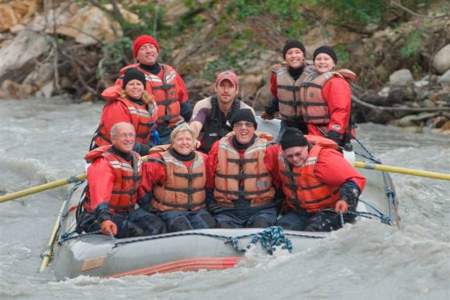 Season: May 18 to Sep 08 $105
Re-open­ing in 2022. Please vis­it our web­site for oth­er activ­i­ties avail­able dur­ing your stay. Expe­ri­ence the thrill of rush­ing rapids or a mild white­wa­ter float through one of America's great wilder­ness areas with raft­ing from Denali Park Vil­lage. Oper­at­ing on two stretch­es of the Nenana Riv­er for near­ly 30 years, this company's guides not only know the area, but also are versed in its nat­ur­al his­to­ry. Their guide safe­ty train­ing pro­gram is among ...more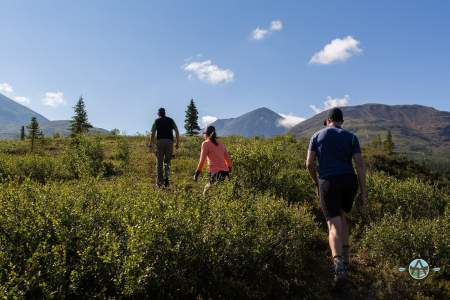 Season: Year Round Custom pricing, contact for rates Full Day
Tra­verse Alas­ka can craft ful­ly-guid­ed cus­tom adven­tures, or set you up on a trip into the Alas­ka wilder­ness arm­ing you with some know-how — and pro­vid­ing you with the inde­pen­dence to freely explore. Excur­sions include pri­vate day hikes, raft­ing and pack­raft­ing, and mul­ti-day backpacking.