Just outside Denali National Park, the Nenana River offers a unique rafting experience: The river is big and icy cold, with glacially fed waters. But this rafting outfitter based near the Park Entrance offers a soul-warming experience on the river, which makes an excellent counterpart to a bus tour through the national park. Even if you have no rafting experience, you'll be rewarded with sweeping scenery and potential wildlife sightings.

Experienced Guides—and Cozy Gear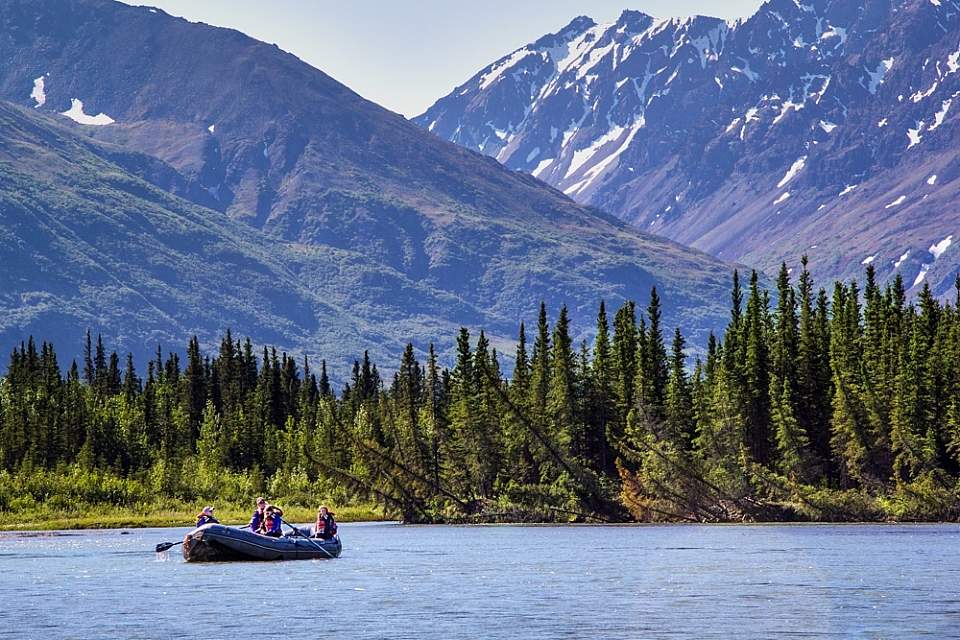 In Alaska, not that many tour operators can say that they have been around more than a decade or two—but Denali Raft Adventures is an exception. It first launched in 1974, with the current owners taking the helm in 1987. Aside from clothing (they used to raft in rain gear and rubber boots!) the basic set-up has not changed much: they employ 30 employees every season (many return year after year), and all of the guides have previous experience, as well as training specific to the Nenana.
When you sign up for a trip, you'll get some basic instruction, and outfitted so that those cold glacial waters won't put on any damper on your experience. Every guest gets a GoreTex dry suit with neoprene booties, a life jacket and (for the Canyon Run paddle trips) a helmet. To prepare you just need to dress in layers, with a hat, waterproof gloves, and warm socks—and perhaps leave your camera behind (the splashing can wreak havoc if your device isn't waterproof).
Scenery and Whitewater Thrills
Denali Raft Adventures offers two main routes, the Canyon Run and the Wilderness Run, and for each trip you have two options for how you will participate: either in an oar boat (with up to 10 passengers, ages 12 and up, and only the guide is doing the paddling) or a paddle boat (with 5-10 passengers, ages 12 and up, and everyone pitches in with the paddling).
Whether you paddle or not, the three-hour Canyon Run trip consists of two hours on the water, with 8 Class 3 rapids and one rollicking Class 4 rapid, called the Cable Car (other rapids along the way are called the Coffee Grinder and the Ice Worm). The first half of the trip runs parallel to the road then dips into a canyon, with big canyon views and potential sightings of moose, bears, and Dall Sheep (especially early in the summer season, when they have their babies).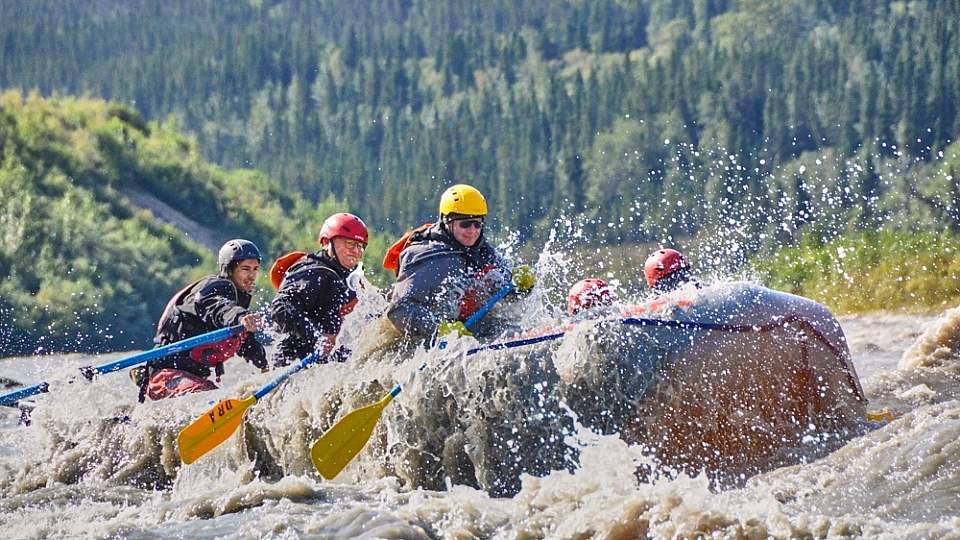 The milder Wilderness Run, meanwhile, starts farther upriver and doesn't run along the road. Instead, you start out surrounded by mountains and then reach a flatter area where you can see taiga forest. Along the 2-hour ride you'll encounter several Class 2 rapids, separated by stretches of calm water, and then finish off with one Class 3 rapid. While you don't get as many thrills on this route, you do have a slightly higher chance of seeing wildlife, like the Dall Sheep, moose, and bears, as well as beavers.
Along for the Ride
For the most impact, take the Healy Express, a 5 1/2-hour combo trip that includes four hours on the water total—both the Wilderness Run and the Canyon Run—with a little break in between.
The staff at Denali Raft Adventures say they get guests of all ages—from kids as young as 5 to folks in their 90s. Whichever route feels right for you, you'll be rewarded with an exhilarating experience—whether that means feeling the rush of water against your paddle, or basking in the breeze and scenery as you sit back and hang on for the ride.