Photo Credit: Wendy Ranney
Summertime in Cordova is bustling with visitors and seasonal workers who come for the salmon runs. But winter here is much quieter; it's the perfect time to experience the community and get to know the locals.
It's also a great time to get outside and have some fun! If the snow conditions are right, you'll find amazing opportunities. Downhill skiers and boarders can ride the lift -- one of America's oldest single-chair lifts in the country -- at the Mt. Eyak Ski Area. Or go cross-country skiing or snowshoeing along Forest Service trails. Even before the snow flies, though, the cold weather in November and early December freezes the ponds along the Copper River Highway, making for magical ice skating. Locals love to take their blades to Sheridan Glacier Lake, a stunning glacier lake studded with icebergs(bring your safety gear!). Come ready to Instagram.
Winter is also when the community joins in together for fun events like the Cordova Iceworm Festival, which kicks off in late January. Find out why the sole purpose of this festival is to help get people outside and cure the winter blues—it's a blast!
And if you're looking to plan an event or meeting, consider the Cordova Center—a new, state-of-the-art facility that can host meetings up to 200 people. Winter is often the time when groups will bring their team to Cordova to enjoy the area and meet in a beautiful space.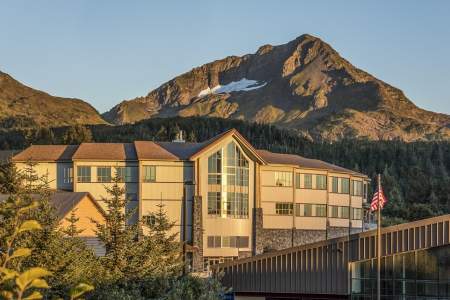 The Cor­do­va Cen­ter is a state-of-the-art facil­i­ty built in 2014 that can hold groups of up to 200 peo­ple. It blends per­fect­ly into its sur­round­ings, with big win­dows that look out onto Orca Inlet and Hawkins Island. Once work is done, it's a land­scape your group will want to explore!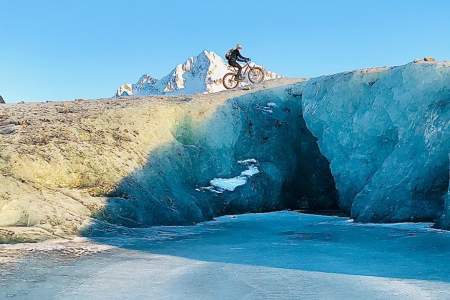 Difficulty: Easy Distance: 3 miles
This 1.5‑mile hike is an easy stroll down to the lake that offers a great pay­off in the form of a gor­geous glac­i­er. If you're here in win­ter and the con­di­tions are right, it's a great spot for wilder­ness ice skat­ing, fat bik­ing, or cross-coun­try skiing!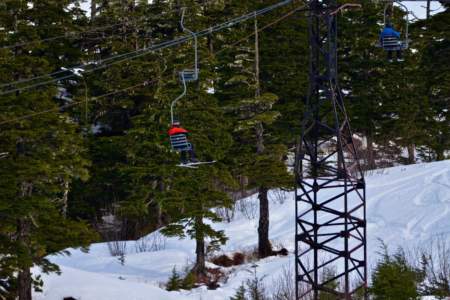 Difficulty: Moderate Distance: 5 miles Elevation Gain: 2506 feet
Dis­cov­er year-round recre­ation above Cor­do­va on this gor­geous moun­tain. In win­ter, you can lose your­self among the puffy snow­drifts and pow­der-cov­ered trees as you schuss down the slopes. And in the sum­mer, you'll find berry pick­ing, hik­ing, and festivals.