Q: How long have you lived in Valdez?
Vince: I grew up in Portland, Oregon; my first trip to Alaska was 1974 and I first came to Valdez in 1979. I worked on tour boats, then had a career at the University and with the state for about 20 years. But my first love is boats in Prince William Sound.
Jennie: I grew up in New England and always dreamed of living "north," which at the time meant maybe Vermont or Maine. I came to Alaska and Valdez in 1982, then spent 4 years teaching in the Alaskan bush, in Unalakleet and Koyuk. I returned to Valdez because I had great friendships here. Dr. Todd, who runs the town's medical clinic, is the one who first taught me how to paddle.
What do you love about Valdez?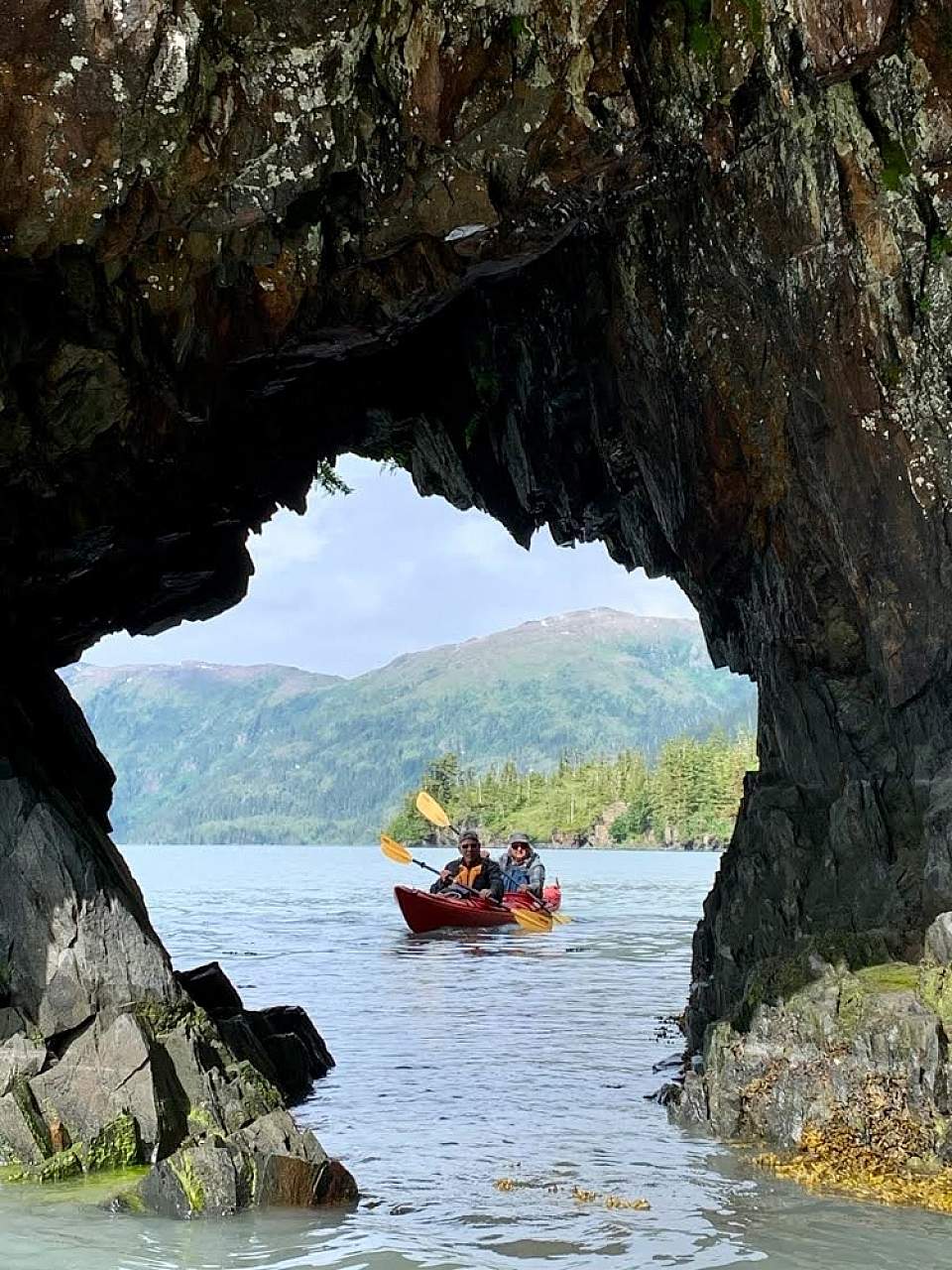 Jennie: I love that I can step off our porch and put in a kayak. We have the water and the mountains—the best of both worlds. We get enough rain that we don't attract all the people all the time, but we've never thought about moving anywhere else. And it's been a great place to raise our kids. Growing up in New England, I remember the smell of hot tar and fresh-cut grass in the summer. Here, my kids grew up with the tides taking their toys away, watching the sea lions and seals, and listening to the eagles.
Vince: Our house is off the grid; you have to hike to it. It has a remote feel, but we're still right in the community. Valdez is the gateway to the Sound; it's also an authentic fishing town. You'll see folks working on their nets.
Q: What makes Prince William Sound so special?
Vince: Between Southeast Alaska and the Sound, there's a lot of open ocean, which limits the number of boats that come up this way. Fewer boats gives us a little remoteness and a true sense of wilderness.
Plus, Prince William Sound has really protected waters. In Seward, you can't go out that far without being in open ocean. But in Valdez, we can!
Q: What's a favorite memory?
Jennie: One time, a whale came close to shore, and I just sat down on the beach to watch it. Another time, our dog swam into the ocean, and the seals were playing with her!
Q: When did you meet?
Vince: We met during the response to the Exxon Valdez Oil Spill, in 1989. It was one of the central events of my life. We can't say it didn't happen, but we can say that the effects are invisible now. The Sound itself is resilient and beautiful.
Jennie: I think that because of the spill, those of us who have been here since then are much more protective and appreciative. And those who have arrived since then would never know it happened.
Q: What do you do?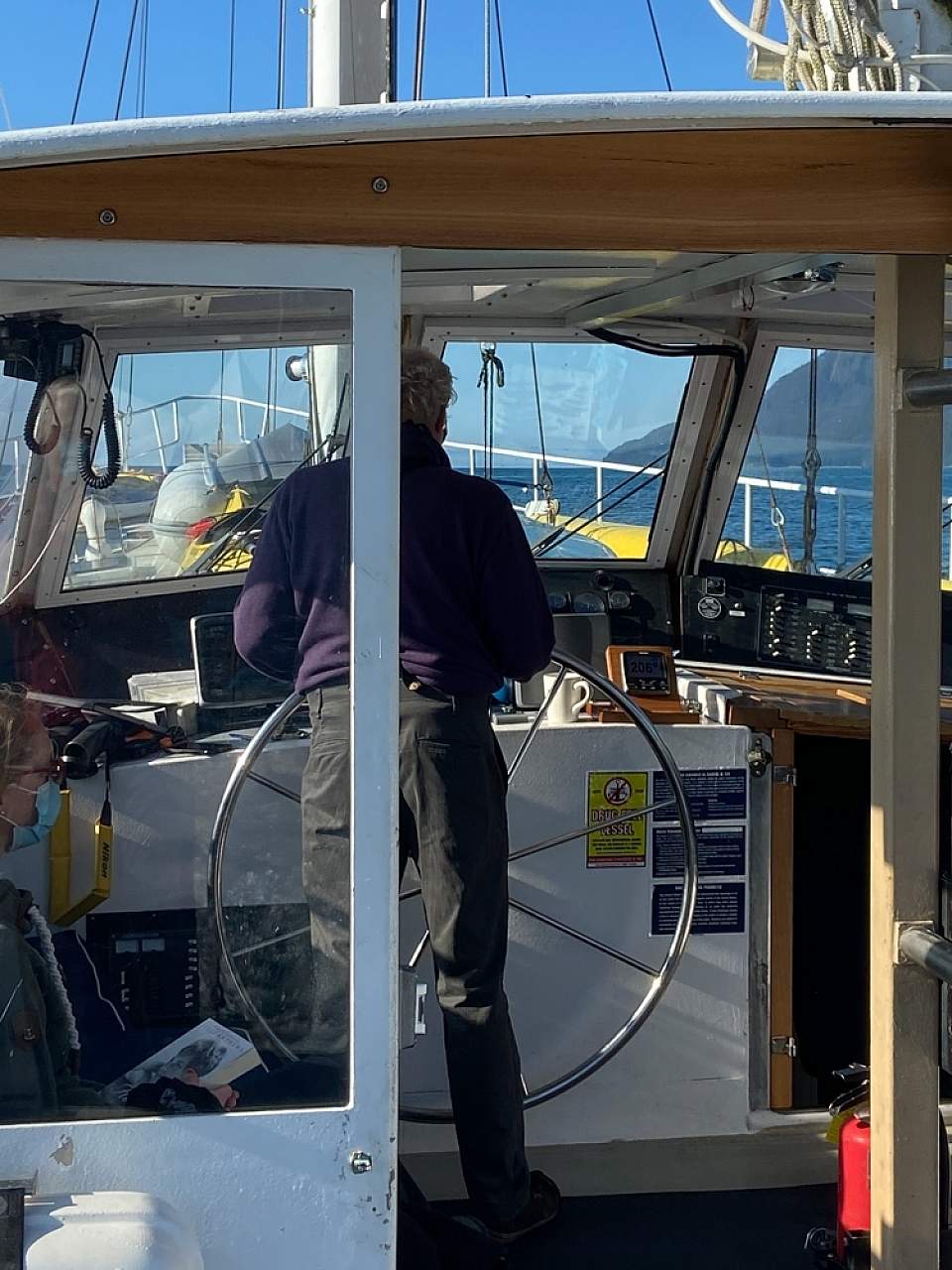 Vince: I retired from the University and I'm now realizing a dream by running a boat, the Aurelia. I grew up sailing with my dad to Tahiti and Hawaii, so I brought that love of sailing together with my love of discovery in Prince William Sound. We take people out on chartered excursions. We have kayaks on deck and go all over the Sound and paddle around. I'm also on the board of the Valdez CVB and have been on the board of the public radio station. We're very involved in the community.
Jennie: I teach Spanish and French, but I'm also the kayak guide and the cook on the Aurelia. We have a pretty neat time meeting people and showing them around. If it's quiet enough we may see a bear, or watch seals and eagles. There isn't a critter that isn't fascinating to me, even if I've seen it before.
Q: Tell us more!
Jennie: The concept is pretty simple. We have a very comfortable boat for Prince William Sound—80 feet long with 3 state rooms. It's perfect for families and groups. Our favorite is when they say, "We have 5 days, where can you take us?" We'll go to these beautiful spots to see glaciers and take the kayaks out or go ashore and explore. It's an intimate trip; our guests practically become part of our family.
Vince: We're not trying to corner the yacht market. We keep prices low so that families and regular people can afford to go out with us.
Q: What's a hidden gem in Valdez?
Jennie: In winter, it's the frozen Valdez Glacier Lake—there's great ice skating. I also love the cross-country skiing: Through the college, the community can rent free skis and snowshoes. In the fall, you can pick berries, mushrooms, and dry seaweed; there's all kinds of cool foraging. Also, this is a pretty cool little town; there are lots of down-home things to do to, fun events like the Ice Climbing Festival, and a great library and museum!
Vince: I love the hiking trails, like Shoup Trail, the phenomenal kayaking, and the public use cabins. And this is a fabulous fishing town for halibut and salmon.
Q: What do you hope visitors get out of a visit to Valdez?
Vince: I really think we're sort of ambassadors of the wilderness, and I'd like to give people a sense of how much value there is in such a wonderful place.
Jennie: Get out on the water! Take a day cruise or go kayaking. Touching the ocean is important. But mostly I'd like people to slow down and have enough time to just be when they're here.