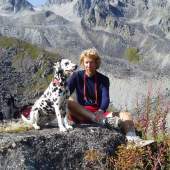 Shawn R. Lyons
Hiker, hiking columnist, author of Walk-About Guide to Alaska Volume II & III
I would not say I love (a word I think we should use sparingly) Alaska as much as cherish it. I cherish it for its wildness, a wildness that holds great menace, but no malice.
I arrived in Alaska some 35 years ago—mostly for the better opportunities to play music and to go for hike and climb in this legendary land. Before arriving here I had hiked the Appalachian Trail from Georgia to Maine, hiked and climbed in Nepal, Pakistan, Colorado, Wyoming, Mexico, and the Yukon. And so the hiking and climbing possibilities in the wilderness of Alaska served as a huge draw. I began hiking and climbing almost immediately upon arriving here, exploring the mountains above Anchorage almost every day for many hours.

That hiking and climbing soon led me to writing stories and guides about the outdoors. After gaining some reputation for doing out-of-the-way climbs and endurance hikes—like the first to continuously climb all twelve 5,000-foot peaks in the Front Range above Alaska in, the first (and I think still only) to hike from Knik River to Girdwood (which involved climbing over 4 passes, crossing 4 rivers, and hiking many miles without a trail underfoot) without stopping, winning the 100-mile snowshoe division of the Iditasport numerous times, and exploring many remote areas within driving distance of Anchorage—led to the local paper hiring me to write a weekly hiking and climbing column. This column and continued explorations then led to me publishing hiking guides, which, in turn, led me to advocate for the outdoors, and thus do my small part in helping to preserve the land that has provided me with so many adventures.
Shawn Lyons passed away in February of 2021. Alaska.org is so grateful to have known him, and for his contributions to the website over the years.
Alaska Favorites
While I cannot point to particular favorite places, for every place changes with each trip—changes in conditions and season, whether with company or alone, or even changes in one's own mood—there do remain some situations that consistently make my heart go pitter-patter:
Stepping off the end of a trail to begin my own adventure.
Traversing the crest of a high ridge far from the nearest road and high above the nearest trail.
Hiking under a full moon on a below-zero winter night.