Photo Credit: Kahiltna Birchworks
Ultimate Alaska Holiday Gift Guide
Reindeer sausage, bowls made from Alaskan birch, clothing made of musk ox wool: Alaska is full of unique products that not only capture the essence of the 49th state, but also make for great gifts at the holidays or anytime.
Since it can be hard to find the perfect gift, we've made it easy—and fun! We assembled some of the most quintessentially Alaskan products to light up the faces of everyone on your gift list. Whether you're a Lower 48'er looking to bring some Alaskan flavor into your home, or an Alaskan wanting to support businesses in your backyard, we've got you covered. After all, as Alaskans ourselves, we know when something is authentic to "The Last Frontier." And we've known some of these shops for more than 25 years.
Whatever your passion—and whomever the gift is for—you'll find the perfect present right here.
Food | Fashion | Kitchen | Outdoors | Art | Conservation | Travel
For the Foodie
Great food is the beginning of many great memories, made around the dinner table or at parties with friends and family. Bring the tastes and aromas of Alaska into your home with gifts from these 49th state purveyors.
Jams and jellies
Capture the Alaskan wilderness in a jar. Made with Alaskan berries, these delectable spreads can be purchased alone or as part of a gift basket. Or opt for the tasty teas and fine chocolates from this company, which started in Homer back in 1968.
Get It: Alaska Wild Berry Products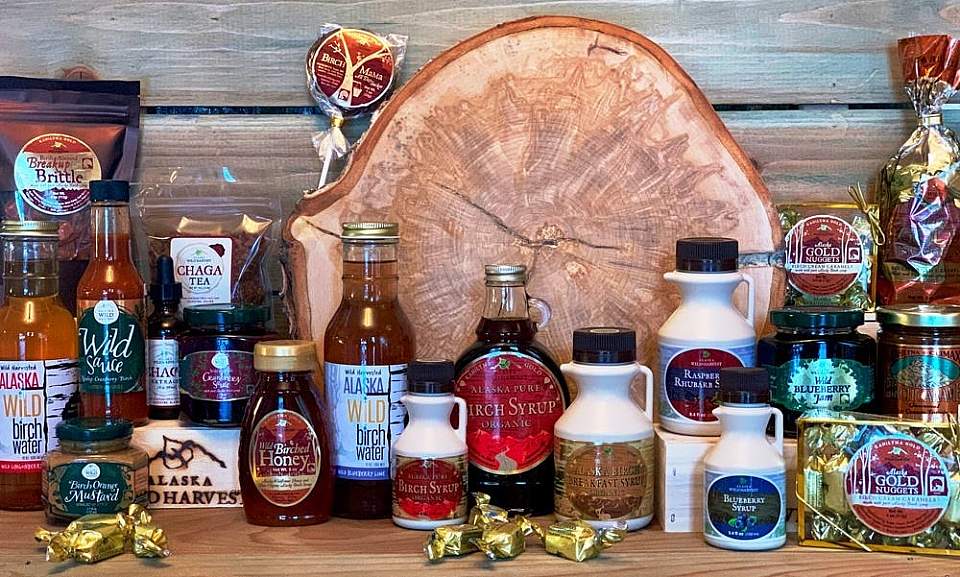 Birch syrup
You may never go back to maple. Dulce and Michael East pioneered the birch-sap business in Alaska 30 years ago; today, they tap some 10,000 trees to make this singular syrup. You can also order jams, candies, Alaska gift crates, and more!
Get It: Alaska Birch Syrup and Wild Harvest
Spices & Tea
Browse the some 60 loose-leaf teas, 100 spices and herbs (including hand-mixed blends), 40 global gourmet salts, and 45 infused sugars. Select your own, or choose from their pre-made gift boxes.
Get it: The Spice & Tea Exchange
Sausage and smoked meats
Flavorful reindeer sausage is a staple of any Alaskan adventure—and a great conversation starter. Build a gift pack with it and other gourmet Alaskan sausages, then add smoked meats, cheese, chocolates, condiments, and teas from this company that's been operating since 1963.
Get It: Alaska Sausage & Seafood
Alaskan seafood
You'll think you've wrestled a salmon out of Alaska's pure waters yourself. The fish is not only fresh, but FedEx'd overnight. Look for gift packs that include king crab, salmon, halibut, smoked seafood, and more; this company has been doing it since 1943.
Get It: 10th & M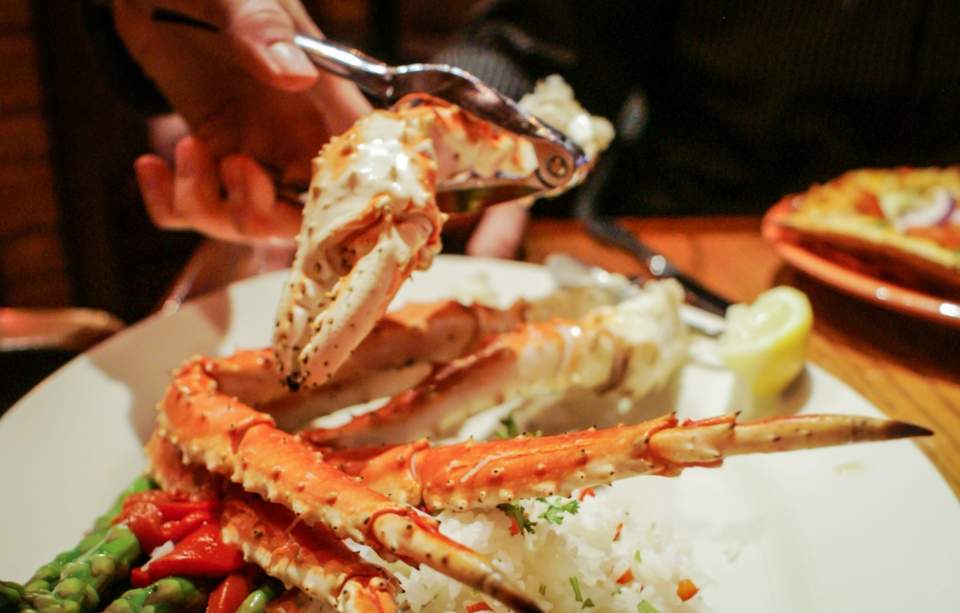 Unique seasonal gifts
Taste the tradition of an Alaskan institution: Choose from Alaska-created coffees, teas, candies, and more—all available from this shop in the Historic Kimball Building, built in 1915. Then visit when you're in Alaska and experience the aroma of their specialty Samovar Blend tea as it wafts through the store.
Get It: The Kobuk
Restaurant gift cards
Doing your own thing is part of being an Alaskan—so let your recipient decide what they want to order. Gift cards are a great option for anyone living in Alaska or will be visiting. Treat them to an unforgettable meal!
Get It: See our recommended restaurants
For the Fashionista
Know someone who likes to wear their gifts? Look no further. Using local materials, Alaskans have crafted these selections into clothing and jewelry you'll find nowhere else—and that will last for generations.
Alaskan furs
Warmth and style come together in everything from full-length coats to vests, earmuffs, and gloves at this Anchorage institution. Purchase something new from this family-owned business or bring in an heirloom to repurpose.
Get It: David Green Master Furrier
Medallions & gold nugget jewelry
What says Alaska more than gold? The state's only mint sells all-natural jewelry made of gold quartz and gold nuggets, with certificates stating where in Alaska the gold was mined. You'll also find pure silver and gold medallions, including perfect-for-the-holidays Christmas medallion tree ornaments.
Get It: Alaska Mint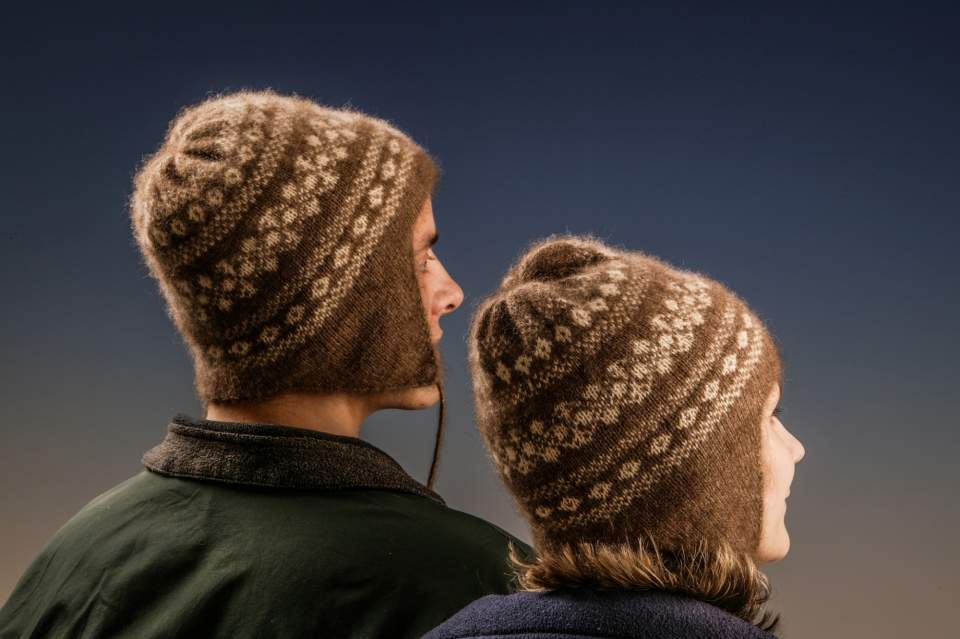 Musk ox wool (qiviut)
What's softer than cashmere, warmer than wool, and very Alaskan? It's qiviut—the underwool of a musk ox—and once you touch it, you'll understand the appeal. Browse hand-knit hats, scarves, and more that come from a collection of some 200 knitters from around Alaska.
Get It: Oomingmak Musk Ox Producers' Cooperative
Gold quartz & fine jewelry
For one-of-a-kind pieces that you'll treasure forever, look to this family-owned business that's been dazzling jewelry lovers since 1967. Discover gold quartz rings, pendants, bracelets, and more that include a vein of gold running through snowy white quartz.
Get It: 5th Avenue Jewelers
For the Home Chef
Know someone who loves to cook? Give your favorite home chef the gift of high-quality, hand-made products that come with fascinating stories of the 49th state.
Birch bowls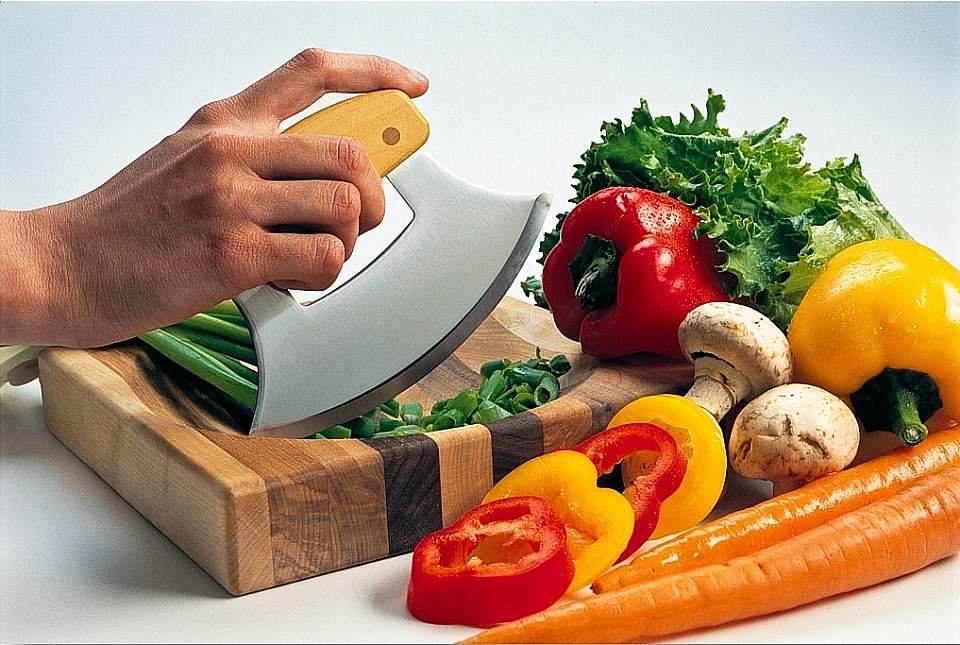 One-of-a-kind bowls will help stir up great meals—and conversation. These bowls are made from Alaskan birch—the state's sturdiest and most straight-grained tree. You'll also find other great Alaskan products, from foods and cookbooks to clothing and jewelry.
Get It: Great Alaskan Wood Bowl Company
Alaskan-made ulu knives
The ancient Inupiaq invented a unique curved blade, made of slate or bone, that rocks back and forth—perfect for filleting salmon and trout. (The modern version is stainless steel with hardwood handles.) Look for other high-quality kitchen helpers, too, like custom-made birch-wood salad grabbers.
Get It: Ulu Factory
For the Outdoor Enthusiast
There's a saying up here: There's no bad weather in Alaska—just bad gear. Here's how to get the right stuff for any kind of conditions…whether you're adventuring in Alaska or your own backyard.
Clothing and gear
When you need the highest-quality stuff for any type of adventure you can dream up, look to this long-running family-owned store. It all comes backed by expert service and advice from passionate locals who can direct you to exactly what you need.
Get It: Big Ray's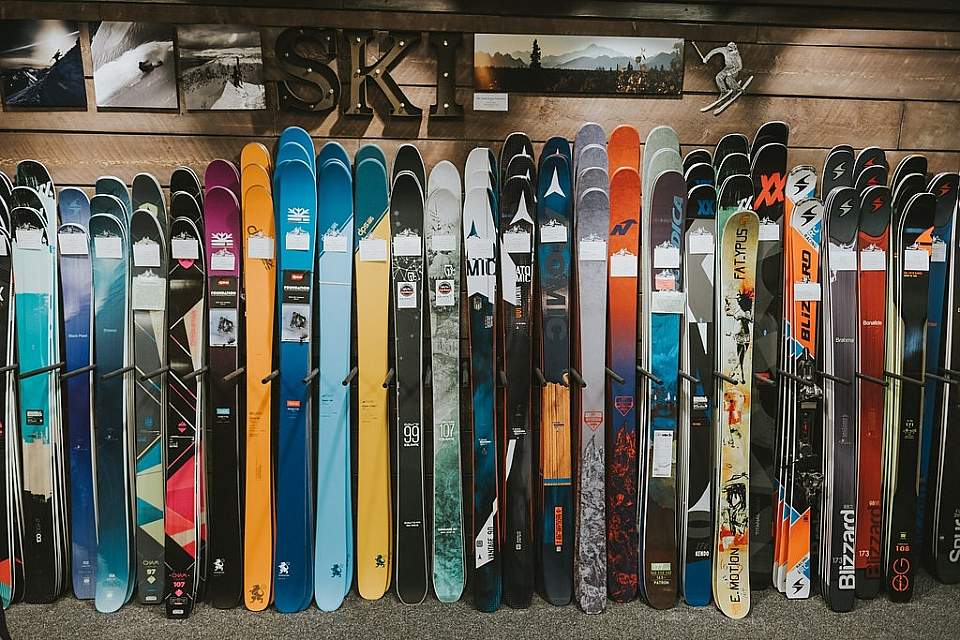 Ski gear & boots
A great ski day begins with the boot, and this shop at the base of famous Alyeska Ski Resort in Girdwood prides itself on detailed boot fittings plus great customer service. You'll also find all the gear you need to tackle powder, as well as essential items for summertime hiking, biking, and other adventures.
Get It: Powder Hound
Gently used gear
Find great stuff at bargain prices for warm- and cold-weather adventuring, like climbing boots, crampons, ice tools, or extreme-cold-weather clothing. You'll also discover a deep inventory of new and used bicycles, sleeping bags, and camping stoves.
Get It: The Hoarding Marmot
For the Art Connoisseur
Bring Alaska to life before your very eyes. Artwork from Native Alaskans and all the talented artists who live here makes for a visually stunning gift—and a continual celebration of the state.
Jeff Schultz Photography Alaska Calendar
Keep Alaska in the forefront of your mind all year long with a stunningly beautiful, expertly printed "made in Alaska" 12 month Alaska wall calendar. Jeff has photographed in Alaska for over 40 years and has been the official photographer of the Iditarod since 1982. Many of his Images grace the pages of Alaska.org!
Get it: Jeff Schultz Photography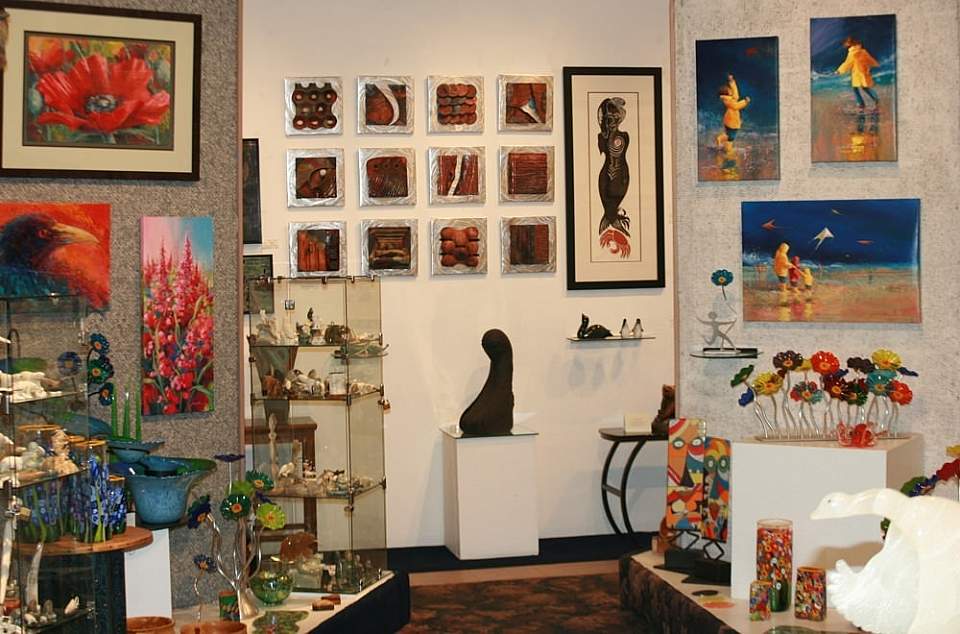 Art pieces by Alaska Native artists
Embrace the beauty and traditions of Alaska Native artists, with traditional and contemporary works sourced directly from the artists. Discover gorgeous pieces with traditional themes, like bears carved from jade and walrus-ivory earrings; you'll also find contemporary works like brightly colored oil paintings of Alaskan landscapes.
Get It: Aurora Fine Art Gallery
Unique Alaskan art
Discover authentic Alaskan treasures at this one-of-a-kind gallery. Shop for high-quality glass, metal, and wood art, as well as an array of diverse items such as jewelry, mittens, handbags, scarves, handmade soap, journals, photography, watercolor prints, cards, and more. Most pieces are contemporary works that will add an extra dimension to any setting.
Get It: Tiny Gallery
For the Conservationist
What's the perfect gift for someone who's always giving? Donations! There's no shortage of conservation-focused organizations in Alaska that welcome some extra help to support their missions.
Protect the wildlife
Bears, bison, and other beautiful creatures help make Alaska the memorable experience it is. And this organization, which opened to the public in 1993 with a 200-acre center, helps preserve the magic through conservation, research, education, and quality animal care. Purchase a membership, donate in someone's name, or adopt an animal!
Learn more: Alaska Wildlife Conservation Center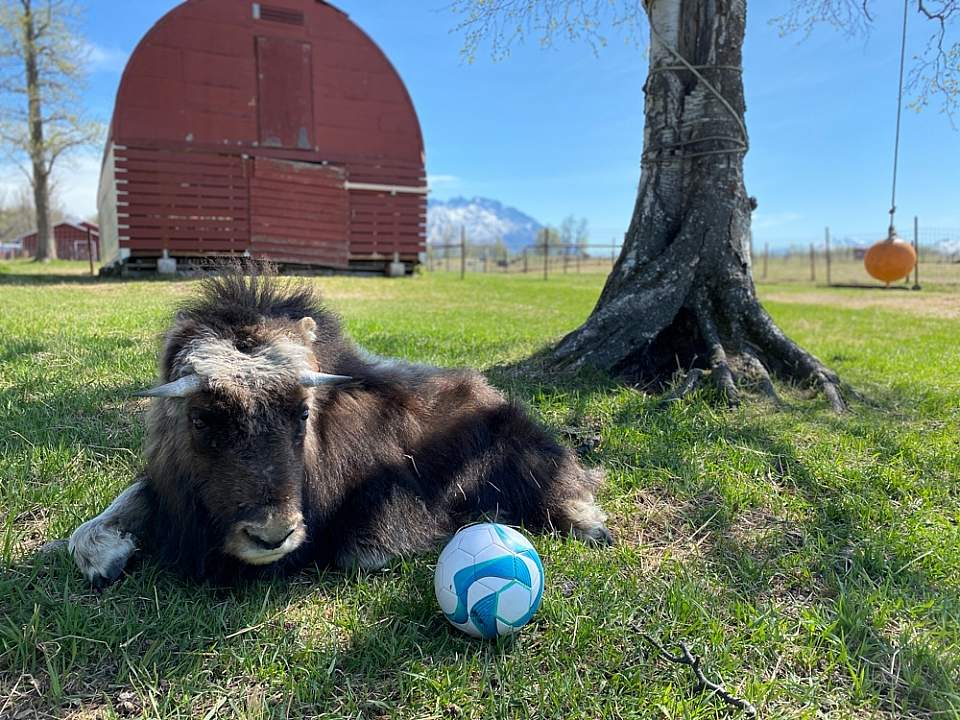 Adopt a zoo animal
A baby elephant named Annabelle was the one (very cute) animal at the Alaska Zoo when it started in 1969. Today, visitors will find the widest variety of animals native to the state, some exotic creatures, and a center for education and research that focuses on wildlife conservation and animal rehabilitation. Give an annual membership or adopt an animal.
Learn more: Alaska Zoo
Keep marine wildlife afloat
Visitors can watch seals and sea lions play at the Alaska SeaLife Center, but this important organization also harbors an essential mission—to preserve and protect all kinds of waterborne creatures, from birds to fish and invertebrates. Purchase a membership to give someone unlimited visits, or make a donation in their name. Learn more: Alaska SeaLife Center
Help the musk ox
The ancient—and adorable—musk ox plays an important role in Alaska, which is showcased at the Musk Ox Farm in Palmer. Visitors can see these gentle creatures and learn about how their underwool—or qiviut—offers a sustainable product. Donate or adopt a musk ox, or browse their qivuit products!
Learn more: Alaska Musk Ox Farm
For the Traveler
Give the gift of travel! If you know someone visiting Alaska, or if you're ready to plan the adventure of a lifetime, here's how to help make dreams come true.
Travel gift card
Surprise your loved one with a rafting trip down a glacial river, or gift them a cozy room in a wilderness lodge with an unforgettable view. They'll have something to look forward to all winter long. Many of our partners offer gift cards.