Photo Credit: Scott Adams
My First Trip to Alaska: 2 Weeks in Southcentral & Interior Alaska
I Had No Idea What To Expect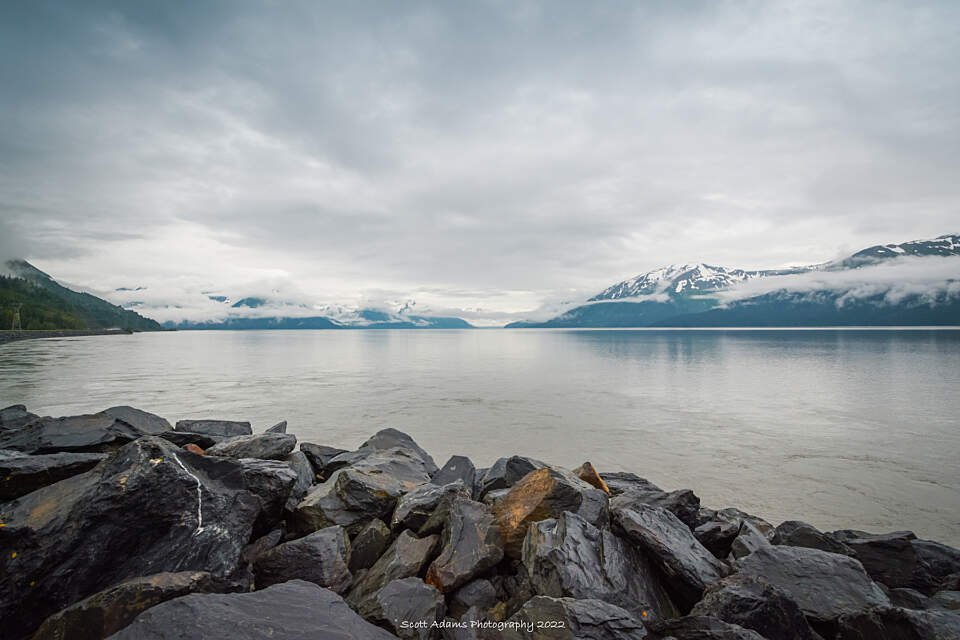 It was my first time visiting Alaska and I wanted everything to surprise me, so I didn't do any research before I went. But my wife, Mary Beth, had first-hand experience—she lived in Alaska for 3 years in the 1990s and had always wanted to go back.
So, in July 2016, we boarded an Air Alaska jet out of the Washington, D.C. area for an 11-hour trip to Anchorage (with a layover in Seattle) and landed mid-afternoon. After getting our rental car, we headed to Point Woronzof, a well-known spot right near the airport to catch a glimpse of Denali. Although the mountain was 140 miles away and some clouds lingered in the air, we still had a pretty good view of this iconic treasure. It was a phenomenal way to kick off the trip.
After some shopping for road-trip snacks, we turned in. When I woke up around midnight, Alaska gave me its first surprise: It was still light outside. While I got used to the lack of total darkness in summer, I had not been prepared for it. Duly noted!

Exploring the Beauty of Alaska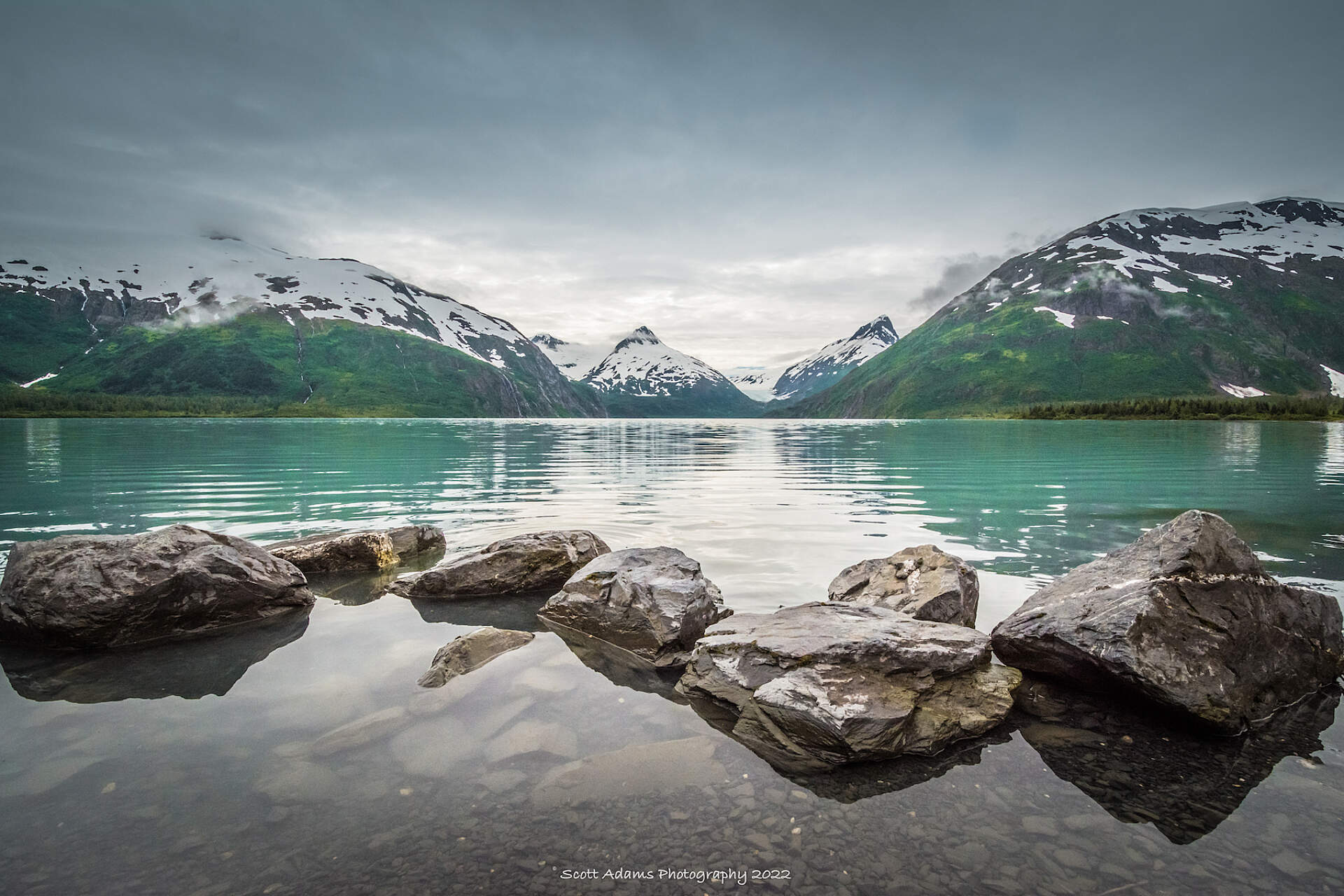 The next day, our destination was Valdez. We would be taking the Alaska Marine Highway System aboard the M/V Aurora from Whittier, about 90 minutes south of Anchorage.
The drive started along Turnagain Arm; although it was a bit overcast, I was getting a feel for how beautiful this state really is. We stopped at all the official pull-offs—and even at some spots that weren't—to marvel at the phenomenal scenery. Continuing on to Portage Lake and the Begich, Boggs Visitor Center, we walked around the lake and took in the incredible views that surrounded us.
Off to Whittier We Go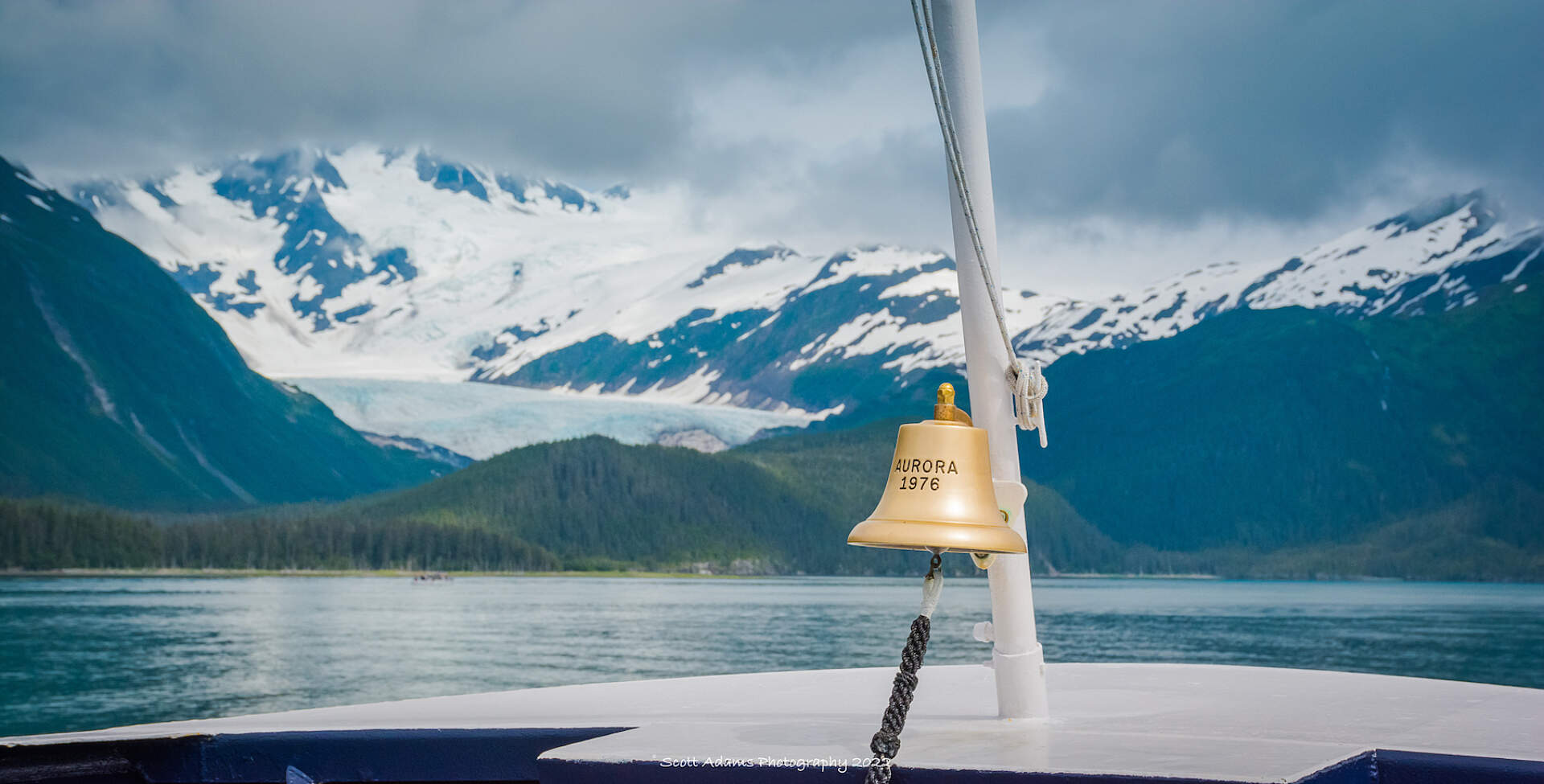 After checking out the visitor center, we drove a few minutes over to the Anton Anderson Memorial Tunnel, which would take us to Whittier. At 2.5 miles long, this is North America's longest tunnel, and the first designed for minus-40-degree (Fahrenheit!) temperatures and 150-mph winds.
Both cars and trains share the one-lane tunnel, so it's only driveable at certain times. We had just missed the last opening, so we hung out in the parking lot and made peanut butter and honey sandwiches. When it came time, cars and buses lined up in different lanes and proceeded in a very organized manner.
We checked in at the ferry terminal, drove into the boat's cargo bay, and headed up to the deck for the 6-hour trip to Valdez. The weather was perfect, so we spent most of the trip outside, enjoying spectacular views of Prince William Sound. Once we arrived, we ventured down to our car, drove out from the belly of the boat, and headed to the Totem Inn, our home for the evening.
Visiting Keystone Canyon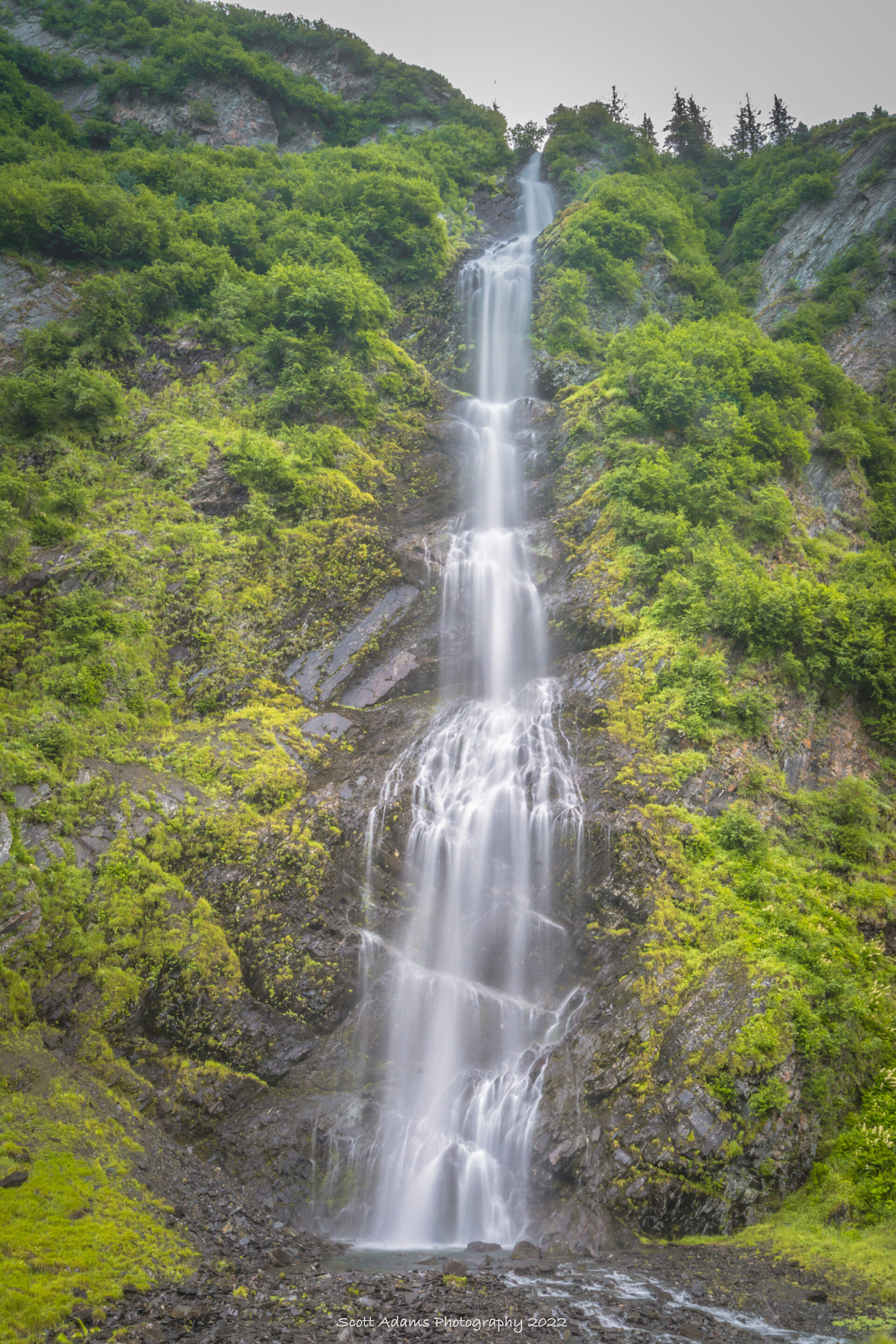 The next morning, we headed out on the Richardson Highway to explore. One of the first must-see spots is Keystone Canyon, just 20 minutes north of Valdez, which boasts some spectacular waterfalls. We stopped at both Horsetail and Bridal Veil Falls, right on the side of the highway, to gaze at water falling hundreds of feet down the rocky cliffs.
Touching a Glacier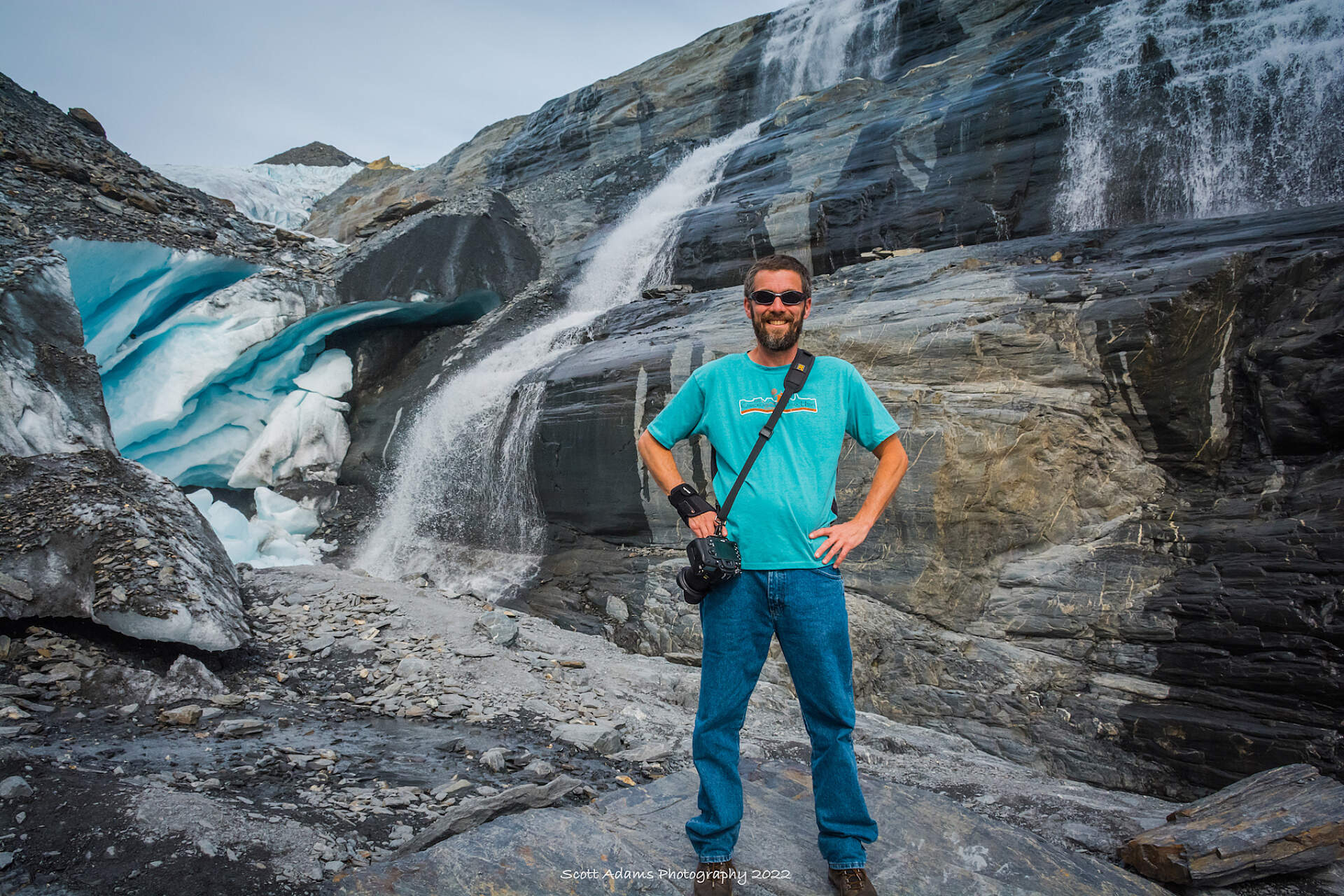 We continued on to Thompson Pass and Worthington Glacier. It's just 30 miles away, but the drive took us an hour and half, since we stopped at all the waterfalls. Once we got to the glacier, we hiked right up to it on a short, very accessible path. I had never been so close to a glacier—so blue and beautiful! The view, looking out through the valley, was so beautiful I didn't want to leave.
A Stop at Blueberry Lake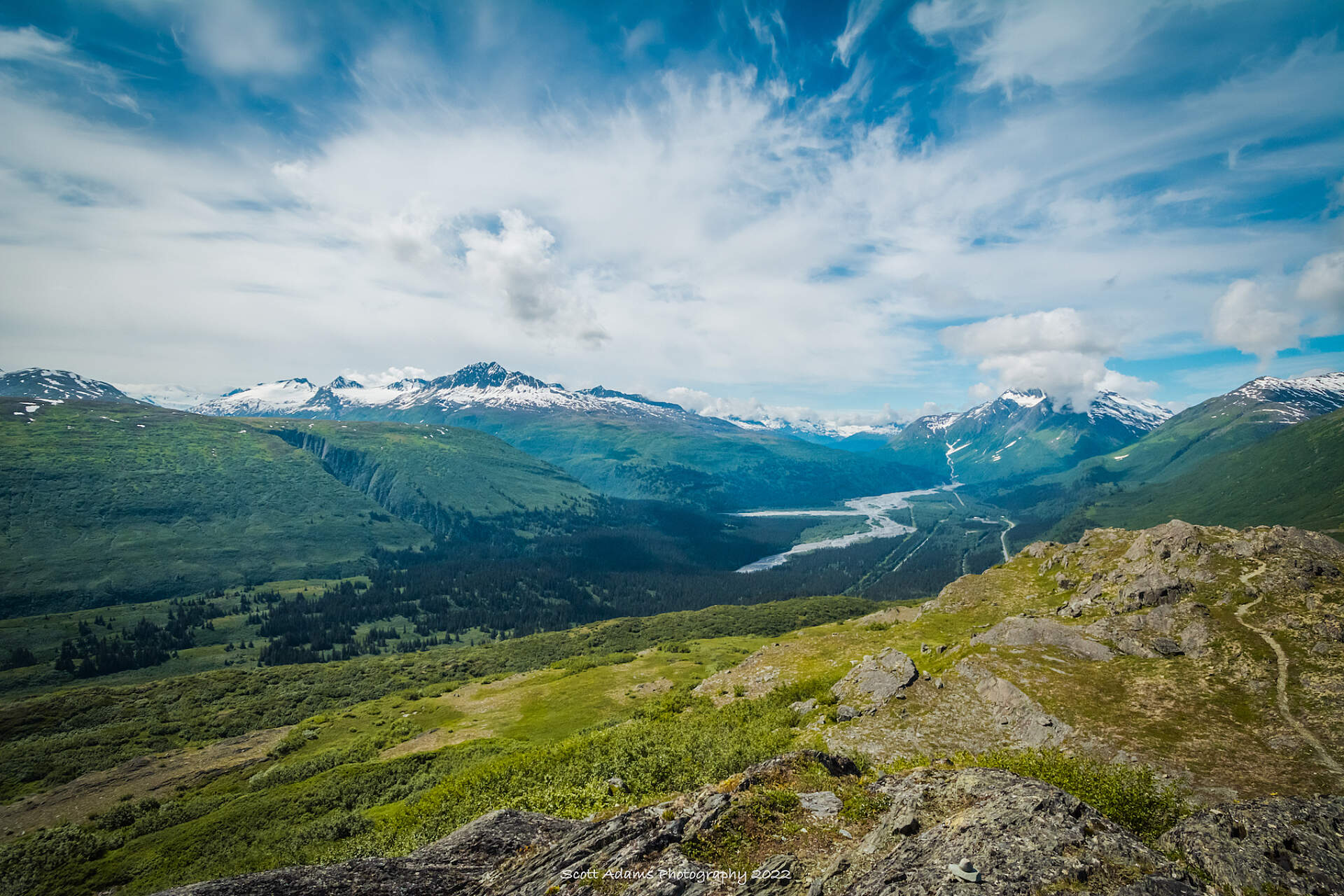 Once we tore ourselves away, we decided to head back to Valdez. On the way back down through Thompson Pass, we stopped at Blueberry Lake SRA. A short hike brought us to a path that provides 360-degree views of snow-capped peaks and the Lowe River. The wind up here was super-strong; if you go, hold onto your hat!
Old Valdez
On the way back to our hotel we stopped at Old Valdez, where the town used to be before the Good Friday earthquake obliterated it in 1964. All that's left are some street signs, a few overgrown foundations, and some informational boards with the town's history. It's a sobering reminder of the power of Mother Nature. But the scenery here is spectacular, with fireweed making for a very nice foreground as we looked out toward the harbor.
In Search of Bears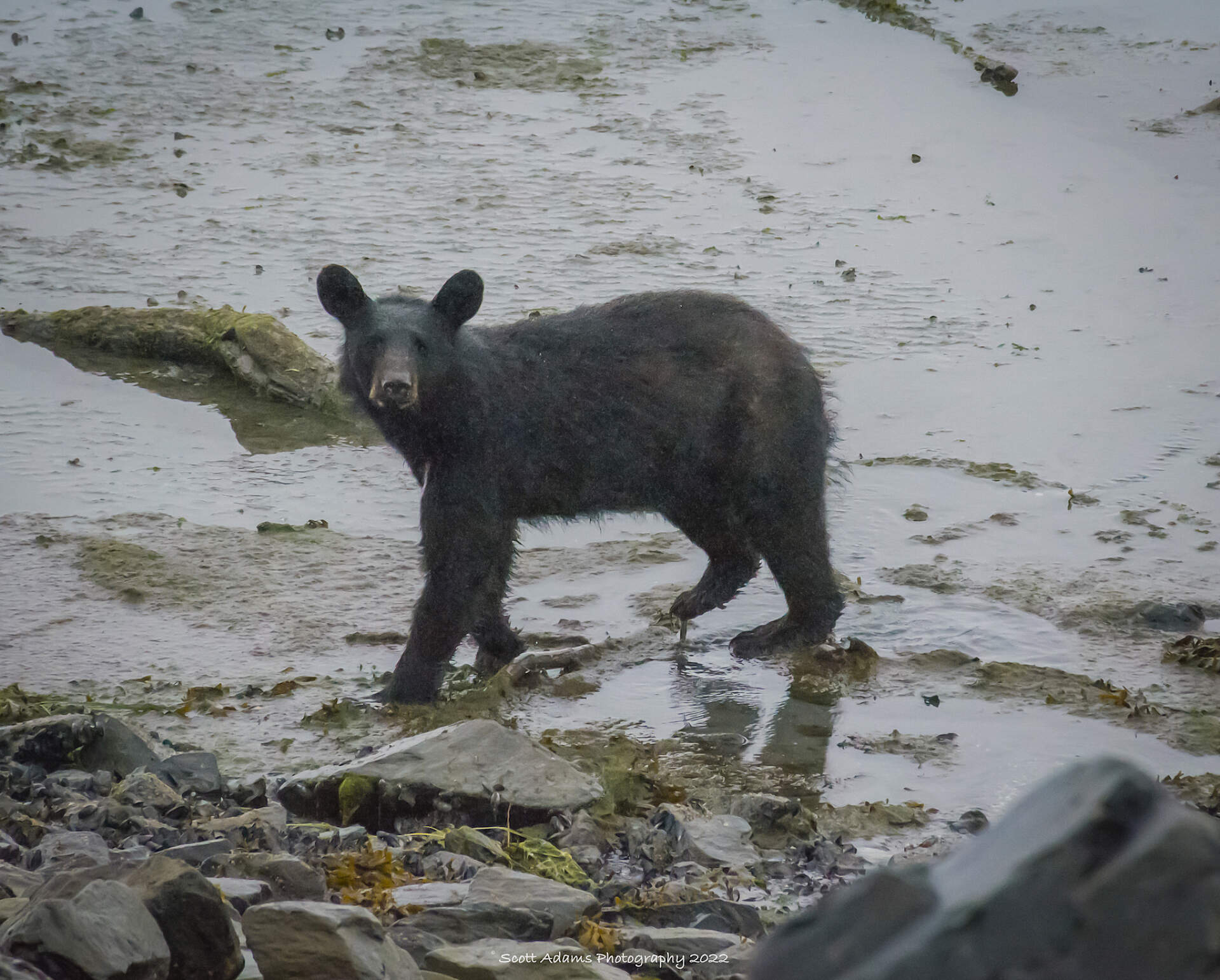 Back in Valdez, we headed to the other side of Port Valdez via Dayville Rd. to the Solomon Gulch Hatchery, in hopes of seeing bears in the mud flats at low tide. Unsuccessful, we left after 90 minutes, but returned in the morning and at least saw one bear—plus lots of eagles—so we counted it as a win and set off for Kennicott.
Exploring Wrangell-St. Elias National Park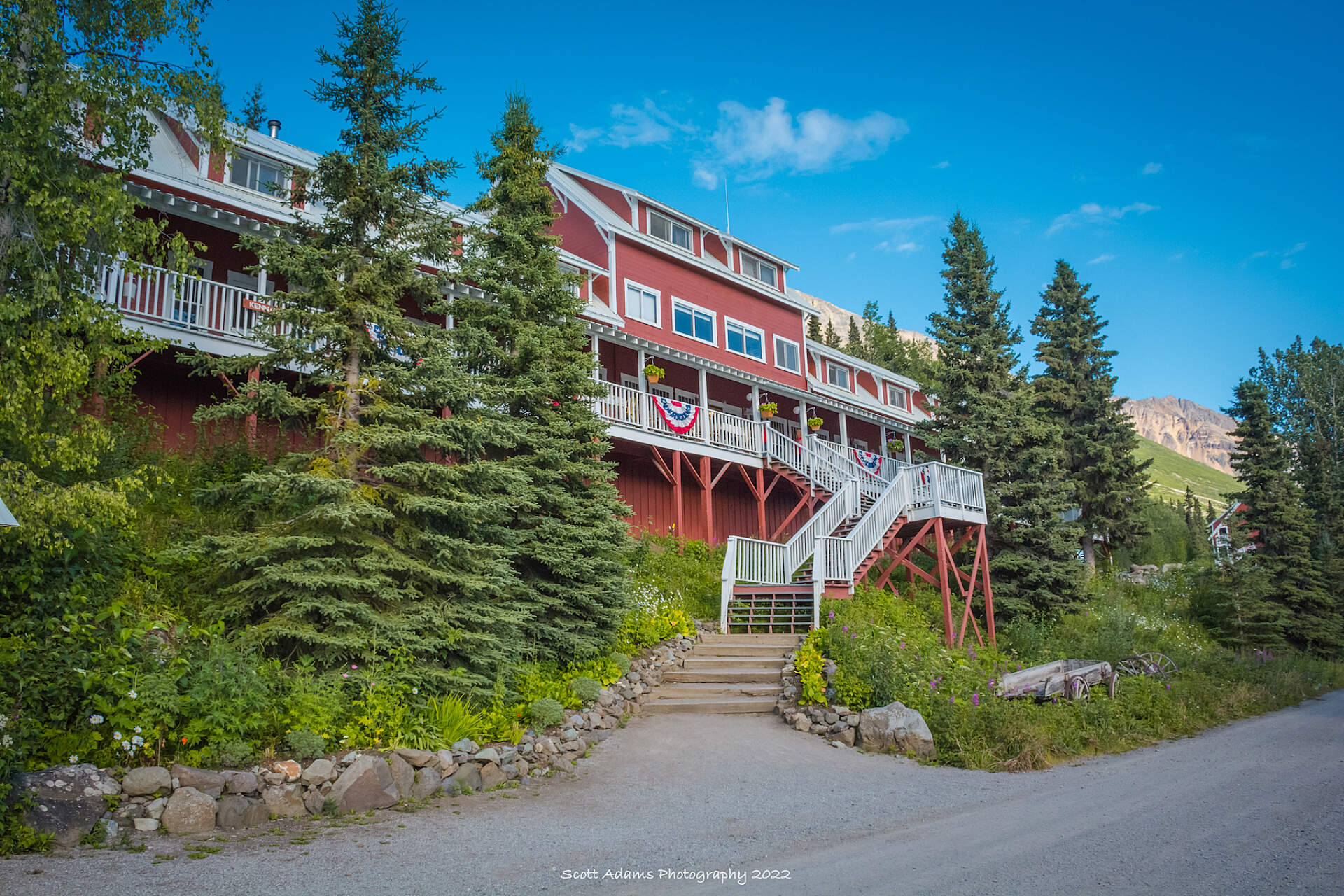 As we headed back out of town and over Thompson Pass, the visibility was pretty close to zero, so we felt lucky to have seen this beautiful stretch in good weather. We were driving with the windows open just so we could hear other vehicles, because we certainly couldn't see them (and even scarier, they couldn't see us). Once over the pass, though, we found clear skies.
We drove on paved roads on the way to Chitina (pronounced Chit-na), in Wrangell-St. Elias National Park—America's largest national park at 13.2 million acres and home to 9 of the country's 16 highest peaks. From there, it was about a 60-mile, 3.5-hour drive on the McCarthy Road, which follows the railbed of the defunct Copper River and Northwestern Railway. It's a pretty well-maintained dirt and gravel road, but you wouldn't want to drive faster than 35 mph (25 would be better).
Some stretches of this road had spectacular views; others were thick with trees. As the road neared an end, we saw places to park. Since we were staying at the Kennicott Glacier Lodge, we were allowed to park at a little A-frame cabin. After a shuttle ride to the end of the road, we crossed a footbridge over the Kennecott River and the Lodge shuttle picked us up for a ride along the gravel road to Kennicott.
About a half-mile past the river crossing is the turnoff to the town of McCarthy. Kennecott was a mining town where prostitution and alcohol were forbidden, so miners went to McCarthy for women and booze. We heard that today, the town throws one heck of a July 4th parade.

The Kennicott Glacier Lodge has a main lodge and a second building—where our room was located— which features a relaxing deck that runs along its entire length. Each room opens out onto that porch, with a couple chairs for lounging and taking in a panoramic view of the Chugach and Wrangell Mountains.
An Old Mining Town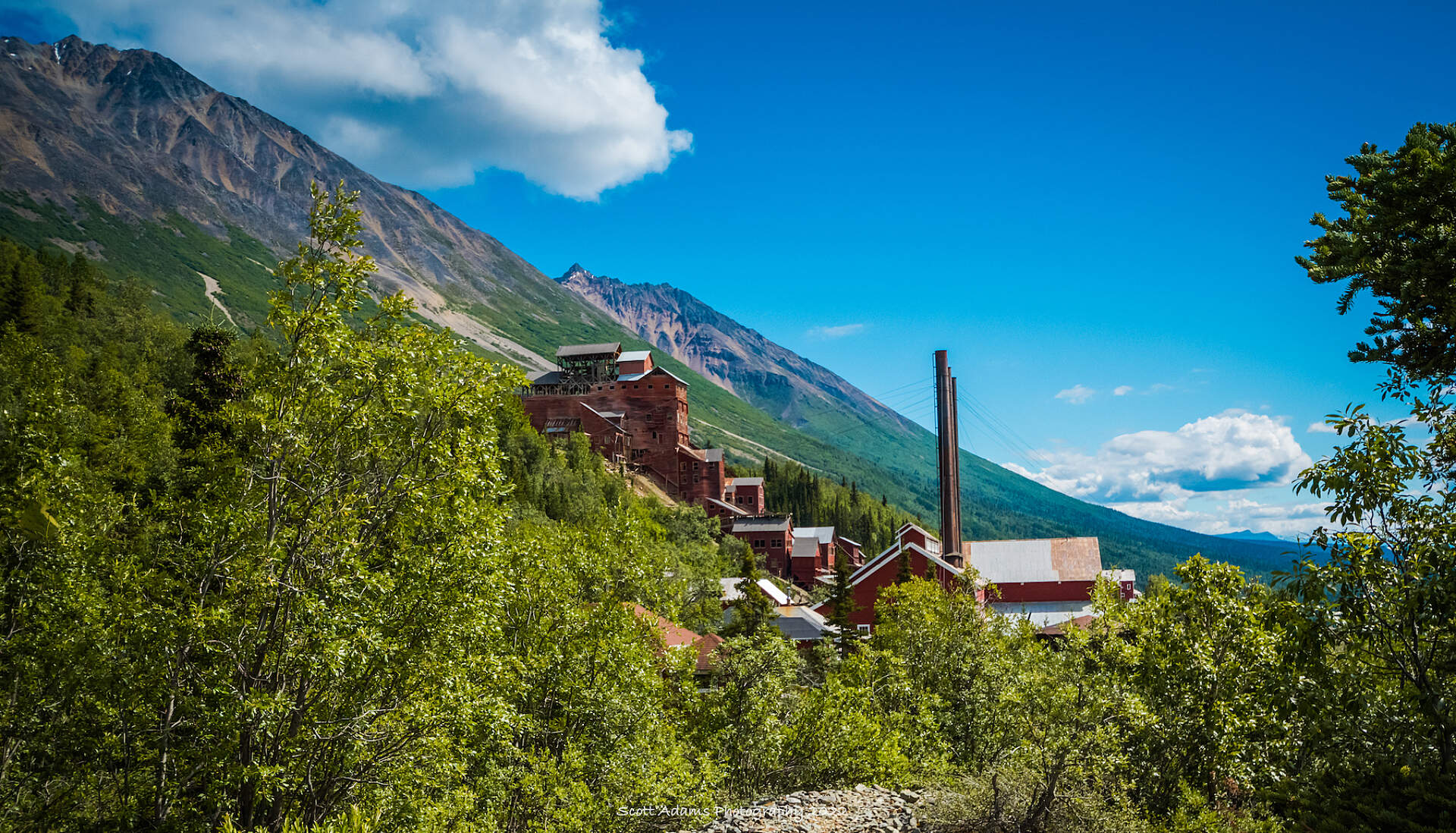 We tore ourselves away from the view, though, and headed out to explore Kennecott, a thriving copper mining camp from 1911 to 1938. It's now a National Historic Landmark, and the historic mill town is considered the best remaining example of early 20th-century copper mining. The town's most famous structure is the concentration mill, which stands 14 stories tall (and was undergoing a massive rehabilitation when we were there). There's also a power plant, machine shop, recreation hall and school house, general store, and post office (the last two have the most extensive displays of artifacts and exhibits).

We toured most of the buildings and got a really good glimpse into early 20th-century life here—a very cool step back in time. Returning to the lodge, we sat out on the deck and became friends with our neighbors, who lived in Anchorage.
Walking on Root Glacier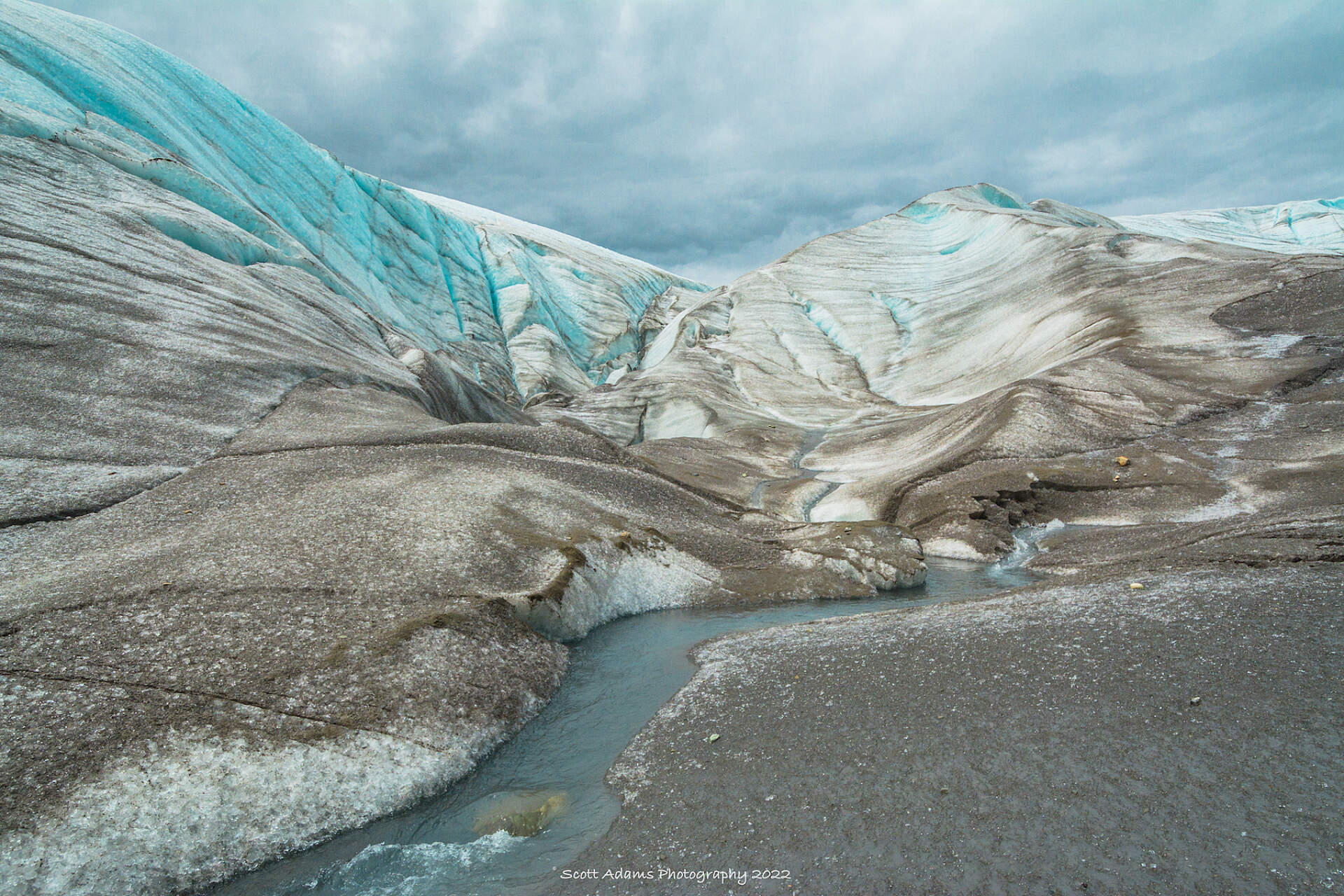 The next day we had a choice to make: Head to McCarthy for their 4th of July parade or hike Root Glacier. We chose the latter. After booking a hike with one of the local guide companies, we donned crampons and hiked about 1.5 miles to the glacier. At Worthington, we had walked up to a glacier, but here we got to walk on and around the glacier, which was truly amazing. We spent about 2 hours exploring and photographing out on the ancient blue ice—an incredible experience that I highly recommend.
The next morning, we departed Kennecott for Paxson and the Denali Highway.

A Fish Wheel, You Say?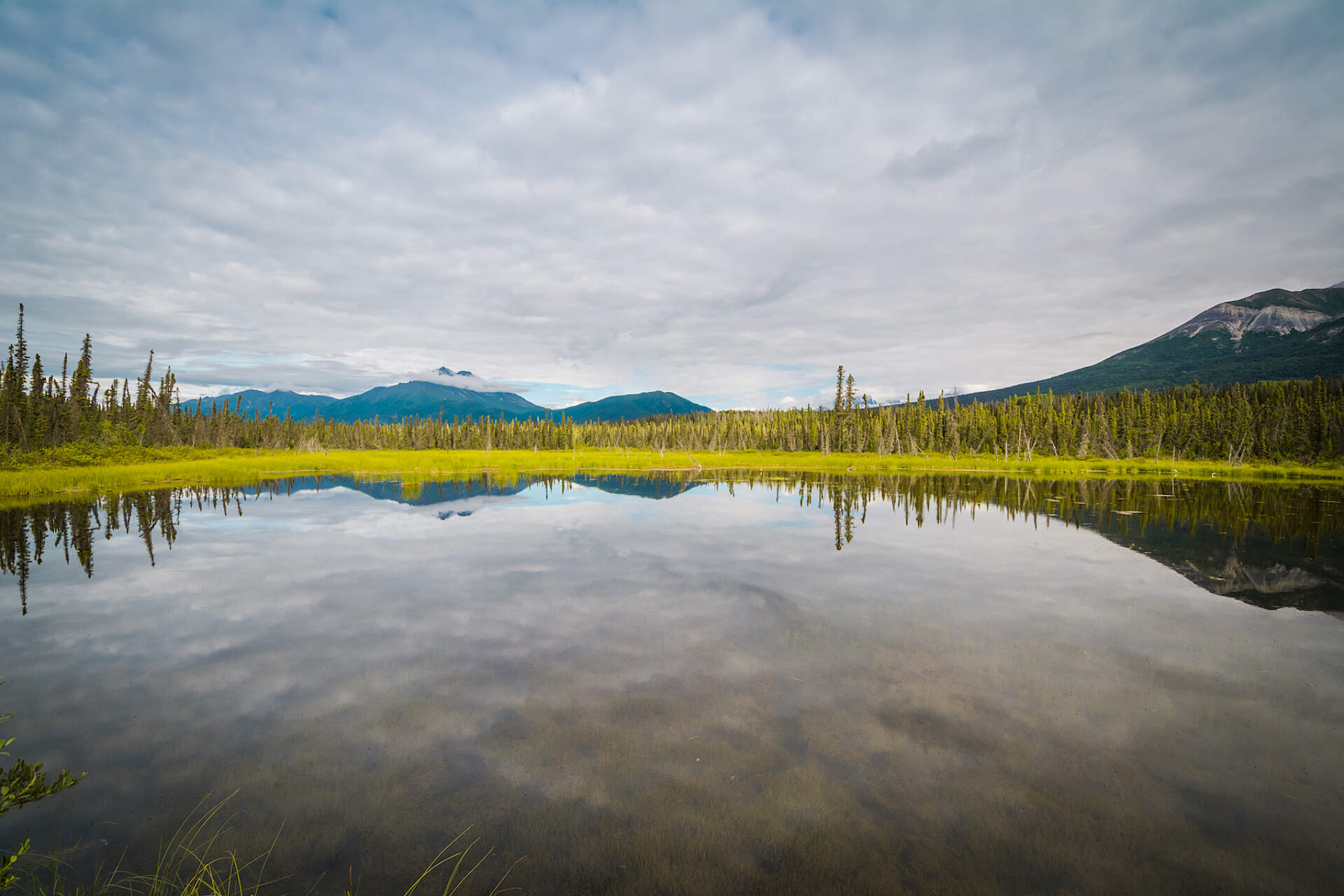 The next morning we took the shuttle back down to McCarthy, crossed the Kennecott River footbridge, hopped in our car, and headed out toward Chitina. The day was a bit overcast but very pleasant for traveling. Once again, slow and steady was the theme for getting the car along the McCarthy Road in one piece.

In Chitina, we spotted quite a few fishermen at the Copper River, some with rods and reels and some using a contraption I had never seen before—a fish wheel. It looks and operates like a watermill, but in addition to paddles, a fish wheel is outfitted with wire baskets designed to catch and carry fish from the water and into a nearby holding tank. Very cool!
Witnessing the Wrangell Mountains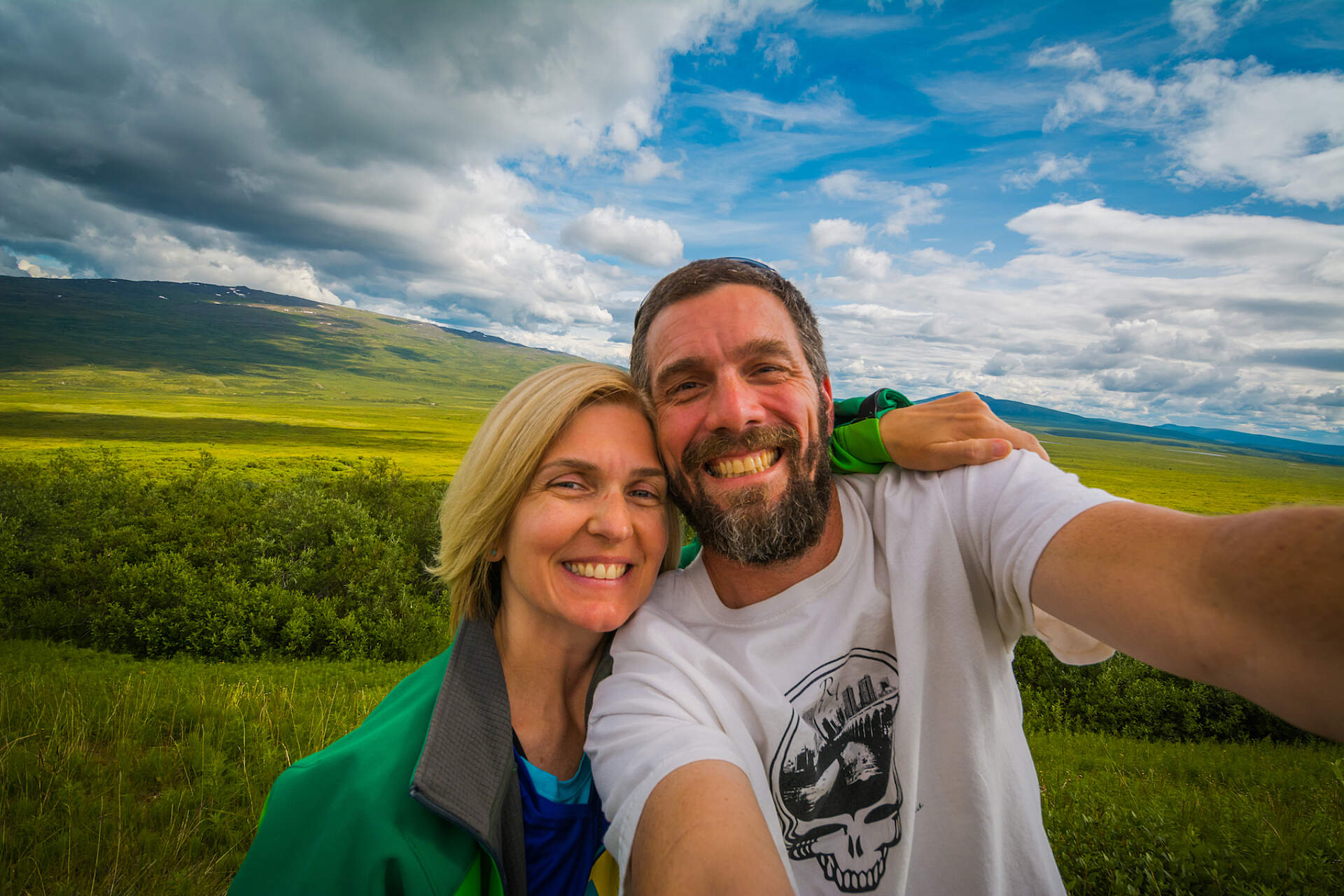 Another 45 minutes and we were turning north onto the Richardson Highway. Soon after, we reached Copper Center and a visitor center for Wrangell-St. Elias National Park, where we walked some of the gravel trails, taking in stunning views of the Wrangell Mountains.
Mosquitos hadn't been a problem for us, but today for some reason I was their main course! My wife, who seemed to be immune to the skeeters, got quite the laugh watching me swat and itch. We cut our walk short and got back in the car for the 2-hour drive to that day's destination, the Tangle River Inn, at Mile 20 of the Denali Highway. Blue sky started to peek through the clouds, making for a scenic backdrop against the rugged, snow-capped mountains in the distance.

Colorful Canoes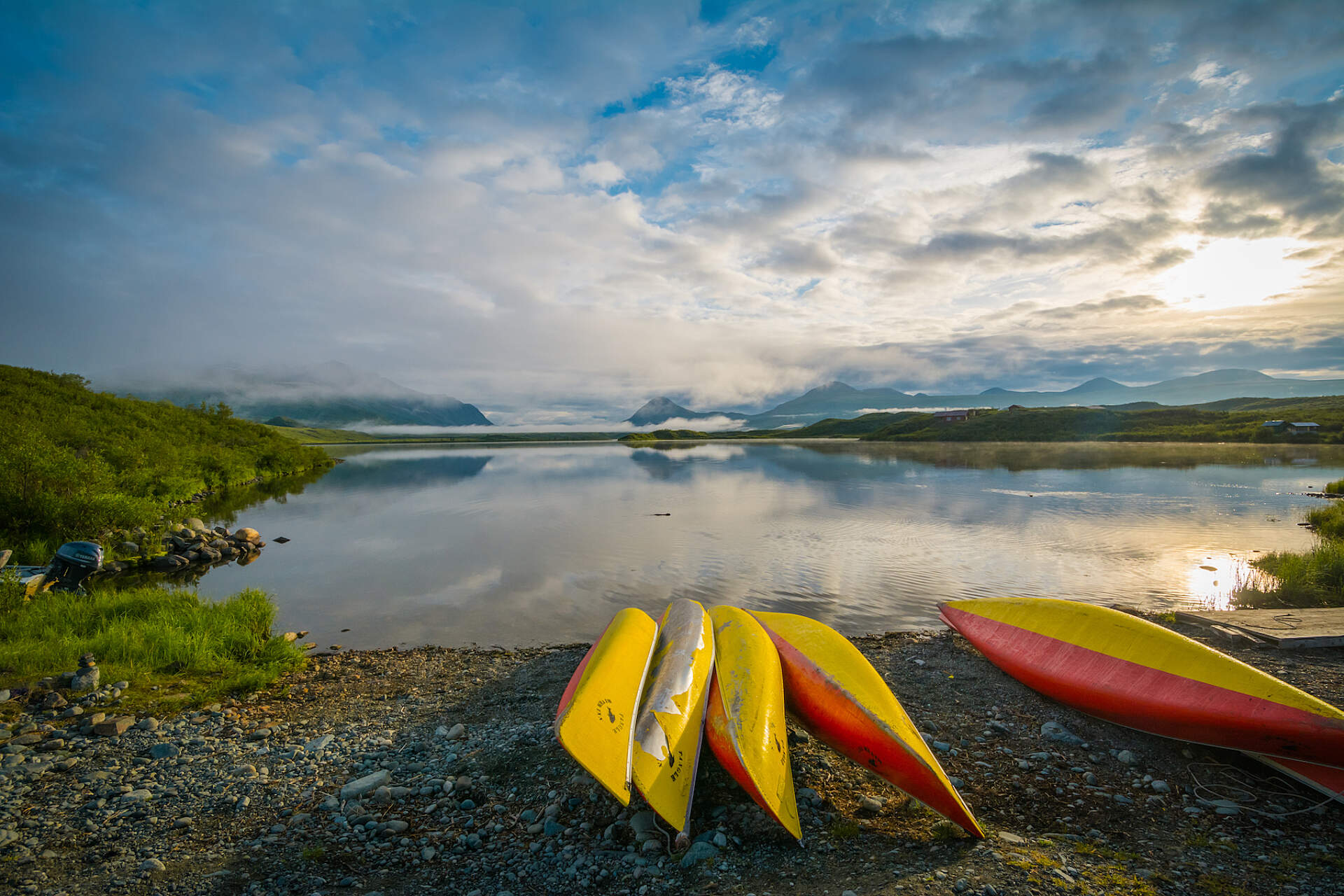 The next morning, I walked over to explore the lake across from the inn. There were some colorful canoes on the shore, a mama duck with her chicks (who all hit the water as I approached), and two beavers swimming around enjoying the crisp morning air. I snapped a few photos and we set off for Healy, a 120-mile drive on the Denali Highway to Cantwell and then 40 miles north on the Parks Highway.
A Fox Family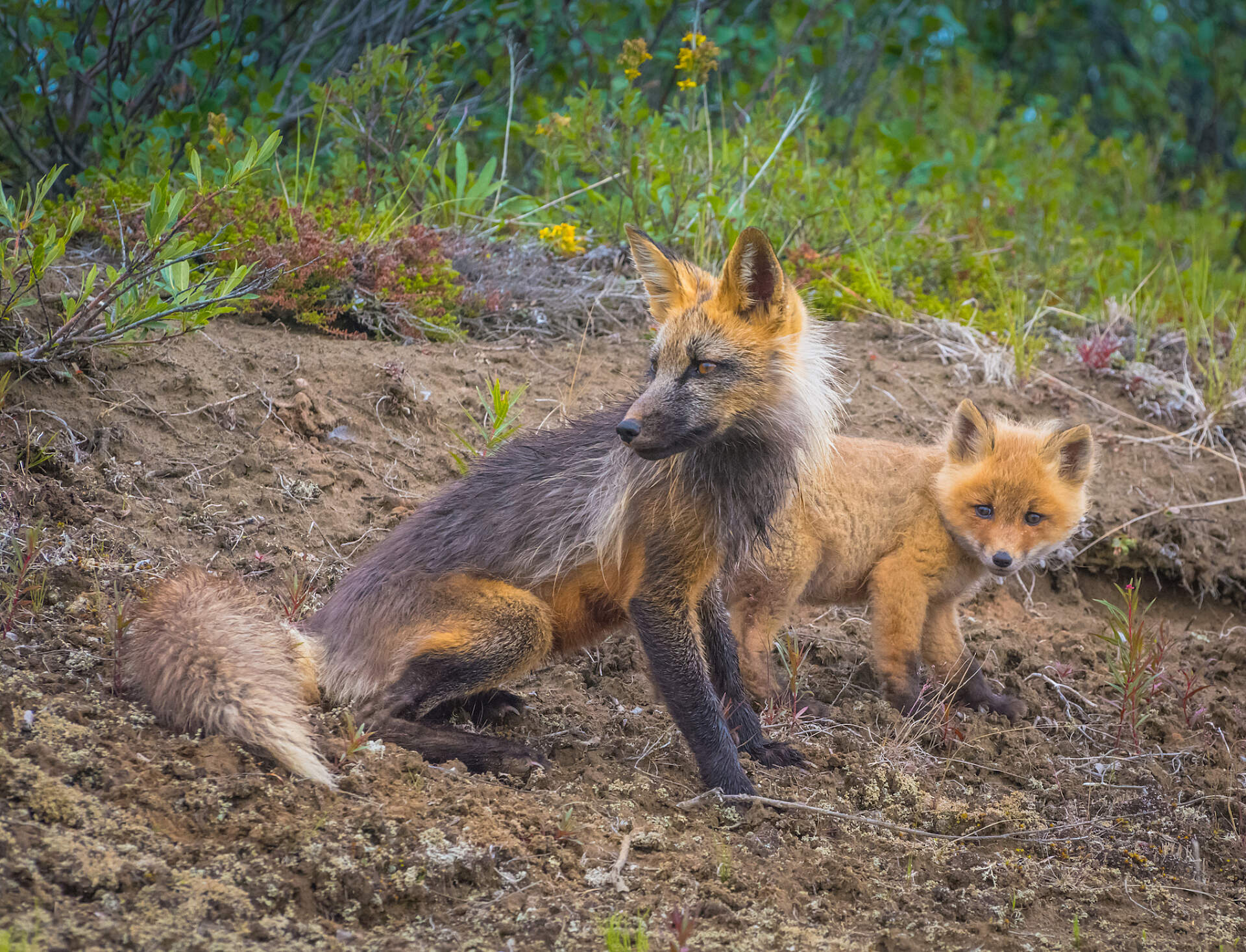 A few hours later, about halfway to Cantwell, we saw a mama fox and 2 of her kits playing in some brush on the side of the road. I pulled the car over to try and get some photos, but realized that I had the wrong lens on my camera and worried they were going to disappear before I was ready. But they didn't! They stayed put, playing with each other before crossing the road and practically posing behind the car for a good 10 minutes, with some rainbows appearing for good measure. I couldn't believe our luck to have witnessed such an incredible scene!
Denali Park Road Adventures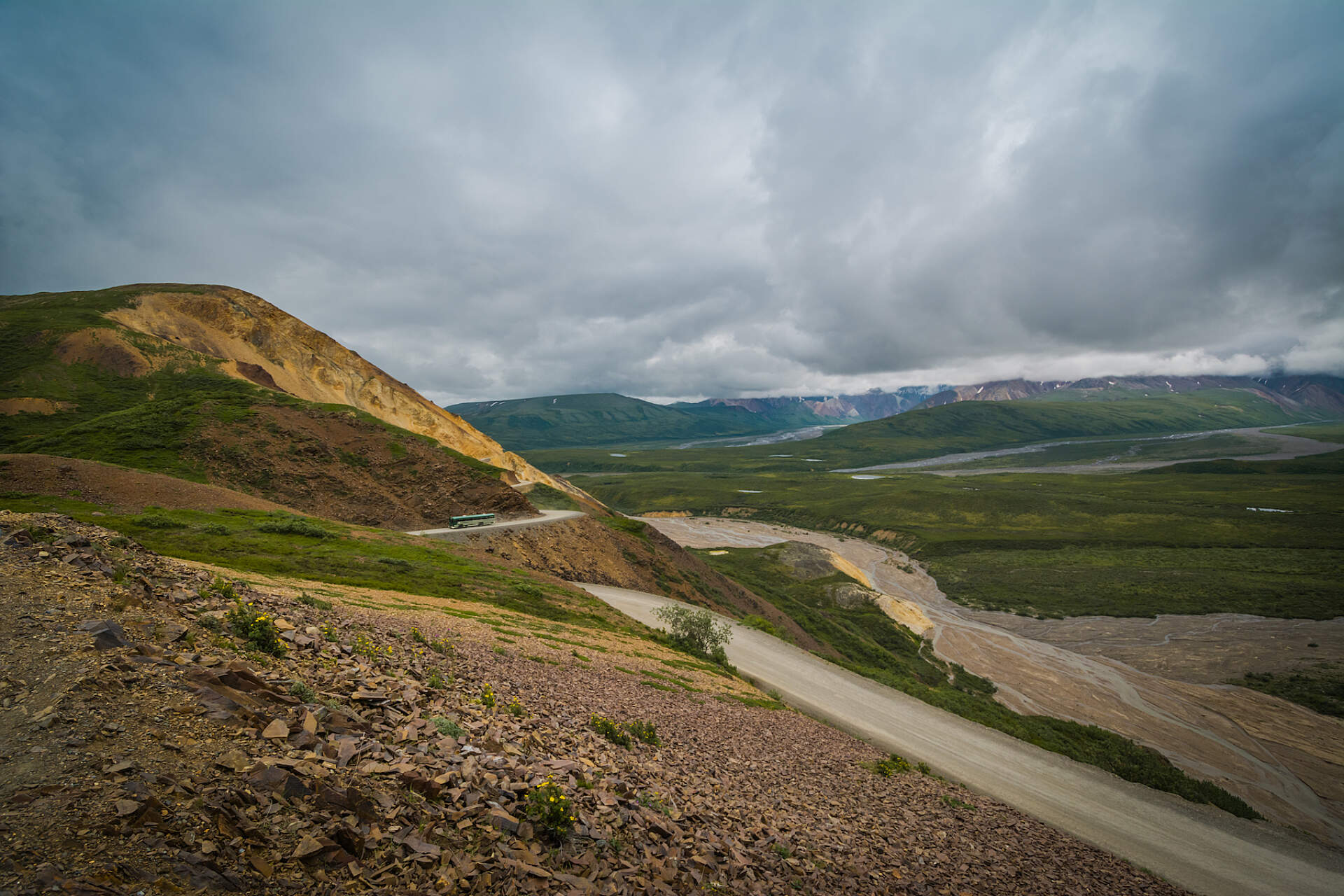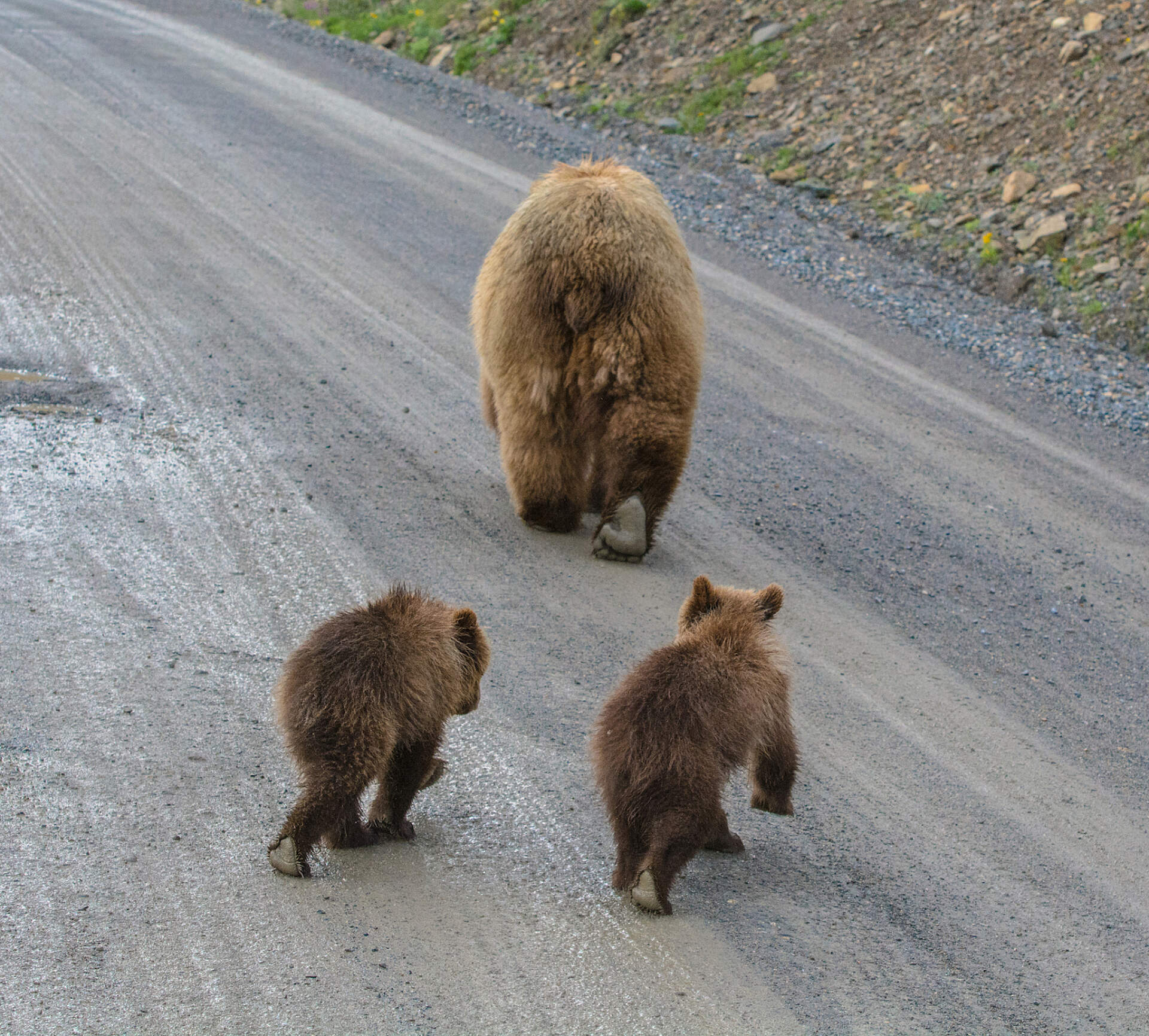 We made it to Healy in the late afternoon, checked into the White Moose Lodge (at Mile 248 of the Parks Highway), and walked across the street to the 49th State Brewery for dinner. It was an early night, as we had to be at Denali National Park first thing in the morning to board one of the school buses that would take us to Kantishna and the "end of the road." The trip would cover 92.5 miles each way over the course of 12 hours, during which we were hoping to see bears, moose, caribou, and of course Denali!
We woke to a mix of clouds and blue sky and hoped the blue sky would win out as the day went on. No such luck. Denali National Park is spectacular in any weather, but clouds can easily shroud the massive mountain. By the time we got close enough to see it, it was completely clouded in. Those clouds lingered our entire time there (in fact, it took two more trips to Alaska before we finally saw the mountain from the park in 2019), but we did see lots of bears, several moose, and a few caribou wandering among the amazing landscapes. It was as close to a perfect day as Alaska would allow!

Finally, A Clear Day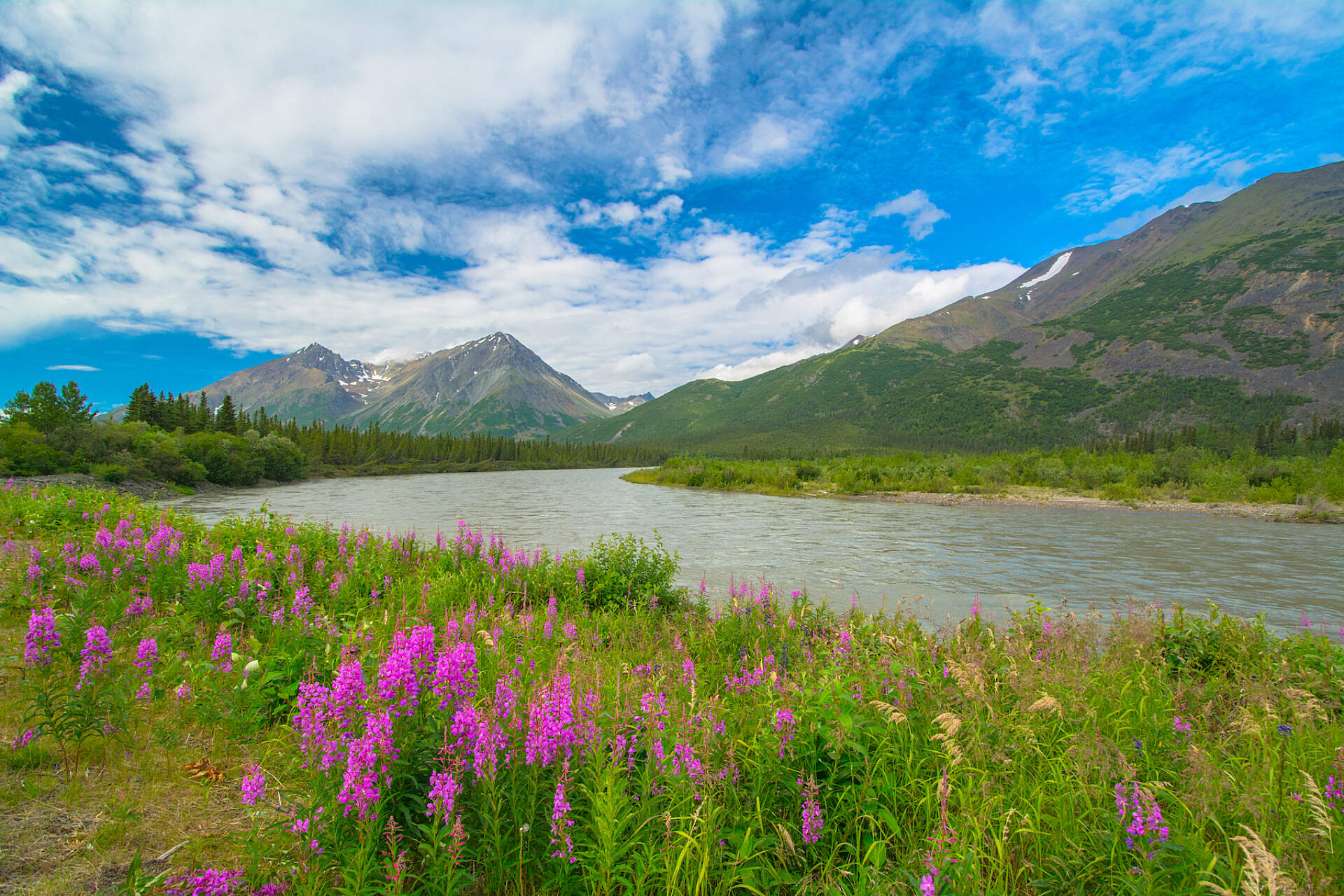 The next day, Alaska gave us lots more blue sky and some puffy clouds as we headed south on the Parks Highway to Talkeetna. Even though we didn't see Denali in the park, we stopped at the north and south Denali viewpoints and enjoyed excellent views from both!
A Town Called Talkeetna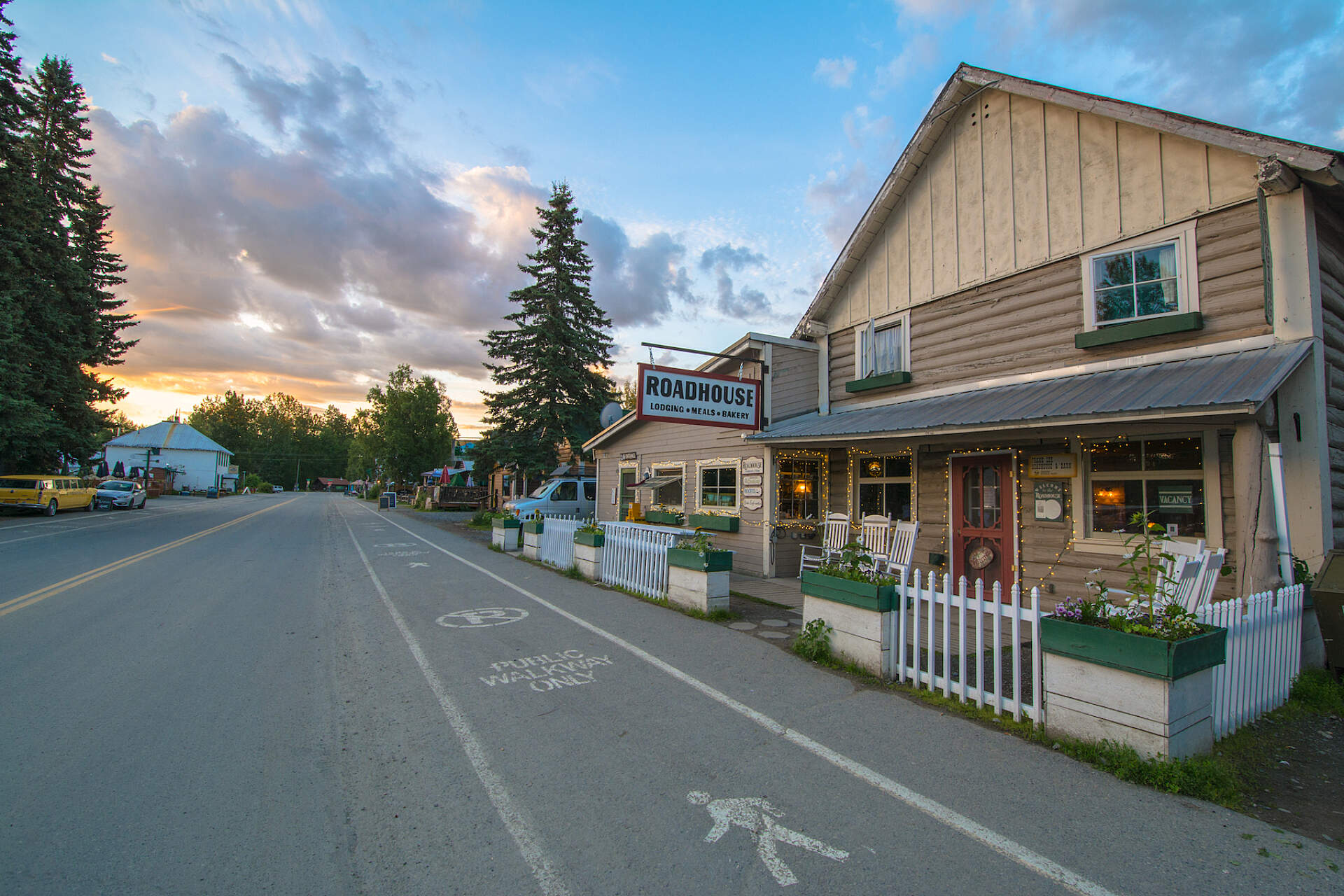 Talkeetna was the day's destination. We stopped by the Roadhouse to check into our cabin and pick up some goods from the bakery: quiche, reindeer pie, savory salmon and rice pie, raspberry scones, and a raspberry cinnamon roll. Delicious! Trapper John's Cabin, where we were staying, was about ½-mile out of town, across the street from the village airstrip. It was very private and well-equipped with furnished kitchen and dining areas and comfortable beds—even a record player and records! (We loved it so much we've stayed there twice since.)
Talkeetna is a great little town with restaurants, a brewery, some specialty shops, and a great view of Denali from across the Susitna River. We came back 3 years later for our 10th wedding anniversary and renewed our vows on the banks of the Susitna!

A Drive South to Seward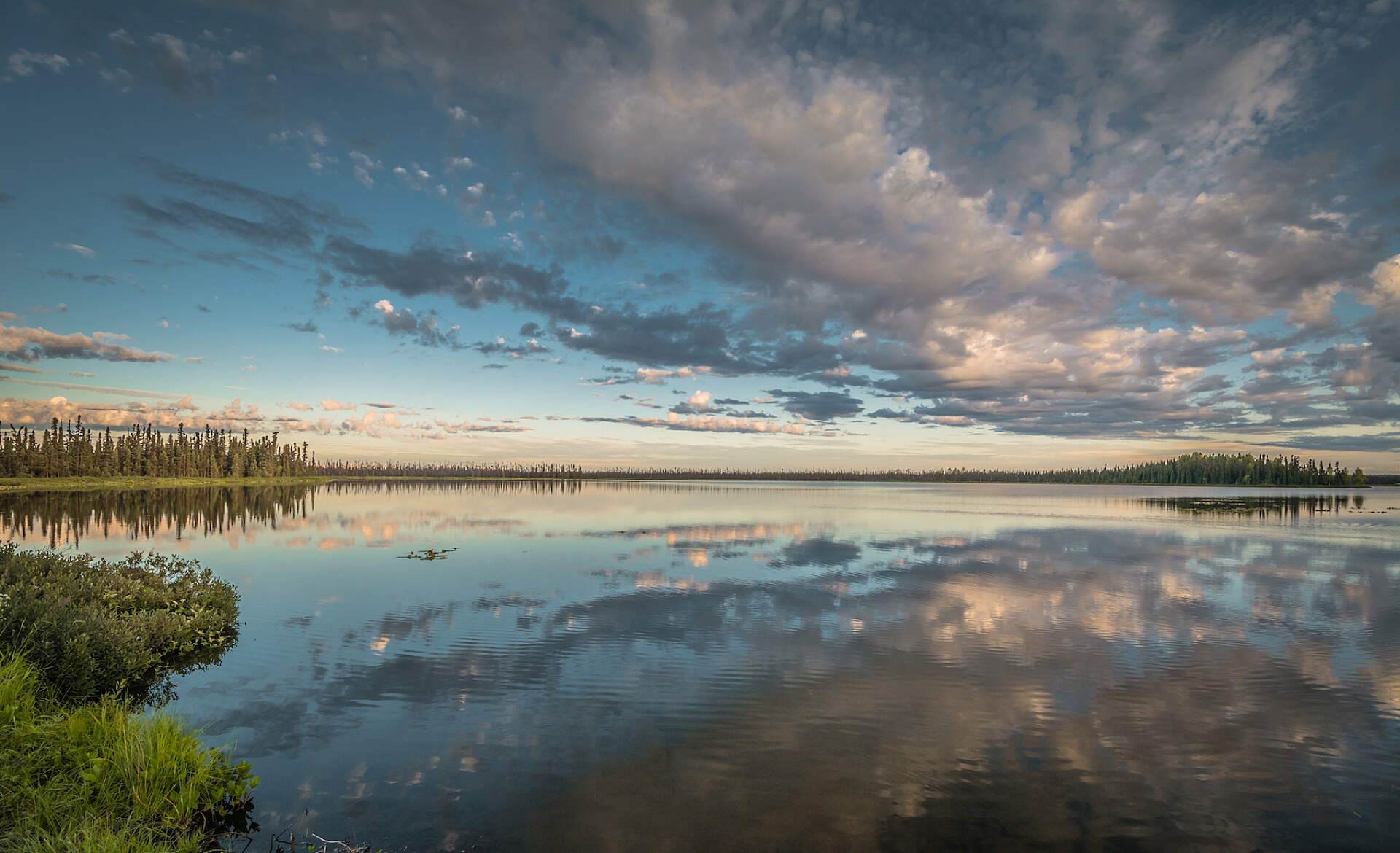 The next morning, we left around 6 a.m. for the 4.5-hour drive to Seward, where we had a reservation for a boat tour into Kenai Fjords National Park. The drive down the Seward Highway was so beautiful! We had a few minutes to stop at Upper Trail Lake near Moose Pass and also Kenai Lake, a little further south. We made it to Seward on time, found the office for our boat trip and secured our tickets. Whew! It had been a long day already, but we were excited for our excursion into this iconic park.
Off to Kenai Fjords National Park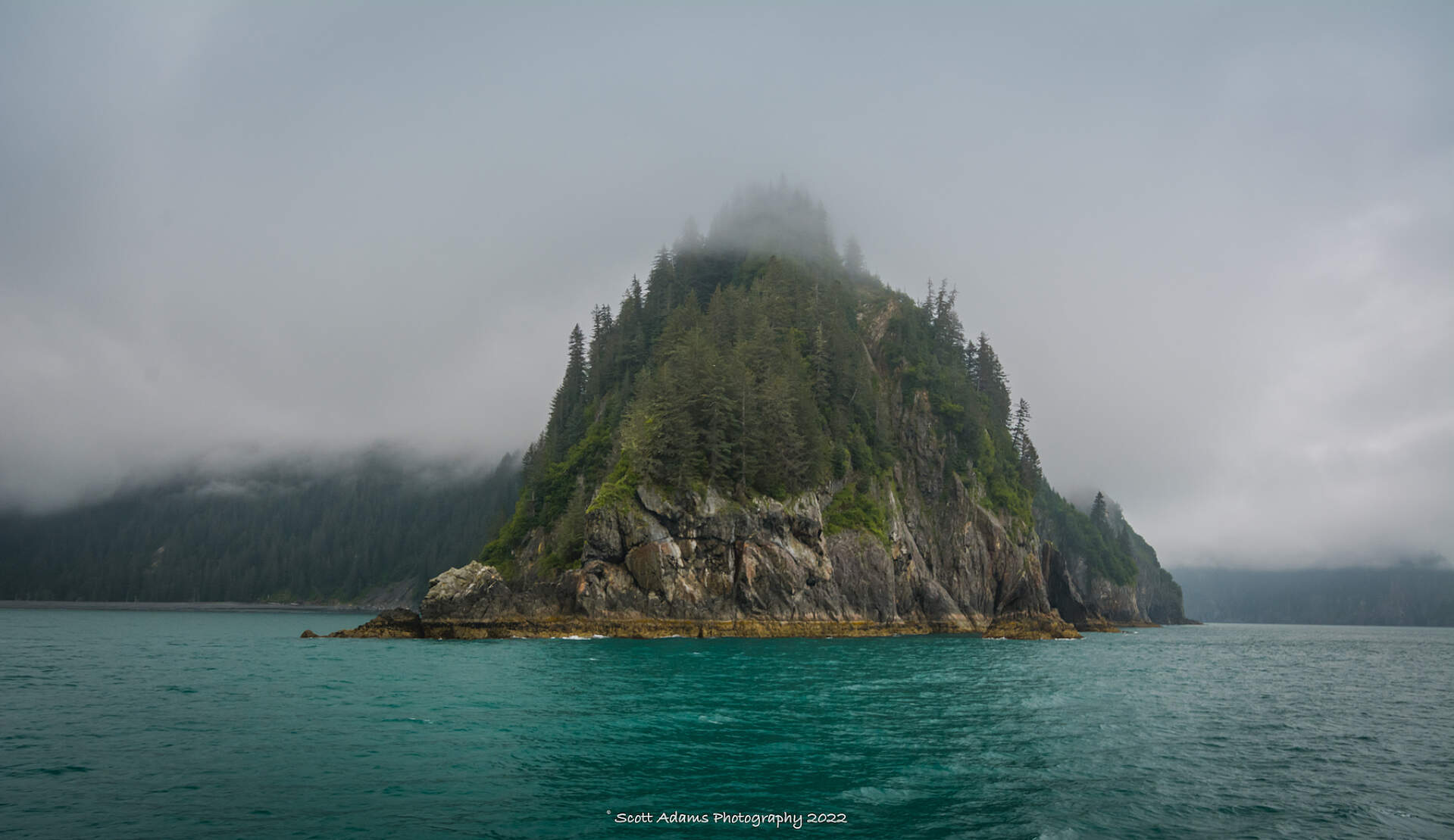 It was a picture-perfect day for a boat ride out into Resurrection Bay and Kenai Fjords National Park. At least, it was perfect when we departed Seward Boat Harbor. Within 30 minutes, though, the sky clouded over, the wind had picked up, and the temperature had dropped about 20 degrees. But it didn't matter. The beauty of this place would shine through just about any weather.
Whale Tales and Calving Ice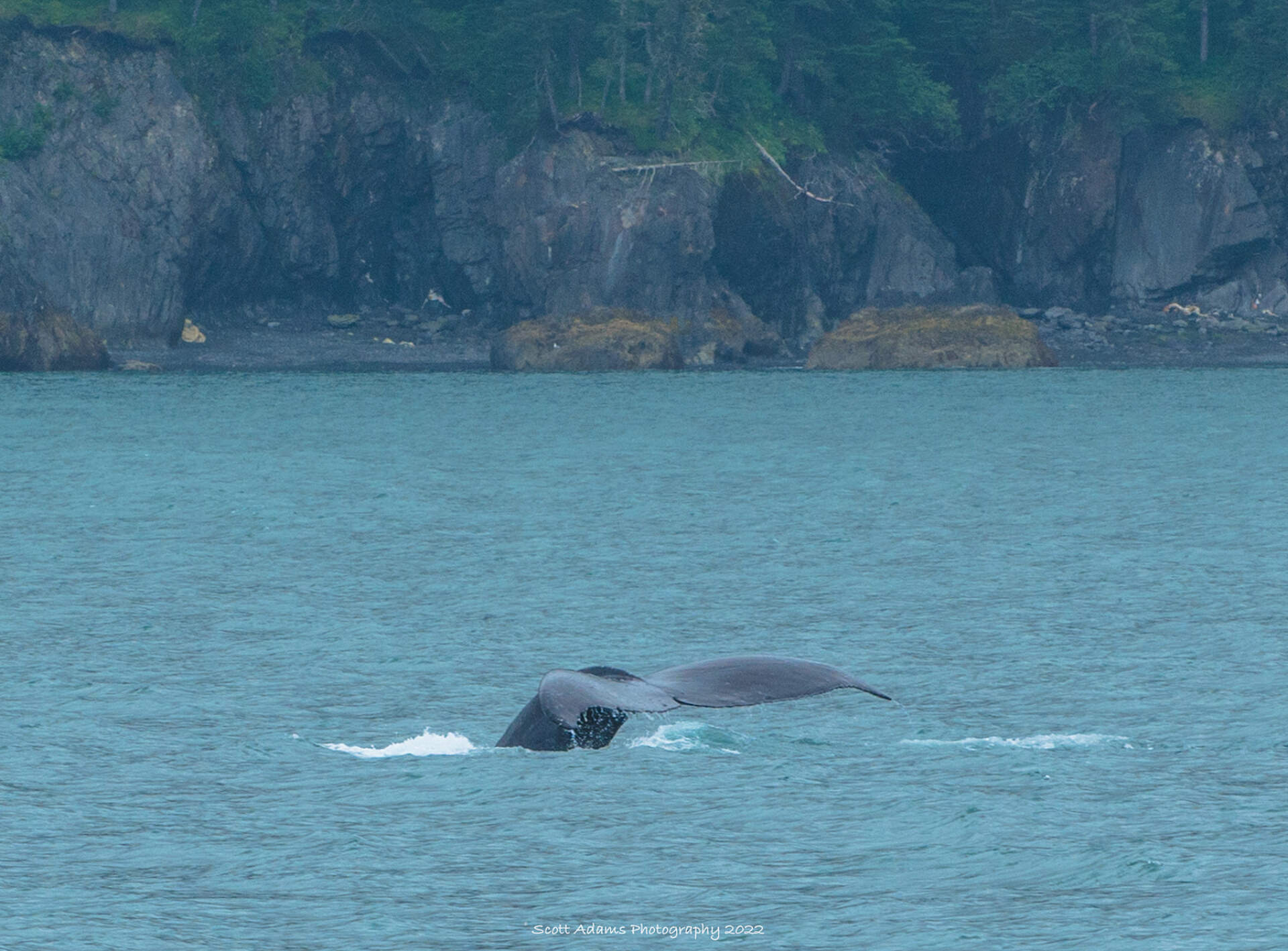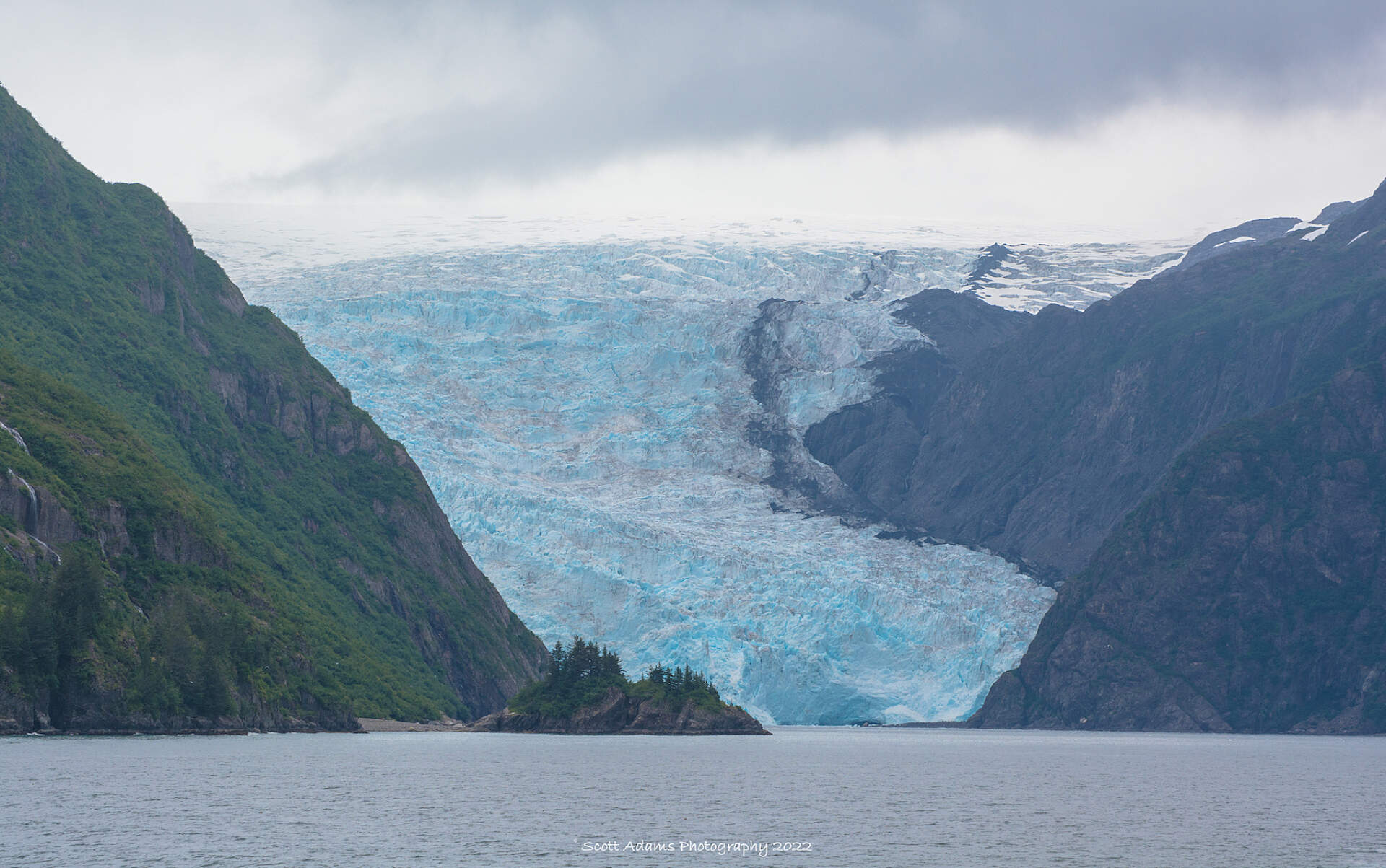 Our goal was to make it to Aialik Glacier and hopefully spot some whales along the way. The mission was easily accomplished; while the whales we spotted didn't fully breach, I got plenty of whale-tail photos as these enormous creatures plunged back into the icy water.
The captain parked the boat a few hundred yards away from the glacier—far enough that we wouldn't be affected if a huge hunk of ice fell off and created a wave. We watched and listened for 20 minutes as the glacier calved over and over, making roaring sounds each time it dropped ice into Aialik Bay.

A Colony of Stellar Sea Lions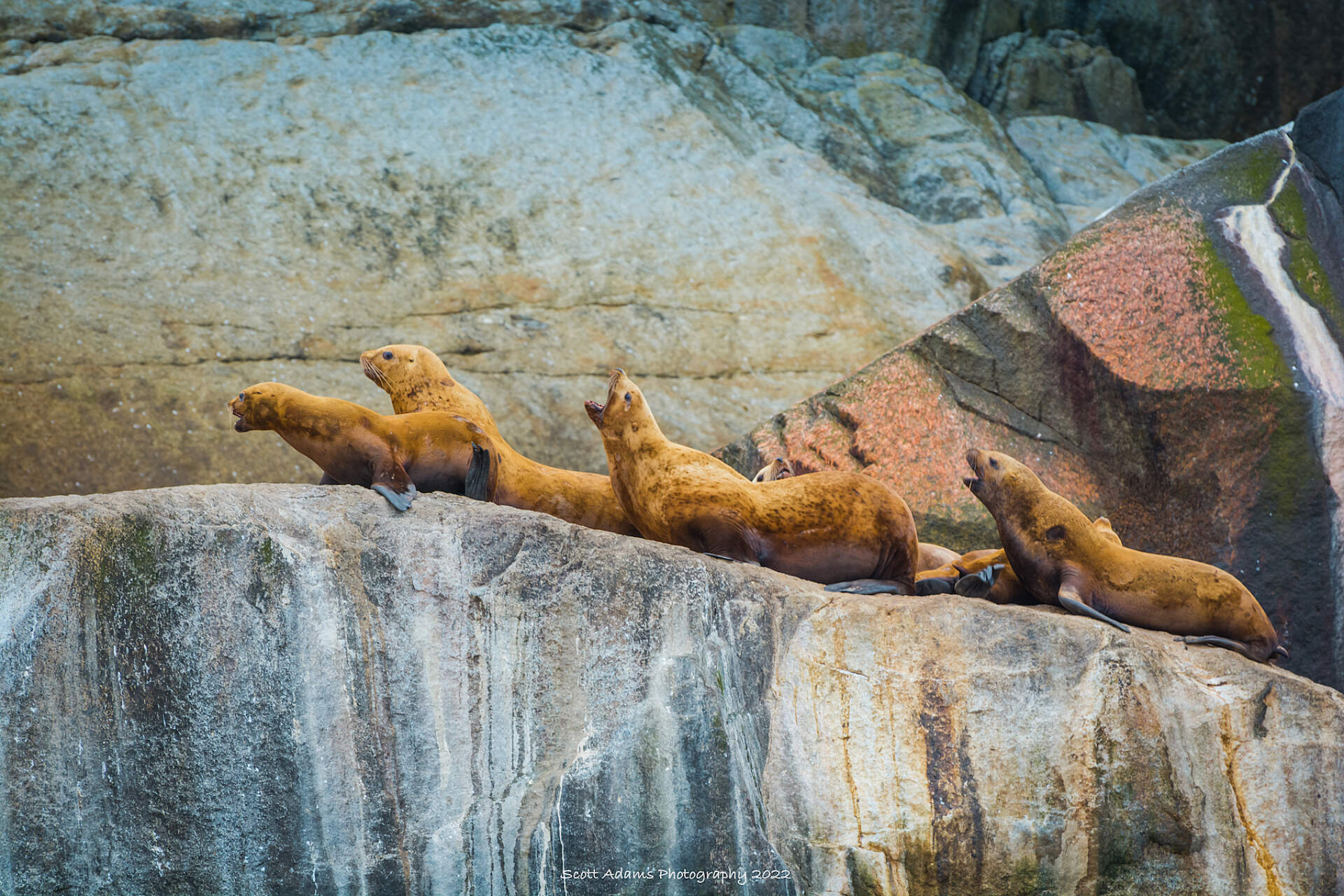 We had a wonderful surprise on our way back, when the captain made a stop on the outskirts of Rugged Island, which was packed with Steller sea lions. They were very photogenic—and very vocal!
A Harbor Photoshoot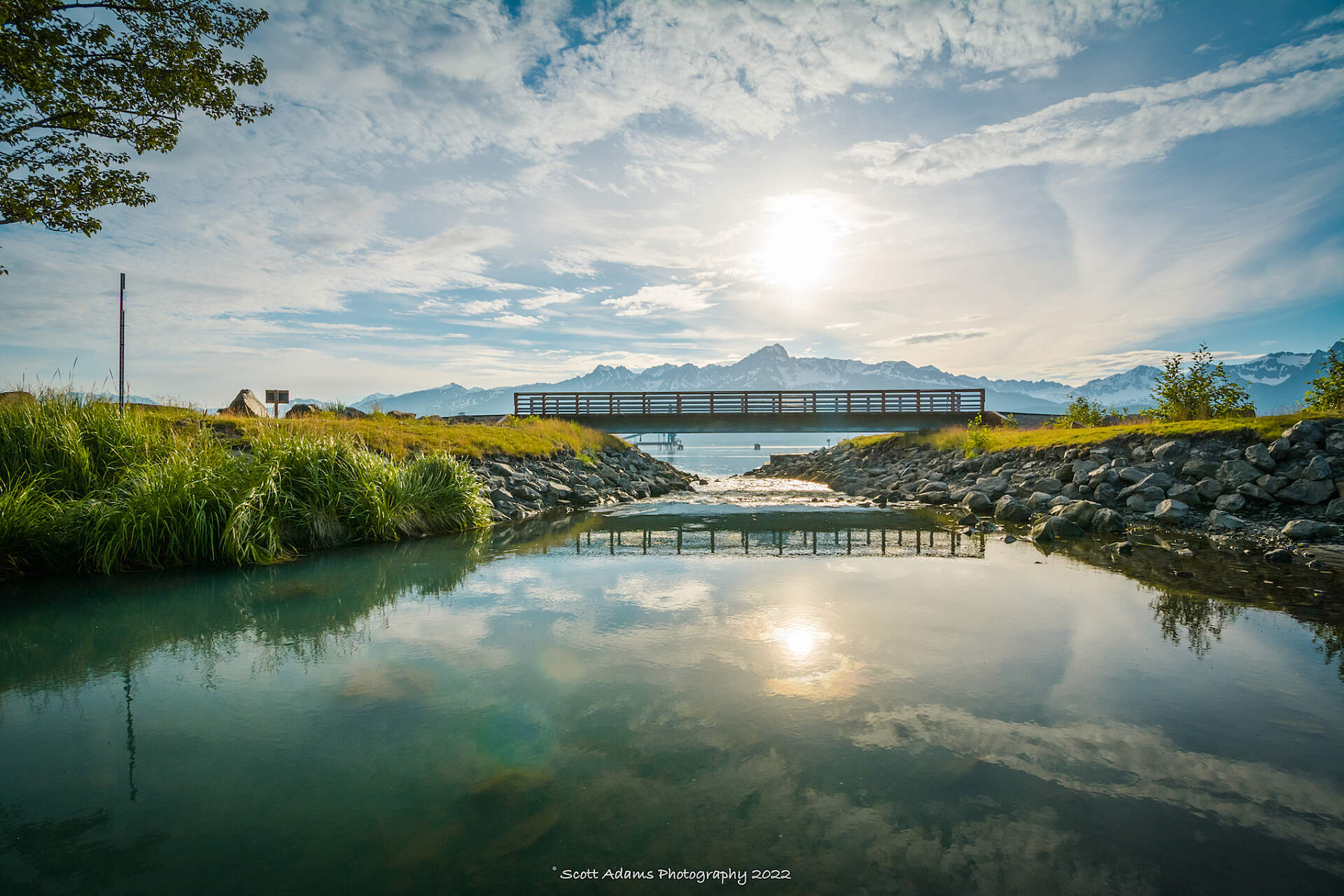 Back on shore, we noticed a sea otter in one of the nearby boat slips munching on a mussel. It was so cute as it floated on its back and chowed down on its lunch! Needing some lunch of our own, we discovered some delicious Thai food and ate it in our hotel room while we discussed tomorrow's trip to Mary Beth's former home, Homer.

But the next morning, things took an unexpected turn. While Mary Beth was packing up, I walked down to the harbor to take some early-morning photos. I saw some rocks that crossed a little creek and would allow me to get a shot from the middle of the water.
A Major Slip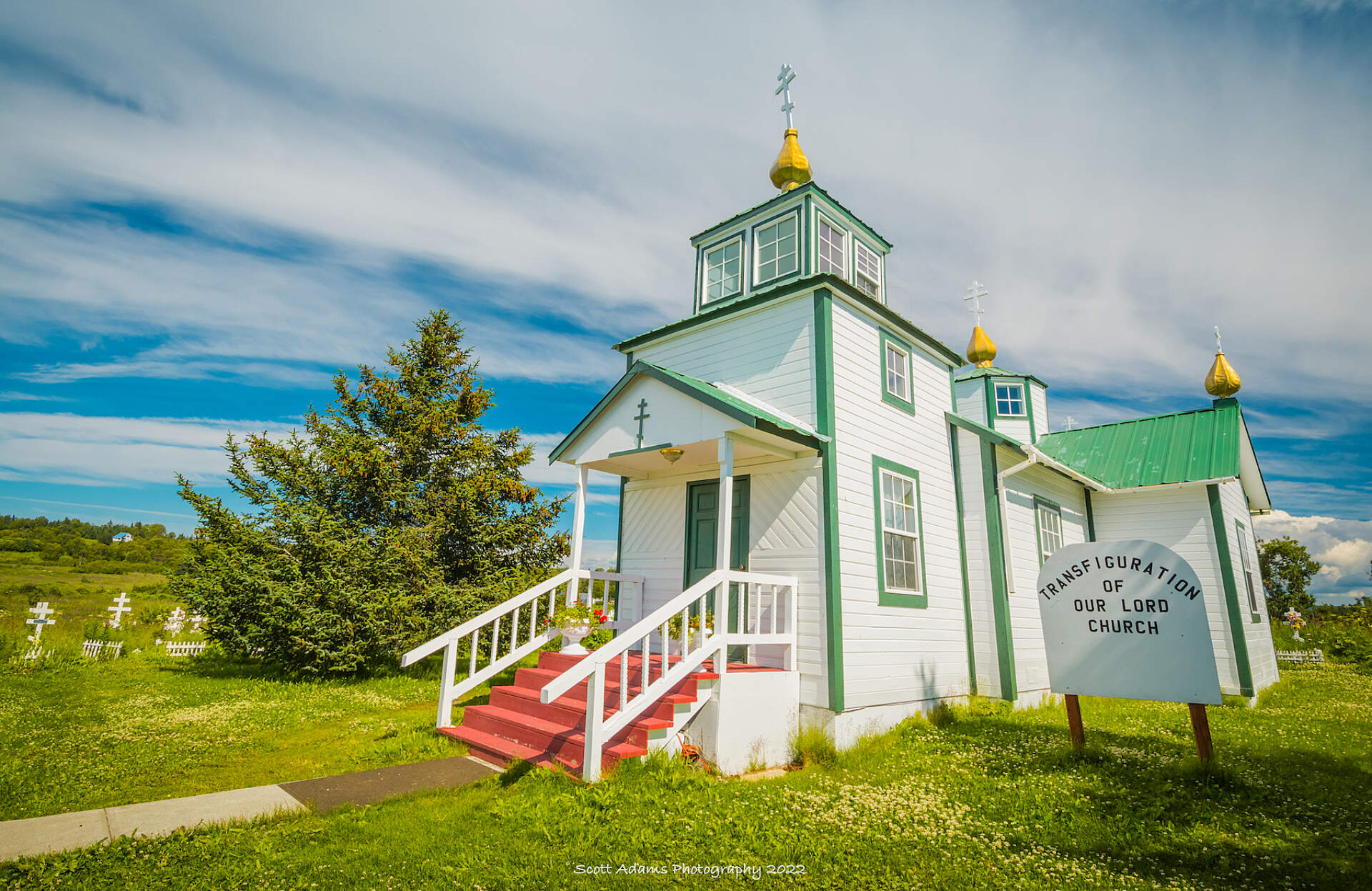 I got the shot and stepped carefully back across the rocks. But the final rock was covered in algae, and as I hopped over to it, both feet went flying, and I landed on the sharpest rock in the greater Seward area! Fortunately, I held my camera up so it didn't get ruined; also fortunately, no one was around to witness my slip. But as I pulled myself out of the water, my ribs were in a lot of pain. The more I walked, the worse they hurt. Still, the next few days were really important because of Mary Beth's return visit to Homer and because tomorrow, we were flying from Homer to Katmai National Park. I had to suck it up and hope the pain eased.

On our way out of Seward, we stopped at Exit Glacier and hiked for about ½ mile. It was beautiful but my ribs were screaming, so we headed back to the car and started the 3.5-hour trek to Homer. We didn't make many stops, but there were some pretty spectacular views as we started south on the Sterling Highway. After Soldotna, some breaks in the trees revealed parts of the Alaska and Aleutian ranges, including the Redoubt and Iliamna volcanoes. About 35 miles outside of Homer, we stopped at the Holy Transfiguration of Our Lord Chapel in Ninilchik—a picturesque church from 1901, set on the bluffs overlooking Cook Inlet.
The Homer Spit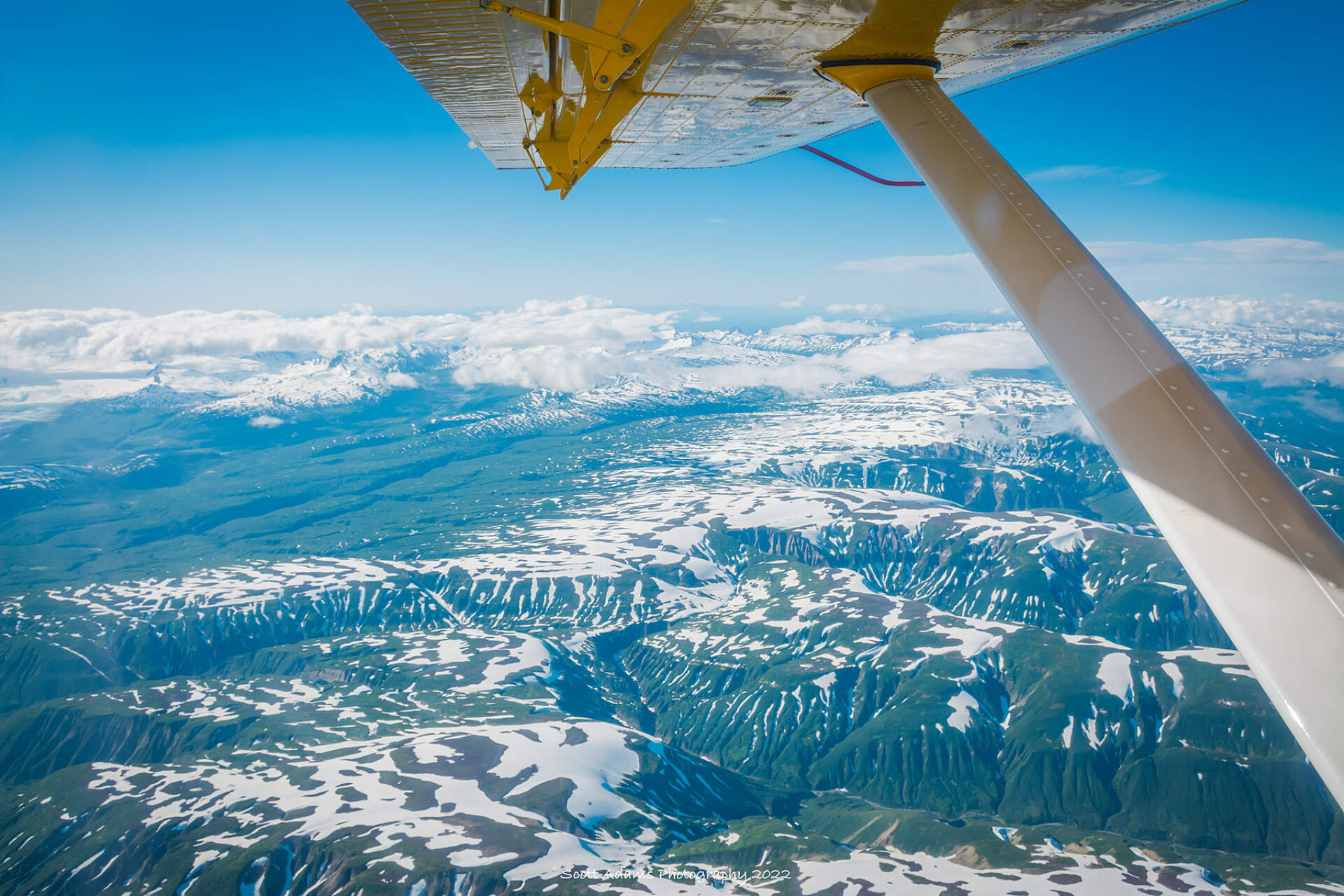 Once in Homer, we found our motel and went down to the Spit to check in with our tour company for the next day's plane trip to Katmai. We ate at Fat Olives (and loved it so much we went back the next night), then went to sleep in preparation for the next day's big adventure. We had actually planned our entire trip around Katmai, timing it for mid-July so we could have the iconic experience of watching salmon run up the Brooks River.
We boarded our flight and took off, with the pilot telling us through headsets how lucky we were to have perfect weather.

A Day in Katmai National Park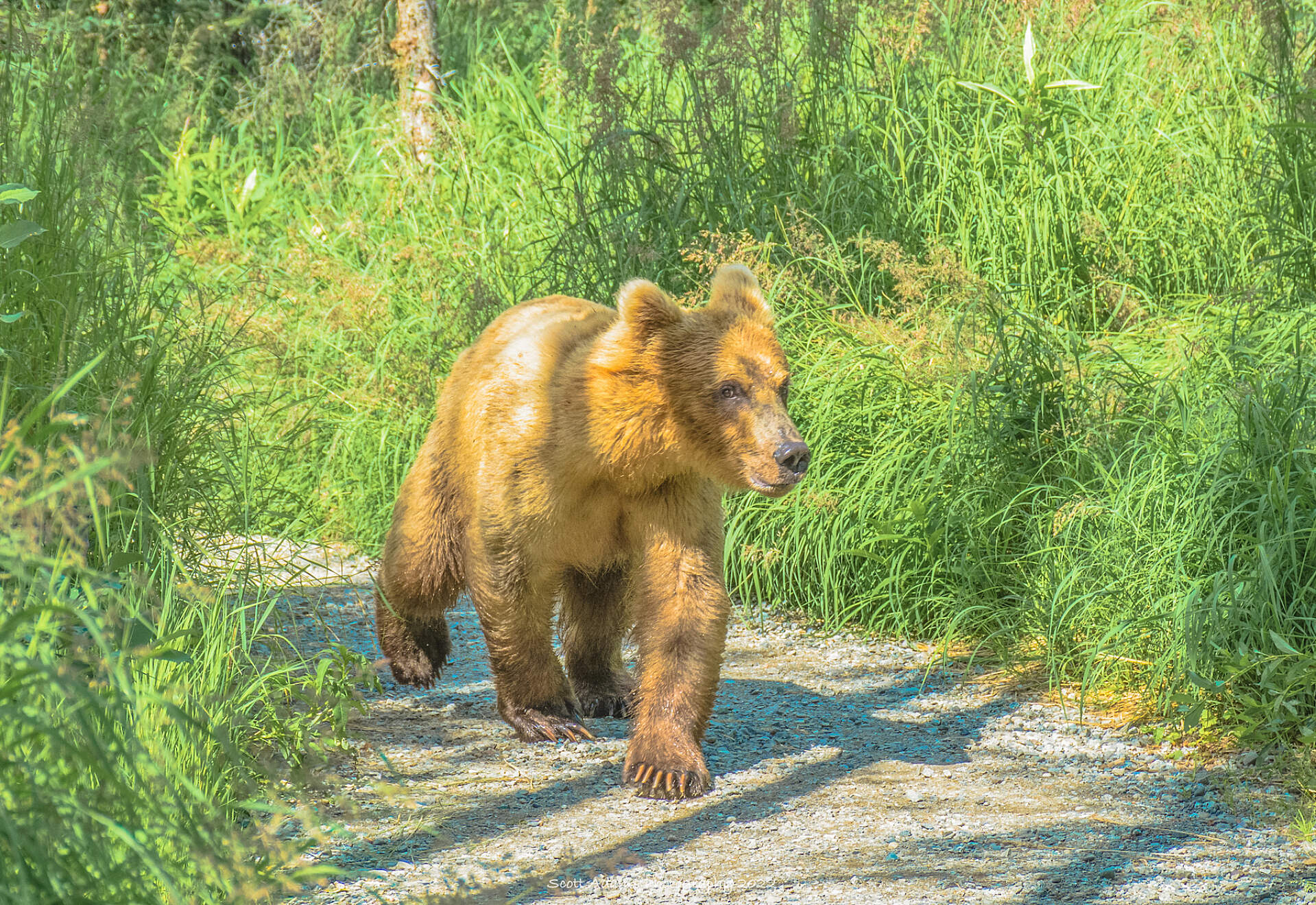 We touched down in Katmai and watched a video on bear safety at the ranger station. There's a shed there to store any food you bring, and a picnic area with an electric fence around it—the only place other than the dining hall where food is permitted. We then walked about a mile down some dirt paths through the woods to the viewing platforms, and encountered a juvenile bear walking toward us on the trail, about 20 feet away. I snapped some pictures before the bear got spooked by some other people and dashed off.
Brooks Falls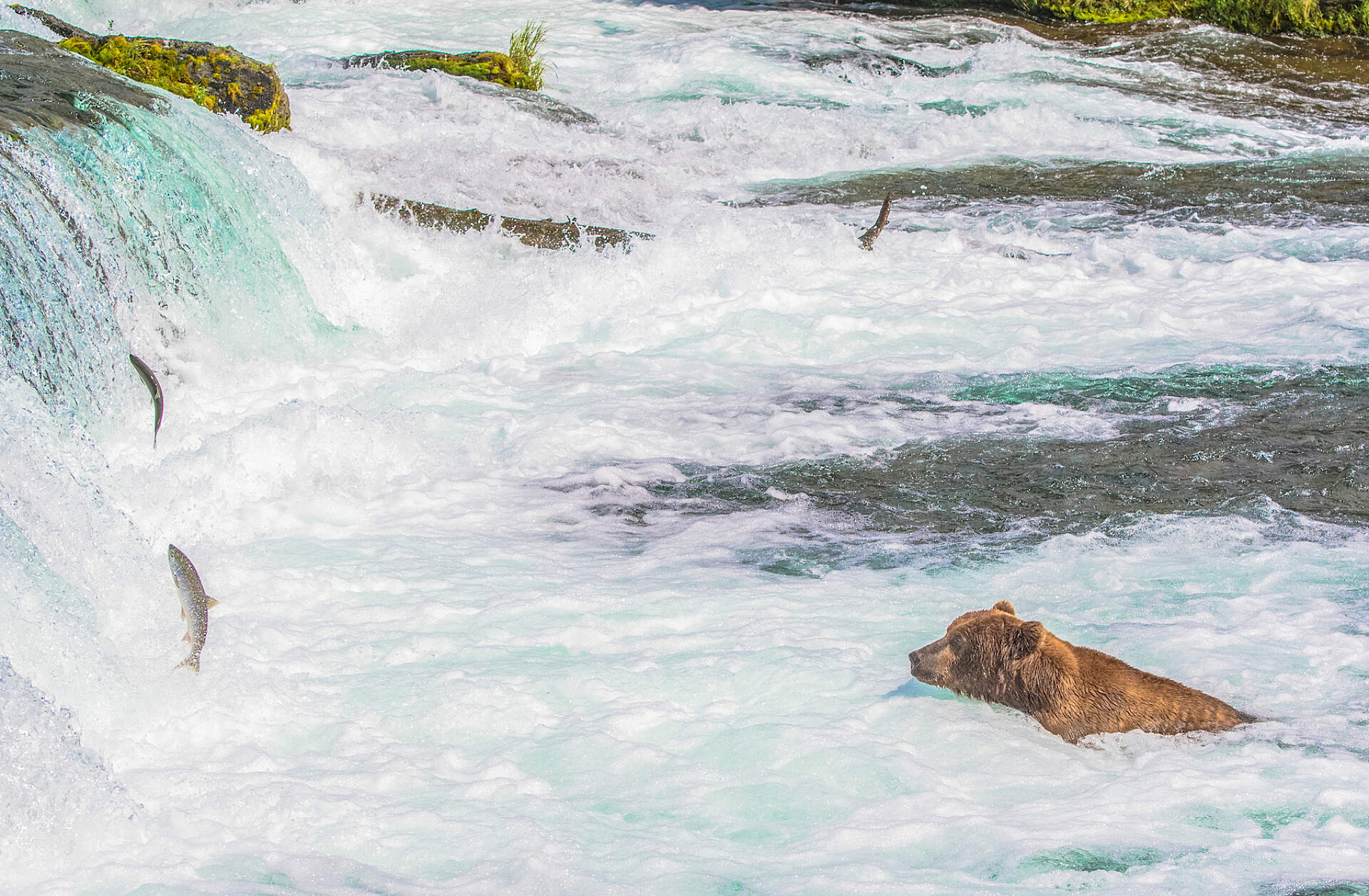 The falls itself features two viewing platforms; the park rules are that up to 40 people can watch from the upper platform for an hour. While waiting for the ranger to call our names, we watched the bears from the lower viewing platform. Apparently, the sows and cubs hang out in this area to be a little bit away from the male bears (who are the biggest predators of bear cubs); right beside us, we saw a momma bear with cubs sleeping and nursing.
When we got to the upper platform, we watched the big males catch fish after fish above the falls, below the falls, beside the falls, and even in the falls! It was such an incredible experience and truly amazing to be so close to all of the bears!

Back to Homer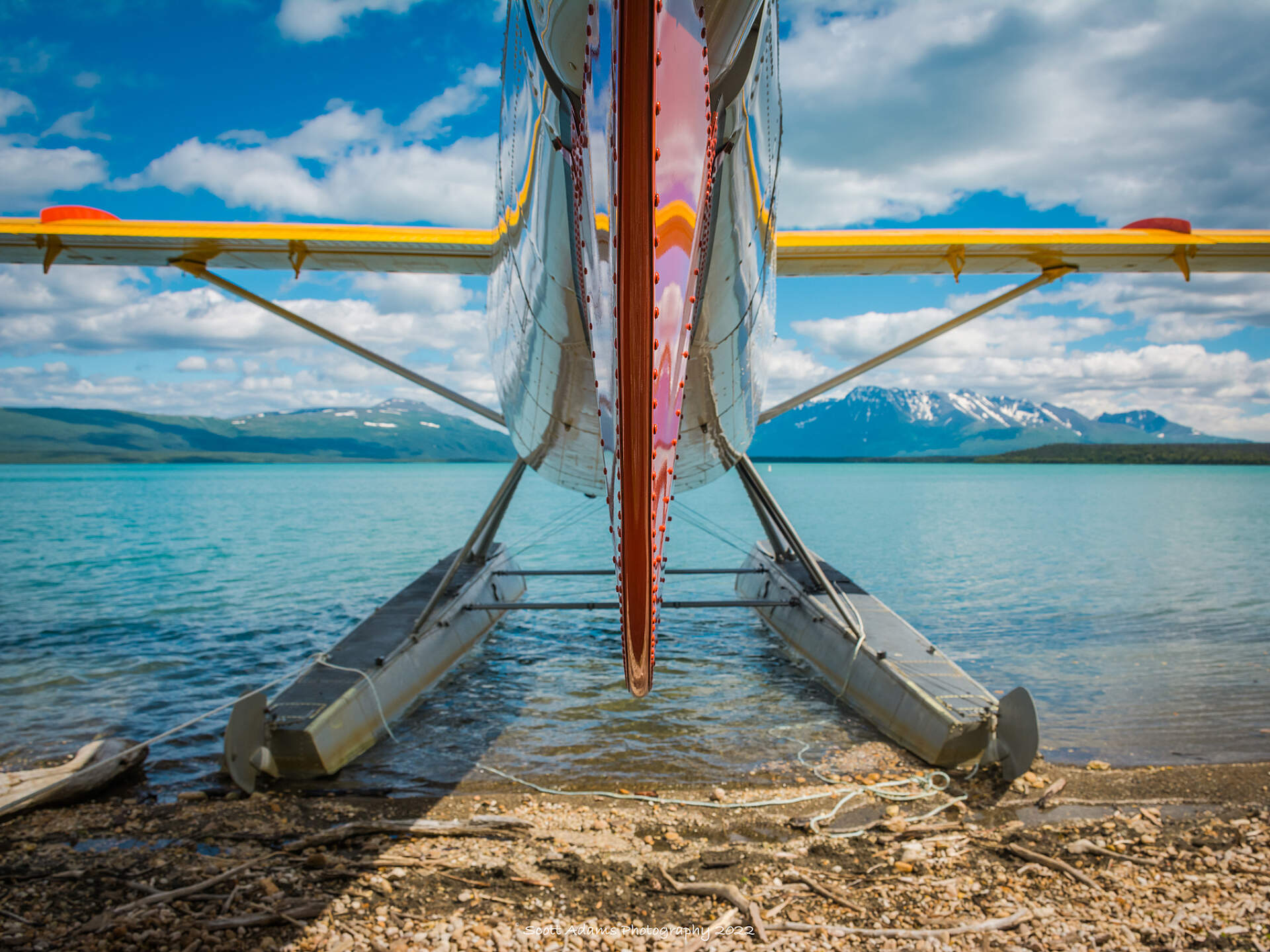 We could have watched the bears all day, but were happy for the spectacular plane ride back to Homer. Green dots of land were surrounded by blue water and backdropped by white-capped mountains everywhere—it was truly like nothing I had ever seen before! We landed back on Beluga Lake and headed back to our room…after our second dinner at Fat Olives, of course!
A Sunrise Over the Spit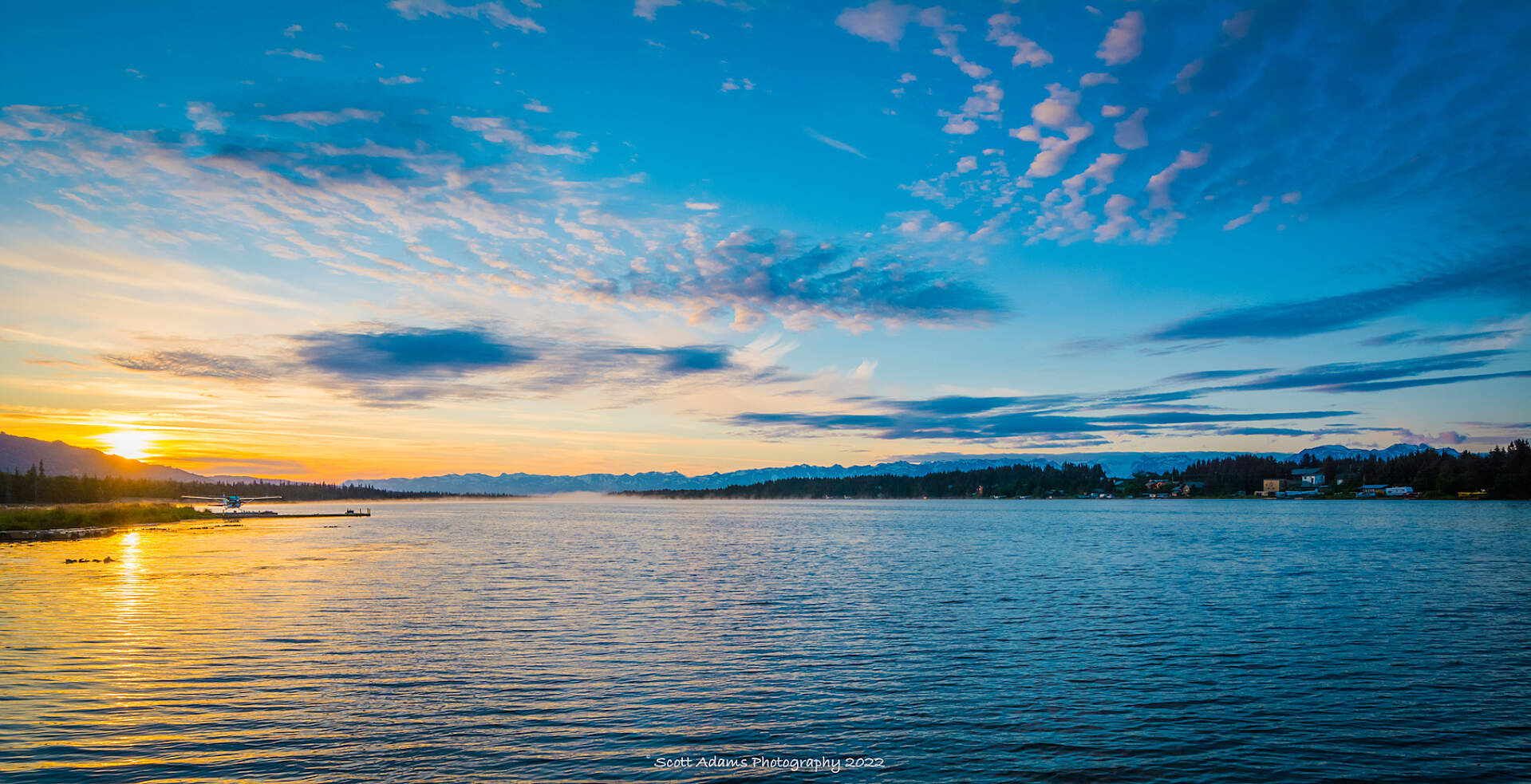 The next morning, we got up early and headed down to the Spit to watch the sun rise over Beluga Lake. The sun peeked over a mountain, illuminating a plane parked on a pier right below the sun, while a light fog drifted over the water—just amazing! Then we went over to the Homer Small Boat Harbor to capture some more sunrise shots before hitting the road.
All About the Lakes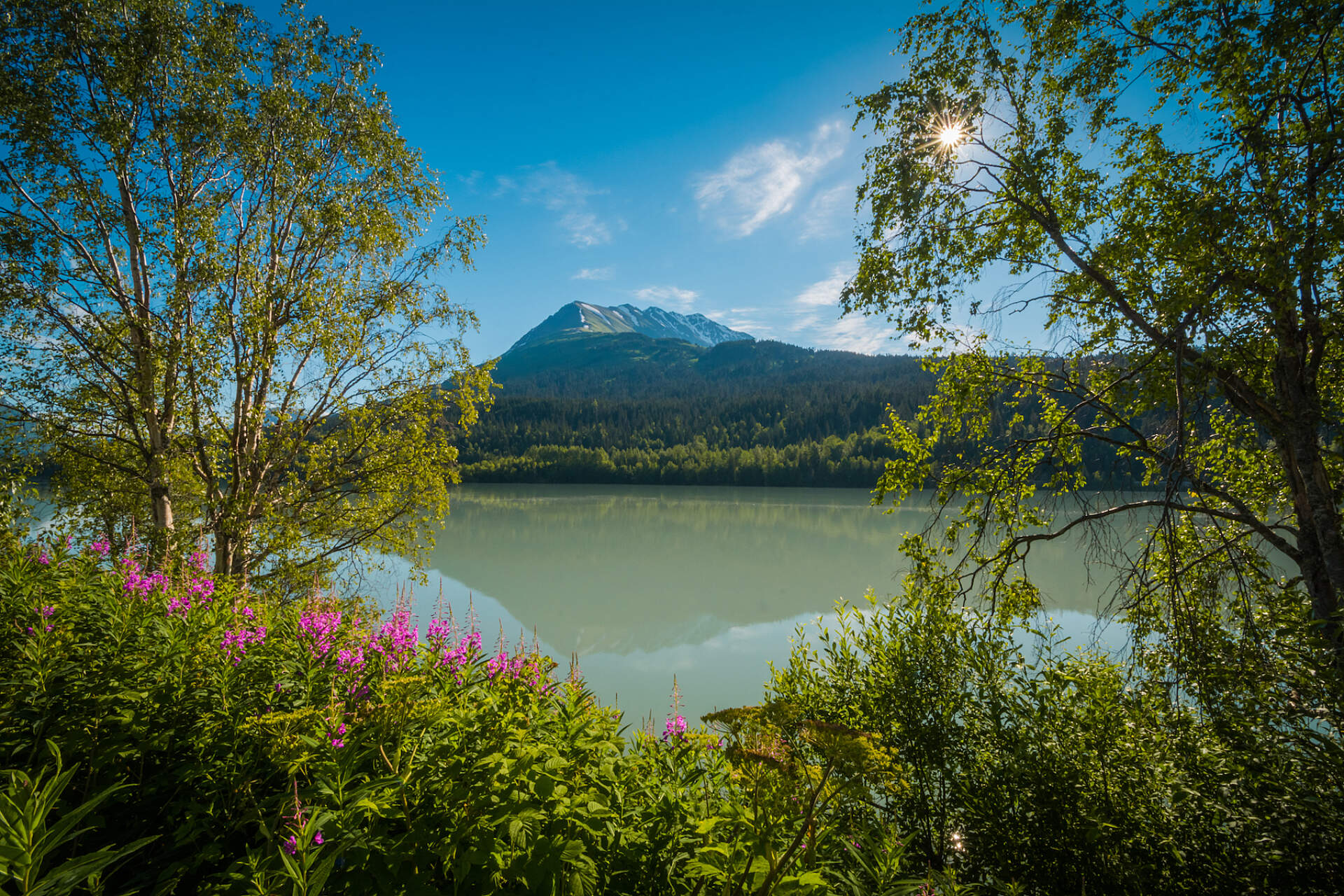 We were headed to Alyeska Resort in Girdwood for the evening and had about 4 hours of driving in front of us. We stopped again at Kenai Lake and Tern Lake and also made a stop at Upper Trail Lake. The turquoise water and blue skies made for some beautiful shots. It was still hard for me to get around because of my ribs, but I was trying not to let the pain keep me down.
A Stay in Alyeska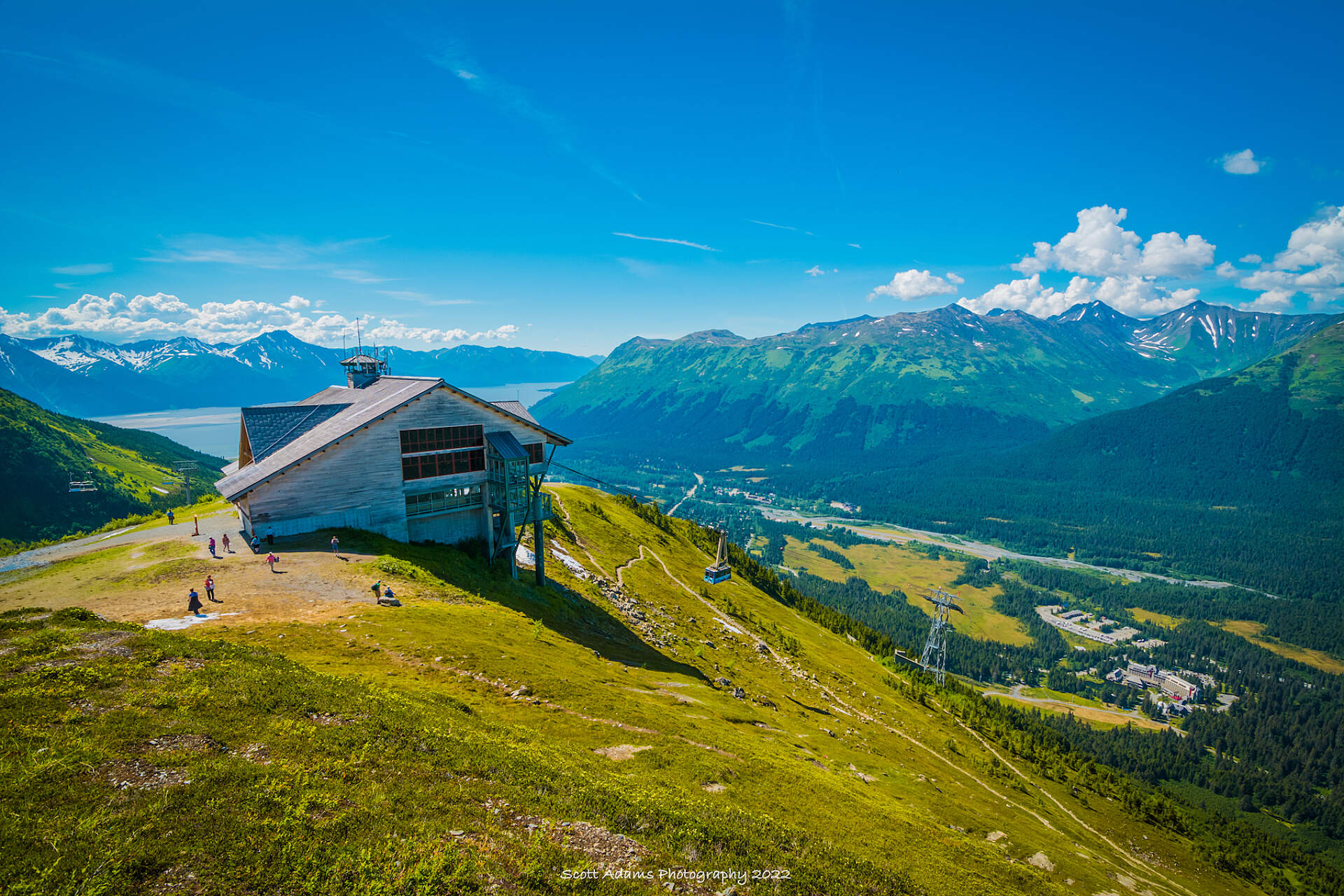 We made it to Alyeska, checked in and were given 2 passes to take the tram up to the Roundhouse. We gladly accepted them and headed up. There were mountains all around, plus a clear view of Turnagain Arm—what a sight! We walked a little around the Roundhouse and went back down to tour the grounds of the resort and have dinner.
A Trip Coming to a Close
The next day we would be leaving Anchorage and flying to Seattle for a few days. On the way to the airport, we stopped at an urgent care facility, where an X-ray showed that I had fractured 2 ribs. Ugh! The ribs, of course, would heal; I wouldn't have dreamed of trading the injury for the amazing experience.
This trip was quite an introduction to the 49th State. I didn't see enough, so I've been back 8 (!) more times, with a 9th return planned in June 2022. We've been to all 8 national parks (4 of them multiple times) and the capital, Juneau, but still have so much more to explore. Alaska is such a photographer's dream. I've been rewarded on multiple occasions for getting "the shot" and can't wait to get many more!