Glacier Glamping with MICA Guides

By Yasent Oliver
Cinematographer with Channel Films
The sound of helicopters and small planes soaring across the sky is the sound of summer in Alaska. Locals and visitors alike lift off for adventures to remote cabins, lodges, or just to appreciate Alaska's grandeur from above.
Some of these lucky folks fly over massive glaciers, and the even luckier ones get to land on them, admiring the deep blue glacier pools and jagged crevasses up close. I hoped that one day I'd be one of the lucky ones. But I never imagined that my first glacier landing experience would be combined with something even more special—a night spent on the ice.
But the folks at MICA guides dream big and created a one-of-a-kind experience that allows guests to do just that. Since they know Matanuska Glacier really well—they've been taking guests there since 1999—they now offer a "Matanuska Glacier Overnight Adventure." This amazing adventure combines flying to the glacier via helicopter, going ice trekking/climbing, then spending the night on the glacier in a luxurious tent with delicious food!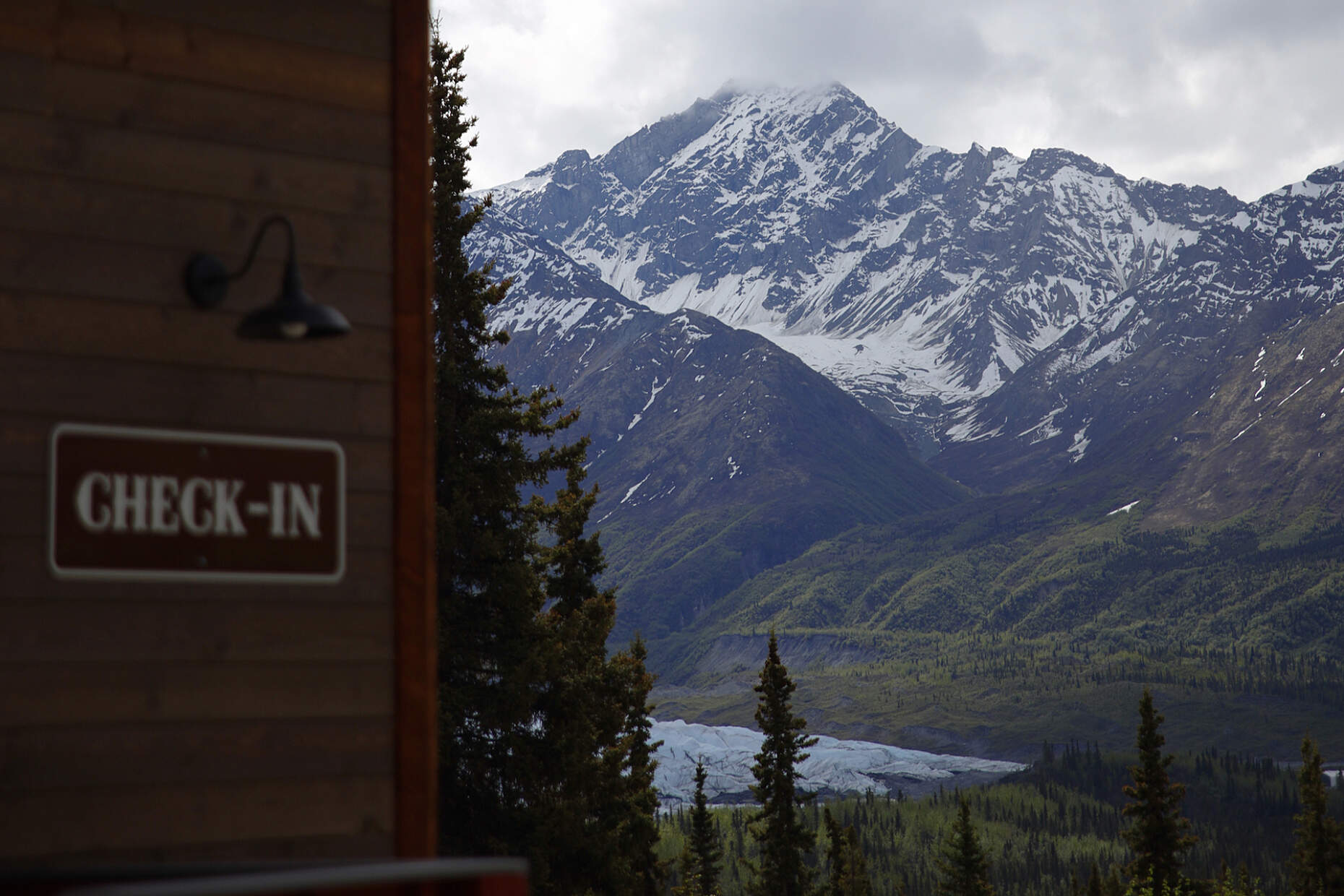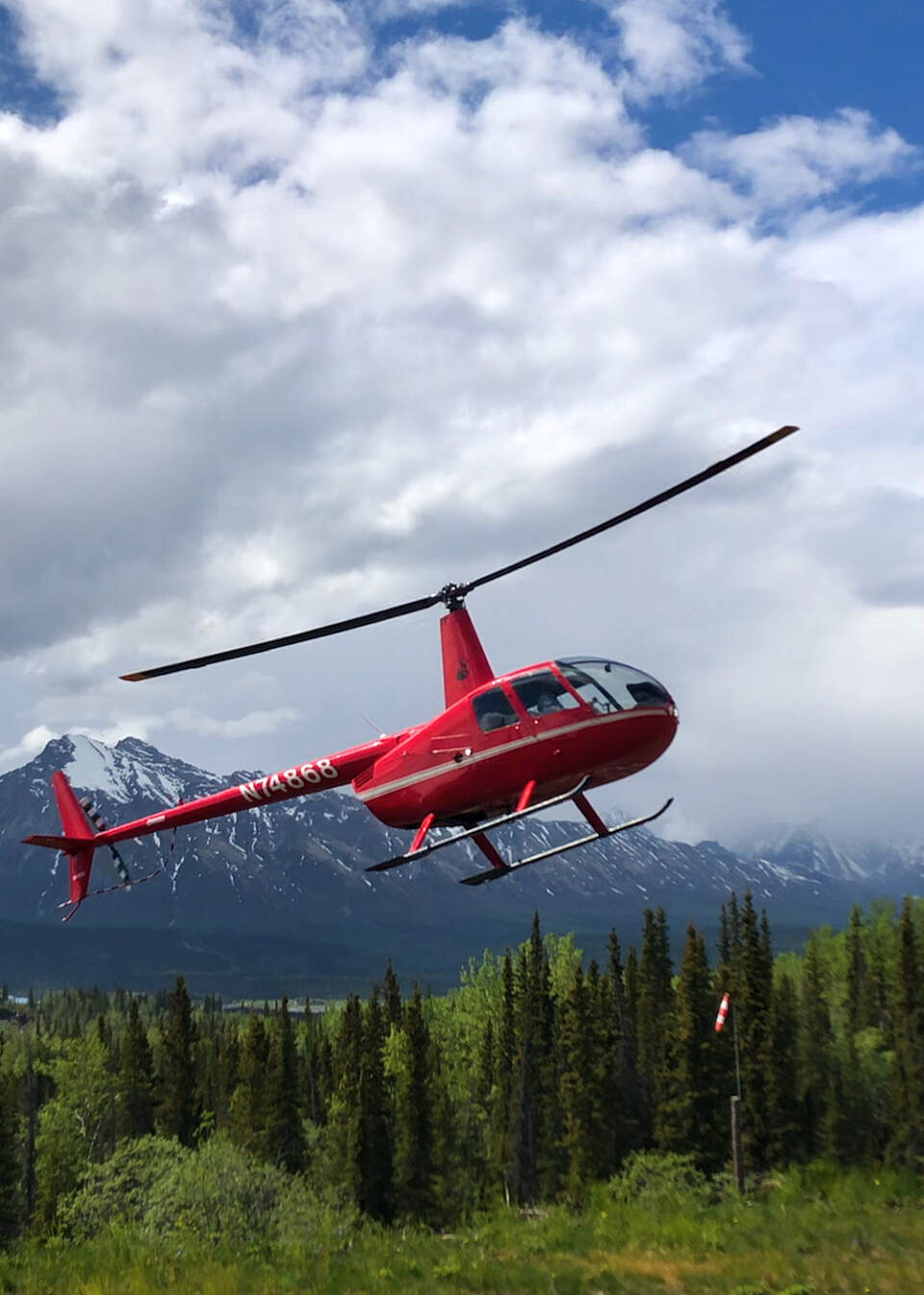 So on an early June morning, I drove to the town of Glacier View, where MICA Guides has its base camp. I got my first glimpses of the mighty Matanuska Glacier from the highway, but driving down the road to the camp the icy blue loomed larger and I started getting really excited about the adventure that awaited.
I checked in around noon and headed to the gear hut, where the friendly, professional staff fitted me with crampons, gloves and glove liners, a climbing harness, and hiking boots (which they provide so you can keep your own boots dry—a really nice perk!).
Then it was a quick van ride to the helipad, where the 3-passenger chopper lifted off and the Alaskan landscape opened up before me, with the glacier front and center.
After a 10-minute flight, the group set down gently right on a gravel-covered part of the glacier and our guide led us to enormous, stunningly blue pools that ran almost ¼ mile long. But the adventure was just getting started. We then hopped back in the chopper for a quick flight over to the glacier camp.

This next stop was the real deal—the ancient glacial ice all around us was perfect for ice climbing. While MICA Guides offers a basic option that includes a 1-hour guided hike on the ice, I was glad we had opted for the "Helicopter Explorer," which gave us a full 3 hours on the ice with a guide.
Now was the time to don crampons; then the four people on the adventure split up into two groups. Since I had never tried the sport before, I was with the beginners; our guide, Thomas, led the way. The other people in my group had been on what they estimated was at least 50 different trips to the glacier with MICA Guides, so they headed off straight away to tackle some steep ice climbs.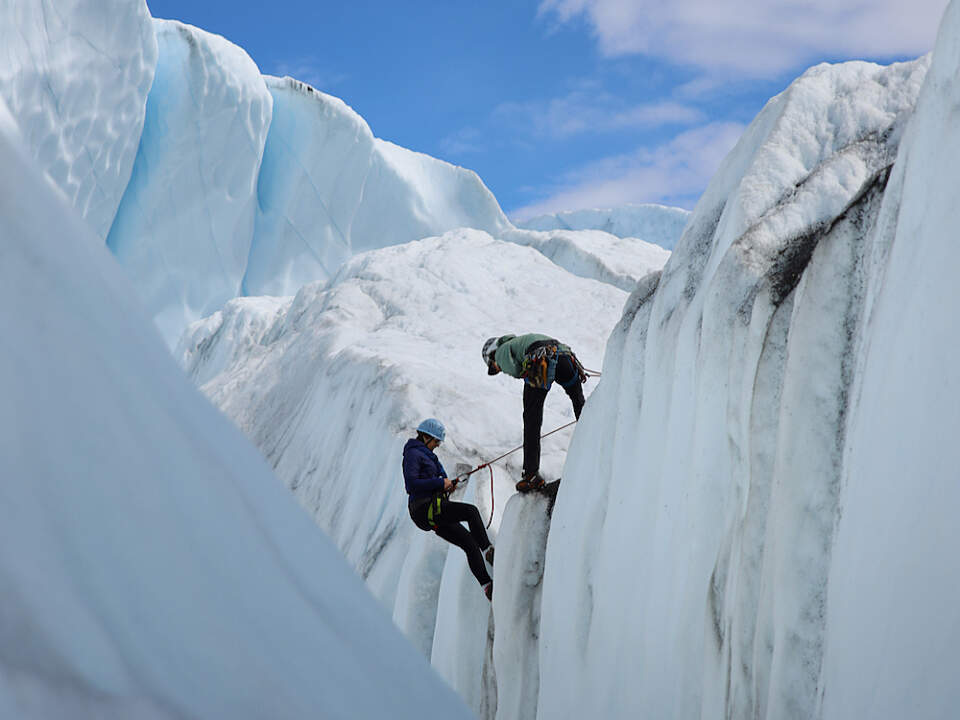 Exploring the Glacier
My group of three eased into it. The first step was learning how to walk on the glacier with crampons, which was surprisingly easy. Then it was time for some climbing practice. Thomas set an anchor and one by one we lowered ourselves into a small crevasse (a little more than the height of a person) and then climbed out. Thomas was super-helpful teaching us how to do it and encouraged us every step of the way. Once I got the hang of it, I found it to be very fun!
Successfully climbing out gave us all a real sense of accomplishment. I'm always amazed at how many opportunities Alaska provides to get out of your comfort zone—in the best way possible!
Then we went in search of other glacial features, like moulins—basically, vertical tunnels in the ice created by surface water seeping in. The more advanced climbers took turns going down into it and climbing back out.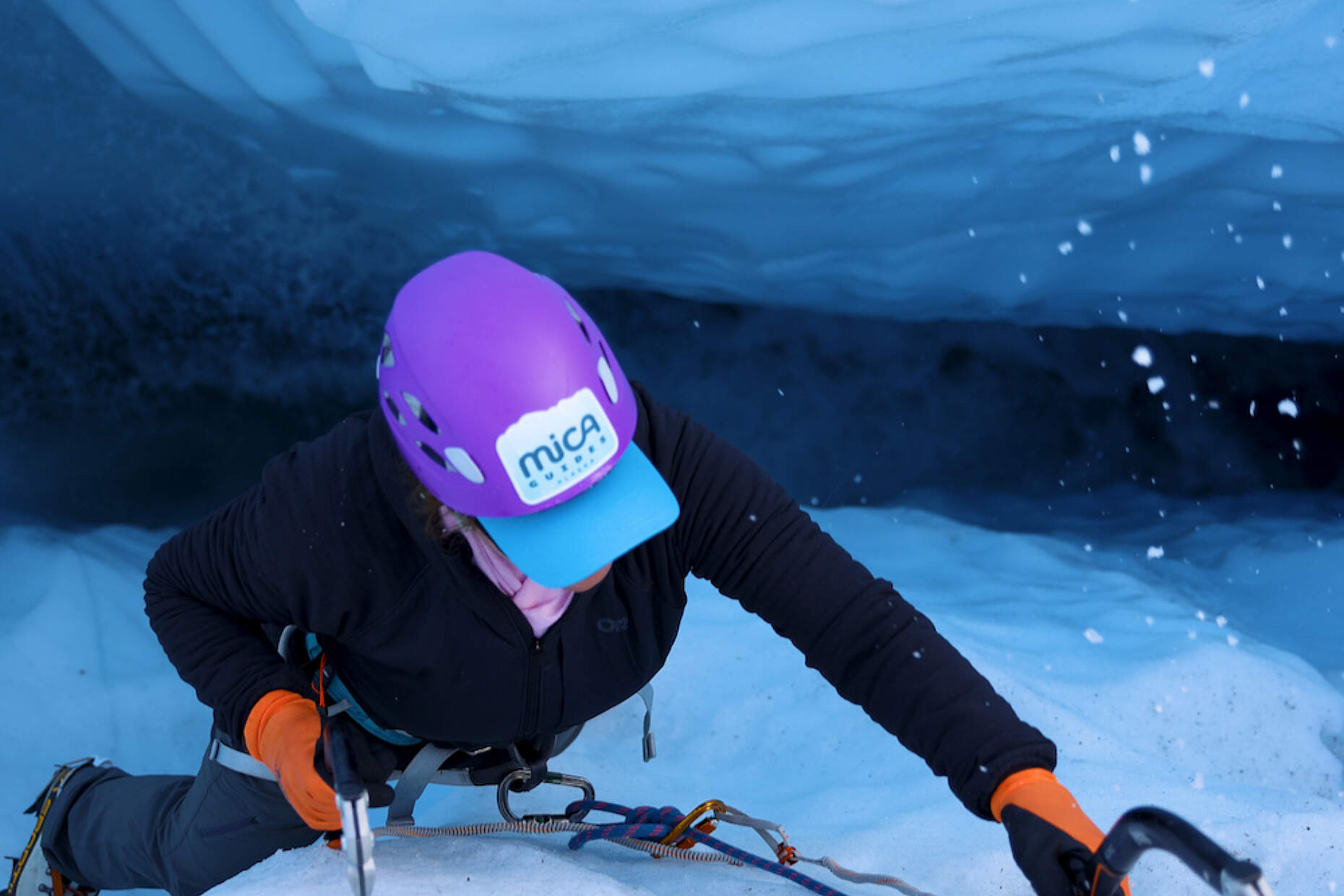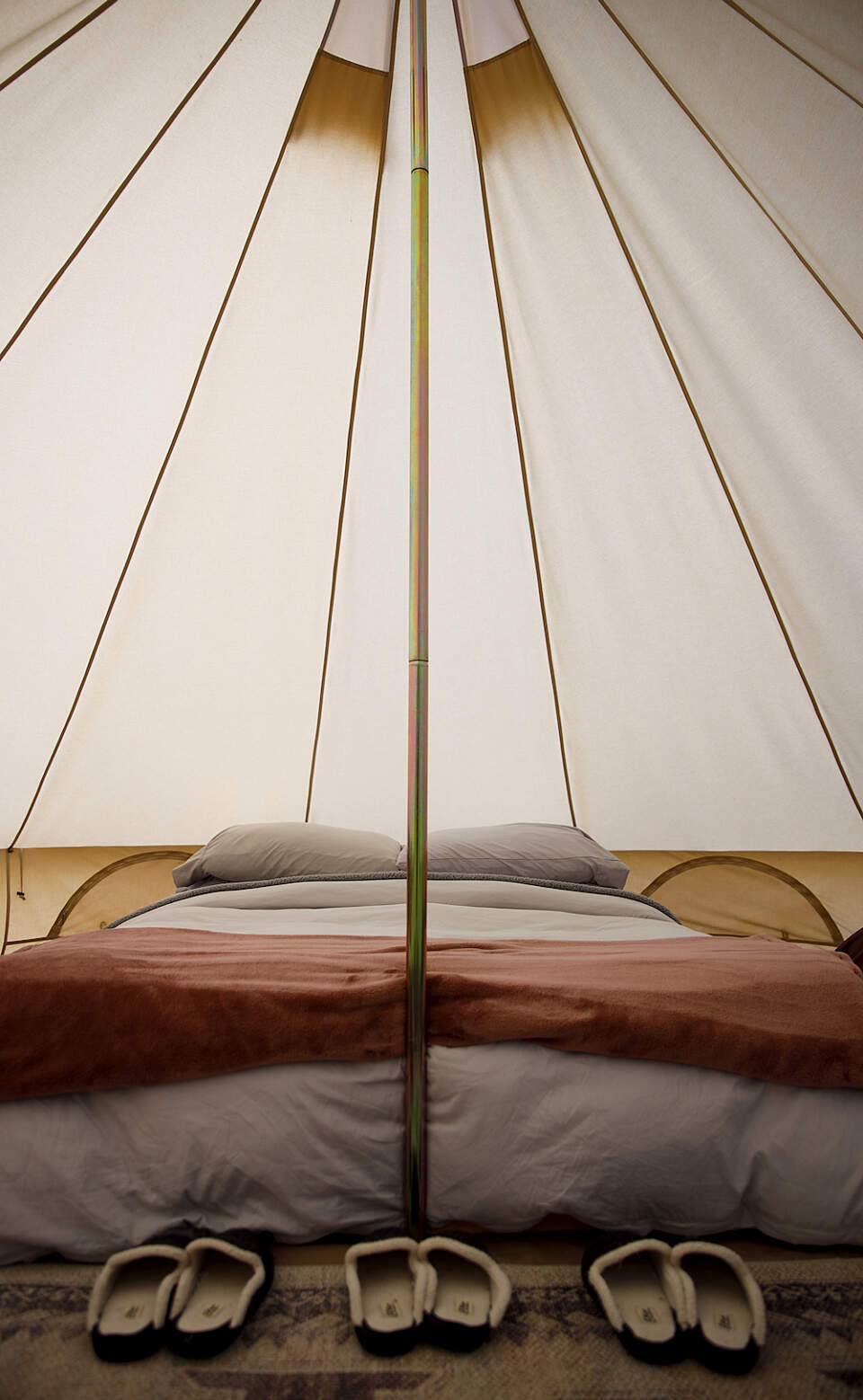 Glacier Camp
After a very full afternoon on the glacier, we hiked back to camp, where the glacier was covered in gravel…no crampons required. Then we "checked in" to our tents. Wow! Mine was very spacious and luxurious, with plenty of room to move around without hunching over. There was a queen-size bed in the middle (topped with plenty of thick blankets), a twin-size bed, a couple chairs, and a small bedside table with some mugs and a deck of cards. Just a little walk from camp there was an outhouse with (not surprisingly) no running water.
After changing into clean clothes, we met back at the communal tent to dig into an impressive charcuterie board and sip tea or cocoa. It was a great time to relax and talk about the adventure so far.
The snack was followed by a delicious salmon pasta dinner that our glacier camp guide, Madison, prepared, and which we enjoyed with beer and wine. Thanks to the generous portions, I was full before I even finished what was on my plate.
After dinner, Madison lit the fire pit and brought out Ghirardelli chocolate, marshmallows, and graham crackers to make (what else?) yummy s'mores. Most people headed to their tents around 8 p.m.

My bed was soft and super-comfortable—a little cool when I first climbed in, but it warmed up very quickly. As I settled in, I could hear a low rumbling sound—the always-in-motion glacier shifting ever so slightly—but the sound was very faint, and I definitely slept well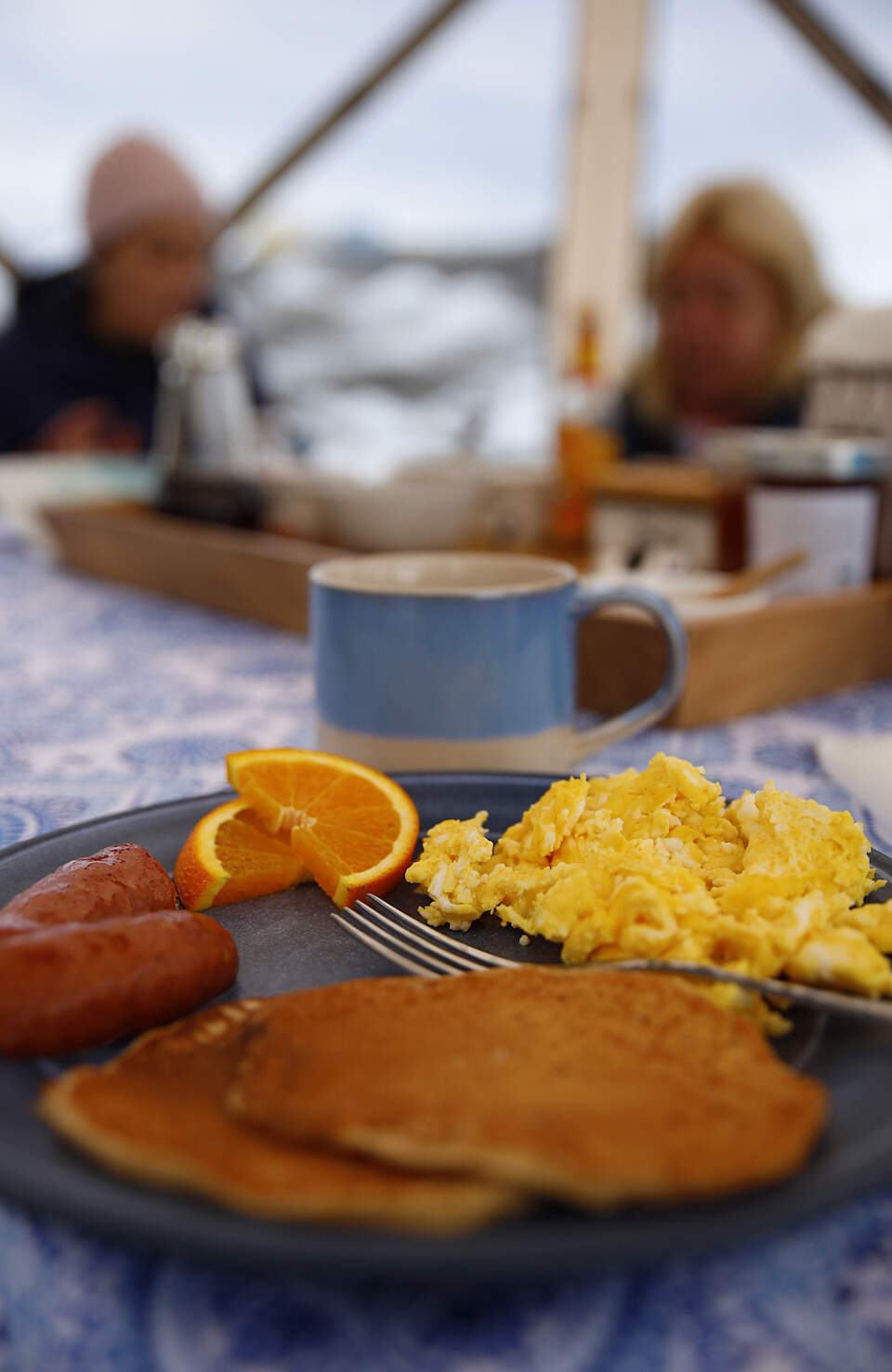 Pancakes & Hot Coffee on the Glacier
Around 8:15 a.m., Madison came by the tent with coffee, and breakfast was served around 9—another delicious, filling meal that included pancakes, sausage, eggs, fresh orange slices, and of course, coffee/tea/cocoa. We had some time to roam around, then I heard the rotors of the helicopter coming back to fetch us.
We said goodbye to this little slice of glacial heaven around 10:30 and flew straight across the glacier—the flight lasted less than 5 minutes, but it was fantastic to get another glimpse of the ice and the snow-capped peaks of the Chugach Mountains from above before landing back at base camp.
The experience proved amazing on several levels, and in less than 24 hours, I got to check off many "firsts." I had never been ice climbing and never slept on a glacier—both were even more fun than I expected. And I felt lucky to do it with such great guides and in such a luxurious tent. I had never had a camping experience like that before, much less on a glacier. Plus, all this takes place so close to Anchorage that it's easy for just about anyone to enjoy. Give it a shot and you'll come away with your own unforgettable memories!
About MICA Guides
Don Wray, the visionary behind MICA guides, decided a long time ago that helping people enjoy adventure in Alaska was about the most satisfying career he could imagine. His team of well-trained guides are committed not only to your safety, but to helping you conquer the ice. The Overnight Glacier Adventure adds a level of luxury you don't often get in glacier exploration. The small group size makes it a wonderful experience for couples or small families (minimum age is 12). The experience is available June through August. Reserve early - there are only 3 tents on the ice!