Experience true remote Alaska at this fly-in wilderness lodge northeast of Denali National Park. Wood River Lodge lies at the base of a mountain with a river running past it, fitting in perfectly with the surrounding area. And since the 12-cabin lodge is only available to be rented in its entirety, you and your group of up to 50 people will have this rustic, historic gem all to yourselves. It's an idyllic getaway for any large gathering, like a family event or corporate retreat.

Settle into Wood River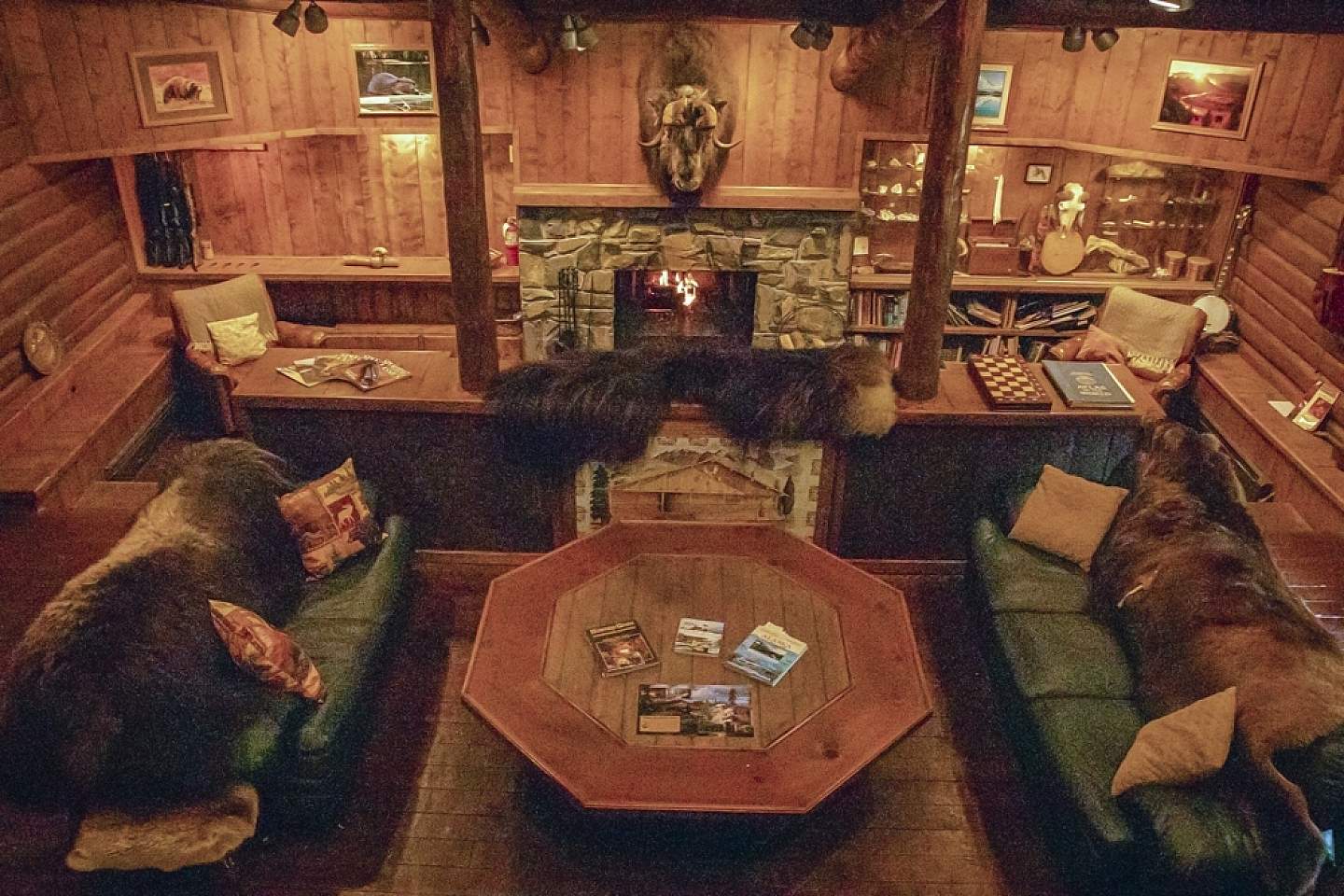 Traveling by bush planes from Healy, a town just north of Denali, your group will soar over mountains and glaciers to a remote airstrip along the Wood River. The 12 cozy cabins each have one open room and en suite bathroom, along with plenty of privacy, while the two-story main lodge features a wood-burning stove and dining areas, along with big windows that offer opportunities to gaze up at Mt. Anderson and spot Dall sheep. You'll also find a Swiss Chalet, a theater building, and a wood-fired sauna on the property.
Breakfast is included in your stay, so you and your group will start each morning off with a hearty meal, including items like pancakes and bacon. Other meals are optional and served family-style, though for lunch you could order up a picnic lunch and take it on a hike. Dinners are also filling backcountry affairs fit for lumberjacks—just what your group will need after working up an appetite.
Wildlife Viewing, Hiking & S'mores
Customize this getaway for your group by choosing from a variety of experiences. During the day, for example, you can go canoeing among the swans on Swan Lake, spot moose on Moose Pond, and try your hand at gold panning in Sheep Creek. Want to work up a sweat? Explore the surrounding trails on foot or fat-tire bike, or climb the almost 3,000 feet to the summit of Mt. Anderson, where you'll discover gorgeous views out to Cody Creek and towards Healy. Or just walk down to the river and relax in a comfy lounge chair on the platform. At night, hit the theater, where you can watch movies about Alaska in seats from a vintage movie theater. Or sit out by the fire pit chatting, making s'mores, or relaxing while you soak up the midnight sun.
Experience Alaska's History
Mining was the big business in this area back in the late 19th-century. The first permanent structure was finished in 1907, and it's still standing today. The area's beauty was then discovered by movie makers, authors, and photographers, with expeditions shooting here in the 1940s and 1950s. By 1965 there was a big-game hunting lodge, and famous hunters from all over would fly in. The wilderness lodge tradition continued, and in 2017, the current couple who owns the lodge bought it and now run it with the help of some of their 10 children.