Photo Credit: Ted Spencer dba Wings over Alaska
Whittier 1964 Earthquake Monument
The monument in Whittier to Alaska's famous 1964 earthquake was just installed in 2020, and it's dramatic—a plaque on a 13-ton rock, donated by the Alaska Railroad. You can find it in the town's Triangle business district amidst a wild rose garden.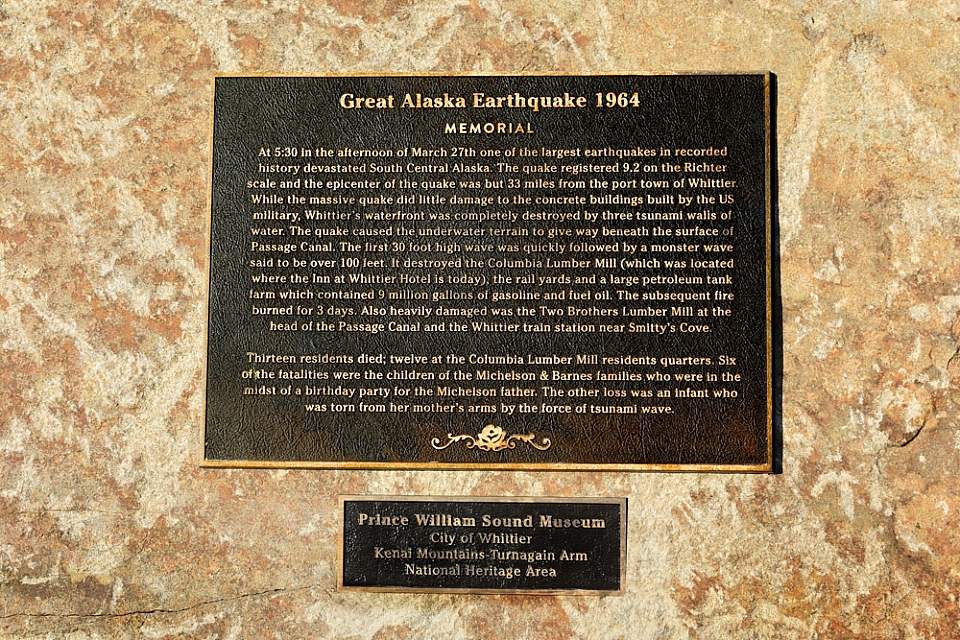 It's a fitting tribute to those who lost their lives during the quake. The irony is that even though the epicenter of the earthquake—which measured 9.2 on the Richter scale—was just 33 miles away from Whitter, the town didn't see a lot of damage from it directly. But the aftereffects of the quake were devastating, including three tsunamis. One was a massive 104 feet high, and it slammed into one of the lumber mills in operation at the time. Inside were 12 people celebrating a birthday, incuding six children. Not only were the mills leveled, but the victims' bodies were never found. Two others—a woman and an infant—perished elsewhere in town.
However, there wasn't any commemoration for those that lost their lives from the eathquake, like there are in other coastal towns. The curator of the Prince William Sound Museum thought it would be appropriate to create one for Whittier. Now, with the plaque affixed to the massive, 13-ton rock, it's a fitting memorial to the event.