Photo Credit: Haley Johnston
Why Choose This Trip?
A combination of classic Alaskana: float planes, big mountains, crsytal blue lakes, and homesteading history!
Trip Type
Packrafting and Hiking
Region
Southwest Alaska
This Route
This "route" is uniquely freeform. We recommend landing at Upper Twin Lake, possibly at Dick Proenneke's cabin (confirm with your floatplane pilot) and working your way down Upper Twin, through the connecting stream and finally to Lower Twin Lake via packraft.
Along the way, you'll be able to choose from hundreds of available hiking optios. Paddle your packraft ashore and start walking in any direction and you'll find yourself on the hike of a lifetime.
There's one designated campsite at Upper Twin Lake at Hope Creek, just west of Dick Proenneke's cabin. The campsite is first-come, first-served, and this is the most likely spot to see other backcountry travelers. As you work your way from Upper Twin to Lower Twin, look for camping on west-facing beaches. The down-glacier winds (called katabatics) can blast east-facing beaches, making for unpleasant camping.
The connecting stream between Upper and Lower Twin Lakes will be the only moving water of your trip. Enjoy the ride down the half-mile stream; it will likely be a welcome break from the work of paddling flat water.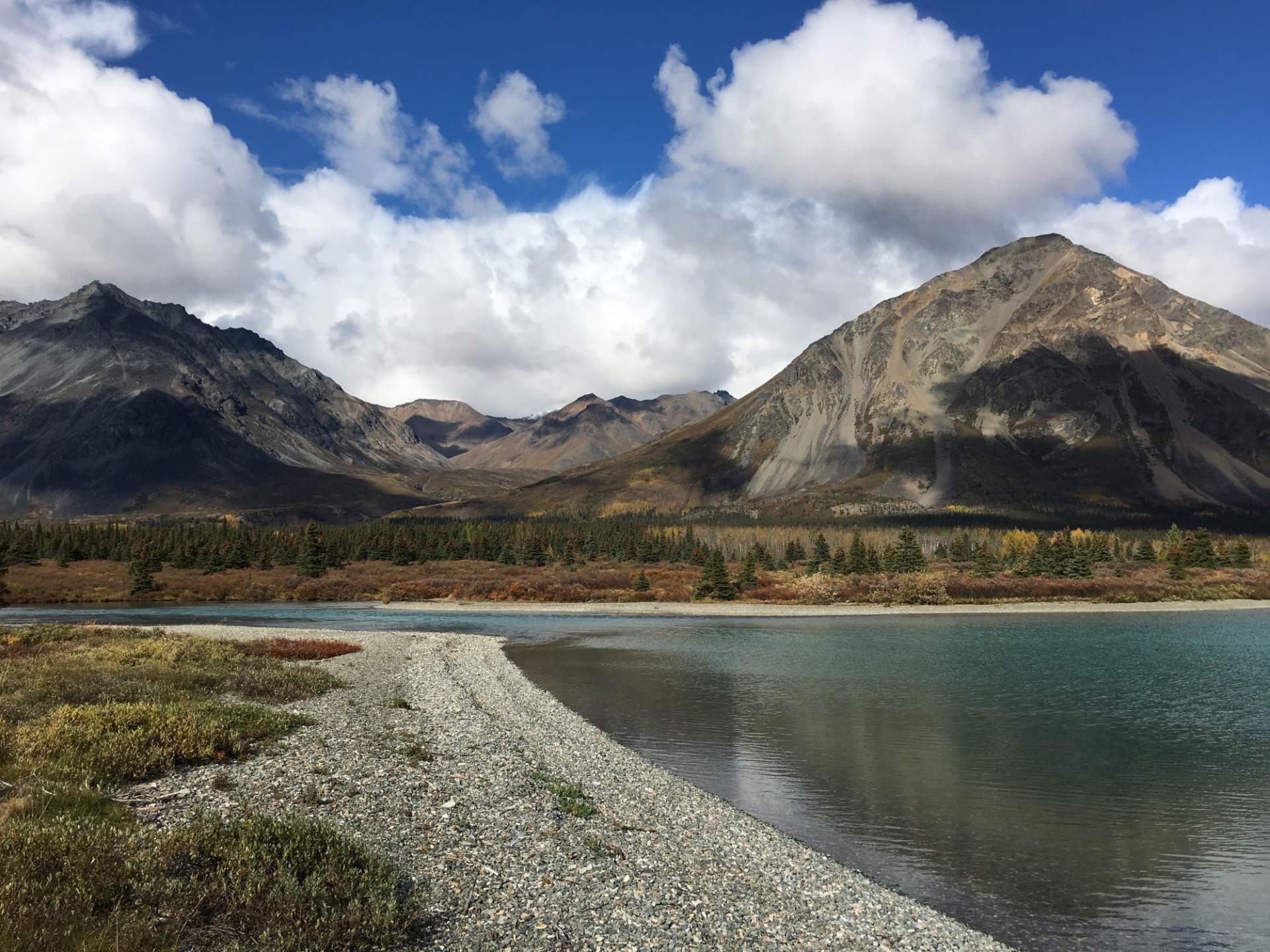 Although none of the trails on Twin Lakes are officially maintained, they've been worn into the tundra by years of travel - first by Dick Proenneke, and now by the visitors that come to his homestead and Twin Lakes each summer. Most are relatively easy to follow, but backcountry navigation skills are helpful.
Here are some hiking options to consider during your time at Twin Lakes:
Teetering Rock: 1 mile, 200' elevation gain. This out-and-back trail leaves from the Historic Proenneke Cabin site and ascends to a prominent point 1/2-mile behind the cabin to the north of Hope Creek. A uniquely balanced rock marks the end of this trail and makes a great spot to take in the view of Upper Twin Lake.
Hope Creek: 5+ miles, 1,200+' elevation gain. This trail leaves from the primitive campground at Hope Creek and follows the south side of Hope Creek, ascending the creek's valley for miles. Eventually the trail will fade, but you can continue upvalley as far as you like, exploring the alpine tundra country. This is a great valley for catching a glimpse of black or brown bears or Dall sheep.
Emerson Creek: 3.7 miles, ~1000' elevation gain. This trail leaves from the Emerson Creek delta, on the north side of Upper Twin Lakes and just east of the stream that connects the Upper and Lower Twin Lakes. The beginning of this trail can be difficult to find, as spring floods have obscured the sections nearest the lake. Look for a trail just inside the tree line and occasional cairns, and continue northward. A good ending point in a large waterfall, 1.75 miles up the trail. Stop at the bottom of the falls or climb a steep trail to the bluff above. The trail continues into the alpine, but eventually disappears into the tundra. Follow it as far as you feel comfortable.
Distance
Varies based on hiking choices
Number of Days
3-5
Backcountry Starting Point
Upper Twin Lake, possibly the beach at Dick Proenneke's cabin. Coordinate your dropoff point with your floatplane pilot.
Backcountry Ending Point
Lower Twin Lake; coordinate your pickup location with your floatplane pilot.
Trip Logistics: Complex
To get to Twin Lakes, you have two main options:
Charter a float plane flight from Anchorage directly to Twin Lakes (and back). This is the more expensive option.
Fly first to Port Alsworth with Lake Clark Air or Lake and Peninsula Air. Then charter a round-trip floatplane ride with Lake Clark Air from Port Alsworth to Twin Lakes.
Once at Twin Lakes, your itinerary is your own and the logistics are relatively simple. Keep in mind that if you want a tour of Dick Proenneke's historic cabin, there are rangers available to do so, but they have "operating hours" from 9 a.m. to 7 p.m. Respect the rangers' privacy by not bother them outside of these times.
Experience Level Necessary
Novice Packrafter
This trip is a great option for a novice packrafter, as the vast majority of the paddling will be on flat water. Remember that flat water is not free of hazards; this water is very cold, and an unexpected swim can be dangerous and hypothermia-inducing. The long, narrow shape of Twin Lakes means that if the wind picks up, waves can quickly build. Don't get caught in the middle of the lake during a storm.
Expected Hazards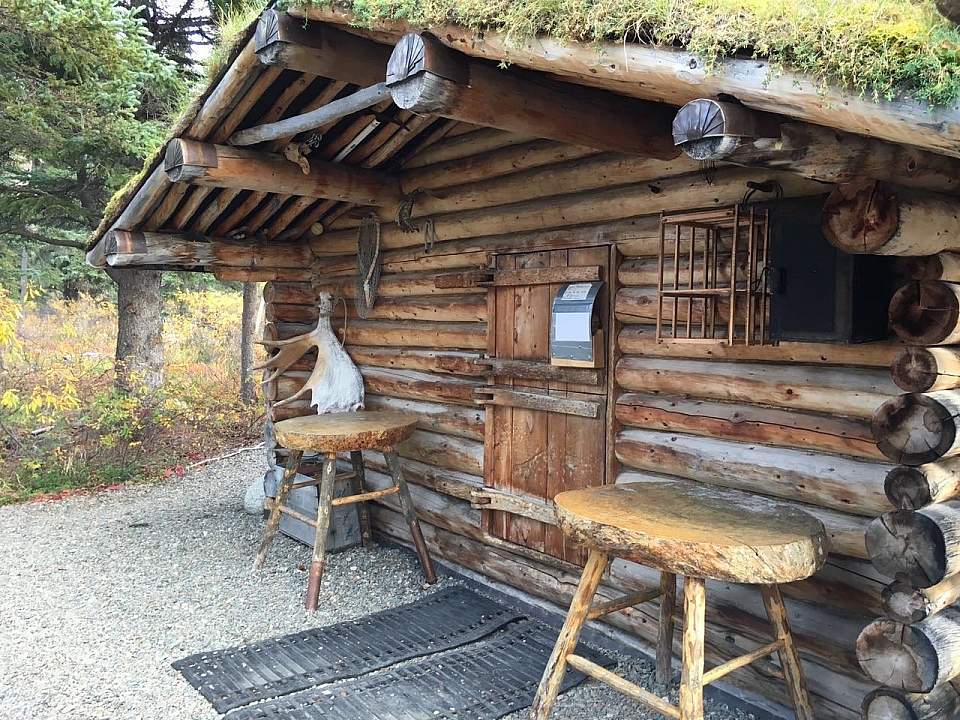 Waves on Twin Lakes in high winds.
Bear habitat. Make noise and carry bear deterrents, as black and brown bears live here.
Other Advice
Will you see other people in the backcountry?
Possibly. You'll very likely see other floatplanes delivering guests to Dick Proenneke's cabin for an afternoon tour. Whether or not you will see other backcountry travelers will depend on timing.
Land Manager
Lake Clark National Park and Preserve
GPS Coordinates
Proenneke Cabin coordinates: 60.648511, -153.81311
Hope Creek Campground coordinates: 60.64259, -153.82084
Emerson Creek trailhead coordinates: 60.63227, -153.90394
USGS Maps
Lake Clark C-2
Lake Clark C-3
Cost: $$$$
Bush plane travel in Alaska is expensive, but if you can afford it, you'll experience locations seldom seen by other travelers.