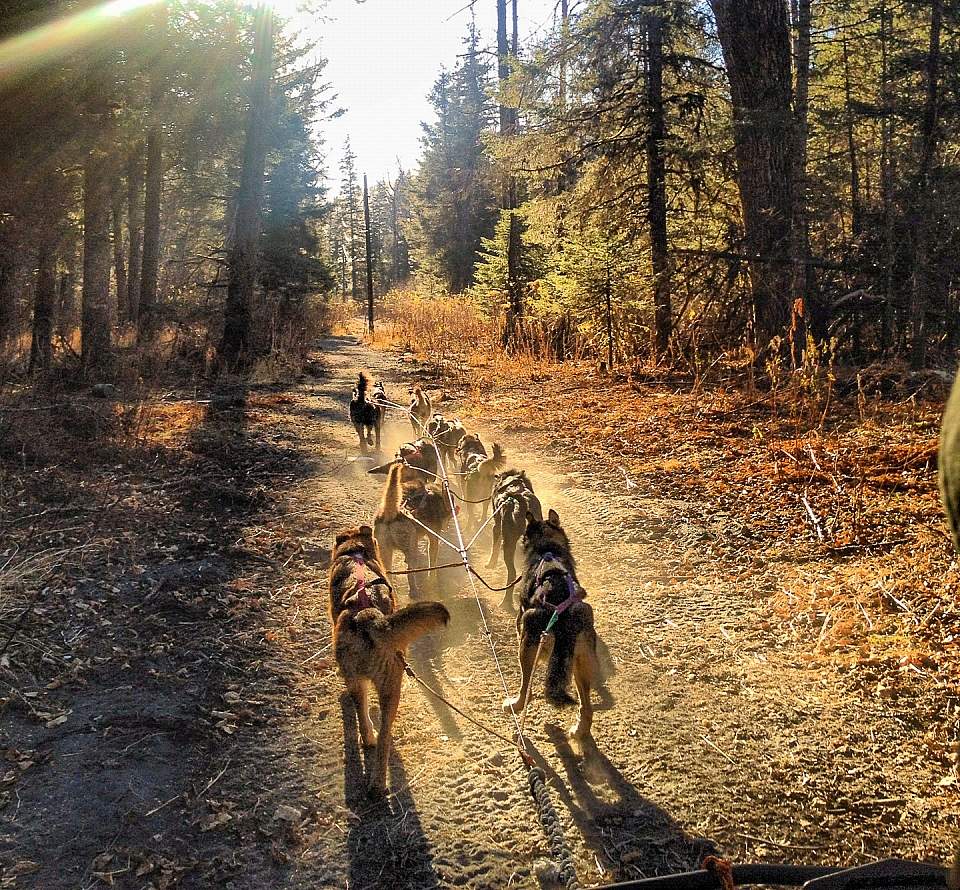 Go​ ​behind​ ​the​ ​scenes​ ​with​ ​Iditarod​ ​mushers​ ​and​ ​get​ ​your​ ​own​ ​thrilling​ ​ride​ ​with​ ​the dogs,​ ​thanks​ ​to​ ​this​ ​kennel​ ​and​ ​dog​ ​sledding​ ​tour​ ​out​ ​of​ ​Seward.​ ​​ ​​Owners​ ​Travis Beals​ ​and​ ​Sarah​ ​Stokey​ ​​offer​ ​an​ ​independent,​ ​hands-on​ ​type​ ​of​ ​tour,​ ​with​ ​smaller groups—often​ ​no​ ​more​ ​than​ ​six​ ​people.
Indeed,​ ​dog​ ​mushing​ ​is​ ​pretty​ ​intimate—the​ ​musher​ ​interacts​ ​with​ ​the​ ​dogs​ ​in intricate,​ ​ever-changing​ ​ways—so​ ​the​ ​kennel​ ​tour​ ​showcases​ ​the​ ​high-level​ ​of training​ ​that​ ​goes​ ​into​ ​cultivating​ ​a​ ​team.​ ​You'll​ ​see​ ​the​ ​dogs​ ​listen​ ​to​ ​the​ ​commands and​ ​navigate​ ​the​ ​camp's​ ​series​ ​of​ ​interconnected​ ​trails.
All​ ​you​ ​need​ ​to​ ​bring​ ​are​ ​your​ ​camera,​ ​sunglasses​ ​(especially​ ​if​ ​you​ ​go​ ​on​ ​the glacier)​ ​and​ ​flat,​ ​closed-toe​ ​shoes,​ ​which​ ​are​ ​easier​ ​to​ ​pair​ ​with​ ​over-boots​ ​than hiking​ ​boots.​ ​Tours​ ​run​ ​year-round​ ​but​ ​vary​ ​by​ ​season.
Summer Tours from Seward
Summer Dog Demonstration & Cart Ride
Lasting​ ​a​ ​little​ ​more​ ​than​ ​an​ ​hour,​ ​this​ ​is​ ​a​ ​fun,​ ​fast,​ ​and​ ​zippy​ ​tour​ ​with​ ​lots​ ​of turns—proof​ ​that​ ​the​ ​dogs​ ​are​ ​always​ ​making​ ​decisions.​ ​​ ​You'll​ ​start​ ​with​ ​some hands-on​ ​time​ ​in​ ​the​ ​kennel,​ ​seeing​ ​how​ ​the​ ​dogs​ ​get​ ​trained​ ​and​ ​learn​ ​their commands.​ ​You'll​ ​meet​ ​and​ ​pet​ ​the​ ​dogs,​ ​then​ ​go​ ​for​ ​a​ ​ride,​ ​seeing​ ​up​ ​close​ ​that connection​ ​between​ ​musher​ ​and​ ​dog.​ ​The​ ​groups​ ​can​ ​be​ ​as​ ​big​ ​as​ ​15,​ ​but​ ​tend​ ​to​ ​be about​ ​six​ ​people.​ ​(Finding​ ​yourself​ ​getting​ ​attached?​ ​Ask​ ​about​ ​their​ ​adoption program​ ​for​ ​retired​ ​sled​ ​dogs).
Helicopter Glacier Dog Sledding
Lasting​ ​about​ ​90​ ​minutes,​ ​this​ ​tour​ ​includes​ ​time​ ​at​ ​the​ ​kennel's​ ​remote​ ​camp​ ​on Godwin​ ​Glacier,​ ​at​ ​3,700​ ​feet​ ​elevation.​ ​You'll​ ​start​ ​in​ ​Seward,​ ​getting​ ​outfitted​ ​with any​ ​gear​ ​you​ ​might​ ​need​ ​(rain​ ​jackets,​ ​rain​ ​pants,​ ​boots​ ​over​ ​shoes,​ ​parkas)​ ​then board​ ​the​ ​Seward​ ​Helicopter​ ​Tours​ ​helicopter​ ​(also​ ​owned​ ​by​ ​Travis​ ​and​ ​Sarah)​ ​for the​ ​12-minute​ ​flight​ ​from​ ​the​ ​Seward​ ​airport​ ​to​ ​the​ ​camp.​ ​On​ ​the​ ​way,​ ​you'll​ ​fly​ ​over Resurrection​ ​Bay,​ ​over​ ​a​ ​beautiful​ ​braided​ ​river,​ ​and​ ​up​ ​towards​ ​Godwin​ ​Glacier. There,​ ​you'll​ ​be​ ​greeted​ ​by​ ​guides​ ​who​ ​will​ ​teach​ ​you​ ​about​ ​the​ ​glacier,​ ​introduce you​ ​to​ ​the​ ​dogs,​ ​and​ ​then​ ​show​ ​you​ ​how​ ​to​ ​ride.​ ​You'll​ ​take​ ​a​ ​30-minute​ ​dogsled​ ​ride around​ ​the​ ​glacier,​ ​stopping​ ​along​ ​the​ ​way​ ​for​ ​pictures​ ​and​ ​then​ ​taking​ ​some​ ​time​ ​to mingle​ ​with​ ​the​ ​pooches—about​ ​an​ ​hour​ ​total​ ​on​ ​the​ ​glacier​ ​before​ ​you​ ​fly​ ​back​ ​to Seward.
Winter Magic in Willow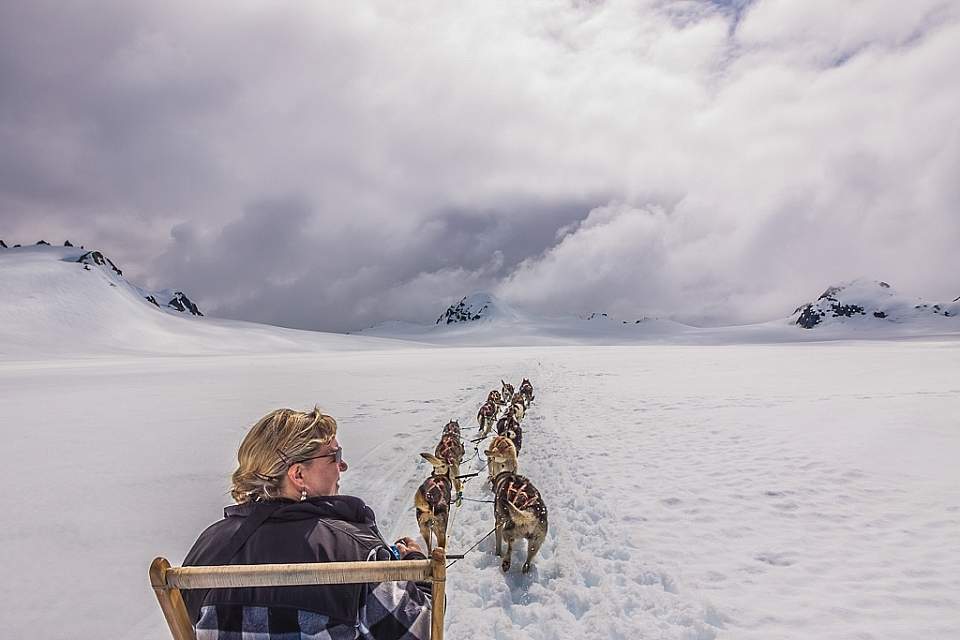 Winter​ ​brings​ ​its​ ​own​ ​variety​ ​of​ ​dog​ ​sledding​ ​tours,​ ​which​ ​range​ ​from​ ​an​ ​hour​ ​long to​ ​multi-day​ ​expeditions.​ ​​The​ ​hour-lo​ng​ ​tours​ ​are​ ​dependent​ ​on​ ​the​ ​winter​ ​weather and​ ​trail​ ​conditions,​ ​but​ ​typically​ ​take​ ​place​ ​on​ ​a​ ​lake​ ​near​ ​Willow.​ ​For​ ​longer tours—a​ ​full​ ​day,​ ​overnight,​ ​or​ ​up​ ​to​ ​four​ ​nights—you​ ​can​ ​do​ ​lodge-to-lodge​ ​based mushing​ ​in​ ​the​ ​Willow​ ​area​ ​with​ ​a​ ​small​ ​group​ ​of​ ​up​ ​to​ ​four​ ​people.​ ​You'll​ ​have access​ ​to​ ​full​ ​gear—parkas​ ​and​ ​bibs​ ​to​ ​keep​ ​you​ ​warm,​ ​and​ ​insulated​ ​shelters​ ​that you'll​ ​tow​ ​along—but​ ​the​ ​coolest​ ​part​ ​is​ ​that​ ​you'll​ ​get​ ​to​ ​drive​ ​your​ ​own​ ​dog​ ​team.
You​ ​don't​ ​need​ ​any​ ​prior​ ​mushing​ ​experience—the​ ​guides​ ​will​ ​cover​ ​all​ ​of that—and​ ​these​ ​tours​ ​make​ ​for​ ​a​ ​big​ ​Alaska​ ​highlight,​ ​no​ ​matter​ ​which​ ​you​ ​choose. People​ ​often​ ​come​ ​back​ ​for​ ​repeat​ ​tours,​ ​and​ ​say​ ​this​ ​was​ ​the​ ​coolest​ ​thing—or things​ —they​ ​did​ ​in​ ​Alaska.
Training with the Pros
The​ ​owners​ ​of​ ​the​ ​kennel​ ​know​ ​a​ ​lot​ ​about​ ​dogsledding:​ ​Travis​ ​Beals​ ​has​ ​been running​ ​dogs​ ​his​ ​entire​ ​life,​ ​and​ ​Sarah​ ​Stokey​ ​since​ ​2009.​ ​Both​ ​are​ ​Iditarod​ ​finishers (Travis​ ​has​ ​finished​ ​the​ ​race​ ​four​ ​times​ ​now,​ ​placing​ ​11​th​​ ​one​ ​year).​ ​Travis​ ​and Sarah​ ​spend​ ​a​ ​good​ ​part​ ​of​ ​the​ ​year​ ​training​ ​with​ ​their​ ​dogs,​ ​but​ ​since​ ​2012​ ​they have​ ​also​ ​been​ ​sharing​ ​their​ ​kennel​ ​with​ ​visitors.