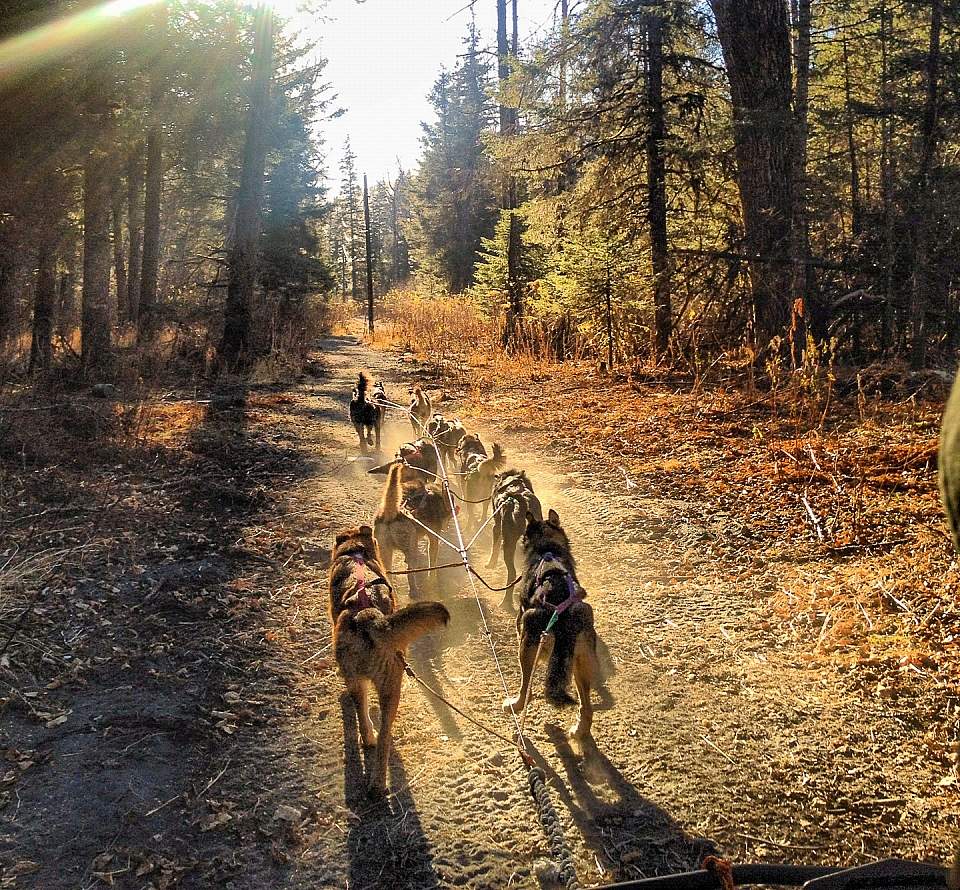 Go​ ​behind​ ​the​ ​scenes​ ​with​ ​Iditarod​ ​mushers​ ​and​ ​get​ ​your​ ​own​ ​thrilling​ ​ride​ ​with​ ​the dogs,​ ​thanks​ ​to​ ​this​ ​kennel​ ​and​ ​dog​ ​sledding​ ​tour​ ​out​ ​of​ ​Seward.​ ​​ ​​Owners​ ​Travis Beals​ ​and​ ​Sarah​ ​Stokey​ ​​offer​ ​an​ ​independent,​ ​hands-on​ ​type​ ​of​ ​tour,​ ​with​ ​smaller groups—often​ ​no​ ​more​ ​than​ ​six​ ​people.
Indeed,​ ​dog​ ​mushing​ ​is​ ​pretty​ ​intimate—the​ ​musher​ ​interacts​ ​with​ ​the​ ​dogs​ ​in intricate,​ ​ever-changing​ ​ways—so​ ​the​ ​kennel​ ​tour​ ​showcases​ ​the​ ​high-level​ ​of training​ ​that​ ​goes​ ​into​ ​cultivating​ ​a​ ​team.​ ​You'll​ ​see​ ​the​ ​dogs​ ​listen​ ​to​ ​the​ ​commands and​ ​navigate​ ​the​ ​camp's​ ​series​ ​of​ ​interconnected​ ​trails.
All​ ​you​ ​need​ ​to​ ​bring​ ​are​ ​your​ ​camera,​ ​sunglasses​ ​(especially​ ​if​ ​you​ ​go​ ​on​ ​the glacier)​ ​and​ ​flat,​ ​closed-toe​ ​shoes,​ ​which​ ​are​ ​easier​ ​to​ ​pair​ ​with​ ​over-boots​ ​than hiking​ ​boots.​ ​Tours​ ​run​ ​year-round​ ​but​ ​vary​ ​by​ ​season.
Summer Tours from Seward
Summer Dog Demonstration & Cart Ride
Lasting​ ​a​ ​little​ ​more​ ​than​ ​an​ ​hour,​ ​this​ ​is​ ​a​ ​fun,​ ​fast,​ ​and​ ​zippy​ ​tour​ ​with​ ​lots​ ​of turns—proof​ ​that​ ​the​ ​dogs​ ​are​ ​always​ ​making​ ​decisions.​ ​​ ​You'll​ ​start​ ​with​ ​some hands-on​ ​time​ ​in​ ​the​ ​kennel,​ ​seeing​ ​how​ ​the​ ​dogs​ ​get​ ​trained​ ​and​ ​learn​ ​their commands.​ ​You'll​ ​meet​ ​and​ ​pet​ ​the​ ​dogs,​ ​then​ ​go​ ​for​ ​a​ ​ride,​ ​seeing​ ​up​ ​close​ ​that connection​ ​between​ ​musher​ ​and​ ​dog.​ ​The​ ​groups​ ​can​ ​be​ ​as​ ​big​ ​as​ ​15,​ ​but​ ​tend​ ​to​ ​be about​ ​six​ ​people.​ ​(Finding​ ​yourself​ ​getting​ ​attached?​ ​Ask​ ​about​ ​their​ ​adoption program​ ​for​ ​retired​ ​sled​ ​dogs).
Helicopter Glacier Dog Sledding
Lasting​ ​about​ ​90​ ​minutes,​ ​this​ ​tour​ ​includes​ ​time​ ​at​ ​the​ ​kennel's​ ​remote​ ​camp​ ​on Godwin​ ​Glacier,​ ​at​ ​3,700​ ​feet​ ​elevation.​ ​You'll​ ​start​ ​in​ ​Seward,​ ​getting​ ​outfitted​ ​with any​ ​gear​ ​you​ ​might​ ​need​ ​(rain​ ​jackets,​ ​rain​ ​pants,​ ​boots​ ​over​ ​shoes,​ ​parkas)​ ​then board​ ​the​ ​Seward​ ​Helicopter​ ​Tours​ ​helicopter​ ​(also​ ​owned​ ​by​ ​Travis​ ​and​ ​Sarah)​ ​for the​ ​12-minute​ ​flight​ ​from​ ​the​ ​Seward​ ​airport​ ​to​ ​the​ ​camp.​ ​On​ ​the​ ​way,​ ​you'll​ ​fly​ ​over Resurrection​ ​Bay,​ ​over​ ​a​ ​beautiful​ ​braided​ ​river,​ ​and​ ​up​ ​towards​ ​Godwin​ ​Glacier. There,​ ​you'll​ ​be​ ​greeted​ ​by​ ​guides​ ​who​ ​will​ ​teach​ ​you​ ​about​ ​the​ ​glacier,​ ​introduce you​ ​to​ ​the​ ​dogs,​ ​and​ ​then​ ​show​ ​you​ ​how​ ​to​ ​ride.​ ​You'll​ ​take​ ​a​ ​30-minute​ ​dogsled​ ​ride around​ ​the​ ​glacier,​ ​stopping​ ​along​ ​the​ ​way​ ​for​ ​pictures​ ​and​ ​then​ ​taking​ ​some​ ​time​ ​to mingle​ ​with​ ​the​ ​pooches—about​ ​an​ ​hour​ ​total​ ​on​ ​the​ ​glacier​ ​before​ ​you​ ​fly​ ​back​ ​to Seward.
Winter Magic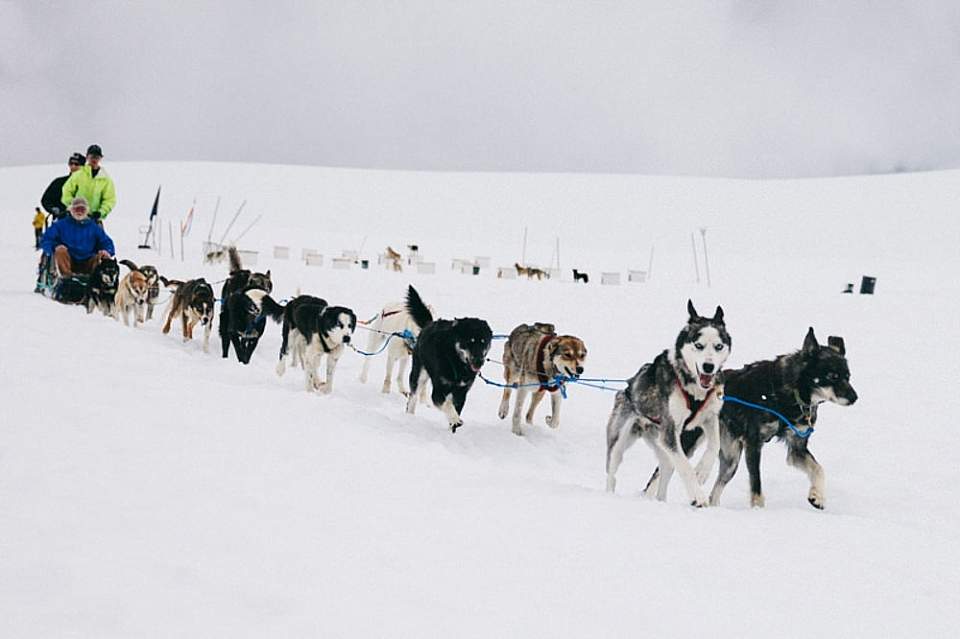 In winter, experience the thrill of mushing across the snow. Choose from two departures daily for a 3-hour-long adventure. You'll meet your musher at the Turning Heads headquarters where you'll be outfitted for your adventure before a short drive down Exit Glacier Road to the trailhead. You'll spend about 2-hours outside with the dogs, mushing, and stopping for photo opportunities. Groups are small (maximum 6), so there's plenty of flexibility to customize the experience to the group. Ride in the sled, or take the opportunity to mush the team by standing on the sled with the experienced musher. There are two departures daily between mid-December and early March.
Looking for a longer mushing adventure? Inquire about their overnight and multi-day tours where you get to learn how to mush your own team. You​ ​don't​ ​need​ ​any​ ​prior​ ​mushing​ ​experience. These ​tours​ ​make​ ​for​ ​a​ ​big​ ​Alaska​ ​highlight. People​ ​often​ ​come​ ​back​ ​for​ ​repeat​ ​tours​ ​and​ ​say​ ​this​ ​was​ ​the​ ​coolest​ ​thing they​ ​did​ ​in​ ​Alaska.
Training with the Pros
The​ ​owners​ ​of​ ​the​ ​kennel​ ​know​ ​a​ ​lot​ ​about​ ​dogsledding:​ ​Travis​ ​Beals​ ​has​ ​been running​ ​dogs​ ​his​ ​entire​ ​life,​ ​and​ ​Sarah​ ​Stokey​ ​since​ ​2009.​ ​Both​ ​are​ ​Iditarod​ ​finishers (Travis​ ​has​ ​finished​ ​the​ ​race​ ​four​ ​times​ ​now,​ ​placing​ ​11​th​​ ​one​ ​year).​ ​Travis​ ​and Sarah​ ​spend​ ​a​ ​good​ ​part​ ​of​ ​the​ ​year​ ​training​ ​with​ ​their​ ​dogs,​ ​but​ ​since​ ​2012​ ​they have​ ​also​ ​been​ ​sharing​ ​their​ ​kennel​ ​with​ ​visitors.