The​ ​port​ ​city​ ​of​ ​Seward​ ​is​ ​a​ ​classic​ ​stop​ ​on​ ​any​ ​Alaska​ ​itinerary,​ ​thanks​ ​to​ ​its proximity​ ​to​ ​Chugach​ ​National​ ​Forest​ ​and​ ​Kenai​ ​Fjords​ ​National​ ​Park.​ ​But​ ​it's​ ​also one​ ​of​ ​the​ ​more​ ​diverse​ ​places​ ​to​ ​fly.​ ​This​ ​tour​ ​operator​ ​offers​ ​stunning​ ​birds-eye views​ ​of​ ​the​ ​area's​ ​alpine​ ​meadows,​ ​glaciers​ ​and​ ​fjords,​ ​as​ ​well​ ​as​ ​the​ ​chance​ ​to touch​ ​down,​ ​explore​ ​the​ ​terrain​ ​and​ ​even​ ​meet​ ​sled​ ​dogs.
The​ ​tours​ ​run​ ​from​ ​May​ ​through​ ​mid-September.​ ​From​ ​the​ ​air,​ ​aside​ ​from​ ​the mountain​ ​valleys,​ ​glaciers​ ​and​ ​fjords,​ ​you​ ​can​ ​see​ ​bears,​ ​whales,​ ​and​ ​even​ ​mountain goats​ ​and​ ​sea​ ​lions.​ ​Near​ ​glaciers,​ ​look​ ​for​ ​seals​ ​pulling​ ​themselves​ ​out​ ​onto​ ​the​ ​ice bergs.
Combine a Scenic Tour with Dog-Sledding
One​ ​of​ ​the​ ​main​ ​excursions​ ​Seward​ ​Helicopter​ ​Tours​ ​offers​ ​is​ ​the​ ​Glacier​ ​Dog Sledding​ ​tour.​ ​Since​ ​they​ ​are​ ​one​ ​of​ ​the​ ​smaller​ ​operators​ ​in​ ​the​ ​state,​ ​with​ ​the kennel​ ​right​ ​in​ ​town,​ ​they're​ ​able​ ​to​ ​quickly​ ​bring​ ​the​ ​dogs​ ​up​ ​to​ ​the​ ​glacier​ ​(where they​ ​have​ ​a​ ​remote​ ​kennel​ ​for​ ​about​ ​30​ ​dogs)​ ​or​ ​back​ ​down​ ​to​ ​the​ ​in-town​ ​kennel. You​ ​get​ ​outfitted​ ​with​ ​any​ ​gear​ ​you​ ​need​ ​(rain​ ​jackets,​ ​rain​ ​pants,​ ​boots​ ​over​ ​shoes, parkas)​ ​and​ ​board​ ​the​ ​helicopter​ ​for​ ​the​ ​12-minute​ ​flight​ ​from​ ​the​ ​Seward​ ​airport​ ​to the​ ​camp.
On​ ​the​ ​way,​ ​you'll​ ​fly​ ​over​ ​Resurrection​ ​Bay,​ ​over​ ​a​ ​beautiful​ ​braided​ ​river,​ ​and​ ​up towards​ ​Godwin​ ​Glacier.​ ​The​ ​camp​ ​is​ ​at​ ​3,700​ ​feet​ ​elevation:​ ​Once​ ​there,​ ​you'll​ ​be greeted​ ​by​ ​guides​ ​who​ ​will​ ​teach​ ​you​ ​about​ ​the​ ​glacier,​ ​introduce​ ​you​ ​to​ ​the​ ​dogs and​ ​then​ ​show​ ​you​ ​how​ ​to​ ​ride.​ ​You'll​ ​take​ ​a​ ​30-minute​ ​dogsled​ ​ride​ ​around​ ​the glacier,​ ​stopping​ ​along​ ​the​ ​way​ ​for​ ​pictures​ ​and​ ​then​ ​taking​ ​some​ ​time​ ​to​ ​mingle with​ ​the​ ​pooches—about​ ​an​ ​hour​ ​total​ ​on​ ​the​ ​glacier​ ​before​ ​you​ ​fly​ ​back​ ​to​ ​Seward.
Soar Over Glaciers
The​ ​tours​ ​stay​ ​super-small​ ​and​ ​personalized—usually​ ​only​ ​two​ ​helicopters​ ​for​ ​each tour,​ ​with​ ​each​ ​helicopter​ ​seating​ ​three​ ​people—but​ ​the​ ​dog​ ​sled​ ​tour​ ​is​ ​not​ ​your only​ ​option.​ ​You​ ​can​ ​also​ ​take​ ​a​ ​30-minute​ ​scenic​ ​flight​ ​and​ ​glacier-landing​ ​tour, where​ ​you​ ​take​ ​the​ ​helicopter​ ​to​ ​one​ ​of​ ​three​ ​glaciers,​ ​based​ ​on​ ​current​ ​conditions, then​ ​land​ ​for​ ​just​ ​a​ ​few​ ​minutes​ ​to​ ​explore.
Don't​ ​want​ ​to​ ​get​ ​off​ ​the​ ​helicopter​ ​at​ ​all?​ ​Choose​ ​one​ ​of​ ​these​ ​three​ ​scenic-tour options:
30-Minute Tour to Bear Glacier
This​ ​quick​ ​but​ ​scenic​ ​flight​ ​is​ ​a​ ​great​ ​bang​ ​for​ ​your​ ​buck:​ ​You'll​ ​go​ ​to​ ​Bear Glacier,​ ​the​ ​largest​ ​glacier​ ​in​ ​the​ ​Kenai​ ​Fjords​ ​National​ ​Park.​ ​You'll​ ​see​ ​a​ ​huge glacier​ ​moraine​ ​and​ ​beautiful​ ​icebergs,​ ​and​ ​likely​ ​see​ ​the​ ​glacier​ ​calving​ ​into the​ ​lagoon.
45-Minute Tour to Aialik
With​ ​a​ ​45-minute​ ​tour,​ ​you'll​ ​see​ ​not​ ​only​ ​Bear​ ​Glacier​ ​but​ ​also​ ​Aialik​ ​Glacier, which​ ​has​ ​a​ ​300-foot​ ​ice​ ​face​ ​that​ ​drops​ ​into​ ​the​ ​ocean.
60-Minute Scenic Tours
If​ ​you​ ​can​ ​devote​ ​a​ ​full​ ​hour​ ​for​ ​a​ ​tour,​ ​you​ ​can​ ​choose​ ​between​ ​going​ ​to​ ​the Kenai​ ​Fjords​ ​and​ ​Harding​ ​Icefield—where​ ​you'll​ ​see​ ​Aialik,​ ​Bear​ ​and Northwestern​ ​glaciers—or​ ​taking​ ​the​ ​land-based​ ​route​ ​to​ ​Bear​ ​Glacier,​ ​Exit Glacier​ ​and​ ​over​ ​Chugach​ ​National​ ​Forest.​ ​On​ ​this​ ​second​ ​option,​ ​you'll​ ​see Excelsior​ ​Glacier​ ​and​ ​Elsworth​ ​Glacier,​ ​and​ ​perhaps​ ​some​ ​wildlife,​ ​like​ ​bears and​ ​moose.
People​ ​often​ ​come​ ​back​ ​for​ ​repeat​ ​tours,​ ​and​ ​say​ ​this​ ​was​ ​the​ ​coolest​ ​thing—or things​ —they​ ​did​ ​in​ ​Alaska.​ ​​ ​After​ ​all,​ ​landing​ ​on​ ​a​ ​glacier,​ ​flying​ ​in​ ​a​ ​helicopter,​ ​and going​ ​dog​ ​sledding​ ​are​ ​a​ ​bucket​ ​list​ ​trifecta.
Overnight Adventure at Bear Glacier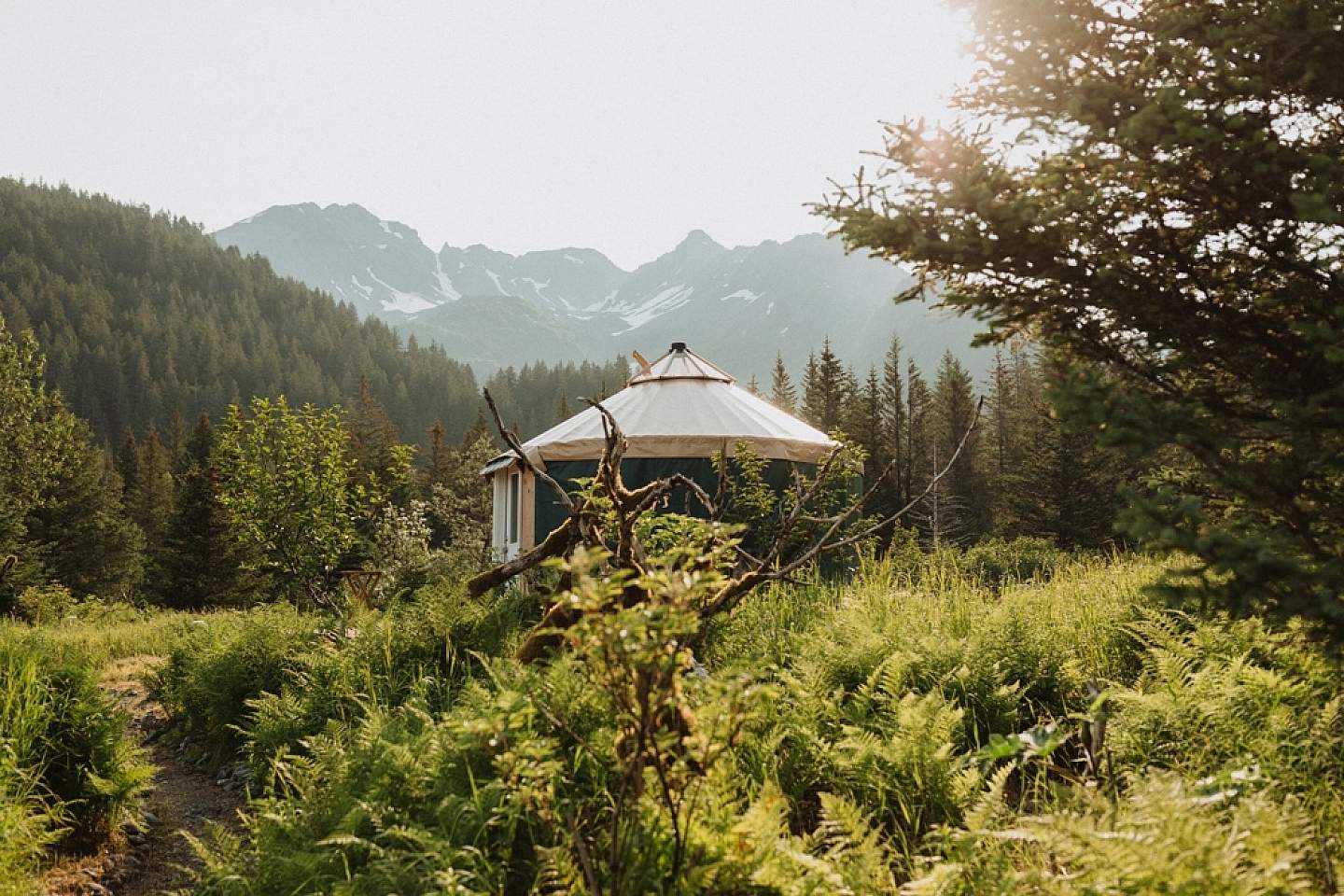 Enjoy staying at Bear Glacier in one of the comfortable yurts. This glamorous camping experience is sure to delight travelers of ages 16+ and all ability levels. Yurts are outfitted with vented propane heaters and a single queen-sized bed. Relax in a tranquil Alaskan environment and enjoy glacier and iceberg viewing.
Your overnight stay includes appetizers, dinner, and breakfast as well as 30 minutes of scenic helicopter flight time to and from a remote location. Please call for more details.
Special Events
Weddings, elopements, proposals, and photo sessions, Seward Helicopter Tours can fly you to an amazingly beautiful and unique backdrop for your special day. Please call for more information and pricing.
Iditarod Veterans
Indeed,​ ​the​ ​company​ ​has​ ​some​ ​serious​ ​street​ ​credit​ ​in​ ​the​ ​dog​ ​sledding​ ​world. Owners​ ​Travis​ ​Beals​ ​and​ ​Sarah​ ​Stokey​ ​are​ ​both​ ​Iditarod​ ​finishers​ ​​(Travis​ ​has finished​ ​the​ ​race​ ​six​ ​times​ ​now,​ ​placing​ within the top ten one year and ​11​th​​ another).​ ​They​ ​spend​ ​a​ ​good​ ​part​ ​of the​ ​year​ ​training​ ​with​ ​their​ ​dogs,​ ​but​ ​during​ ​the​ ​summer,​ ​they​ ​love​ ​sharing​ ​the terrain​ ​and​ ​the​ ​dogs'​ ​company​ ​with​ ​visitors.