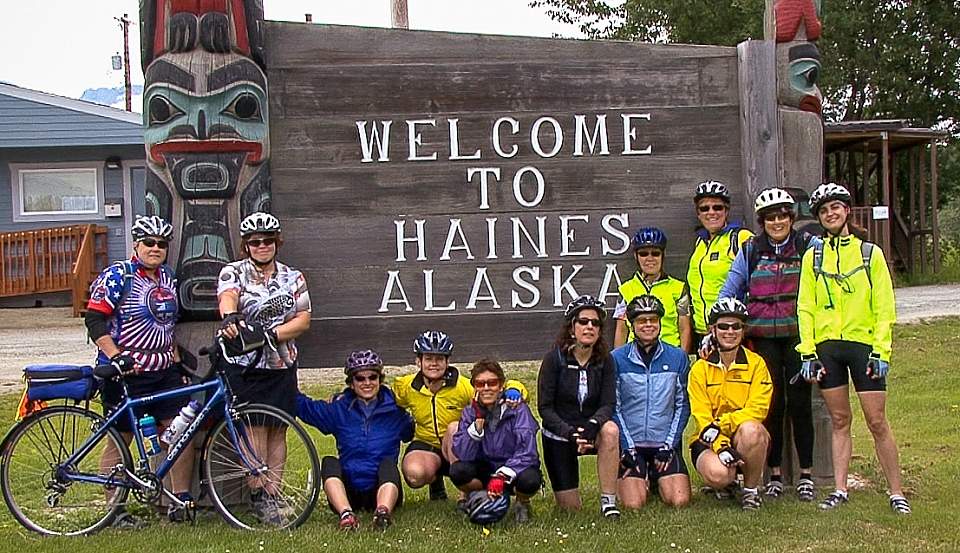 Some people love the view of Alaska from the side of a ship, or from above, in a bush plane. This cycle shop and tour operator based in Haines and Skagway, however, proves that there's nothing quite like the view of Alaska from atop two wheels, as you glide through the gorgeously unique scenery. Their multi-day trips offer a rewarding way to explore the Northern frontier, but with enough comforts that you never feel like you're roughing it.
Legendary Bike Shop
Sockeye Cycle was born in 1988, not long after owner Thom Ely had taken a two-month trip around Alaska, fell in love with the place, and bought an existing bike shop in Haines. He branched into guiding tours, and the business quickly picked up speed. Today, it's the oldest operating full-service bicycle business in Alaska, and they pride themselves on their high level of service, their helpful guides, and their passion for showing visitors the wonders of Southeast Alaska from two wheels on a unique road.
Cycling, Alaska-Style
Indeed, cycling around Alaska is special in a few ways. The roads can sometimes be quirky, and sometimes a little more rugged than a freshly paved road somewhere else. But on the other hand, you'll likely get the road to yourself, so you can relax and spend more time enjoying the scenery.
While Sockeye Cycle does basic bike rentals and easy-access day trips (like a 5-hour bike-and-raft trip out of Haines through the Chilkat Bald Eagle Preserve, or a 15-mile gold-rush-history coast down from White Pass Summit), they have fabulously in-depth trips that stretch across the state, and even into Canada, and last anywhere from 3 to 12 days.
Pedaling Across the Frontier
One of the most popular itineraries is the 9-day Golden Circle tour, which covers 360 miles along the historic native-trade and gold-rush routes to the Klondike. It starts in Haines, goes into British Columbia, and then traces along the Yukon River and ALCAN highway, which was built by U.S. troops during WWII. Other tours get even more remote, like the 11-day Canol Road trip, which runs along the historic WWII-pipeline access road to the border of the Northwest Territories. Sockeye Cycle can also set you up with self-guided tours, where you carry camping gear on the Golden Circle Tour, or shorter day trips out of Haines or Skagway, with all of your lodgings and gear needs set up ahead of time.
Many people love the guided trips, which are capped at just 12 participants. You don't have to be a rugged adventurer to enjoy one of these trips, either: The folks at Sockeye Cycle just suggest that you be comfortable doing rides of 30-plus miles per day. There is a support van and guide always available to assist for any reason. Your bicycle will be a professionally-maintained Specialized, Trek, Surly, or Salsa brand, and you'll get all the cycling, camping, and weather gear you need to stay comfortable, from a helmet, rain jacket and pants to fleece gloves. (Just keep in mind that for the trips that go into Canada, you'll need a passport.)
Eat, Sleep and Ride in the Wilderness
Some trips feature comfortable camping for overnight accommodations, while others have a mix of camping with small inns and B&Bs. Either way, you're fully supported on the trip, with all meals included and a van and trailer following along with snacks and meals, including fresh local salmon and any gear you might need. If you're camping, you'll be in a waterproof tent with a warm sleeping bag, thick sleeping pad and pillow. Camp chairs, bug gazebos and the all-important portable toilets are also provided.
It all combines to create a wonderful and comfortable wilderness adventure. Travelers who have taken the trips rave afterward about how friendly and informative their guides were, how gorgeous the wilderness is, and how much they learned, from boosting their cycling skills to broadening their horizons (often literally) of their Alaska experience.