In the coastal Southeast Alaskan town of Sitka, marine wildlife typically plays out on a big scenic backdrop. At Sitka's unique Science Center, you'll find a salmon hatchery and aquarium. Wildlife fans get an up-close look at the marine creatures that make this part of Alaska so special.
A Prestigious Member of the Community
Located within walking distance of downtown Sitka and the cruise ship area, the Sitka Sound Science Center is made up of a few distinct components: a salmon hatchery, an aquarium, research lab and an education outreach that encompasses preschoolers to college students and lifelong learners of all ages. The Sitka Sound Science Center was formed in 2007, when the historic Sheldon Jackson College closed. SSSC's mission is to increase understanding and awareness of terrestrial and aquatic ecosystems of Alaska through research and education. Today, it not only works with the local schools, a variety of colleges and universities, and conducts collaborative research —but it's also a fun place for any nature lover.
Hands-On Education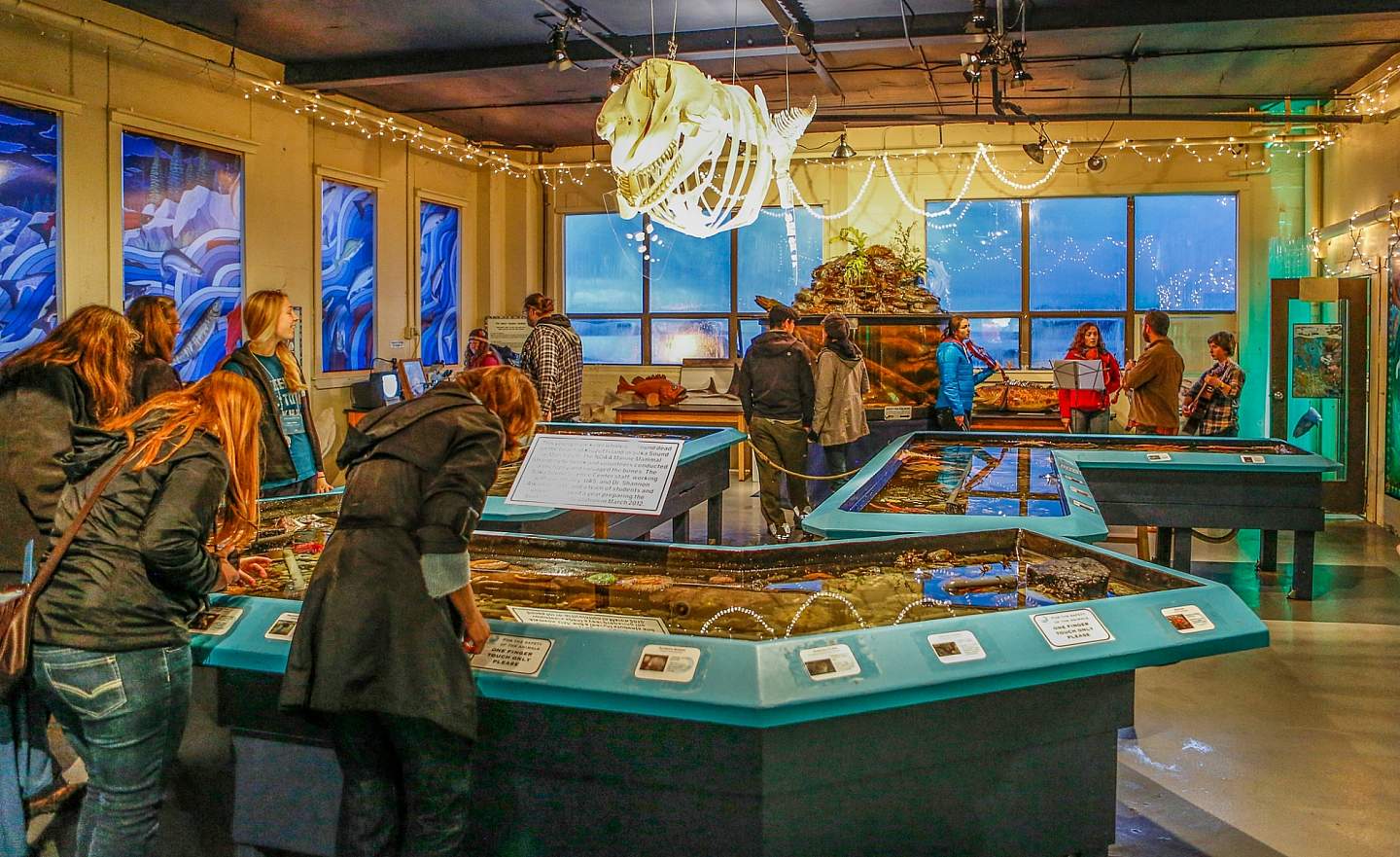 Most visitors take the main 30-minute tour, which is offered throughout the day during the Summer season. You'll learn about the Center's buildings and their historical ties to the now refurbished Sheldon Jackson College—including the Mill Building, where wood working and boat making were taught. Then you'll explore the Salmon hatchery—which produces 250,000 coho, 3 million pinks and 3 million chum a year—and the Molly O. Ahlgren Aquarium. The aquarium is home to deep-water and intertidal residents that have been collected from the Sitka waters, such as Wanda the Wolf Eel. Feel sea urchins and anemone in the touch tanks, or check out the juvenile Killer Whale skeleton, one of only five of its kind on display in the world.

Want to go a little deeper or have a hands-on experience? The Behind-the-Scenes tour will take you into areas not normally open to the public, while your highly trained interpreter talks about the Science Center as a field station and the research we are involved in. The Aquarium 101 gives guests a glimpse of what goes into running and maintaining a public aquarium. This hands-on experience includes collecting animals, cleaning tanks, preparing food and feeding. Or you may choose our Hatchery 101 to learning how salmon go from the egg to the ocean by learning from a Fish Technician.
Special Programs for Kids—Plus Don't-Miss Chowder
Children can also benefit from the programs. The Center's Junior Naturalist program (included with paid admission) offers school-aged kids different self-guided exploration opportunities. After completing all five activities in the booklet they will receive a Junior Naturalist badge. There are a wide variety of activities for kids at the Science Center, including hosting birthday parties. Call ahead to find out what is available during your visit.
For those with shopping on their mind, stop in the Center's gift shop with marine themed souvenirs, stuffed animals, and gifts. And save time for a stop at the Chowder Cart, created by local Ludvig's Bistro and beloved as the best seafood chowder in town.