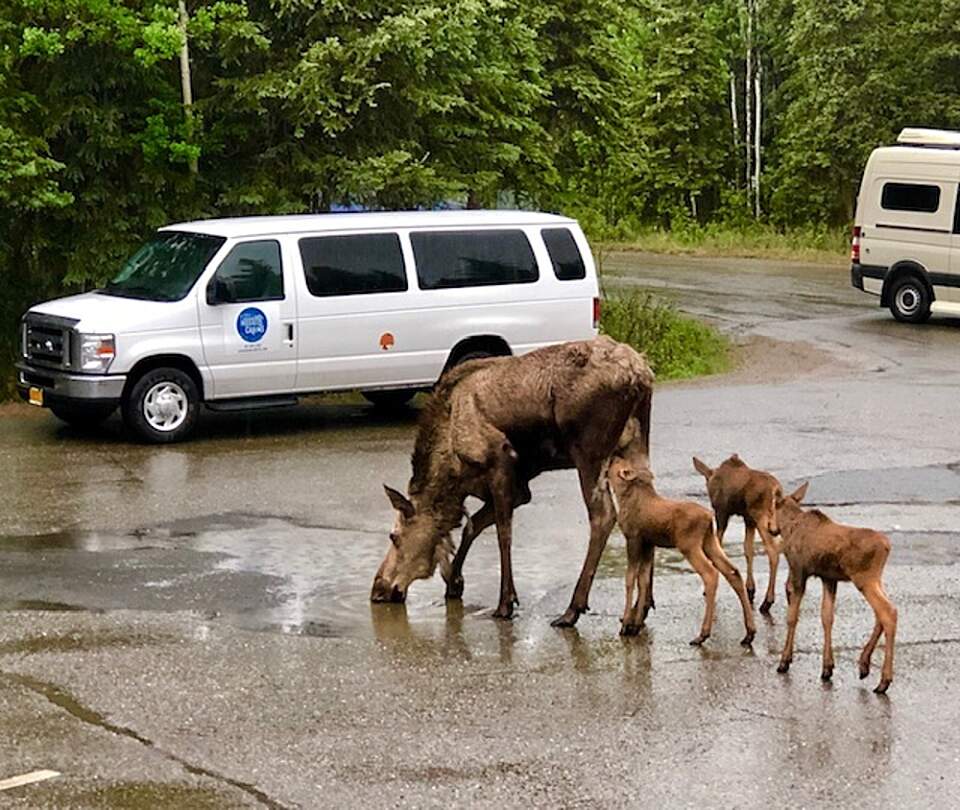 Coming to Denali on the train or by motorcoach? Don't sweat the transportation once you're here—just hop on the Sheep Shuttle!
As amazing as Denali is, getting around the area can be tricky if you don't arrive by car. You'll find few, if any, rental cars in Denali, and only some of the larger hotels offer limited shuttle service, mostly to and from the park entrance. If you want to access to local restaurants, shops, and hotels beyond the immediate park entrance area, Sheep Shuttle is the way to go.
They also provide access to local trails. For example, if you want to through-hike the gorgeous, 10-mile-long Triple Lakes Trail, you'd need to have a car parked on either end. As a result, most people skip this highlight. But the shuttle can drop you off on one side and pick you up on the other. They can also drop you at trailheads near the visitor center so you can experiene terrific trails like Mt. Healy Overlook, Horseshoe Lake, or Rock Creek.
You'll ride aboard a 14-passenger van, which has a luggage trailer that can accommodate 2 bags per person; there's also space for bicycles (just let them know in advance if you have one).
Reservations are recommended, as this popular service can fill up.
Sheep Shuttle Stops
Denali Train Depot: The train from Fairbanks arrives at 12:10 pm and departs to Fairbanks at 4:10 pm. The train to Anchorage departs from Denali at 12:30 pm and arrives in Denali at 3:55 pm.
Denali Visitor Center: Across the street from the Denali Train Depot, luggage storage, Morino Grill, trails, Dog Demo shuttles, as well as the free Savage River Shuttle.
Park Connection Motorcoach: The Park Connection motorcoach provides transportation between Anchorage, Talkeetna, and Denali. Sheep shuttle can get you to their pick-up and drop-off points.
Denali Bus Depot: Access to Denali National Park bus tours, transit busses, and the free Savage River Shuttle into the park.
Cabin Nite: Enjoy a fun evening of song, dance, and Alaskan food! This entertaining dinner show tells the tale of pioneers in Denali while feeding you all-you-can-eat salmon, ribs, potatoes, corn, biscuits, and Alaskan berry cobbler.
Camp Denali: Going to Camp Denali? You'll need a ride before and after your stay.
The Canyon: Also known as: Glitter Gulch or Denali Boardwalk. Access to shops, restaurants, and tour operator offices.
Husky Homestead: Have a tour at Iditarod Champion Jeff King's Husky Homestead? Sheep Shuttle can get you there.
Rafting, ATV, & Other Tours: Transportation to and from Denali area tours.
Triple Lakes Trail: One of the best trails in the front country of Denali is the 9.5-mile through-hike on the Triple Lakes Trail.
Lodges: Sheep shuttle also provides transportation to and from the following lodges; Carlo Creek Cabins, Denali Bluffs, Denali Cabins, Denali Grizzly Bear Resort, Denali Hostel & Cabins, Denali Park Village Resort, Denali Princess Wilderness Resort, Denali Riverside Cabins, Grande Denali, McKinley Chalet Resort, McKinley Creekside Cabins, Riley Creek Campground, and The Perch.