Experience the backcountry of Denali National Park in a way few others do!
Trip Type
Packrafting
Region
Central Alaska
The Route
Let your bus driver know that you'll be getting off just before Sable Pass, and be sure you're beyond the seasonal wildlife closure in the Upper Teklanika Unit before you begin hiking
From where you disembark, contour around the south side of Cathedral Mountain, traveling due east until you reach the Teklanika River. If you can, cross the Teklanika here. If the water is too high, you may have to travel upriver until you find a suitable crossing.
Once across the Teklanika, you'll head downstream and northeast until you come to Calico Creek. Turn up Calico Creek and follow it all the way to its easternmost headwaters. There's great camping in upper Calico Creek - just be sure that you have the appropriate backcountry permit if you camp here (Unit 6).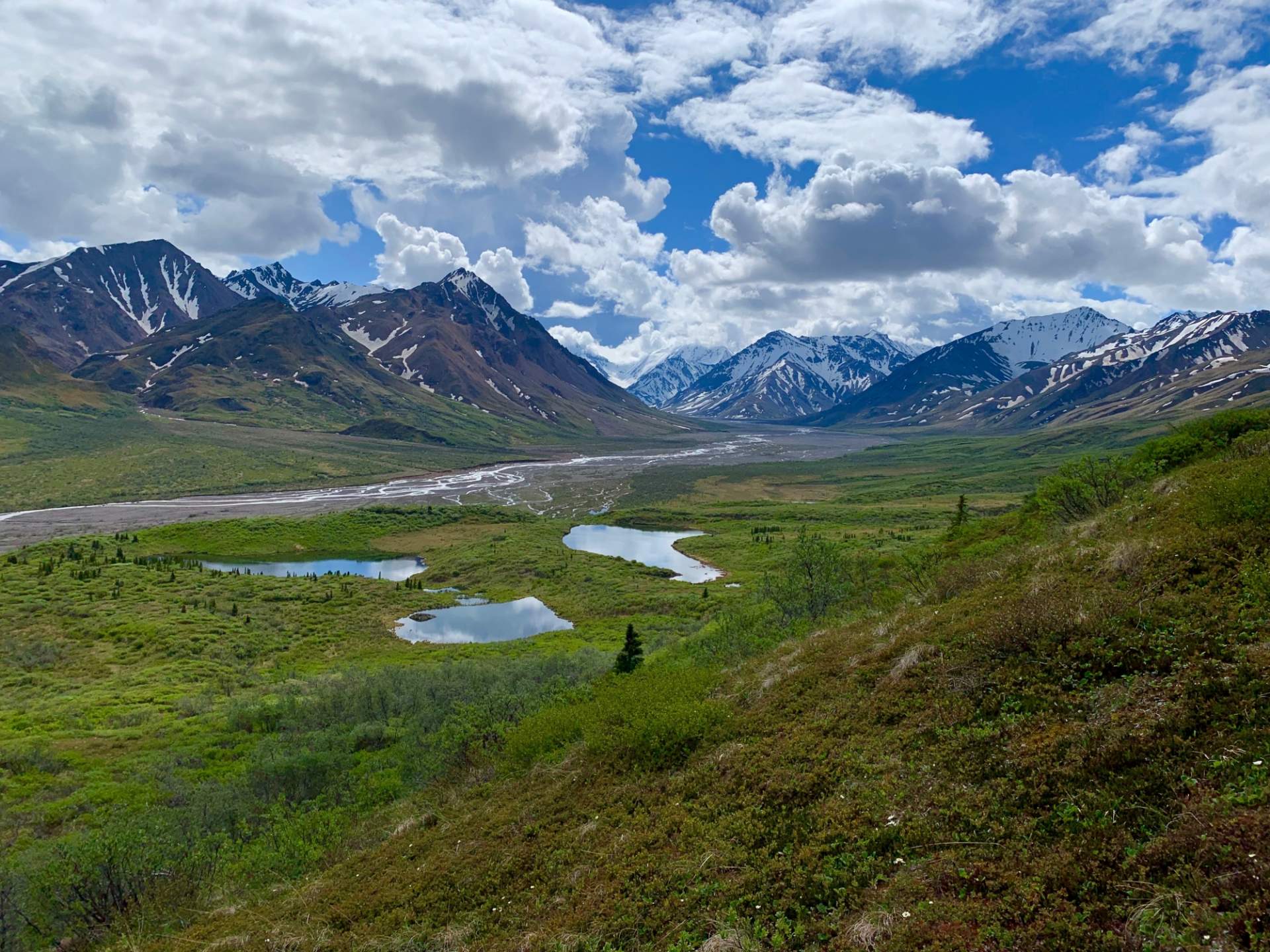 From the pass at the head of Calico Creek, descend into the east-facing valley. There's nice camping in this upper valley if your backcountry permit stipulates that you can camp in Unit 5. As you descend toward Sanctuary River, stay to the right (south) of the creek at the center of this valley; northside becomes prohibitively steep as the creek descends. Follow a small ridge to descend into Sanctuary Valley. If you want to extend your trip, a day hike up Refuge Valley (to the southeast) is well worth the effort.
When you arrive at the Sanctuary River, you'll find excellent camping along its shores (unless you've chosen to camp in the alpine of upper Calico Creek or the tributary you just descended).
Once you put in the water, be aware of swift corners and sweepers and strainers, especially when you reenter the spruce forest as you approach the Denali Park Road. Take out on river right just before the bridge at the Sanctuary River Campground.
Distance
13 miles hiking; 17 miles packrafting
Number of Days
2-3
Backcountry Starting Point
Just east of Sable Pass on the Denali Park Road
Backcountry Ending Point
Sanctuary River Campground on the Denali Park Road
Trip Logistics: Moderate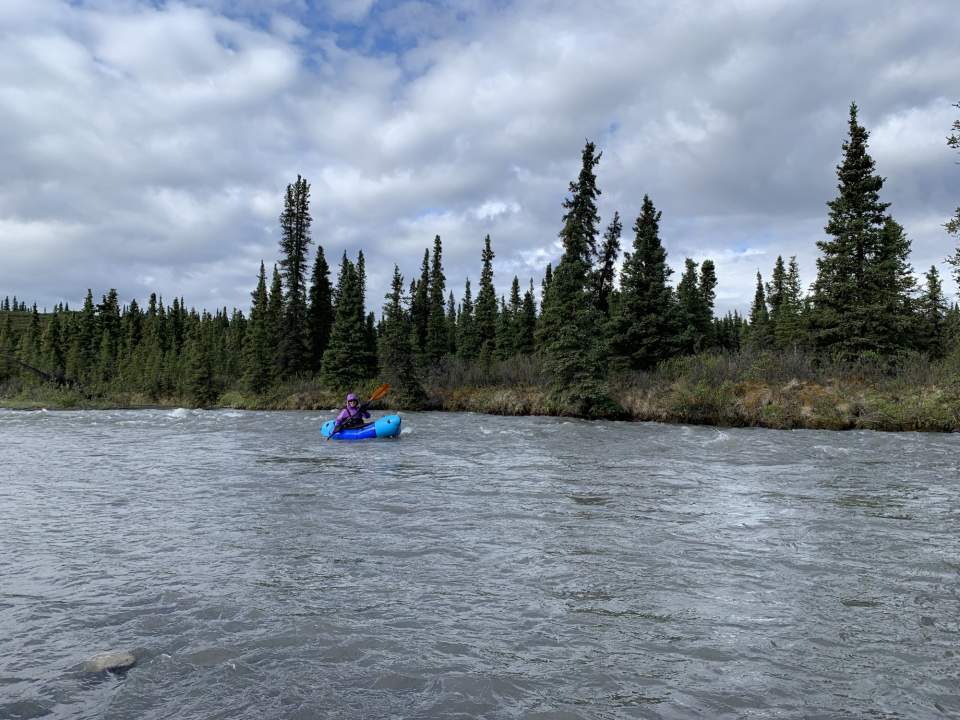 Permits are required for backpacking in most parts of Denali National Park. This trip travels through two units: The Upper Teklanika (Unit 6) and the Upper Sanctuary (Unit 5). Be aware of seasonal wildlife closures in the Upper Teklanika Unit.
Your trip will begin at the Visitor Center, 1.5 miles up the Denali Park Road from the turnoff of the Parks Highway/AK-3. It's best to arrive at the Visitor Center before 4:30 p.m. on the day prior to your rip. Check in and check the quota for the unit which you would like to camp. You'll need a free backcountry camping permit to pay your park entrance fee and purchase passage on a Denali National Park bus.
Board your bus at your appointed time and notify your driver that you want to get off just before Sable Pass. Some drivers know where packrafters like to get off for this route and some do not. Pay attention as Sable Pass approaches - you may need to remind your driver.
At the end of your trip, hail a bus back to the park entrance from Sanctuary River Campground. You don't need to book passage or reserve a ticket to return; any bus with room will stop and give you a ride back.
Experience Level Necessary
Intermediate Backpacker; Beginner Packrafter
Expected Hazards
Stream and river crossings. Crossing the Teklanika River is potentially the most porblematic. This is typically a low-water crossing, but be aware that rain may significantly raise the water level.
Bear habitat. Make noise and carry bear deterrents, as brown bears live here.
Other Advice
The Upper Teklanika Unit frequently experiences seasonal wildlife closures. Be sure to have these closures marked on your map or GPS device.
Will you see other people in the backcountry?
Possibly
Land Manager
Denali National Park and Preserve
GPS Coordinates
Starting Point: Near Sable Pass, 63.55685, -149.64624
Calico Creek Pass: 63.52482, -149.39790
Ending Point: Sanctuary River Campground, 63.71948, -149.47620
USGS Maps
Healy C-6
Healy C-5
Cost: $$
You'll need to pay both a Denali National Park entrance fee and purchase a ticket on a shuttle bus. Shuttle prices vary, consults the reservedenali.com website for current fees.