Lighthouses have long inspired fascination, but getting to sleep in one is a special treat. Staying in this one in Southeast Alaska ups the ante by also offering a wonderfully unique way to see wildlife and explore a tranquil island, a five-minute water taxi ride from Sitka.
A Labor of Love, and a 24-7 Beacon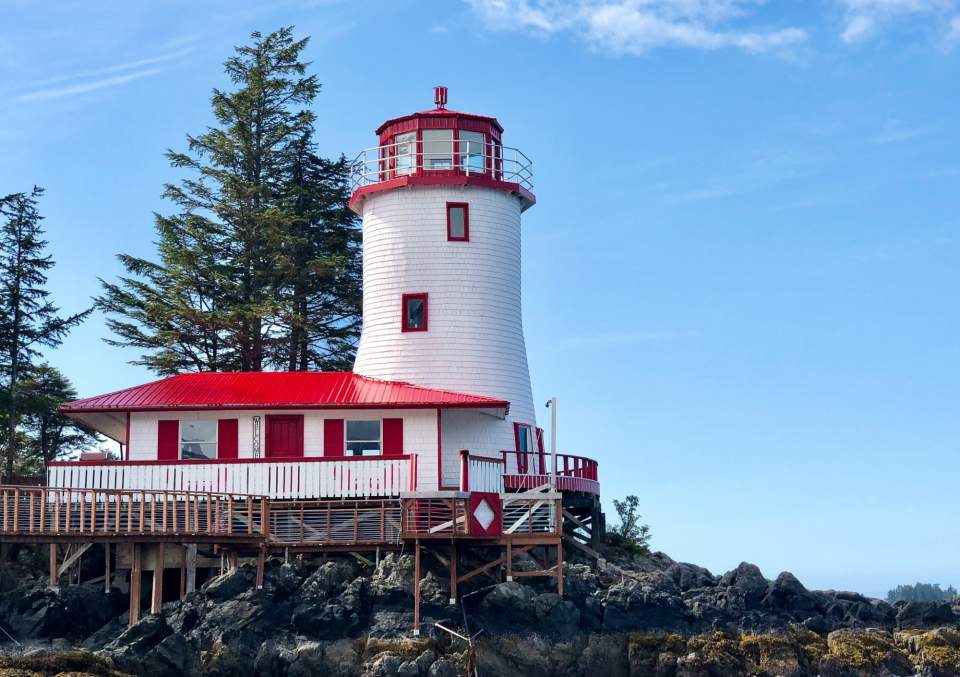 The lighthouse was first built in 1983—a labor of love by Burgess Bauder, a local veterinarian with a handy streak who spent 18 months hulling the wood and constructing the lighthouse on the high point of a one-acre private island. With its red light on top, the lighthouse got registered with the Coast Guard and still acts as a navigational beacon.
The lighthouse has also functioned as a vacation rental since its inception, and was recently bought by new owners Teal and Mike 'who have known Bauder for years. They have given it a fresh update—debuting for the 2018 summer season—and continue offering it for vacation rentals as well as weddings, honeymoons, and business retreats.
Indeed, for a small business retreat, this makes a great place for everyone to focus on discussions while bonding over the spectacular scenery. If you want to have a wedding here, you can't do better for an "aisle" than the catwalk that extends off one of the decks, which leads out to a point with a circular deck, with the waves crashing up all around.
Vertical Luxury
With two bedrooms, the lighthouse sleeps about 6. The main level has a full kitchen, living room, dining room, and full bathroom—and outside decks that wrap around the entire property, accented with Adirondack chairs and a picnic table. The master bedroom is on the second floor with a queen bed, and the third floor has the second bedroom, outfitted with four bunks, each made private with curtain dividers, and a half bath.
From the bunk room, you walk up another stairway into a third room that is completely glass: nine windows with 360-degree views of Sitka and the Eastern Channel. It's an idyllic place to relax, read, do a little yoga or just cast your eyes out for whales and other wildlife. Thanks to the upgrades, the lighthouse also has an outdoor hot tub and an outdoor, propane fire ring.
Fully Equipped for Relaxation
With a lot of natural wood décor, the place feels sleekly homey—and no doubt you'll find everything you need for a comfortable, private-island stay: high-end linens, cooking supplies, a BBQ—even flour, sugar, and seasonings. You can book a water taxi to and from Sitka if you want to eat out or pick up a bottle of wine or other supplies (those rides cost extra, but your arrival and departure taxis are included).
Otherwise, it's easy to fill your days enjoying this little slice of nature. Kayaks and paddleboards are provided, along with a small aluminum motorized boat that you can use to explore. You may see humpback whales, as well as sea otters and sea lions out on the water, or go tidepooling to see starfish, sea cucumbers or sea urchins. Upward, keep an eye out for eagles, sea birds, and blue heron.
Back at the lighthouse, you have access to books, TV and DVDs, but it's hard to compete with sitting on the rock outside watching commercial boats, trollers, and kayakers pass by. Inside and out, you can smell the salty sea—then go to sleep hearing the waves crashing up on shore.