This unique hiking and off-road mountain biking experience takes you through gorgeous Alaskan wilderness in a wonderfully secluded area.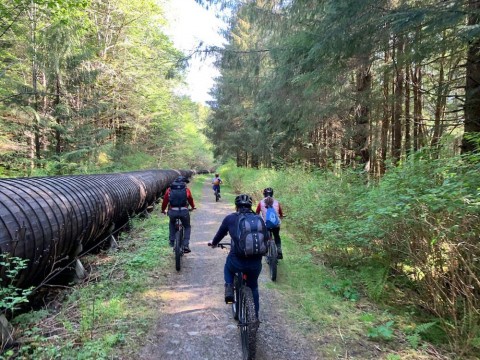 Bike in the Tongass National Forest
Start at Ward Cove, near the site of an old pulp mill. Back in the day, a water flume that runs from a reservoir on Connell lake to the mill provided water for it and for the locals. The accompanying road is now overgrown, making for a great off-road, singletrack trail. Once you're outfitted with your bike, you'll spend the next hour pedaling about 5 miles of this trail that's mostly flat and surrounded by the gorgeous Tongass National Forest, riding alongside the 100-year-old water flume.
Snack & Nature Walk
You'll end up at a salmon-spawning stream at Ward Creek. After a delicious snack of clam chowder, you'll be ready to begin the hiking portion of the tour. Hike about ¾-mile, walking over the stream (when the salmon are spawning, they're thick in the water) and following a boardwalk up into the forest into a muskeg area. You'll spend about 45 minutes on this portion of the tour, hearing from your guide all about the cedar trees, the muskeg, and the plants that thrive in this unique environment.