Photo Credit: Rainforest Sanctuary, Totem Park, & Eagles
Rainforest Sanctuary, Totem Park, & Eagles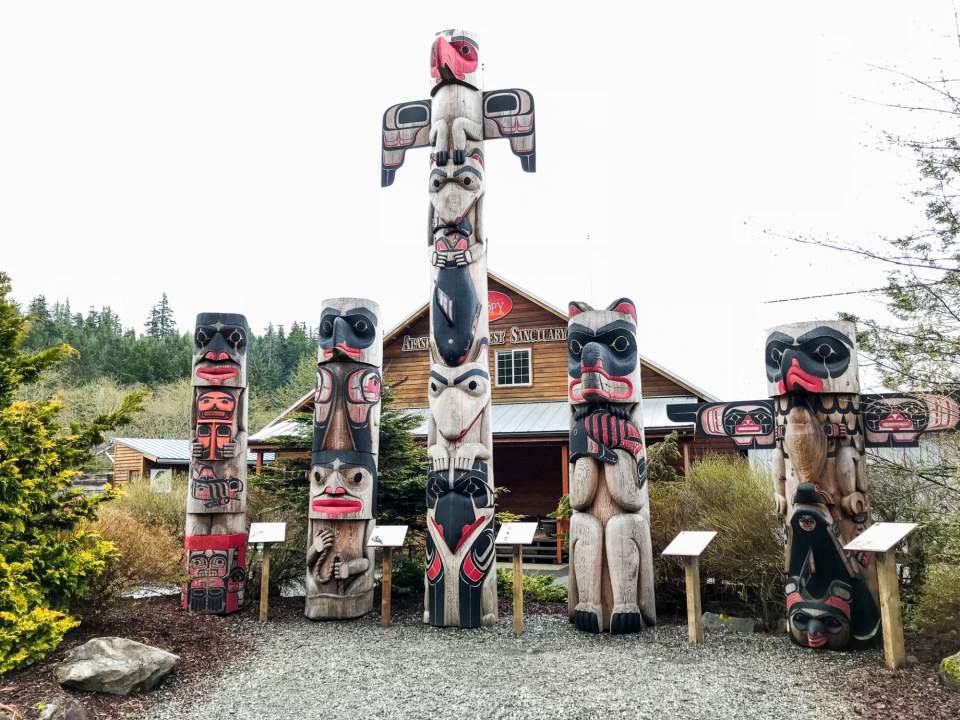 Ketchikan is located in the Tongass National Forest, a lush temperate rainforest punctuated with tree-lined mountains, fast-flowing creeks and dynamic shoreline. Immerse yourself in this fascinating ecology just outside town, at the Alaska Rainforest Sanctuary operated by Kawanti Adventures. The Wildlife Sanctuary and Eagle Center tour offers a close-up view of old-growth forest, salmon habitat, an historic lumber mill, totem carving, raptor exhibits, and chances to see black bear and other wildlife – all in under 3 hours! There's no better introduction to Alaska's Southeast than this showcase of ecology, wildlife, history and Native culture. This tour is perfect for entire families. Kids love being in and learning about the outdoors, and the varied nature of this tour captures everyone's interest.
A drive along the coast
After meeting at the Ketchikan Visitors Bureau, you'll board a van or coach for an 8-mile scenic drive along the coastline bordering the Tongass Narrows and George Inlet. Rustic Herring Cove is your destination, where a nearby fish hatchery attracts not just spawning salmon (seasonal), but all kinds of wildlife – from seals and otters to black bear and eagles.
Enter the rainforest
Your guide will greet you at the Alaska Rainforest Sanctuary, and orient you to the rainforest and what to expect on your walk. Make your way through a dense forest of hemlock, Sitka spruce and red and yellow cedar. Lichens and mosses hang from their branches and form soft carpets on the forest floor.
Look closely and you might see 15 different species within a 2 x 2 inch square! Bald eagles are almost always present. Black bear, when they appear, take on the starring role.
Within ¾ of a mile you'll see dramatic differences in the landscape. Forested areas turn gradually into a riparian habitat, where salmon find their way home to Eagle Creek. Your naturalist will point out all the changes in flora over this short transition from forest to sea.
Explore the estuary
Where the freshwater of Eagle Creek meets the saltwater of Herring Bay, an estuary reveals the daily changes in tide. There's a lot to see here! On the viewing boardwalk, you may be standing over water or grasses, depending on the tide. Eagles are typically on the hunt for their fair share of salmon, and you may see black bear and seal coming in for a meal as well. At lower tides, look for wildlife prints in the grassy flats and shorebirds searching for crustaceans in the mud.
Peek into the past & stroll the totem park
On your way back to the trailhead, walk through the historic Herring Bay Lumber Company sawmill, and learn more about the industry that fueled Ketchikan's economy between the 50s and 90s. Logging was exhausting, dangerous work, and the sawmill was no exception. See the huge machinery that was humming along back in the day.
Southeast Alaska is famed for its totems and most are Tlingit or Haida carved. On this excursion you'll explore the first Tsimshian totem pole park in the country with a magnificent 40-foot totem and 13 poles carved by the same artist.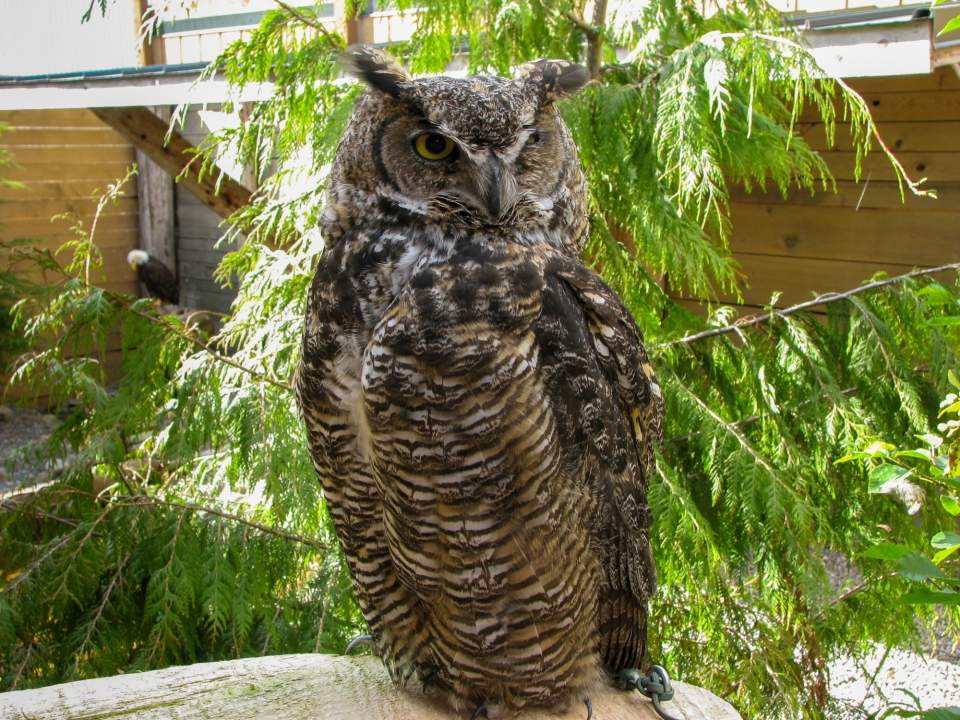 Beautiful birds of prey
The Alaska Raptor Center exhibit houses educational birds of prey here during the summer months. There are great up-close photo opportunities of a bald eagle and other raptor species. Meet the birds and hear their rehabilitation and recovery stories at the only full service avian hospital in Alaska before heading to the General Store. After some time to shop for that perfect souvenir, you'll head back into town.
About Kawanti Adventures
The Alaska Rainforest Sanctuary (ARS) is operated by Kawanti Adventures, and was developed in 2003 to provide educational and informative tours for visitors to Southeast Alaska's temperate rainforest. Kawanti Adventures owner Brien Salazar also owns Taquan Air, offering flightseeing tours to Misty Fjords and bear viewing in remote parts of the Tongass National Forest.
ARS complements these offerings by showcasing the amazing ecology and wildlife right in Ketchikan's own backyard. Set on Eagle Creek at rustic Herring Cove, ARS provides visitors with an easy-access walking trail through the forest, elevated boardwalks over the estuary, and additional boardwalks for viewing salmon, bear, and eagles. This design has made it possible for thousands of visitors to learn more about Alaska's temperate rainforests and the wildlife it supports, all while keeping the ecosystem intact. In addition to walking tours and flightseeing, Kawanti Adventures offers zipline excursions in Ketchikan and Juneau.