Get around Anchorage like the locals—take People Mover! These clean, reliable buses are an easy and inexpensive way to get to and from the airport or around town to see the hot spots.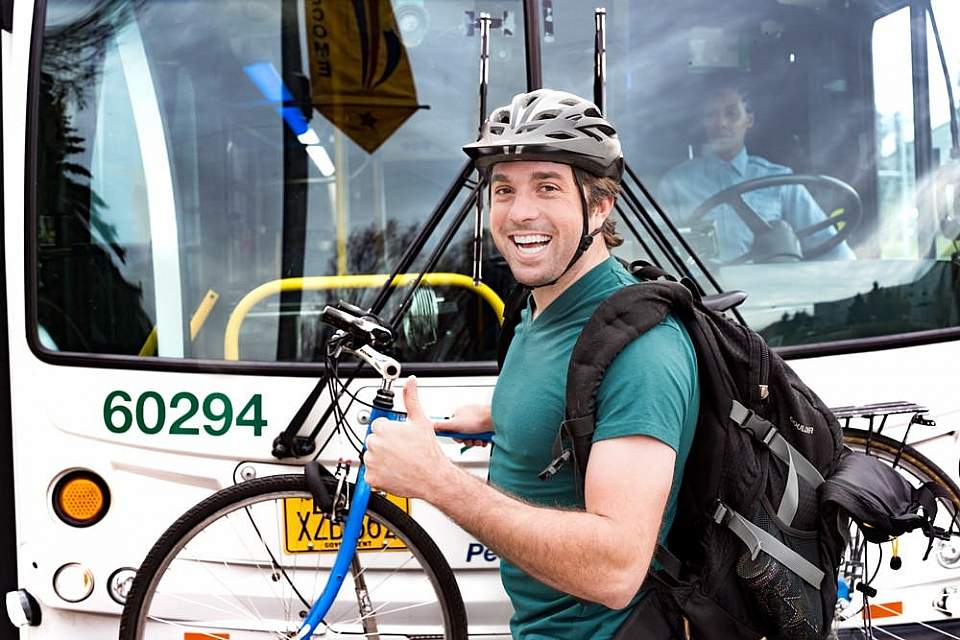 Reliable Service with Frequent Routes
Anchorage's public transportation service is used by locals and visitors alike, and it's easy to see why: Buses are clean, modern, and reliable, and frequent routes have service every 15 minutes.
Plus, it's a great experience! All drivers are municipal employees; they're very familiar with Anchorage and are happy to answer questions about when to get off, how to make a connection, or give directions. Bus stops are well-marked, and select stops even show the arrival time of the next bus.
Popular Routes for Visitors
Anchorage Airport
Most airport buses feature luggage racks

Airport to Downtown (Route 40): Buses arrive every 15 minutes and it's a 20-minute ride to Downtown.

Airport to South Anchorage (Route 65): Goes through the Jewel Lake area and stops at the Dimond Transit Center at the Dimond Mall.
Other Popular Locations and Routes
Alaska Native Heritage Center (Route 25): It's about a 20-minute walk from the Muldoon Rd. & Heritage Center Dr. stop to the Heritage Center.

Anchorage Museum Downtown (Routes 11, 20, 30, 41, 92): The stop on 6th Ave. & C St. is directly in front of the museum.

Westchester Lagoon Nature Trail (Route 40): Get off at Spenard Rd. & 19th Ave. stop.

Kincaid Park & Coastal Trail Adventure (Route 65): From downtown Anchorage, rent a bike and ride the 11-mile Tony Knowles Coastal Trail along the waterfront to Kincaid Park. Don't feel like pedaling back to town? From the Kincaid Park Chalet, continue down Raspberry Rd. approximately 20-minutes to Jewel Lake Rd. Put your bike on the bus and enjoy the ride back to downtown Anchorage.
5th Avenue Mall: A 7-minute walk from the Downtown Transit Center.

Delaney Park Strip (Routes 10, 11, 20, 25, 30, 35, 40): They all have stops along the Delaney Park Strip.

Dimond Mall (Routes 35, 55, 65): Direct service from downtown or the Alaska Native Medical Center. Route 91 is also available on weekday mornings and evenings.

Alaska Botanical Gardens (Route 25): Get off at Tudor Rd. and Baxter Rd. Walk 6-minutes up Campbell Airstrip Rd. to the gardens.
Important Tips for Travel
Tickets: You can purchase bus passes in person at the Downtown Transit Center, with cash on the bus, or by downloading the mobile ticketing app, People Mover mTicket, from the App Store or Google Play.

Hours: Buses run from 6 a.m. until midnight on weekdays and from 8 a.m. until 8 p.m. on weekends.

Arrival times: To receive arrival times via text message, text the 4-digit bus stop ID number to 907-312-2060. You can also visit peoplemover.org or call the automated Rideline at 907-343-6543.

Accessibility: The entire fleet is fully accessible.

Paratransit: Paratransit services for individuals with qualifying disabilities is provided by AnchorRides. Eligible visitors can receive up to 21 days of paratransit service in Anchorage. To enroll, complete the Visitor Application at AnchorRides.org.