Photo Credit: Lindsey Posey
Mount Spurr forms the southern buttress of the Tordrillo Range, with an active vent on Crater Peak below the summit. This 11,070-foot volcano last erupted in September of 1992, when it dusted the region with an eighth-inch layer of volcanic ash and shut down the regular life in Alaska's largest city for several days. (Many longtime Anchorage residents still have jars filled with Spurr's fine, brown grit!) One of the most active volcanoes in Alaska, Spurr last rumbled awake in 2012. The Alaska Volcano Observatory monitors Spurr all of the time, 24-7.
Best Viewing Spots
Anchorage
Spurr rises 80 miles due west of Anchorage from the left-hand edge of the Tordrillo massif, the dramatic white wall that visually dominates the distant horizon. Best places to see Spurr include Elderberry Park at the west end of Fifth Avenue below downtown Anchorage and the adjacent Tony Knowles Coastal Trail. Woronzof Park at the west end of Northern Lights Boulevard offers another outstanding view from about 100 feet above sea level. For the most extraordinary Spurr vista—and one that can also include Redoubt and Iliamna volcanoes—drive to the Glen Alps Overlook in Chugach State Park on the Anchorage Hillside. If the sky is clear, look west and you can't miss it.
Outside Of Anchorage
Spurr can be visible from just about any place with an unobstructed view of upper western Cook Inlet, including many Seward Highway pullouts along Turnagain Arm.
For More Information
Getting There
View on Map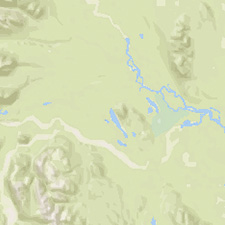 Coordinates
Latitude: 61.29972
Longitude: -152.251
Spurr and its approaches are not on the Alaska highway system, and there is no practical overland route. For most visitors, stepping foot on Spurr or viewing the mountain up close basically requires chartering an aircraft or hiring an expert guide.
Driving Directions