Photo Credit: Ellie Boyce, Alaska Volcano Observatory / University of Alaska Fairbanks, Geophysical Institute
One of the most restless volcanoes in the region, this stunning 4,134-foot cone forms its own five-mile-diameter island in Cook Inlet about 70 miles west of Homer and 170 miles southwest of Anchorage. It has erupted nine times since the 1930s, most recently in 2005-6, with several explosions and a big lava floe down its northern flank. Augustine also has a history of triggering tsunamis that have struck villages on Kachemak Bay in historic times and could possibly inundate the Homer Spit. Scientists monitor the volcano and the seabed with sensors, with sirens poised to give plenty of warning for a quick evacuation to high ground.
Best Viewing Spots
Lower Cook Inlet And Kachemak
On blue-sky days, Augustine shimmers above the ocean like a sentinel, visible across a vast expanse where people charter fishing and sightseeing trips out of Homer. Consider any halibut fishing trip an opportunity to snatch your Augustine fix! Riding the ferry between Homer and Seldovia on the Alaska Marine Highway System may also produce distant views. Still, Augustine rise about 70 miles from the Homer Spit in the middle of an area known for volatile weather and frequent squalls. It will often be shrouded in clouds or mist.
Anchor Point
On clear days, Augustine will be visible from the beach at the Anchor River State Recreation Area, rising about 70 miles out. Again, the vista hinges on weather.
For More Information
Getting There
View on Map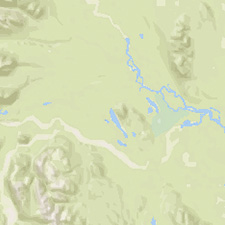 Coordinates
Latitude: 59.3626
Longitude: -153.435
With expert logistical help, adventurers prepared for a wilderness expedition sometimes visit and climb Augustine. The volcano is basically its own island a half-day's boat ride or a 45-minute flight from Homer. It has no harbor or permanent facilities. Floatplanes and charter boats can do drop offs at a somewhat protected lagoon on the island's northwest quadrant. The area is notorious for rough seas in general, and the lagoon area features big tides that can go dry, so not a DIY trip. Be prepared to be totally self-sufficient in a place with wet, cold and windy weather.
To fly over Augustine, check out Natron Air in Soldotna about their Glacier Volcano tour! Or, see it up close on a helicopter flightseeing tour from Homer with Alaska Ultimate Safaris.
Driving Directions