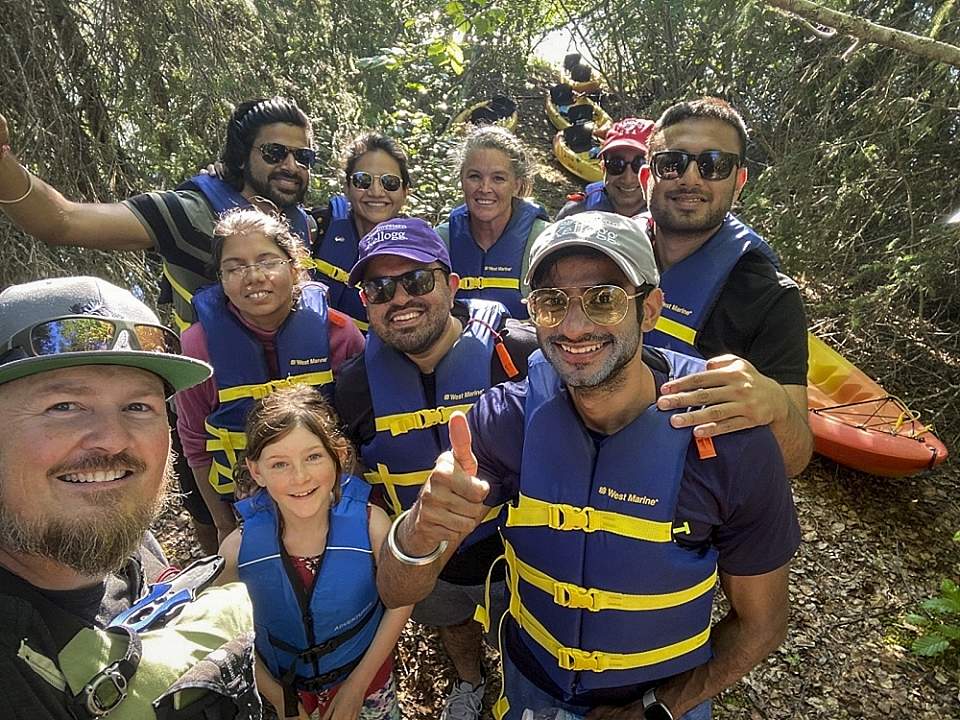 Scenic vistas, glacial lakes, and Gold Rush history come together in the Moose Pass area, just north of Seward, making it an ideal spot to kayak, packraft, and hike. Travel with the experts of Moose Pass Adventures and you'll experience this magical area on a day tour or overnight getaway to a backcountry yurt with an intimate group with experienced, passionate guides.
Day Tours
Trail Lake Guided Kayak
Keep an eye out for moose, bears, river otters, and trumpeter swans as you paddle along the shores of glacier-fed Trail Lake on a 3-hour tour that departs in either the morning or afternoon. With a maximum of 4 tandem kayaks, your small group will cruise near the Iditarod National Historic Trail and the tracks of the Alaska Railroad (wave as the train rolls by!), surrounded by the snow-capped Chugach Mountains. Stop and check out abandoned mining equipment as you hike up an old trail that was once full of Gold Rush prospectors. You'll hear about some of the fascinating characters who lived back then, and get a sense of small town Alaska today.
Grant Lake Guided Hike & Kayak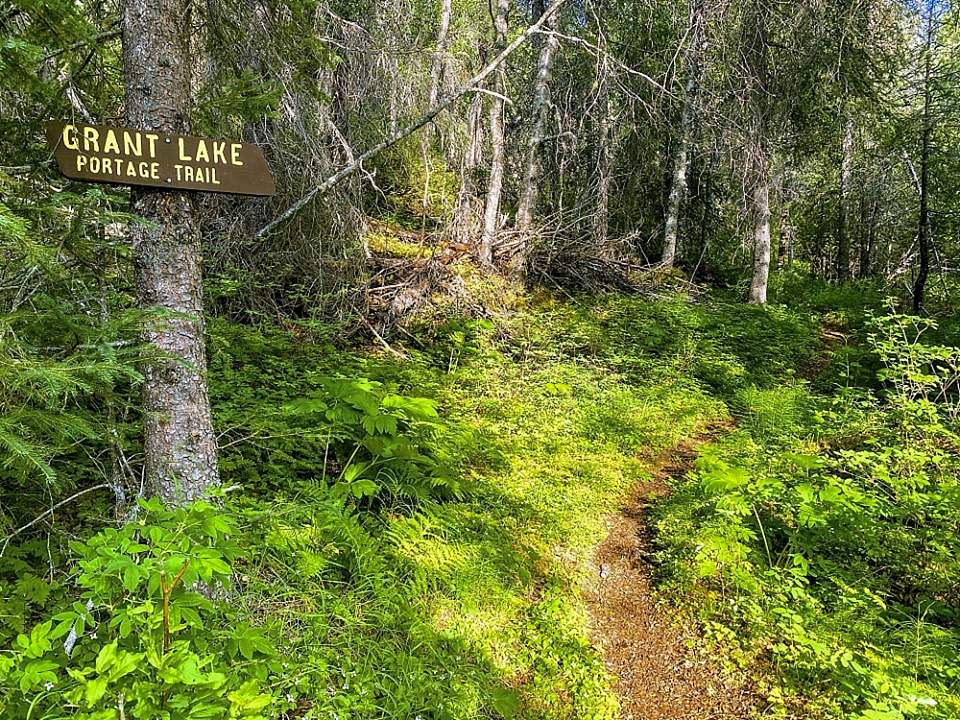 On this full-day tour, you'll paddle around 2 lakes and enjoy a guided hike. With a maximum of 5 people in 3 tandem kayaks, your group will learn about Alaska's colorful small-town past as you kayak the shores of glacial Trail Lake, surrounded by the Chugach Mountains. Then get ready for a hike along moderate terrain. And it's not just any trail: part of your route is the iconic Iditarod National Historic Trail, though it will feel like a secret route you've stumbled upon.
You'll learn about native plants like wild blueberries and cranberries as you pass through a spruce forest and look for wildlife. Hike over a ridge and get a spectacular view of Grant Lake, which shimmers a turquoise blue. You'll have lunch while enjoying it (veggie, ham, or turkey sandwiches, plus some Alaskan treats like sea-salt chocolate). Then get into kayaks on the lake and paddle out to stunning waterfalls, before returning, having grasped the vastness of the Alaskan wilderness.
Hike In, Packraft Out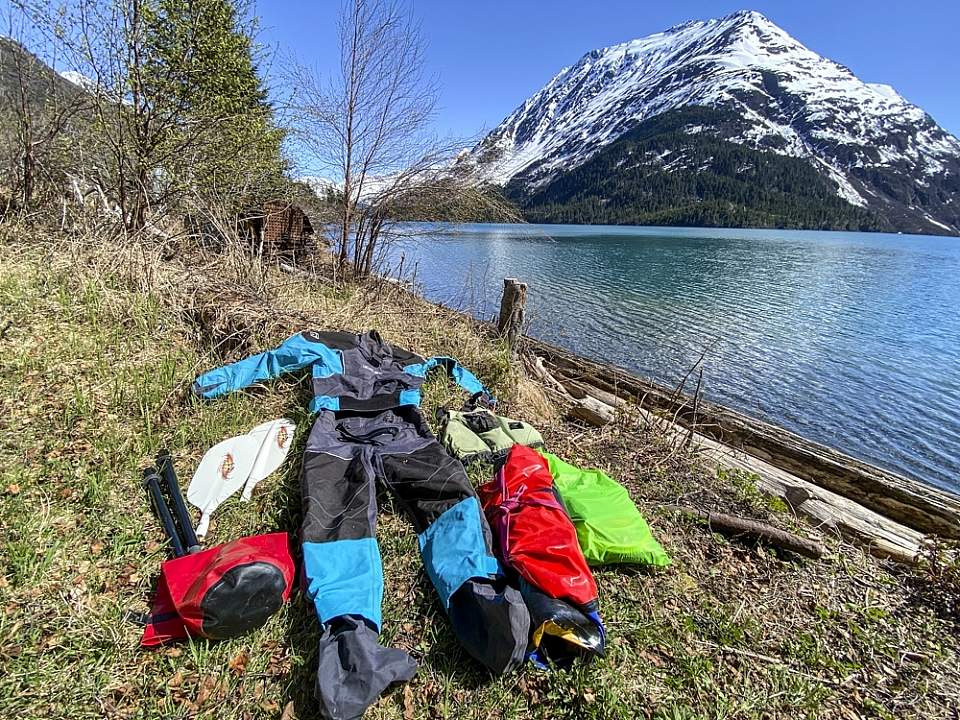 Packrafting is one of the most exciting ways to experience the Alaskan wilderness. Don't worry if you've never done it before; your guides will help you every step of the way. This 7-hour tour, for a maximum of 4 people, includes rafting and hiking surrounded by gorgeous scenery. And it begins with an introduction and instructions for this unique sport. Once you learn how to inflate/deflate and pack your rafts, you'll head out and put your lesson into practice.
Start by paddling across the glacial waters of Trail Lake and crossing under the Alaska Railroad tracks. Then hop out, deflate your rafts and pack them up, and hike a section of the Iditarod National Historic Trail, ending up at stunning Grant Lake, which shimmers a brilliant turquoise or emerald depending on the day. Re-inflate your packrafts and enjoy another unforgettable paddle before having lunch and returning.
Overnight Wilderness Adventure, Kayak Tour & Private Yurt Stay
Fully immerse yourself in the beauty of Alaska on this private tour for between 2 and 5 people. Starting in the afternoon, you'll do a guided kayak tour on glacier-fed Trail Lake, then hike over to gorgeous Grant Lake and kayak there. Hop out and you'll be close to your accommodations for the night: a rustic, handmade, Mongolian-style yurt with two bunks (3 twins and one queen), a handmade spruce table with games and books, and an outhouse (there's no running water). Take time to do some more paddling or just relax as your guides prepare a frontier-style BBQ dinner with s'mores for dessert. Share stories around the campfire before heading inside the Alaskan-built yurt with a wood stove.
The next morning, you'll wake to the sounds of the Alaskan wilderness and dig into a warm breakfast that might include an oatmeal buffet with all the toppings, as well as hot coffee and tea before hiking and kayaking back home.
Kayak Rentals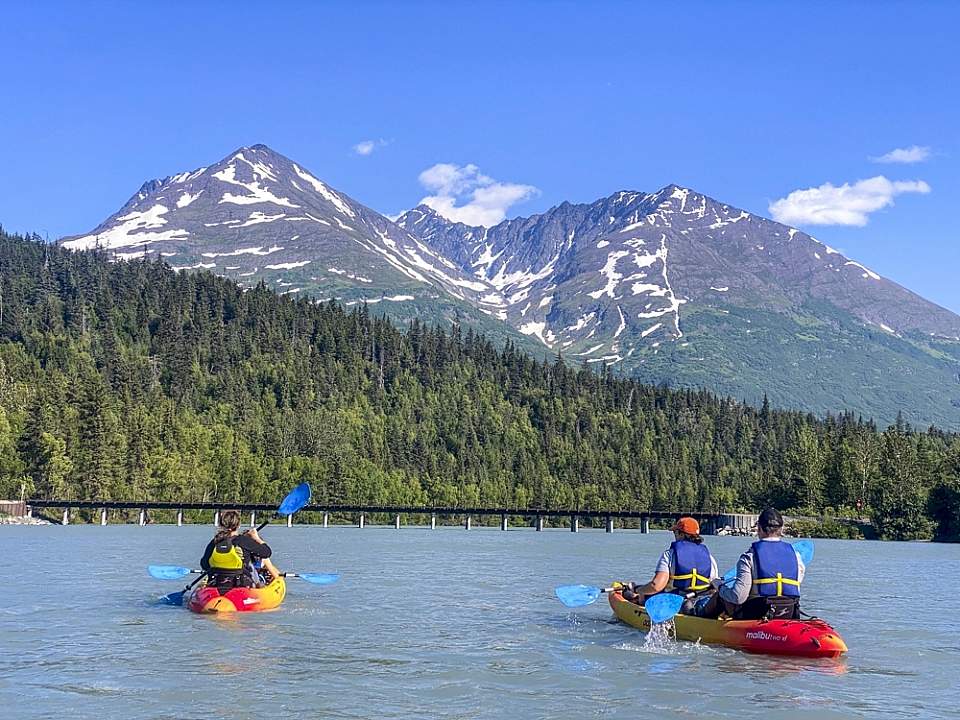 Choose from solo or tandem kayaks to paddle across gorgeous Trail Lake at your own pace. Gaze up at the craggy Chugach Mountains, watch for wildlife along the shore, and look down in the water for salmon and trout.
About Moose Pass Adventures
After guiding tours across North America, Owners JD and Jen settled in the Chugach Mountains. They're passionate about guiding, and about sharing the area they call home. What started as a simple kayak rental operation grew into an adventure company offering guided excursions and a remote backcountry yurt camp so they can share this slice of Alaska with visitors.