From May to September, explore the enchanting beauty of Moose Pass with a guided hike. Discover a variety of trails catering to all levels of hikers, from leisurely walks to more challenging treks. Each offers a unique perspective of Moose Pass's scenic landscapes. Traverse lush forests along shimmering lakeshores and witness breathtaking vistas that showcase the untouched beauty of Alaska's great outdoors.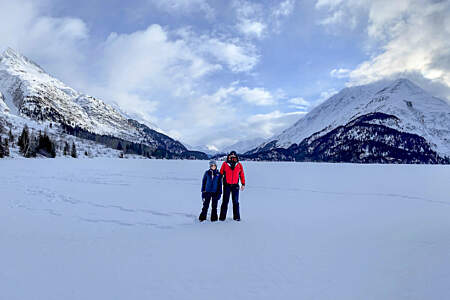 Season: Dec 15 to Mar 15
2.5+ hrs
Embrace Win­ter on an epic cold-weath­er snow­shoe trek out of Moose Pass, a small town on the Kenai Penin­su­la, in the heart of the Chugach Moun­tains. Extend the expe­ri­ence with an overnight or 2‑night stay in a hand­made, Mon­go­lian-style yurt on the shores of remote Grant Lake.
Season: May 19 -Sept 10
3+ hrs
Scenic vis­tas, glacial lakes, and Gold Rush his­to­ry come togeth­er in the Moose Pass area, just north of Seward, mak­ing it an ide­al spot to kayak, pack­raft, and hike. Trav­el with the experts of Moose Pass Adven­tures and you'll expe­ri­ence this mag­i­cal area on a day tour or overnight get­away to a back­coun­try yurt with an inti­mate group with expe­ri­enced, pas­sion­ate guides.