Photo Credit: Aaron Gifford
Middle & Explorer Glaciers
These gleaming valley glaciers perch in the mountains above Portage Valley, easy to view from highway pullouts. They feed the nearby stream systems that harbor many species of salmon and trout. Tangle Pond and Tangle Creek are favorite fishing spots for locals, and there are lots of places to camp in Portage Valley itself.
Best Viewing Spots
Explorer Glacier Pullout
First try the pullout at about Mile 2.5 of the Portage Glacier Highway, overlooking Explorer Pond with the waterfall and its glacier yawning across the valley. On a clear day, the setting is spectacular, with potential to spy bald eagles and waterfowl, beavers in the water, moose on the fringes. The multi-use Trail of Blue Ice—offering biking and hiking access all the way to Portage Lake—passes right there and offers a flat, welcoming route for families to explore.
Middle Glacier
Dropping almost 3,000 feet down the gorge that creases the mountain overlooking Williwaw Campground at about Mile 4.2, Middle Glacier is a classic mountain glacier, with its upper accumulation zone perched in a hanging bowl. The easiest part to see will be its lower finger and an icefall about half way up. Determined hikers and mountaineers can scramble up a boulder-filled gorge to reach the ice. Take the Trail of Blue Ice from the mountain-side of the campground. As the maintained trail approaches the rock wall, go mountain left on a well-trod social trail through thick alders to the gorge.
NOTE: Middle Glacier is notorious for generating huge avalanches during winter, including events that have inundated the campground. You can see how vegetation shifts from mature spruce to brushy alders in front of the gorge, evidence of this natural violence. Approaching the mouth of the gorge during snow season is not recommended.
Getting There
View on Map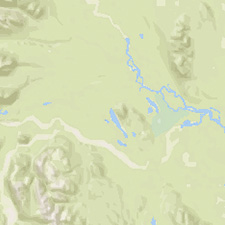 Coordinates
Latitude: 60.78162
Longitude: -148.92
From Anchorage, drive south on the Seward Highway to the junction with Portage Glacier Highway about Mile 48 at the head of Turnagain Arm. The road extends east about five miles to the Begich, Boggs Visitor Center on Portage Lake, with access to the Anton Anderson Memorial Tunnel to Whittier a mile beyond. Waterfalls abound.
Driving Directions