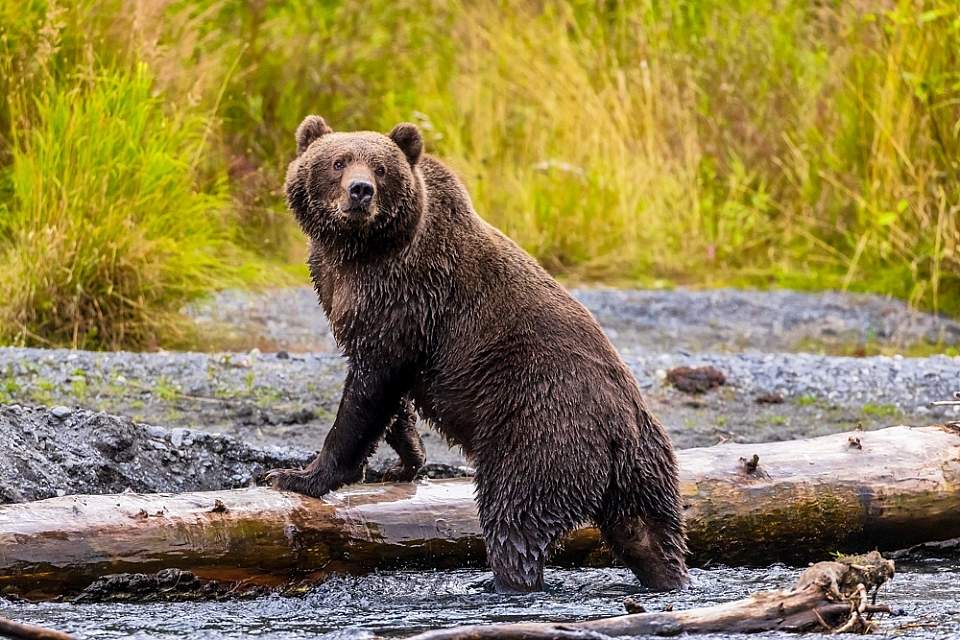 Combine the thrill of an Alaskan adventure with the opportunity to up your photography game! On this six-day, all-inclusive summertime expedition, you'll head to gorgeous Kodiak Island with Dan M Lee and Jessica Haydahl, two professional photographers specializing in Alaska.
Spend your days capturing images of brown bears, marine wildlife, and Kodiak's spectacular scenery; in the evenings, Dan and Jessica will review your work and offer critiques and suggestions. You'll come away not only with better technical skills, but you'll also learn how to think outside the box in order to capture the story behind the image, and how to document your travels in the future.

Booking window for 2023 Kodiak Photo Workshop ends mid-July 2022. Reserve your spot now!
This magical experience happens on Kodiak Island, which still feels a bit undiscovered as it's accessible only by ferry or plane. Here you'll be based in Larsen Bay, which has fairly mild temperatures and doesn't suffer from the extreme weather changes you'll find in other coastal areas. And you won't have to travel far to see a lot.
Your home will be a private part of the Larsen Bay Lodge—which sits right on the water with stunning views—and you'll be staying with just the photography group, which has a maximum size of 12. You'll enjoy three meals a day, prepared by gourmet chefs with a heavy seafood influence; lunch is often packed for your daytime excursions.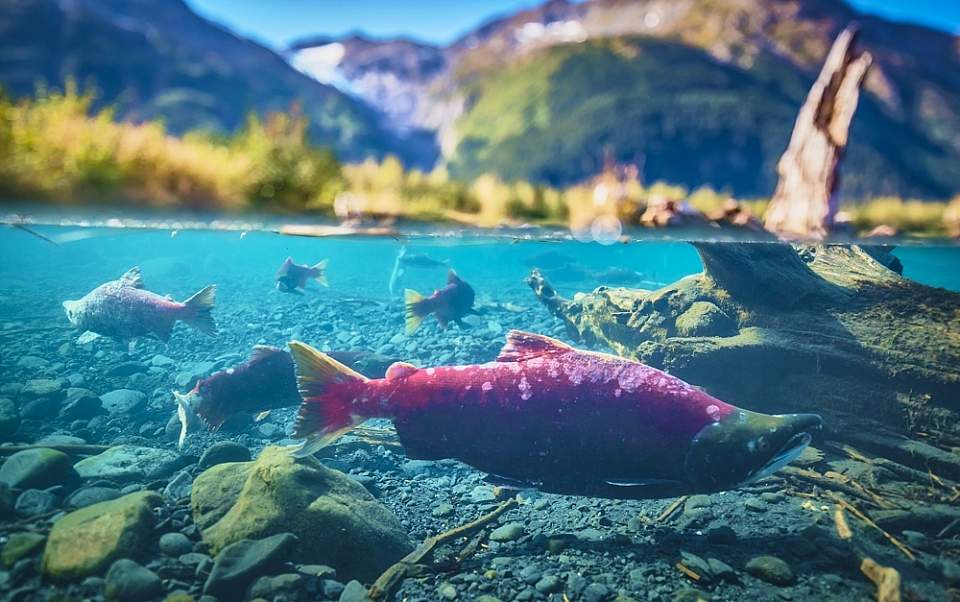 On this six-day trip you'll have four solid days of photography with hands-on instruction, as well as a half day of editing, and discussions around theory and composition. You don't have to be a pro yourself, as all skill levels are welcome. And even non-photographers will enjoy the trip: There will be two fly-outs to view bears in their natural environment, a spectacular marine tour, and unlimited kayaking and fly-fishing as well!
Dan's first job was working in a photography store in the south of England, where he picked up some skills and got hooked. He turned professional 8 years later and ran photography tours in upstate New York before also getting hooked on Alaska and its picture-perfect scenery. He runs this course with Jessica, a world-famous fly-fishing photographer, for a truly unique experience that will result in spectacular photos!
Itinerary
*Note: Kodiak Photo Workshop recommends staying in Kodiak the day before you depart for the lodge, as well as the day after, so you can enjoy Kodiak and avoid any potential weather delays.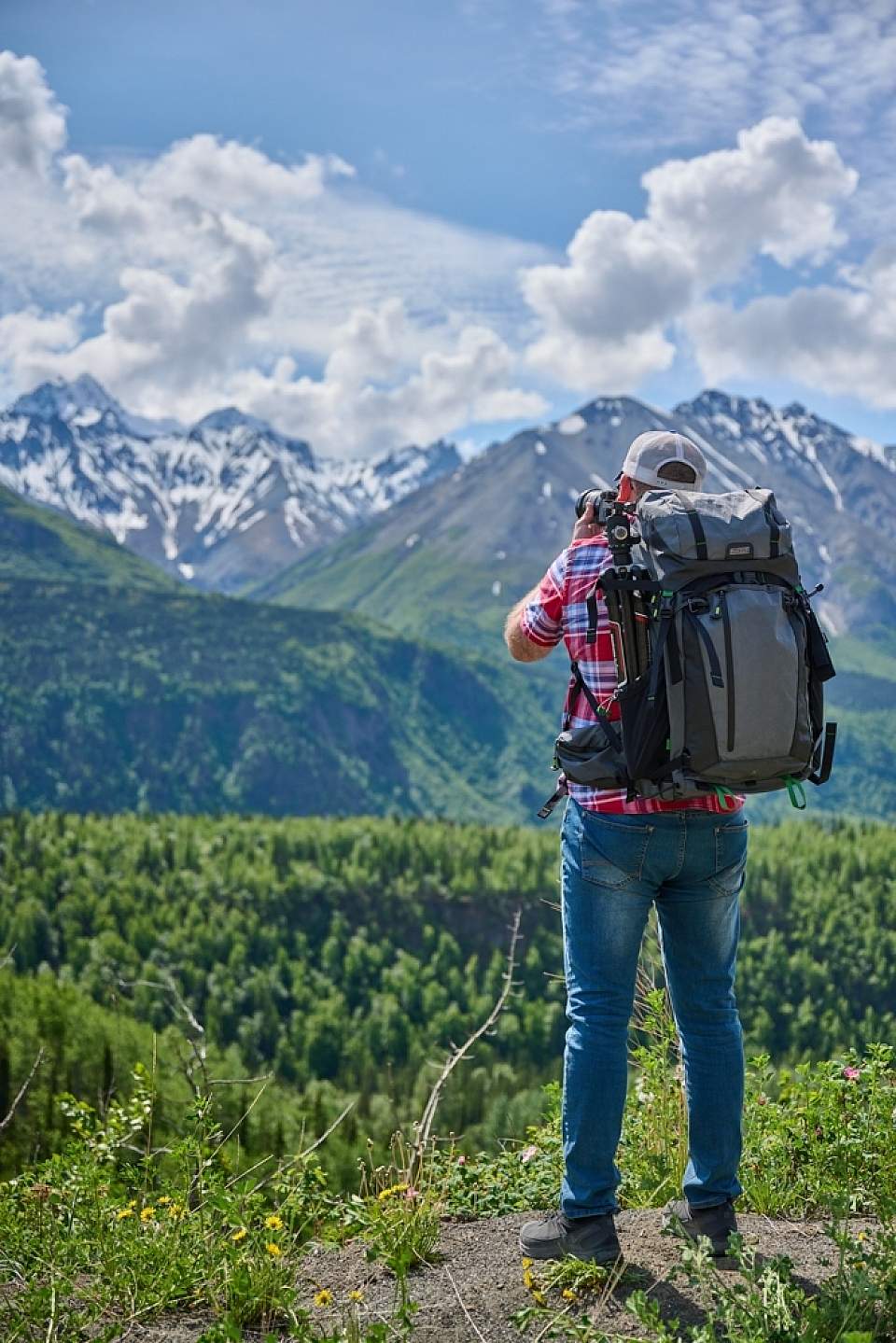 Arrival Day: Take the scenic, 30-minute flight from Kodiak to Larsen Bay by 6:30 p.m. (instructions provided). Your guides will meet you and you'll enjoy a welcome presentation and safety talk, as well as an orientation to Larsen Bay Lodge.
Day 1: Enjoy breakfast and get ready for your first day of brown bear photography! You'll grab a packed lunch and head off to a great viewing location like Hallo Bay in Katmai National Park or areas around Kodiak Island. Return to the lodge for dinner, talk with your guides, and receive a critique of images or help from the day's shoot.
Day 2: A delicious breakfast and packed lunch will help fuel you for another day viewing the bears, followed by a critique and review of images if you choose. Enjoy the spa and hot tub in the evening. You'll also have the option to combine some awesome fly-fishing with photography opportunities.
Day 3: Breakfast and packed lunch will be familiar by now, but today is a little different: You'll be seeking out marine wildlife. Take a boat trip with an optional landing as you look for humpback and orca whales, sea otters, and puffins. If the waters are rough, you may instead explore the local area to find salmon, bald eagles, and bears in the area. (This is also a backup day for a fly-out or boat-in bear-viewing trip if the weather isn't great on days 1 or 2.)
Day 4: Relax! With this flexible day, you can enjoy some downtime or take advantage of activities from the lodge, such as kayaking or fly-fishing. If you're interested in another fly-out or boat tour for more photography, you can arrange this (for extra) with your guide.
Day 5: Depart. Enjoy breakfast before catching your Kodiak-bound air taxi around 8 a.m.
Unguided Boat Expedition of Katmai National Park
An alternative to the workshop is an expedition aboard the "Alaska Dawn" for a 7-day trip along the coast of Katmai National Park. Dan and Jess will not be onboard (this tour isn't a workshop), but you'll have an experienced crew as well as a bear viewing guide for your trip. You'll make trips ashore for short hikes in Katmai National Park to look for and photograph the brown bears. On the boat, you'll have the opportunity to fish for salmon, as well as be on the lookout for whales, sea lions, sea otters, seabirds, porpoises, and seals.