Whether you want to fish on the famous Kenai River for just one day—or stay and fish for a whole week—this long-standing lodge and guided fishing operator will make you comfortable, boost your skills and send you home with plenty of fish, as well as great stories.
Enthusiastic Experts
Alaska Wildland Adventures (AWA) has specialized in fishing the Upper Kenai River between Kenai and Skilak Lakes since 1977. The company was started by Kirk Hoessle, a Missourian who came here for a summer job years ago and never really left. He's long been an advocate for ecotourism in Alaska, and prides himself on hiring guides with the same expertise and passion about the great outdoors.
Indeed, Kenai Riverside Fishing's professional guides are experts in fly-fishing, drift fishing, and back trolling, so you can fish from the boat, the bank, or both with confidence. They exude the enthusiasm of people who really love their jobs, and they welcome all questions, whether it's about fishing or the area. And talking to them is easy, since groups are kept really small—usually no more than 4 people.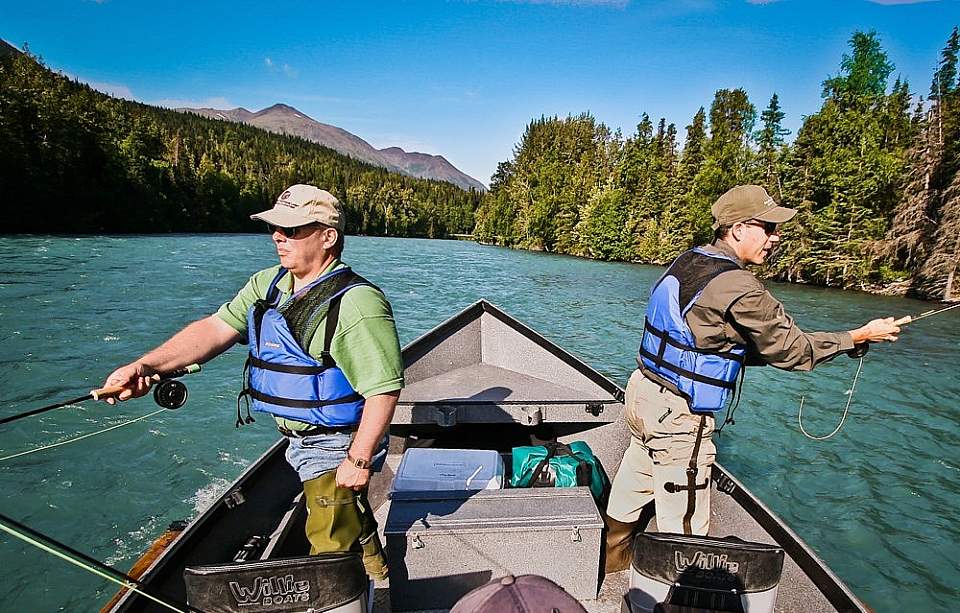 Soup-to-Nuts Service
Here are the basics for the trips:
They are all 8 hours, with departures between 4:30 and 6:30 am
All equipment—fishing gear, tackle and bait—is included
All trips include a hearty lunch with freshly prepared sandwiches and baked goods, snacks and hot and cold beverages
Just choose your trip based on which kind of fish you'd like to catch:
King Salmon
If you're looking for a good fight, king salmon are the largest of all the salmon species. From early June through July, you can test your skills against this elusive species in the Lower Kenai River or in Resurrection Bay. In the spirit of protecting the wild and critically important natural resource that is Kenai River king salmon, Kenai Riverside Fishing will be practicing catch and release fishing only for Kenai kings.
Silver Salmon
You'll enjoy an action-packed day of silver-salmon fishing on the Lower Kenai or in scenic Resurrection Bay. Fishing for silvers offers frequent hookups and fast action on light tackle: if you're an angler, the excitement of hooking one of these feisty, acrobatic fish is worth the trip up to Alaska. The gorgeous setting—snow-capped peaks, the turquoise waters of the Kenai, bald eagles, moose, and bears—doesn't hurt, either.
Trout & Sockeye Salmon
They're found in the Upper Kenai River area between Kenai Lake and Skilak Lake—the area that AWA has fished the most since 1977. You'll fish for sockeye (red) salmon as well as enormous rainbow trout and Dolly Varden.