Alaska Wildland Adventures pioneered floating the mellow, turquoise Kenai River and has operated continuously for more than three decades. Join them for a serene two-hour float, or take on a 7-hour adventure, complete with fun, Class II+ rapids and a cruise through a glacial lake.
EcoTourism Before It Was Cool
Alaska Wildland Adventures was started in 1977 by Kirk Hoessle, a Missourian who came here for a summer job years ago and never really left. He's long been an advocate for ecotourism in Alaska, and prides himself on hiring guides with the same expertise and passion about the great outdoors. He keeps the groups very small, too, so that guests can get one-on-one attention from their guides, and feel free to talk or ask as many questions as they like on the trip. Choose the trip that is right for you:
A Placid Float
The Kenai River Scenic Float Trip offers a nice introduction to the river, taking you along a stretch of the scenic Upper Kenai closed to motorized boats. Watch for wildlife-moose, eagles, Dall sheep, salmon, waterfowl, beaver, and bears-as your guide navigates you through the snow-capped mountain scenery of the Kenai National Wildlife Refuge. Listen to stories behind the sights: the wildlife, the native inhabitants and early settlers, and the forces that shaped the Kenai River Valley. There's one Class II rapid on this trip, and the water is mostly a placid Class I.
A Few Rapids, Plus A Stroll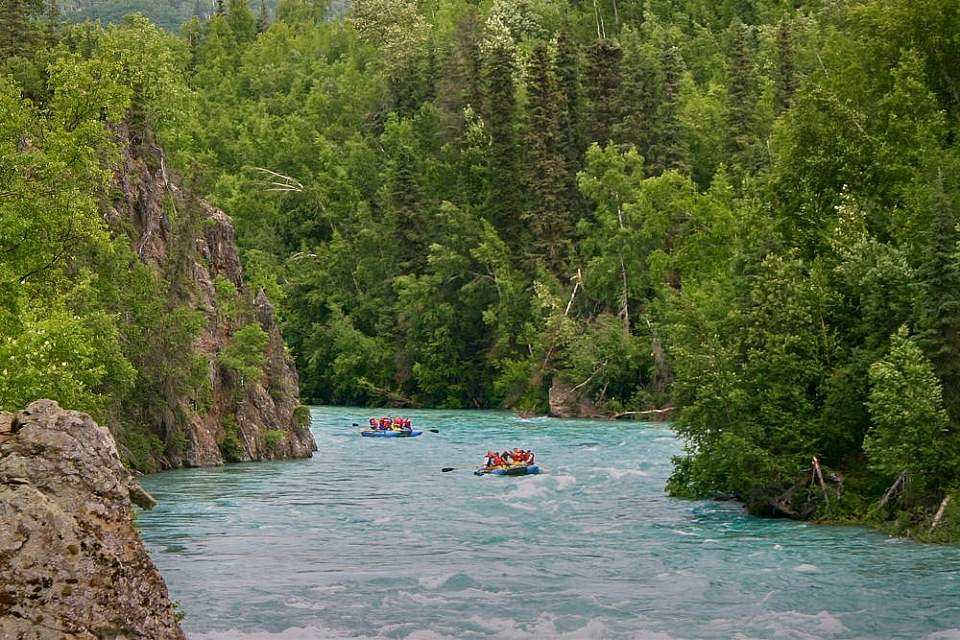 The Kenai River Canyon Full-Day Raft Trip starts with the above scenic float, then continues down through the Kenai Canyon for another 5 miles. Once you enter the canyon, the river pulls away from the road, so this canyon stretch provides even more of a wilderness experience. You'll see fewer people and (hopefully) more wildlife. At one point, your guides will pull the boats ashore for a delicious riverside picnic lunch. This is a good opportunity to stretch your legs and wander the riverbank in relative solitude. The canyon also offers some spirited Class II+ rapids.
The river empties into the massive, turquoise-gray Skilak Lake, and the scene at the confluence is breathtaking. End with a cruise along the wild and scenic shore of a glacier-carved lake in the heart of the Kenai National Wildlife Refuge. (Note: On rare occasion, the winds can kick up three-foot or higher waves on Skilak Lake. When this happens, the trip ends with a 1.5-mile walk on an established trail back to the highway pick-up spot.)
No experience necessary. There are some minimum age and size requirements: 5 years and 35 lbs for scenic float; 7 years for canyon trip. Canyon trip may end with a gentle 1.5-mile walk.