Explore beautiful Tutka Bay, just 7 miles across Kachemak Bay from Homer, where you'll find protected waters and amazing views on a half-day or full-day kayak fishing adventure, guided kayak tour, charter fishing or sightseeing tour. No matter which adventure you choose, you'll enjoy the views of rugged shoreline, hidden coves, and the chance to see mountain goats, moose, even black bears and wolves along the shore. On the water, be on the lookout for sea otters, whales, seals, porpoises, sea lions & more!
Beautiful Tutka Bay
Tutka Bay, within Kachemak Bay State Park, is a 7-mile long fjord perfect for exploring on your half-day or full-day adventure. Located on the south side of Kachemak Bay, the landscape is dominated by high peaks, stands of old growth Sitka spruce, and a rugged coast. Even though it's a short boat ride from Homer, you'll feel like you're in a remote part of the state. The few people you might see are locals who can give you a flavor of what it's like to live off the road system.
Guided Kayak Tours
Jen and Jaret, who founded Just Add Water Adventures, are passionate about showing off this little corner of the world to visitors. Their property, tucked away in Tutka Bay, is home base for all kayaking tours and kayak fishing adventures. Getting there is part of the adventure! A guide from Just Add Water Adventures will meet you at the Homer boat dock and invite you on board the Tutka Bay Express. During your 25-30 minute trip you'll get a safety briefing and basic kayaking instruction. You can also learn about Kachemak Bay's amazing ecosystem, and be on the lookout for sea life, birds, and whales.
Once off the boat, you'll get in your kayak, have a demonstration and skills overview. You'll get decked out with a quality kayak, spray shirt, and spray skirt, and then paddle away. What will you see? Each tour is customized, so it depends on your group. Go look at a fish hatchery, admire cascading waterfalls, kayak into hidden coves, or take a quick hike. The views are amazing from every perspective!
Since Tutka Bay is so protected, the water is fairly calm, without much wind or waves. That's why it's a good choice for beginners and families with children as young as 5. Kids are paired with parents in a tandem kayaks.
Exploring the water together is fun, but the group size is kept manageable. The maximum size group is 12, with an expert guide for every six paddlers.
If your schedule is tight, go for the half-day option, which departs twice daily and gives you 3 full hours of paddling plus the scenic water taxi ride to and from Tutka Bay. Time does fly by quickly, so if you can manage a full day, it's worth it. You'll make a full loop of the bay, enjoying 7 hours of kayaking with a stop at a scenic beach to enjoy your self-packed lunch.
Kayak Fishing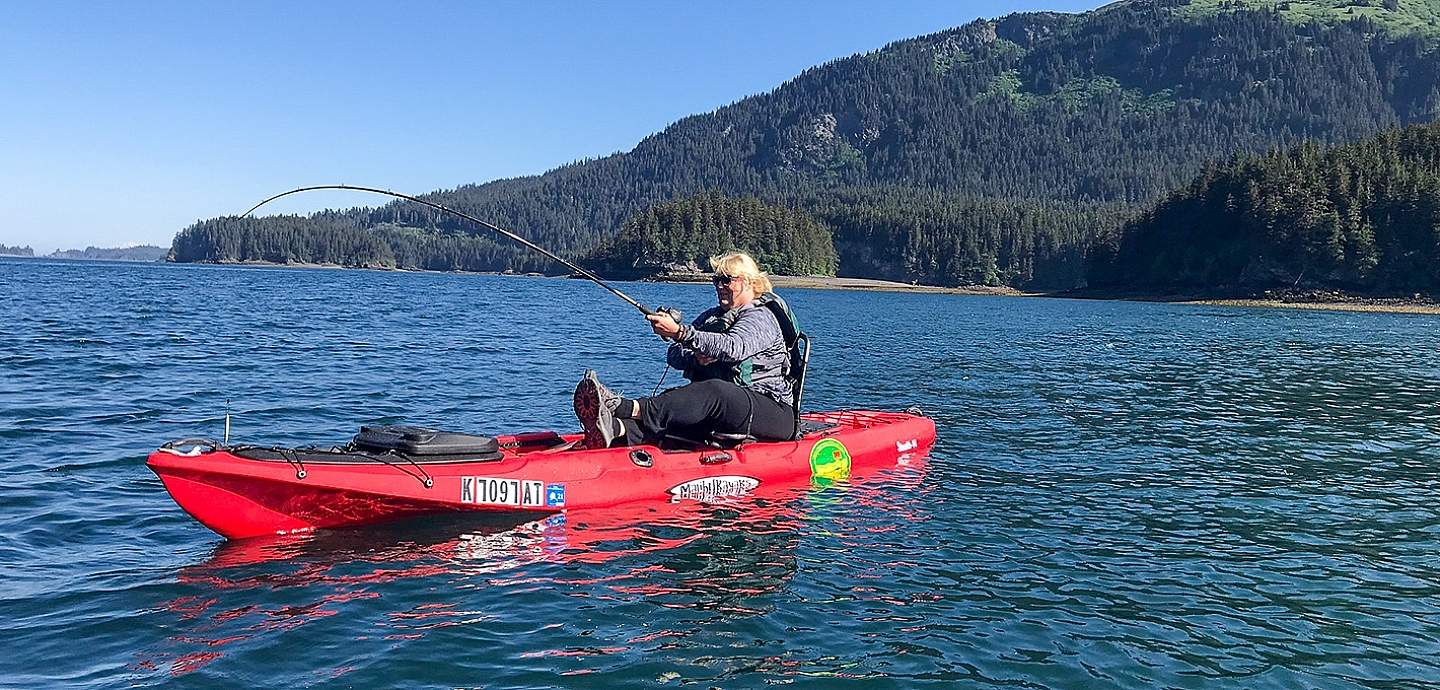 Fishing is such a part of the Alaska scene, and it's super fun to reel in a 30-40 lb halibut while you're right on top of the water! Kayak fishing is available in half-day or full-day options and is limited to people 13 and older. You'll sit on top of your wide, sturdy kayak, which is more stable than fishing from a canoe. Troll for halibut, salmon, cod and rockfish, which are abundant in this rich ecosystem teeming with marine life. Hook a big halibut and you may go for a thrilling little ride, but don't but don't worry: you won't get pulled out of the kayak. Please note: A water taxi to and from Tutka Bay is included. All fishing equipment and necessary kayak gear is provided, although you will need to purchase your fishing license and King salmon stamp in advance. Halibut fishing picks up in May and salmon fishing picks up in July, so book your adventure accordingly. You will adventure and fish on your own on these are unguided half-day or full-day kayak fishing adventures.
Charter Fishing or Sightseeing Tours
Just Add Water offers half- or full-day charter fishing and sightseeing tours. They run a quick and light 22 ft. Weldcraft vessel, the Alice Magdelina, with an enclosed cabin, heater and fantastic gear for fishing. You can choose to fish for salmon, rockfish and cod close to Homer, or head over to Tutka Bay. There are few cancellations due to weather and you can head back at any time. The close-to-Homer charter tour is great for those who have a tendency to get seasick because the water is calmer in the Bay. It's also great for those looking for a shorter trip so there's plenty of time to enjoy other activities the rest of the day.
For those who want to simply enjoy the Alaska scenery, book a chartered sightseeing tour of Kachemak and Tutka Bays to search for sea life, birds, and whales while taking in the amazing sights of the coastline.
More about Just Add Water Adventures
Just Add Water Adventures is a locally owned business that is a dream come true for proprietors Jaret and Jen. After years of visiting Alaska and looking for a business opportunity, they decided to create their own business from scratch putting to work their over 30 years of combined outdoor adventure guide experience. Just Add Water Adventures is 100% inspired by their passion for the outdoors and sharing Alaska with visitors. Having worked as professional fishing, hunting and kayak guides, they know the power of an incredible Alaskan experience. The best compliment a guest can give is coming back year after year, just like they used to do! In addition to customer satisfaction, safety is a high priority for Just Add Water. There is an AED on board Tutka Bay Express, and Jen and Jaret are both certified kayak instructors through the American Canoe Association.