Imagine yourself on the runners of a fast-moving dogsled as you and your team power over snowy mountain passes and across the treeless stretches of a remote Alaskan trail. You're traveling more than a thousand miles in bitter cold, following a team of eager Alaska huskies all the way to Nome, Alaska. At the end of the adventure trail is the finish line for the 1,049-mile Iditarod Trail Sled Dog Race.
Get the insider's perspective on this grueling race from veteran musher and Alaskan celebrity Jeff King, who has claimed first place four times. He will regale you with tales from the trail and introduce you to his dogs during a tour of his sled-dog training center, the Husky Homestead. Here, for more than two decades, Jeff has offered visitors a look at what goes into creating a championship team and carving a life in the Alaska Interior.
Behind the scenes at Husky Homestead
It all begins with puppies! As you arrive for a 1-hour narrated tour, you're handed a puppy for snuggle time, including lots of memorable photos and videos before the presentation begins. Be prepared to fall in love.
These sled dogs are in training year-round, so you will witness a team exploding from the dog yard and running on Jeff's innovative 50-foot treadmill before they hit the trail for a training run. Learn about their care, feeding, and exercise schedule. Witness the dogs' enthusiasm and passion for what they do, and see the special relationship between musher and dog. You'll even meet a champion dog or two.
Next, take a seat inside the woodstove-heated theater with a panoramic view of the Alaska Range. Learn about the Alaskan lifestyle and hear remarkable stories from the Iditarod Trail. Check out actual mushing equipment, racing sleds, and arctic survival gear used during training and racing. Jeff and his team are great storytellers, so you'll be entertained while you're educated. And don't miss the great wall of racing trophies and homestead "art," such as moose antlers and mushing memorabilia. You won't want to leave.
Tour length is 1.5 hours, early arrivals are welcome no more then 10 minutes prior to the tour start times of 10 am & 6 pm.
Sharing a passion for the sport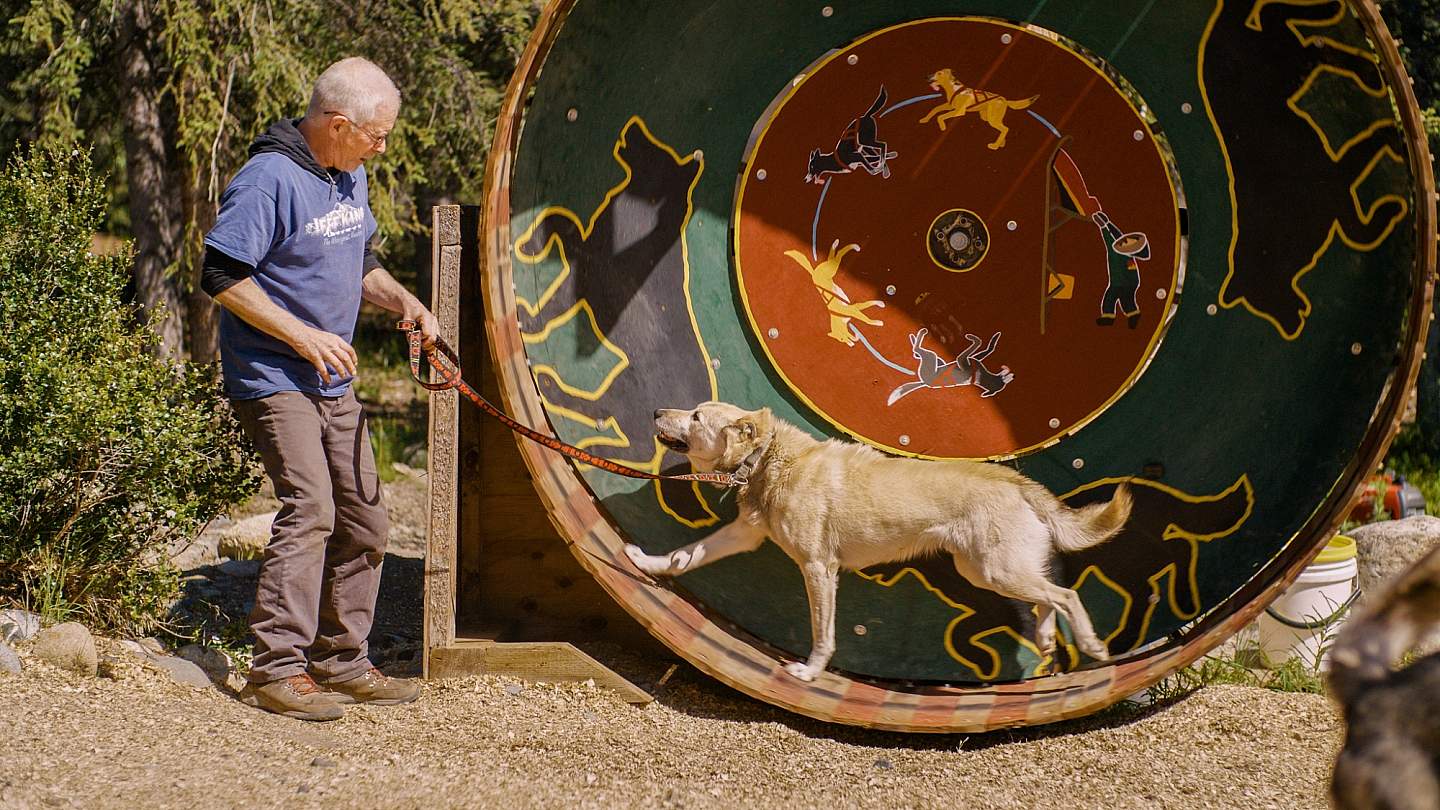 The tour began about twenty-five years ago when Jeff was approached by an Alaskan tour coordinator who needed a place for his groups to eat lunch. Jeff gladly cleaned out a room for people to eat and ask him questions. Recognizing there was a market for visitors interested in his experiences and lifestyle, Jeff and his family began conducting their own tours.
The Husky Homestead's reputation has grown because of the authentic experience Jeff offers, as well as his (and his staff's) infectious enthusiasm for the sport, the dogs, and the Alaskan wilderness. In fact, the Husky Homestead staffers are not only passionate about dogs and mushing; several have run the Iditarod themselves. It's no wonder so many guest reviews from all over the world rank the Husky Homestead experience as Excellent!
Evolution of a champion musher
Like many Alaskans, Jeff is a transplant. Born in northern California near the home of Jack London, Jeff grew up infatuated with the writer's stories of the Northland. He came to Alaska at nineteen, planning to stay for just one summer, but an offer to work as a winter caretaker at a small lodge changed his mind, and Jeff was hooked on Alaska. His first exposure to mushing was with a neighbor who lived half a mile away (close, by Alaskan wilderness standards). He starting building his own dog teams, and his enthusiasm for the sport grew. Then he started entering races, and mushing quickly became a passion. Forty years later, he's logged more than 160,000 miles of trail time, and he's become good—very good—at mushing. Jeff has been in hundreds of races across North America, and he won the Iditarod in 1993, 1996, 1998, and 2006. He finished in the Top Ten 20 times (14 in the Top Five), sealing a place in the record books of the Last Great Race, as well as in many other mid- and long-distance races.