Why Choose this Trip?
Follow the footsteps of the Porcupine Caribou Herd and test your off-trail travel skills in some of Alaska's best hiking terrain.
Trip Type
Backpacking (Packrafting option)
Region
Northern Alaska
The Route
Have your air taxi pilot drop you off at the Grasser's airstrip along the left bank of the Hulahula River. You can camp right at the airstrip if you have a late drop-off, or if you have time, head up the Hulahula. Expect wet feet as you cross multiple small(ish) tributaries.
Four miles from the airstrip, the Hulahula makes a hard bend to the east at the confluence with Itkillik Creek. Continue due south, initially along Itkillik Creek and then along an unnamed fork of Itkillik Creek.
Eventually this tributary makes a bend to the east, bringing you all the way to Guilbeau Pass. There is excellent alpine camping on either side of Guilbeau pass.
From Guilbeau Pass descend down the East Fork of the Chandalar River until you reach your takeout point at the Red Sheep airstrip. The airstrip is on the river right before the confluence with Red Sheep creek. If continuing on via packraft see below. Along your hike there are excellent opportunities for day hikes and layover days. The area around Guilbeau Pass is especially nice for further exploration!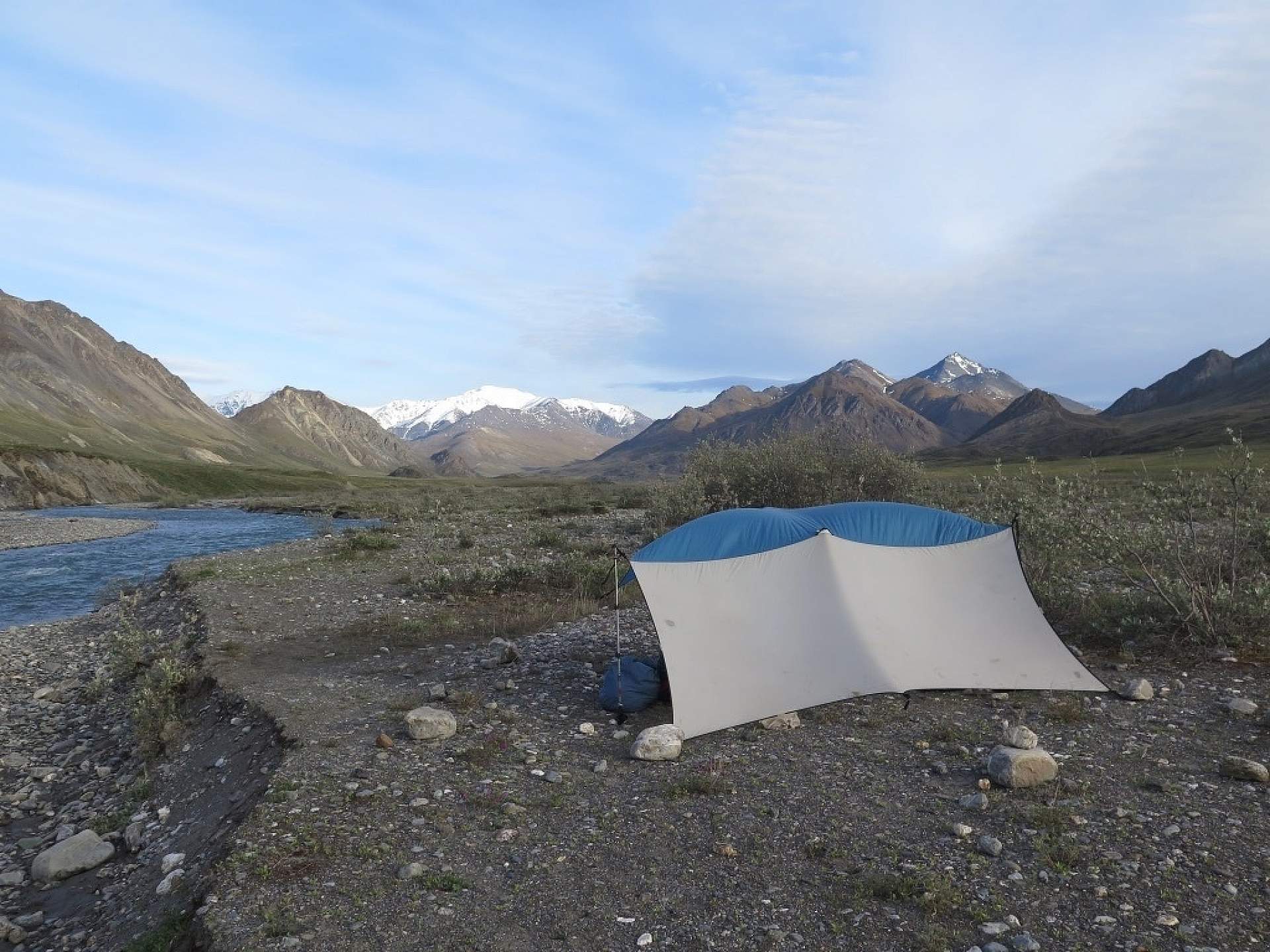 Packraft Option
If you plan to continue to Arctic Village via packraft, give yourself another 3-5 days. You could drop packraft(s) at the Red Sheep airstrip on your way to Grasser's airstrip at the beginning of your trip, or you can pack your boat(s) with you. Packing your boat is cheaper (most air taxis will charge for the extra landing) and gives you the opportunity to start floating as soon as there is enough water to do so, but will obviously make your pack significantly heavier.
The East Fork of the Chandalar River is mostly Class I, II- but be aware of wood hazards and potential flooding after heavy rain. As you approach Arctic Village, the community boat launch will be on river left before the river makes a hard left bend.
Distance
From 15ish miles - 43 miles; additional mileage possible with day hikes and/or packrafting
Number of Days
6+
Backcountry Starting Point
Grasser's Airstrip on the Hulahula River
Backcountry Ending Point
Red Sheep Airstrip on the East Fork Chandalar River or Arctic Village (packraft option)
Trip Logistics
Complex
Experience Level Necessary
Intermediate
Expected Hazards
Bear country
Stream and river crossings
Other Advice
Confirm with your pilot the exact location of your pickup location and pre-load these coordinates into your navigation device or mark them on your map.
Will you see other people in the backcountry?
Unlikely
Land Manager
Arctic National Wildlife Refuge
GPS Coordinates
Starting Point - Grasser's Airstrip: 69.10564, -144.63145
Guilbeau Pass - 68.95429, -144.44243
Ending Point - Red Sheep Airstrip: 68.71303, -144.79246
USGS Maps
Mt. Michelson A-2
Mt. Michelson A-1
Arctic D-1
Cost
$$$$