This flightseeing tour, as one visitor has said, is "the most outrageously fulfilling, near-religious experience I've ever done!"
No doubt, seeing Alaska's dramatic terrain during a flightseeing tour is a top priority for a lot of travelers, but really getting up close to Denali—and even walking on the ice by the Great One—is a rare treat. This flightseeing operator based at the Park entrance can rightfully claim that they are the only folks who offer such a "front row" wilderness experience in Denali, since they are the only company north of the Alaska Range with a permit to land on glaciers inside Denali National Park. The result is a world-class flight-seeing trip, with landings on Denali's glaciers.
Deep Experience
Fly Denali, a National Park Service concessionaire, was launched in 1992 by Jim Trumbull, a former Denali National Park seasonal ranger and biological technician. He started the business back in 1987, when he bought a small training plane. Over the next several years, the company went from supporting lodges to commercial flightseeing operations. In Fall 2001, Fly Denali received an exclusive permit from the National Park Service to start landing on glaciers inside Denali National Park right at the base of Mt. Denali (formerly Denali)! The company grew even more after that, upgrading to a fleet of de Havilland Turbo Beavers on wheel skis. Another successful pilot from Kodiak, Jay Wattum, joined the team serving as Chief Pilot. Once Wattum was introduced into ownership, his expertise along with Trumbull's backcountry and mountaineering savvy, lead the two to perfecting this once-in-a-lifetime adventure. Along with impressive owners, their pilots have over 100,000 combined hours flying in Alaska's unique weather conditions. Fly Denali maintains an exceptional safety record by continual training in technology, flight routes, and weather and glacier landing conditions.
Dynamic Pilots
Fly Denali's planes are powerful, reliable aircraft that were designed for the extreme conditions of the Canadian wilderness—and Fly Denali's pilots have more than 100,000 combined hours of flying. They attribute their excellent safety record to their maintenance staff and everyone's continual training in technology, flight routes, weather and glacier landing conditions. The pilots clearly love what they do, too, flying planes with names such as Jaws and Charlie Charlie, and narrating the ride to the passengers through the in-flight headset system that makes it easy for everyone to hear (and ask questions) as they take in the views below.
Taking the Express Lane to Denali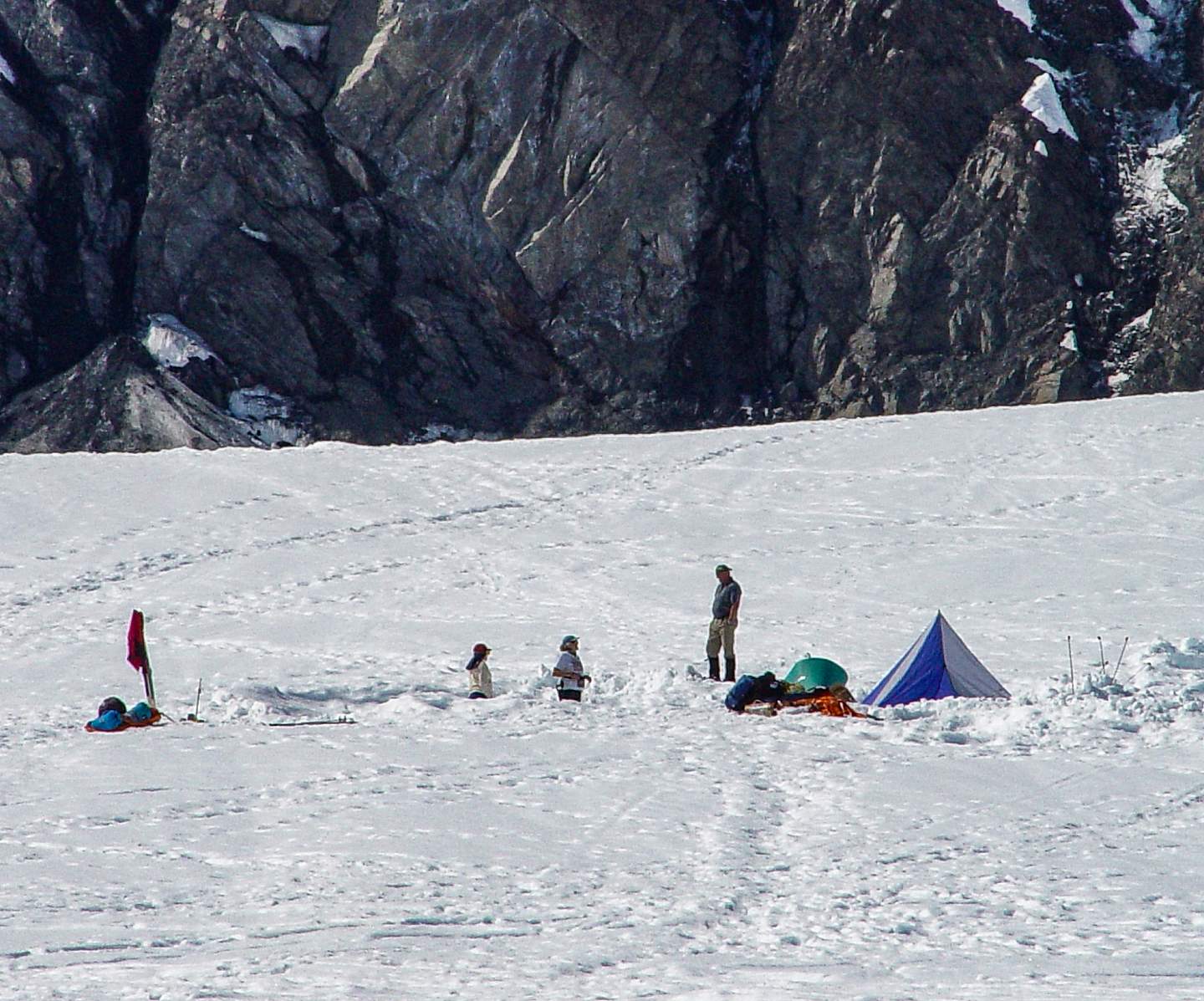 Denali National Park is regarded by many as one of the most beautiful places in the world. Not only is this six-million-acre park host to incredible wildlife including wolves, caribou, Grizzly and black bears, and moose, it is also home to the wonder that is Mt. Denali. Mt. Denali, which means The Great One in native Athabascan, is the highest peak on the North American continent.
Fly Denali offers guests a heavenly aerial view of Denali National Park that just cannot be witnessed with the same grandeur on land. With 100 minutes of flight time, guests are given an exclusive look of the park that offers incredible views such as the renowned Polychrome mountains and winding river valleys. Fly Denali's Turbo Beavers are equipped with interactive headsets so pilots can personalize your tour with fun facts about the park; and don't be shy, you can ask questions too! While our planes inch closer to the Great One, the plush and green land starts to transform to an Ice Age glacial terrain. As Mt. Denali starts to appear bigger and bigger, guests will start their descent into the Great Gorge (the world's deepest gorge) of the Ruth Glacier and land at the famous Mountain House. What's next is up to you! Passengers get to enjoy 20-30 minutes on the glacier to sight-see, snap photos or even engage in a massive snowball fight. Once it is time to head back to Denali, guests are encouraged to sit back and relax to reflect on this awe-inspiring adventure.
Extraordinary Memories
While Fly Denali can also do custom trips for climbing expeditions, their main focus is on regular travelers who want an extraordinary experience. Their motto is "We Do Once-In-A-Lifetime, Everyday!" and they strive to treat every client like family. Trumbull says that their guests range from independent travelers to cruise passengers—and those travelers often tell him that their tour was not only the highlight of their vacation, but a highlight of their lives. As another customer told Trumbull, "It's amazing—breathtaking. There's just nothing like it."