Handmade pastas and delicious pizzas are just the beginning of Flattop's unique menu, which is full of inventive options. Set in the heart of Anchorage, the restaurant brings together high-end cuisine and an extensive wine list and serves it in a casual, family-friendly atmosphere.
While the focus at Flattop is Italian, the seasonal menu finds inspiration everywhere and comes with a modern—and very Alaskan—spin. You may find New Zealand mussels on the menu, for example, when they're in season.
But pizza and pasta is where Flattop shines. Pizzas are made with exceptionally high-quality dough and served with your choice of toppings. And pastas—fresh and handmade—are a point of pride at Flattop. A top-of-the-line pasta machine allows them to make 40 different kinds of pasta and control every ingredient that goes into them (and make more than 100 pounds of pasta an hour!).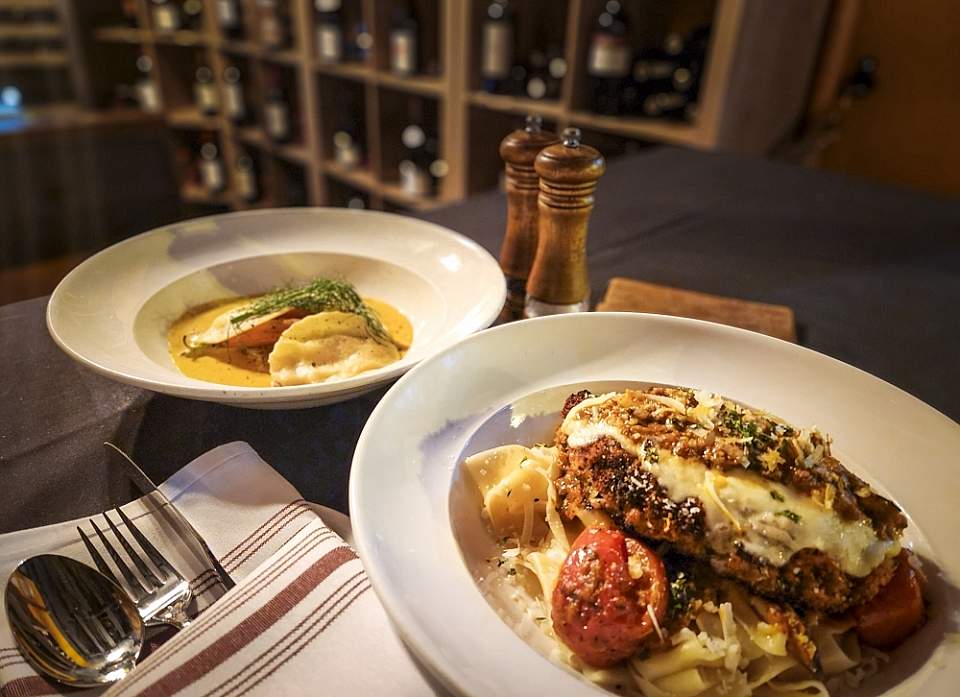 Order one of these creations topped with a housemade pomodoro sauce and your choice of Alaskan flavors, like halibut, crab, salmon, or reindeer-based meatballs that have been ground in-house. Sample the housemade gnocchi with fresh halibut. Or try the cacio de pepe: pappardelle noodles with pecorino, Romano olive oil, peppercorns, and your choice of protein. And you'll always find pasta specials (king crab ravioli, anyone?).
Complement the meal with a selection from Flattop's extensive wine cellar of 300-plus options. Enjoy one of the 17 draft beers—many of which are local craft brews—or order from the full bar. And absolutely save room for one of the handmade desserts, which might include an apple tart or cannoli cheesecake.
Whether you're here with a group for lunch, having a romantic dinner, or celebrating a special occasion, Flattop makes for a delicious experience.