Enjoy a wide variety of Alaskan beers on tap, as well as delicious dishes baked in a huge stone oven at this family-friendly restaurant in south Anchorage.
Open for lunch and dinner, Firetap Alehouse has a bright, inviting atmosphere, with 6-seater booths as well as tables that can be pushed together for large groups. During the warmer months, you can also dine out on the deck and take in the view of snow-capped mountains.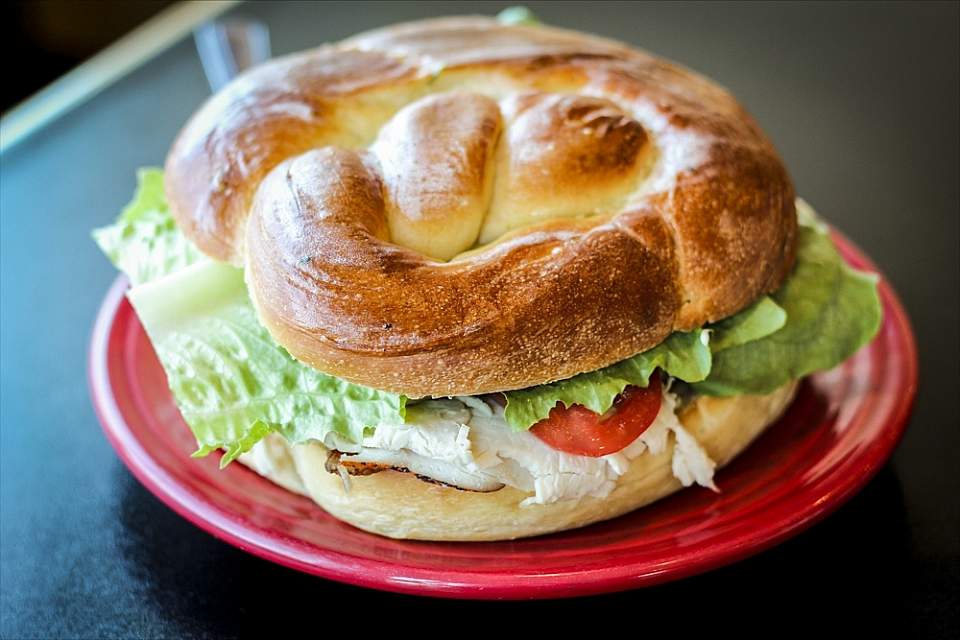 Owned and operated by Alaskans, this one-of-a-kind restaurant features cuisine that's just as unique. That's because Firetap cooks its American-style creations without fryers or broilers—most menu items are prepared in the stone oven, like the hand-twisted pretzel, which you can order as an appetizer or as the bun on a mouth-watering sandwich.
Come for lunch and order one of the specials: unlimited soup and salad, served with a pretzel, or a two-topping pizza with a side of soup or salad. Small plates and shareables are popular in the evenings; locals return often for options like the rich meatballs and melty quesadillas. You can also dig into house specialties like the mac and cheese with a crunchy topping or an oven-baked halibut from the stone oven.
Definitely save room for the decadent desserts, which are big enough for two. Kids love the warm chocolate chip cookie and ice cream; other popular desserts include the housemade bread pudding topped with whiskey sauce, the chocolatey beggar's purse, and the housemade apple crisp served with ice cream.
And of course, you'll want to sample some of the 36 beers and ciders on tap, many of which were brewed in Alaska. You can also enjoy a specialty drink created by the Firetap bartenders, as well as a full array of tequilas, gins, whiskeys, and vodkas. Come from 3 p.m.–6 p.m. for a special happy hour menu.
Reservations are accepted, but only required for parties of 6 or more.