Experience some of Alaska's most exciting activities, most gorgeous scenery, and best wildlife viewing by Land, Sea, and Air—all on the same week-long adventure. Take advantage of this singular opportunity with Destination Alaska, out of Homer. This adventure tour company, run by a longtime local family, also offers a full menu of exciting activities.
Part one: Homer base camp
This 7-day, 6-night customizable expedition begins with a private, scenic flight from Anchorage to Homer, at the end of the Kenai Peninsula. There, your group of up to 10 will spend 3 amazing nights basking in the rustic charm of a premium log chalet, with a fireplace, big deck, and huge picture windows overlooking the waters of Kachemak Bay and mountains.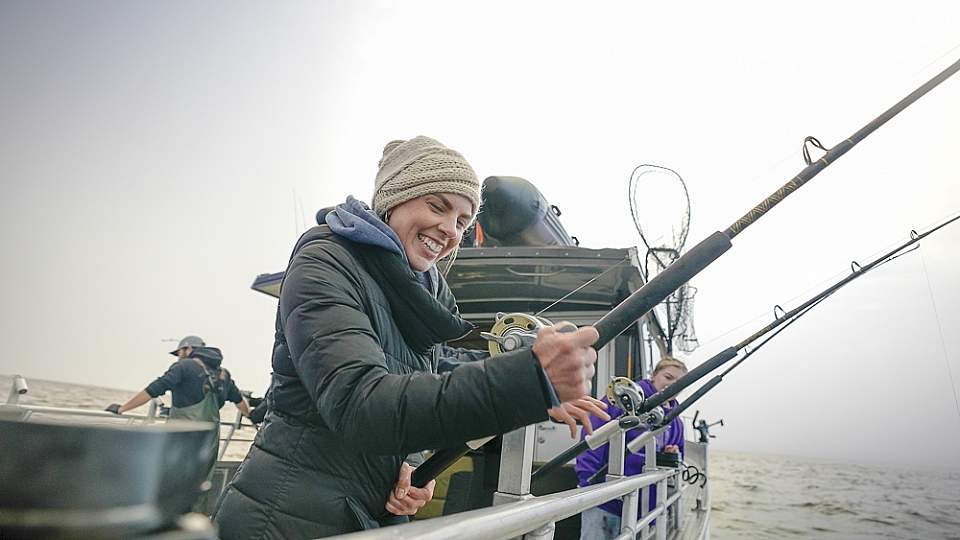 You'll enjoy action-packed days, as your expert guides lead you on a wide range of unique Alaskan thrills, like driving an amphibious Argo over the Alaskan tundra (think ATV but more capable, stable, and more easily drivable). Go see majestic bears on a fly-in bear viewing excursion to Katmai National Park. Head off deep-sea fishing for halibut and salmon. And enjoy guided hiking to Grewingk Glacier in Kachemak Bay State Park. You can also customize the activities, so if you're an avid angler, for example, you can opt to spend 2 days fishing instead of 1.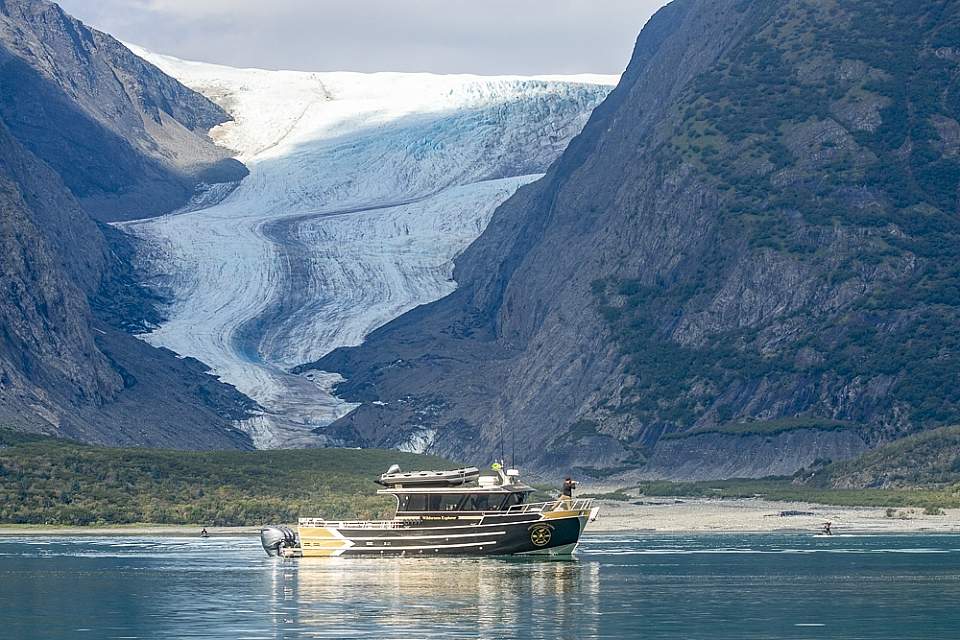 Part two: the M/V Peregrine
On day 4, you'll leave your chalet and soar in a floatplane to the stunning Kenai Fjords National Park, where you'll board the M/V Peregrine, a luxury adventure vessel. For the next 3 days you'll explore Alaska checking out glaciers, ice caves, and waterfalls while looking out for whales, sea otters, and black bears swimming in the water or walking on shore.
The whole time, you'll have exclusive access to professional guides, jet skis, float planes, state-of-the-art-fishing vessels, kayaks, and more. Experience the thrill of trophy fishing, hiking, kayaking, paddleboarding, and even glacier jet skiing.
You'll finish up each day back on board the M/V Peregrine, perhaps in one of the big hot tubs, gazing out on a cascading waterfall, after sitting down to a gourmet dinner of Alaskan cuisine. Then retire to your heated bunk room with super-thick mattresses and full showers.
Don't miss this unique opportunity to sample many iconic Alaskan sights and activities in a single week!