Set sail on an exclusive, all-inclusive yacht in gorgeous Kachemak Bay, out of Homer. Aboard the one-of-a-kind Lady of the Sea, you can experience some of Alaska's most iconic activities: fishing, hiking, kayaking, seeing a glacier, spending time on the water, and looking for whales, otters, and bears.
Choose Your Own Adventure Length
Rent the entire boat or just one of the 3 luxurious staterooms for 3 to 6 days or more. Either way, you'll have an intimate, personalized experience. Wake to the fresh Alaskan air and dramatic scenery, explore during the day, and have the boat rock you to sleep each night.
About the Yacht: Lady of the Sea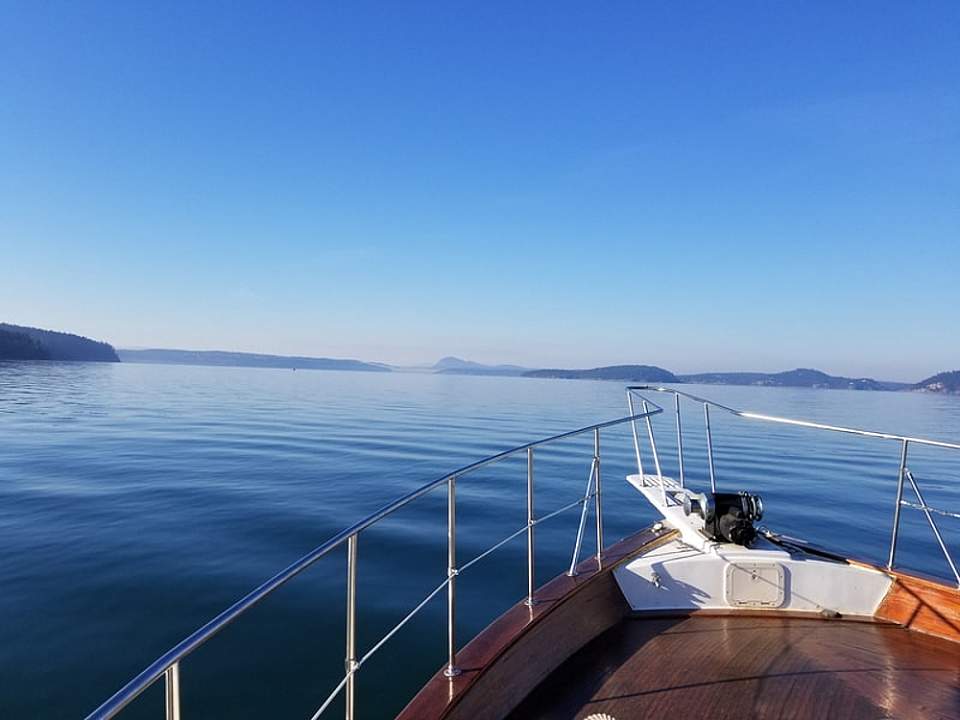 That boat, the 70-foot motor yacht Lady of the Sea, offers an open design, formal dining room, teak and stone trimmings, and 360-degree views of the stunning surroundings on the 30-foot foredeck. Each of the 3 staterooms (2 with queen beds, 1 with 2 twins) features hand-painted artwork and has its own private bathroom and shower.
Every day you'll go exploring in this sublime wilderness. The itinerary will depend on the interests of the group, and the experienced local crew can fulfill those interests, thanks to their vast knowledge of Kachemak Bay. Since the boat has 2 double kayaks and 2 standup paddleboards on board, you'll be able to get out on the water and explore at your own pace. Or relax on board, using the binoculars to look for wildlife or checking out the books in the library.
And every day, you'll enjoy the unique creations of the yacht's private chef, enjoying meals focused on local, fresh, sustainable cuisine and crafted around your preferences. Expect amazing local seafood, of course, such as oysters, mussels, salmon, halibut, and rockfish, as well as fresh produce from local farmers. Breakfast might include made-to-order omelets or waffles, and lunch could be delicious soups and salads. End the day in splendid fashion, with a dinner of fresh fish or flank steak.
It all adds up to an unforgettable experience and a unique opportunity to explore one of Alaska's most beautiful areas.