Photo Credit: Haley Johnston
Crow Pass Backpack (Packraft Option)
Why Choose This Trip?
A Chugach classic with big glacier views, this trail is wildely considered one of the best in Alaska!
Trip Type
Backpacking or Packrafting
Region
Southcentral Alaska
The Route
While this trip can be done in either direction, it's described here as starting at the Crow Pass trailhead outside of Girdwood and ending at the Eagle River Nature Center. Starting on the south side and traveling north means you'll encounter less elevation gain over the course of your hike.
The trail begins at the stairs at the far end of the Crow Pass trailhead. You'll traverse several switchbacks to gain elevation before beginning a long trajectory upvalley. Then the trail will split, with one branch heading straight upvalley at a lower elevation and the other switchbacking and climbing higher on the hillside. Both will get you to Crow Pass; they rejoin each other just before the Forest Service Cabin, roughly three miles from the trailhead. On the way to the cabin, you'll have a chance to see many mining artifacts, scan the surrounding slopes for wildlife, and carefully cross three small streams.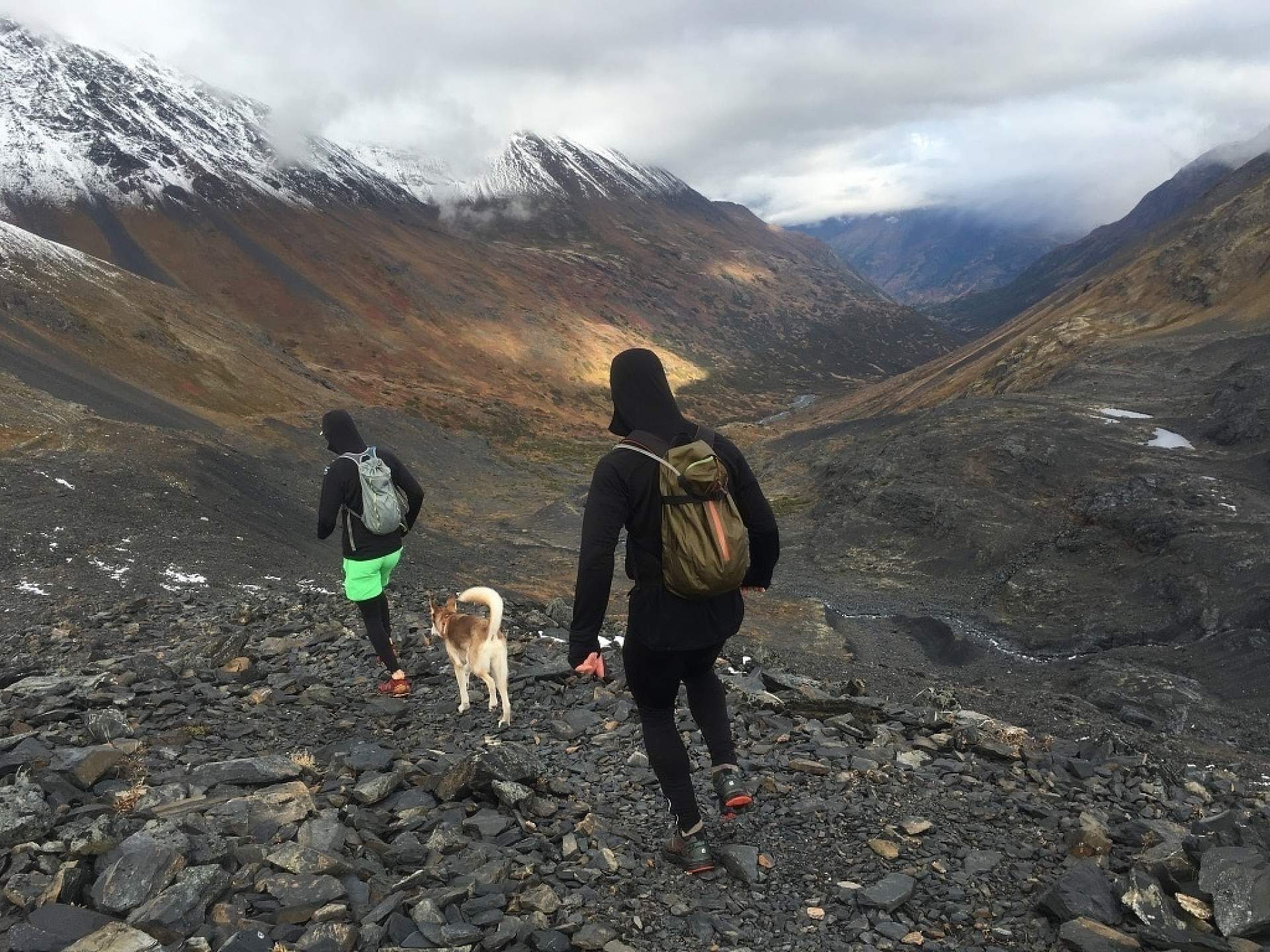 One half mile beyond the cabin, you'll come to Crow Pass, which on a clear day offers incredible views of Raven Glacier and the surrounding peaks. North of the pass, the trail meanders downhill through scree and talus and can be difficult to follow; look for the large rock cairns. Two miles from the pass you'll come to Clear Creek, which you'll have to cross. Again, look for the rock cairns on the other side to guide you back to the trail. The next two water crossings, Raven Gorge and Turbid Creek, are spanned by bridges and there are designated campsites near each of these crossings.
About 5.5 miles from Crow Pass, you'll come to Eagle River. When you first reach the river, you may be tempted to cross right away, but continue upriver until you reach the designated Ford Site. Crossing Eagle River can be especially hazardous at high water; people have for for harrowing "swims," and a few people have died in the river's waters. Refresh your knowledge of river crossings before your trip and be prepared to turn back and return to the Crow Creek trailhead if the river is uncrossable.
From the other side of the ford, the trail follows a relatively flat trajectory all the way to Eagle River Nature Center, 12 miles later. It's possible to lose the trail between the Ford Site and Icicle Creek. If you do, backtrack to the trail's last known location and start again. There are more designated campsites along this section of the trail (at mile 1.7, mile 3, mile 5.5, mile 6, and mile 9, as measured from the Nature Center), and it becomes easier to follow as you approach its end.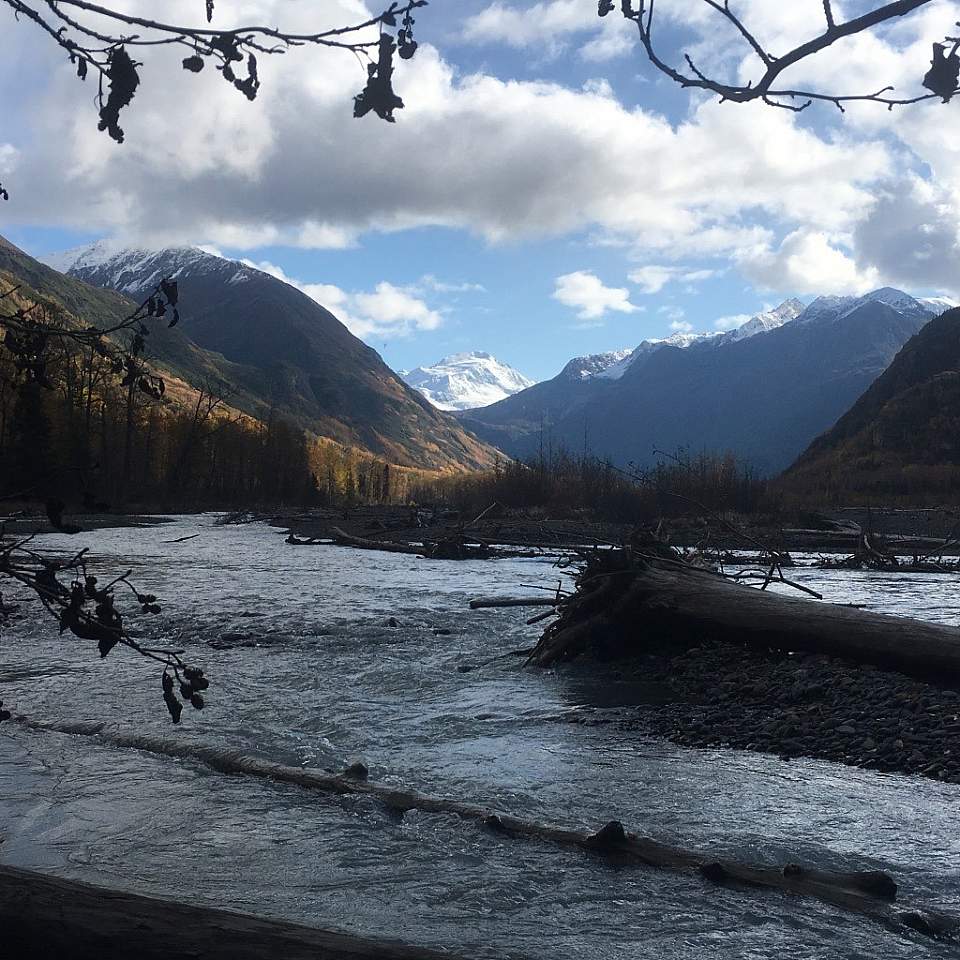 Packrafting option
If you'd like to add a little variety to your Crow Pass trip, you can packraft roughly 9 miles of Eagle River. From where the hiking trail meets the river, you can follow the trail upstream to the Ford Site to put in. If the water is high, this may be a difficult spot. Another option is to travel downstream until the river braids and becomes more mellow.
This section of river is mostly Class I - II, but can vary significantly based on water levels. The biggest hazard is wood. Keep an eye out for sweepers and strainers, especially in bends of the river.
Unless you're absolutely certain in your abilities to paddle Class IV water, you must take out before Echo Bend. It's a noisy rapid, so you should be able to hear it in time, but if in doubt, get out and scout. You can also use visual cues. There's a campsite on the right before the river makes a sharp bend to the left, and then back to the right again to head into the rock garden. Exit the river on river right and make your way back to the trail. You'll have a three mile walk to the Eagle River Nature Center to complete your trip.
Distance
23 miles
Number of Days
2-4
Backcountry Starting Point
Crow Pass trailhead
Backcountry Ending Point
Eagle River Nature Center
Trip Logistics
Simple to Moderate (depending on shuttle)
To get to the Cross Pass trailhead, take the Seward Highway/AK-1 south towards Girdwood. Turn onto the Alyeska Highway. In two miles, turn left onto Crow Creek Road. Follow the road until it ends at the Crow Pass trailhead six miles later.
It's best to leave a car at the Eagle River Nature Center for the end of your trip, as you probably won't be able to hitchhike from the nature center back to your car in Girdwood. You may be able to use a cab or rideshare (Uber/Lyft) to return to your vehicle, but expect the ride to be expensive. As of this writing, no other shuttle service exists.
Experience Level Necessary
Novice backpacker, beginner packrafter (if you choose the packrafting route option)
Expected Hazards
Stream and river crossings
Bear habitat. Make noise and carry bear deterrents, as black and brown bears live here.
Early season snow fields at Crow Pass
If packrafting, expect wood hazards. This section of Eagle River is mostly Class I - II with few hazards, but be on the lookout for sweepers and strainers.
Other Advice
If you choose the packrafting version of this route, we can't emphasize enough that you need to take out before Echo Bend. Serious consequences (injury or drowning) are possible for inexperienced paddlers who attempt this section of the river unprepared. Another great resource for this trip is this map.
Will you see other people in the backcountry?
Probably. This is a popular route for hikers going in either direction. You'll likely see the highest number of people within a few miles of either trailhead.
Land Manager
Chugach National Forest and Chugach State Park
GPS Coordinates
Starting Point: Crow Creek trailhead: 61.02825, -149.11602
Crow Pass: 61.06076, -149.11645
Ending Point: Eagle River Nature Center: 61.23390, -149.27075
USGS Maps
Anchorage A-7
Anchorage A-6
Cost: $-$$
This is an inexpensive trip; no permits, flights, or reservations are required. If you have to pay for some type of shuttle to or from your starting or ending points, it will increase the cost.