Photo Credit: Haley Johnston
Why Choose This Trip?
An amazing look at the history of the Alaskan Gold Rush, with the added novelty of hiking from Alaska to Canada. Two countries, one trip!
Trip Type
Backpacking
Region
Southeast Alaska
The Route
The trip offers an amazing variety of scenery and distinctly different ecosystems: river valley, coastal temperate rainforest, exposed alpine, and arid boreal forest. In fact, this trail has been called the world's longest museum; along its length are remnants of the gold rush. You'll see evidence of miners surging across Chilkoot Pass to access the gold fields of the interior North. Enjoy the history, but leave the artifacts behind for the next hiker to enjoy.
Most people choose to do this trip in the same direction as the gold rush prospectors, starting in Dyea at the coast and ending in Bennet, across the Canadian border. However, you can also travel in the opposite direction; this minimizes the elevation gain and makes the trip a bit easier. Here, we describe the traditional route, from the coast to the interior.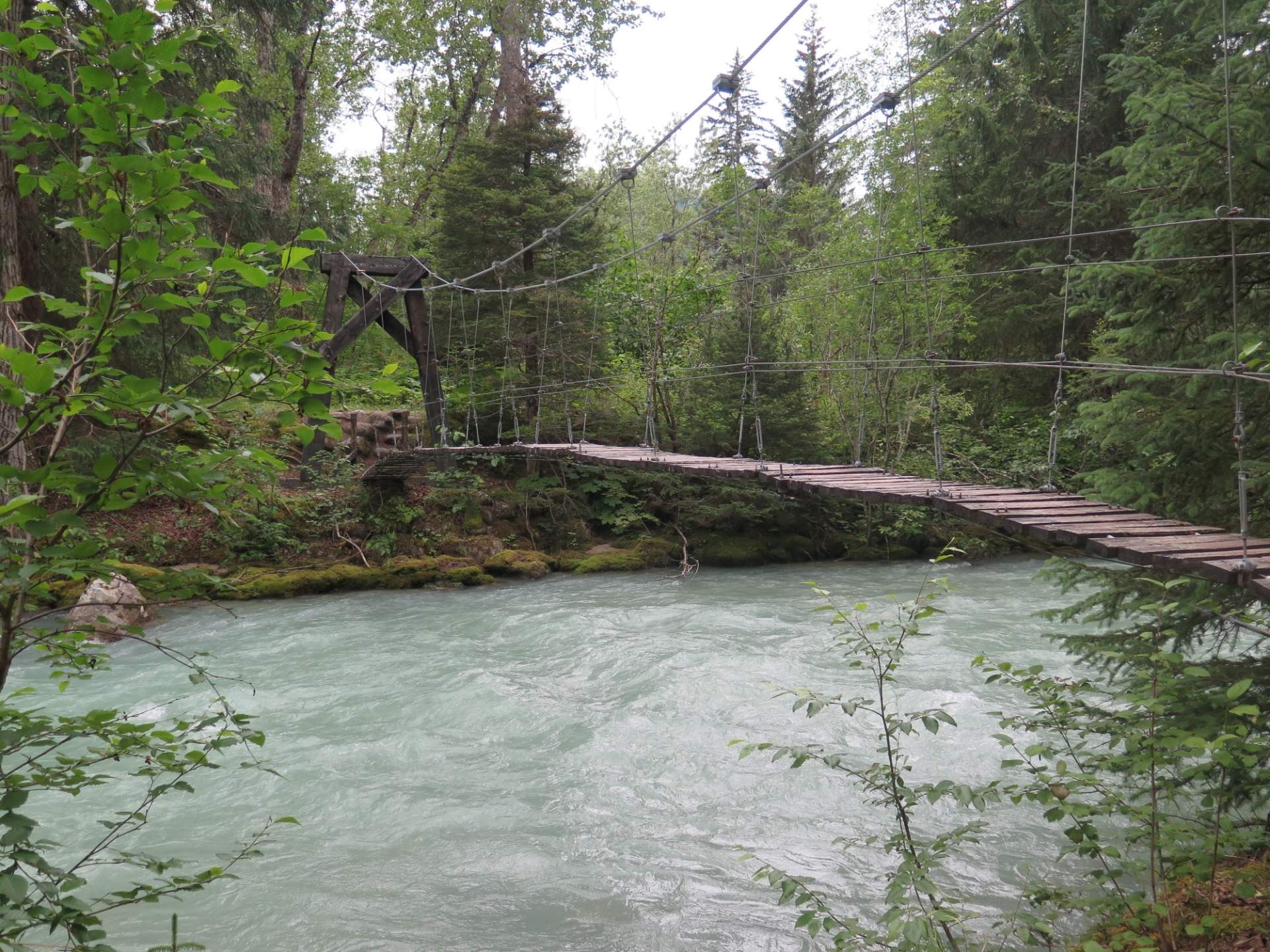 There are 10 potential campsites along campsites along the trail (including camping at the start in Dyea and the end in Bennett). A pleasant two-night, three-day itinerary includes stops at Sheep Camp and Happy Camp. But there are many options to choose from.
It's five miles from the starting point in Dyea to the first official campsite, Finnegan's Point - a section of trail that follows the Taiya River. The next camp is just 2.5 miles further, at Canyon City, still in the coastal temperate rainforest of the Taiya River Valley. Three move miles brings you to Pleasant Camp. Along this section, the trail climbs above the valley as the river plunges through the canyon. Pleasant Camp is a nice place to stop if you're looking for solitude; there are almost always other campers at Sheep Camp, just one more mile down the trail.
Most folks want to camp at Sheep Camp, regardless of their itinerary, because it's the nearest campsite to Chilkoot Pass. Camping here allows you to get an early start, going up and over the "Golden Stairs" and the pass. Sheep Camp is still tucked into the forest, abut a mile before the trail emerges into the subalpine and alpine.
After leaving Sheep Camp, you'll pass "The Scales." This is where tram operators weighed miners' loads before lifting them up to the pass, and you'll see many artifacts here. Continuing past the scales, you'll enter a steep talus field where you'll find the "Golden Stairs" (though there are no actual stairs to help you to the top). Chilkoot Pass itself is five miles from Sheep Camp, and it's another four miles to the next campsite at Happy Camp. This can be an especially long day for some hikers.
As you emerge onto the other side of the pass, you'll see the Canada warden's cabin, signifying your entry into another country. This is also a great location to see wild mountain goats.
If you camp at Happy Camp you'll enjoy subalpine views. Or you can continue the next 2.5 miles to Deep Lake for more sheltered camping below treeline. There are two more camping options at Lake Lindeman and Bare Loon Lake before the final campsite. If you're returning to Skagway via the White Pass Railroad, you'll catch your trail at Lake Bennett.
Distance
33 miles
Number of Days
2-5
Backcountry Starting Point
Dyea (outside of Skagway, AK)
Backcountry Ending Point
Bennet, BC, Canada
Trip Logistics
Complex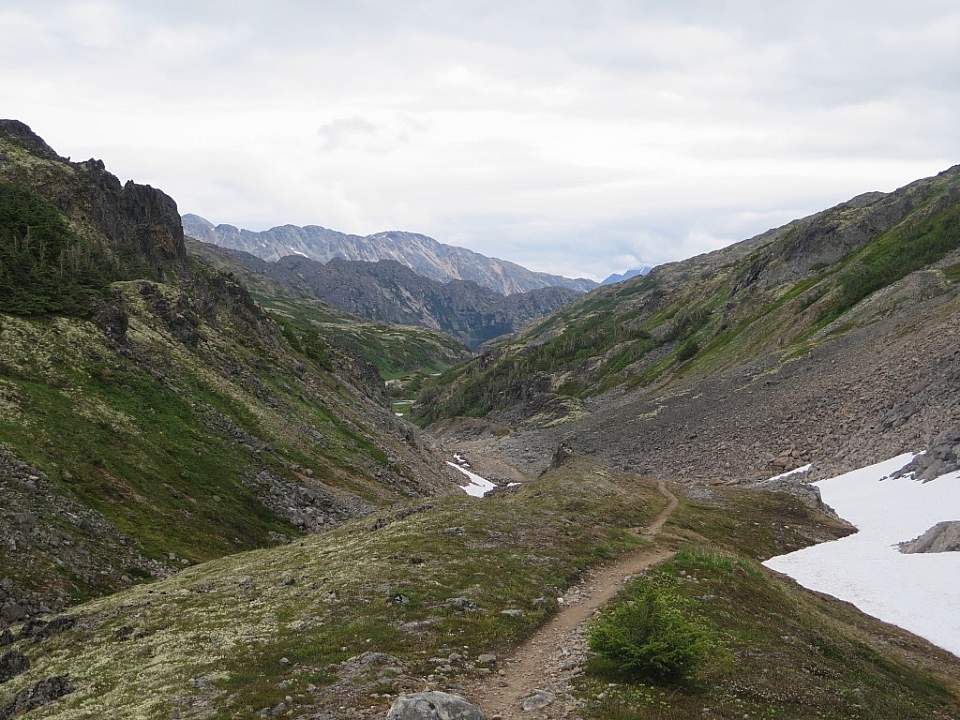 To go for an overnight hike on the Chilkook Trail between June 1 and September 30, you must have a permit. When you apply for one, you'll need to know which campgrounds you intend to use and how you'll be leaving the trail, if you plan to hike all the way to Bennet, BC. (Float plane pickup is an option, but most people return to Skagway via the White Pass Railroad).
You must pick up your permit at the Trail Center in Skagway and attend a mandatory 30-minute orientation (which happen daily at 8 a.m., 10 a.m., 12 p.m., and 4 p.m. during the permit season). A limited number of first-come, first-served, walk-up permits are available each day, but if you can plan ahead, it's better to reserve in advance.
The trailhead is located 10 miles from Skagway. If you drive and leave a car, you'll need to park in the National Park Service Overnight Campground parking nearby; you can't leave a car at the Trailhead. If you don't have a wehicle, or don't want to leave it in Dyea, you can arrange a shuttle from Skagway to Dyea; check the NPS website for current options.
If you return from Bennett, BC to Skagway via the White Pass Railroad, the train will drop you off right in the town of Skagway.
An alternative exit from the trail exists, if you'd prefer not to take the train to return to Skagway. You can exit the Chilkoot Trail just past Bare Loon Lake an hike to Log Cabin on the Klondike Highway. Arrange a ride to pick you up, or hail a ride back to Skagway to complete your trip.
Experience Level Necessary
Beginner
Expected Hazards
Bear country. Because this is a popular trail, habituated bears can be a problem. Always store food and waste appropriately, to minimize the chance of a negative bear encounter.
Other Advice
For many hikers, the 9 miles from Sheep Camp to Happy Camp, up and over the Chilkoot Pass makes for a very long day. Get an early start if possible, stop frequently, eat snacks, and hydrate.
Will you see other people in the backcountry?
Definitely. This trail is incredibly popular, though limited by permit numbers (a maximum of 50 hikers per day are allowed to cross into Canada via Chilkoot Pass). Enjoy meeting your fellow travelers and new trail friends.
Land Manager
Klondike Gold Rush National Historical Park
GPS Coordinates
Starting Point - Chilkoot Trail Trailhead: 59.51185, -135.34663
Chilkoot Pass: 59.69654, -135.23828
Ending Point - Bennett Lake: 59.84527, -134.99562
USGS Maps
Skagway C-1
Cost: $$$
2020 Fees and Ticket Prices:
Overnight Fees: Combined US/CAN trip permit is $62.05 (CDN)/adult; $30.98 (CDN)/youth
Reservation Fee: $11.96 (CDN) per hiker (in addition to the permit fee)
White Pass Railroad: $99/adult; $49.50/child