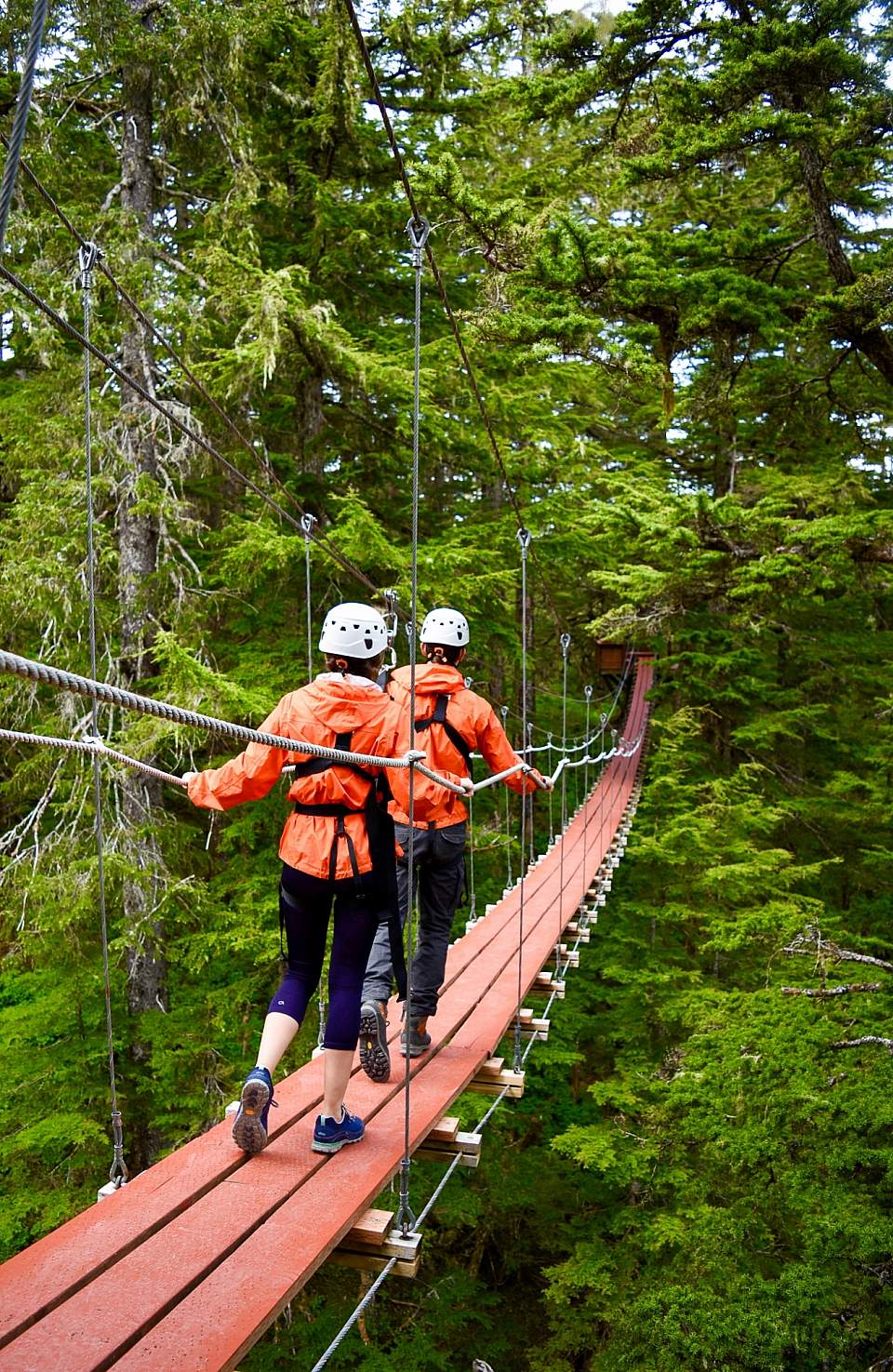 Take time to enjoy the upper canopy of the Tongass National Forest on a zipline tour that offers the excitement of flying through old-growth forest, walking across a sky-bridge, and a tea break to soak up the moment. You can sit back and relax in unique treehouse-style platforms and in the zips because your guides operate the braking system.
After meeting at the Mount Roberts Tramway, a shuttle will take you to Eaglecrest Ski area on Douglas Island, across Gastineau Channel from Juneau. Here you'll be surrounded by sub-alpine rainforest with panoramic mountain views. The centuries-old Western hemlock and Sitka spruce are at the heart of your zipline adventure.
You'll meet your highly trained guides, get geared up, and take a short walk to the first platform. There is 1 guide to every 6 guests so there is personal attention to make you feel comfortable while being 100 feet in the air. Your guide will provide a safety briefing and ensure you will always be clipped into a dual cable system or belay safe attachment point.
To get oriented, you can try out two lower, shorter practice zip lines before heading up to the main course. Now it's time to really soar, as you traverse seven ziplines ranging from 100 feet tall to 800 feet long. As you fly from platform to platform, smooth landings are ensured by the guide-operated braking and handrails.
At the end of the course, enjoy the view from an aerial walkway over a rushing salmon-spawning stream. Once on the ground you'll have a turn at a biathlon-esque moment, as you focus on the art of axe throwing after that adrenaline-pumping zipline action. Quirky? Maybe. But this is Alaska – where knowing how to throw an axe may come in handy some day!
Your tour finishes up with refreshments in the lodge. Here, you can purchase pictures of your aerial adventure and browse the gift shop for a souvenir of your high-flying accomplishment. Finally, board the shuttle for the return trip back to Juneau, having conquered the treetops of the Tongass!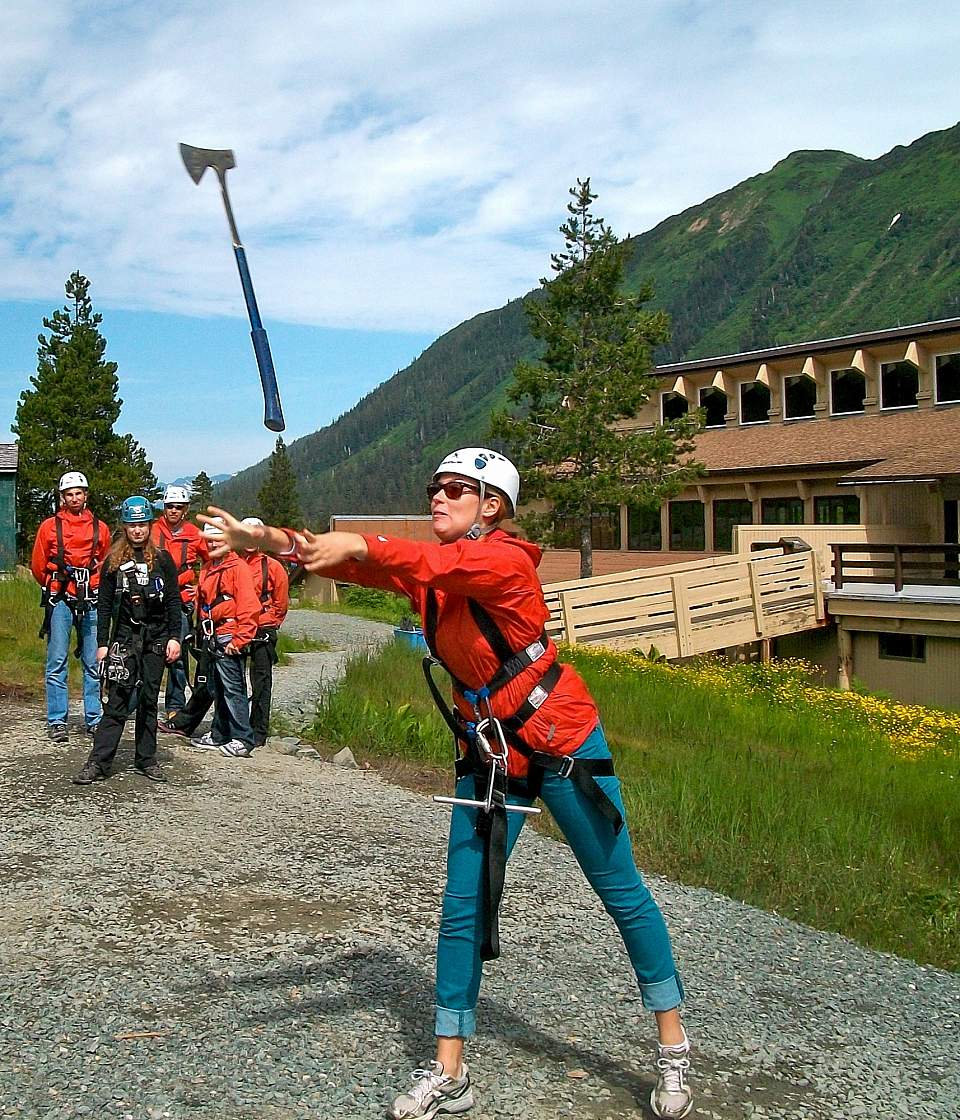 Tips
Your stuff: Your belongings will be secured at the lodge during your tour. You don't want to zip with extra items that could get in the way or fall irretrievably beneath the course.
Photos: You can take along a small camera, but it must be secured as you zip (your guide will help). If you're comfortable bringing your DSLR you may; however, they can be burdensome while zipping and if dropped will likely not survive. Photos will be taken during our tour and available for purchase at the end of the excursion. So smile while you're zipping!
Dealing with fear: Your guides understand if you have trepidation at being hundreds of feet up in the air. They are reassuring, patient and calm, with the goal of helping you find the inner confidence to really enjoy the course. Most visitors embrace the feeling of freedom they experience once they try the first few zips – then it's a breeze, and a blast!
About Kawanti Adventures
In 2005, Kawanti Adventures (formerly Alaska Canopy Tours) developed Alaska's very first zipline at Herring Cove, Alaska, just outside Ketchikan, providing an exciting new way for visitors to experience Southeast Alaska's amazing temperate rainforest. After earning rave reviews from both the tourism industry and guests, Kawanti Adventures developed an additional course in Ketchikan. In 2018, Kawanti Adventures expanded its operation when it acquired Alpine Zipline Adventure in Ketchikan. Kawanti Adventure's zipline tours are among a family of exciting Alaskan adventures, including Alaska Adventure Kart, Alaska Rainforest Sanctuary walking and bear viewing tours, and Taquan Air Misty Fjords flightseeing and bear viewing tours.